Alaska is fascinating to people of all ages and the hunger for stories about the far north is seemingly endless. Snow, mountains, mushing, moose, and the northern lights are all images that come to mind when dreaming of the north. Children love to read stories about Alaska and the animals that live in the wilderness, and there are many wonderful Alaskan children's books.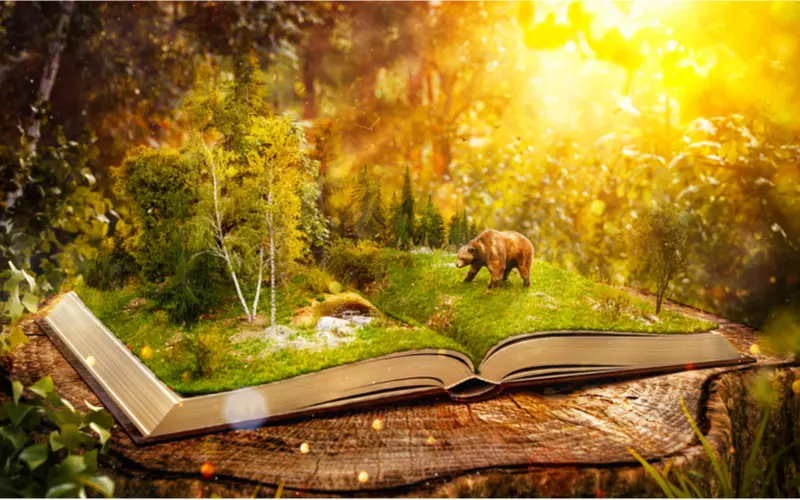 The north is home to many authors and illustrators that bring children's books to life. Authors who make Alaska their home capture the beauty of the north and share the magic with others. Explore this list of Alaska children's books and discover the state, one story at a time.
1.) Benny's Flag by Phyllis Krasilovsky
This heartfelt tale is of a little boy named Benny Benson who attended a mission school before Alaska became a state. He entered a contest and from hundreds of entries, his design won! Benny chose eight gold stars on a field of dark blue for his iconic design for the Alaska state flag. This picture book honors Benny and the meaningful flag he created that represents the state of Alaska in a symbolic way.
2.) Alaska's Dog Heroes: True Stories of Remarkable Canines by Shelley Gill
This picture book is about Alaska's famous dogs: Balto, Togo, Tekla and Stickeen. These dogs from Alaskan history accomplished amazing feats from delivering life-saving medicine to fending off bear attacks. Read all about Alaska's dog heroes in this book for children 6-9 years.
3.) Gone Again Ptarmigan by Jonathon London
Follow a pair of willow ptarmigans as they live their daily lives out-smarting predators, changing colors throughout the year and migrating south for the winter. This colorful and poetic picture book is adored by those 5-8 years old.
4.) Storm Run by Libby Riddles
The triumphant story of Libby Riddle's success mushing the Iditarod Sled Dog Race in 1985 and becoming the first woman to win the 1100 mile race across the frozen wilderness. This story is inspiring for everyone as Libby battles an epic Alaskan storm to reach victory.
5.) Mama, Do You Love Me by Barbara M. Joosse
This adorable picture book for toddlers is the story of a small child exploring her independence and a mother patiently watching and encouraging. With beautiful illustrations by famous Alaskan artist Barbara Lavallee, this heartfelt classic is perfect for little ones and mothers alike.
6.) The Giant Cabbage by Cherie B. Stihler
This cute picture book for preschoolers is an Alaskan folktale about a giant cabbage. Vegetables love the long hours of midnight sun and cabbages can grow to epic proportions in Alaska. This sweet story is about a group of animals trying to get a giant cabbage to the contest.
7.) Survival at 40 Below by Debbie S. Miller
This is a story of the frozen tundra in the north of Alaska where temperatures are extremely cold. Animals have all sorts of tricks for surviving the brutal winters. This book for ages 4-8 follows along as the animals prepare for the deep cold, survive the arctic and head into spring
8.) Kitaq goes Ice Fishing by Margaret Nicolai
This story of rural Alaska is centered around five-year-old Kitaq begging to go on his first ice fishing trip with his Grandpa. As Kitaq learns to fish to feed his family, he is learning about listening and love in the process.
9.) Sweet Home Alaska by Carole Estby Dagg
Set in 1934 and based on true events, this story follows a family moving to Alaska and homesteading in Palmer. A pioneer story about a young girl facing the challenges of Alaskan life and teaching her family to love their new wild home as much as she does.
10.) Have you Seen a Smack of Jellyfish? By Sarah Asper-Smith
This alphabet book explores Alaskan animals and is geared for ages 3-8. This educational and fun book will help young readers learn their letters and the names of animals is style. This book explores the intersection of language and the natural world in a playful and colorful way.
11.) Under Alaska's Midnight Sun by Deb Vanasse
A tale of far northern Alaska, this story is set in the town Utqiagvik, formerly Barrow, where the sun rises and sets just once a year. The summer is endless with the midnight sun shining all night. Explore this story to learn about the extremes and beauty of the arctic.
12.) Deep in Alaska by Christine Johnson
This unique book is printed in only black, white and red and the images are beautiful and striking. The book is entirely written in haikus, and the simple poems are accompanied by real photographs of the snowy woods near Eagle River, Alaska.
13.) Bo at Ballard Creek by Kirkpatrick Hill
This heartwarming story follows a little girl on her way to an orphanage in the 1920's in Alaska. Along the way, she finds an entire village of adults to care for her and convinces them to create a community. This book is best for ages 8-12 years old.
14.) Polar Pilot by Dorothy G. Page
This is the story of Carl Ben Eilson, a pilot known for braving Alaska's arctic conditions and flying throughout rural Alaska. Wilson's fascinating life ranges from starting airmail service in Alaska to piloting Hubert Wilkins arctic expedition over the magnetic north pole.
15.) Arctic Aesop's Fables by Susi Gregg Fowler
This Alaskan retelling with a wolf, a polar bear, and a raven teach children all about Aesop's classic fables. These stories are designed to impart life lessons to little ones, this time set in the wilds of Alaska.
16.) Up on Denali by Shelley Gill
This colorful picture book is all about Denali, the tallest mountain in North America that lies in interior Alaska. The book covers stories about Denali's origin, the animals that live there, the conditions during the different seasons, and some scientific information about the area. This fun and informative book will teach children all about Denali, the Great One.
17.) Kavik The Wolf Dog by Walt Morey
A thrilling adventure story of a fierce survivor dog who lives through a scary plane wreck. The story is one of triumph as Kavik wins out in life and on the mushing trail. This fast-paced page-turner is fun for the adventurous young wolf-dogs in the pack.
18.) Berry Magic by Teri Sloat
Berry picking time is one of the most memorable seasons when the tundra comes alive with bright, plump berries. This storybook of magic and song about Anana and the creation of delicious berries on the tundra. Based on a story from a Yupik elder Betty Huffman, the tale is brought to life with beautiful illustrations.
Carey Seward has written about travel for the Jeju Weekly News (South Korea) and The Cardamom Diaries Blog (Guatemala). Seward is also a
multidimensional artist who writes, directs, produces and performs original works in theatre, film, music and on the page. Theatrical projects written, directed and produced in Fairbanks, Alaska. She has also produced, costume designed and performed with the Fairbanks Shakespeare Theatre since 2000, most recently performing as Music Director and Band Leader for Macbeth (2019), as well as leading the company as Executive Director from 2017-2019. As a teaching artist, Seward works as an Artist in the Schools (2004-2019) teaching
drama, playwriting and Shakespeare. In 2021, pursuits include Theatre Alaska's AK Writer's Workshop 2021, a student at Primary Stages ESPA and On the Page Screenwriting Studio, publishing the "With Love" Travel Romance series and writing for The Alaska Frontier.