Anchorage is Alaska's largest town. Full of things to do and places to see, whether you are a Cheechako (newcomer), Tourist, or Sourdough (longtime resident), it can be overwhelming deciding where to go or what to do. The list below includes options for all seasons.
Note: days and hours of operation may have changed due to Covid-19
1.) Hiking and Biking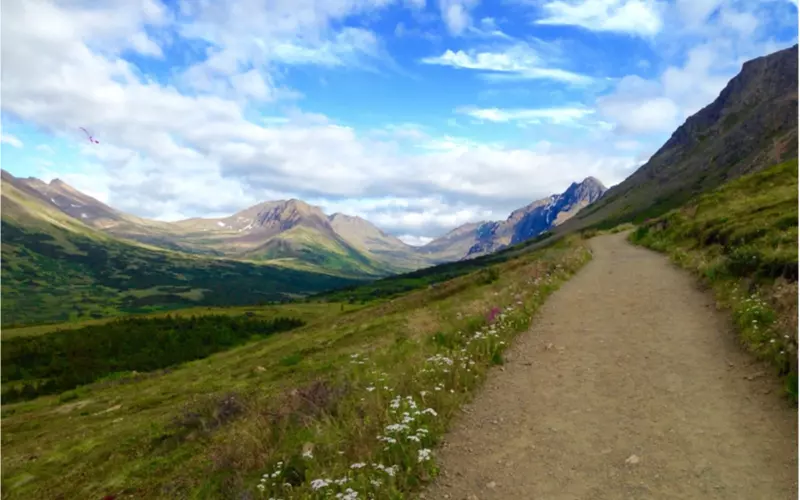 Anchorage trail systems are available all year. Flattop Mountain is a popular hike overlooking the city. While it can be a bit challenging to climb during winter, it can be done. The Campbell Creek trail that runs through and across the city around, under and along the road system. The Coastal Trail is popular and allows you to start at Kincaid Park or pick up the trail at many points around town. Just outside of city proper, but still within the city limits, are Thunder Bird Falls, McHugh Creek, Falls Creek Trail, Bear Valley, Upper Huffman, Potter's Marsh, and Far North Bicentennial Park, to name a few.
Anchorage Light Speed Plant Walk allows for individuals to have the opportunity to learn and experience the solar system, albeit at a human scale. From the Sun Station at 5th and G downtown, it takes about 8 minutes to walk to Earth and 5.5 hours to reach Pluto at Kincaid Park.
2.) Camping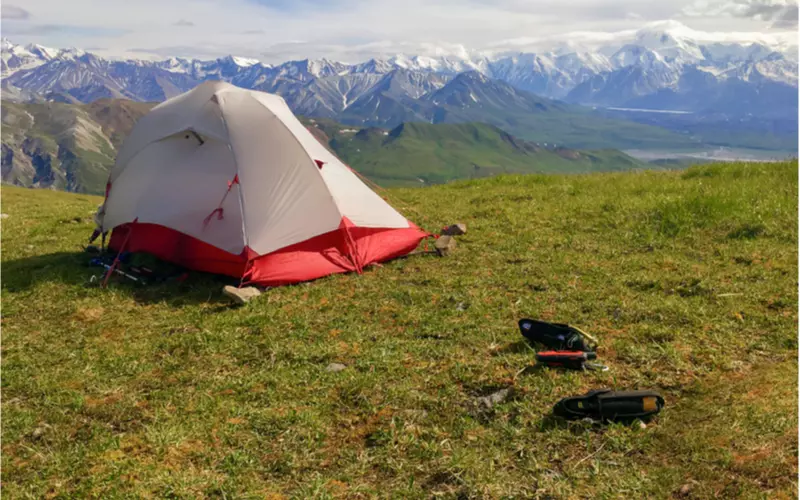 Centennial Campground at 8400 Starview Drive has campsites for tents and RVs, with easy access to the highway, shopping, and town. Ship Creek RV Park located at 150 N Ingra Street is near downtown. Centennial is great for families who want to camp and stay close to home, while Ship Creek RV Park is a good place to settle down for fishing during the summer. Away from the city there are campgrounds in every direction.
3.) Fishing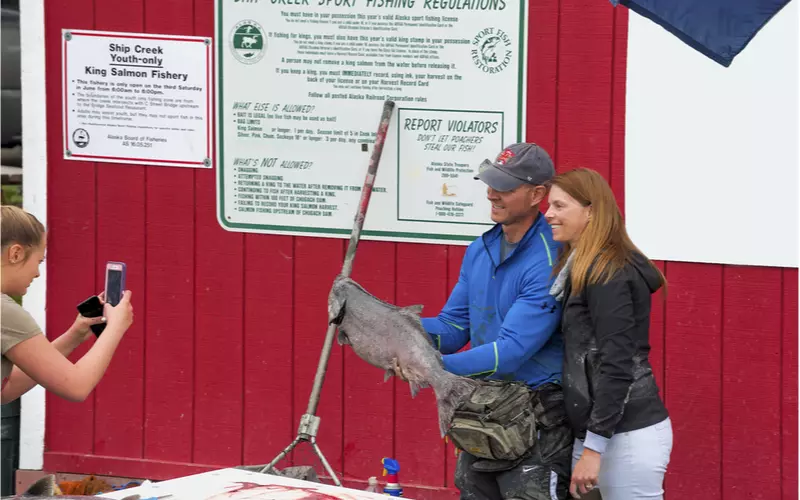 Fishing? Year Round? Yes, you read that right. Ship Creek is a popular summer fishing spot, especially come Salmon season. Several lakes around town are stocked and the Alaska Department of Fish and Game (ADFG) has been known to hold an ice fishing derby. Goose, Sand, Jewel, Delong, Campbell, and Taku Lakes are among the lake with easy access right in the city. Bird Creek is a fishing spot just south of the city. Check in with ADFG online or at their office at Raspberry Road and C Street for regulations and information.
4.) Skiing, Sledding, and Ice Skating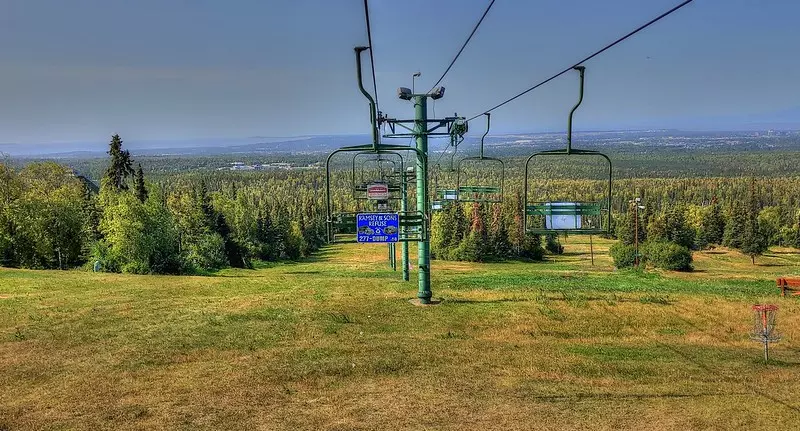 Hilltop Ski Area is located in the city of Anchorage. Within 20 minutes of Midtown Anchorage, Hilltop offers both downhill and cross country skiing. Kincaid Park has trails for cross country skiers. Alyeska Resort in Girdwood, an hour South of Anchorage, offers runs for skiers of every level. Arctic Valley, North of Anchorage, is working to develop their ski area. Both Hilltop and Alyeska offer rental equipment.
Roller Skiing: some folks say it is just like cross country skiing, but on wheels. This allows for practice throughout the year. The Coastal Trail and Kincaid Park are popular sites for this sport.
Sledding is a rite of passage for most Alaskans. Kincaid Park has a few good sledding hills. South High School has become very popular on the evenings and weekends when school is not in session. Several other schools have small hills as well, great for younger kids and often less crowded. Arctic Valley's sled area provides sleds and a groomed hill.
Ice Skating is easily accessible in winter, with Westchester Lagoon the most popular location. Anchorage Parks and Rec makes sure the ice is prepped for skating with their own special "Zamboni." For a few hours on designated weekends, they will have music, hot chocolate, and training seals available. Parking is limited and mostly along the street, but there is plenty of room for everyone. They even make space for pick-up hockey games. Many of the elementary schools have their own rinks, maintained by the district. If you don't have your own skates, Play It Again sports may have rental equipment to meet the needs.
At Dimond Mall (yes, that is spelled correctly), there is a year-round indoor ice rink. Rental skates and lessons are available.
5.) Golf
Anchorage Golf Course, Moose Run Golf Course at Arctic Valley, and Russian Jack Springs Golf Course operate during the summer season. At Fox Hollow Golf Course and the Sports Dome, golfers can practice their swing all year. For the mini-golf crowd, Putters Wild is the place to go. Their unique courses-2 with 9 holes each are 3D and equipped with black lights. The Castle at O'Malley near H2Oasis, the state's only indoor water park, also has mini golf.
6.) Archery and Guns
For individuals looking to practice their archery or sight in their guns, there are three places to go. At Kincaid Park, there is an outdoor archery range. You can sight in your bow before walking one of the three courses of three-dimensional game bags. Full Curl Archery has an indoor range year-round. Rabbit Creek Rifle Range on the south side of the city allows you to practice your aim with your guns.
7.) Rock and Ice Climbing
There are a few places near Anchorage for Rock and Ice Climbing: Eklutna Canyon to the North and along the Seward Highway to the South. More information can be located at www.mountainproject.com for skill ratings, locations, and tips. For indoor year-round climbing, Alaska Rock Gym is the place to go. They offer a kid's program, new-to-climbing experience, yoga, and events throughout the year.
8.) Art and Theater
Art is a big part of Anchorage. There are murals on many buildings, with a heavy concentration downtown. One dedicated to Jean the Flower Man is located on Spenard. Across the city, there are a wide variety of art galleries. Many feature the work of individuals who live in Alaska's remote villages.
Whether looking for something to hang on your wall, place in a spot of honor, or wear, art collectors will not be disappointed. Rei Munoz, Byron Birdsall, and Ray Troll are three of Alaska's well-known artists, with their art featured in multiple galleries about town.
The Oomingak Musk Ox Co-Op in Downtown Anchorage features handmade woven crafts by Alaskan artists in a wide range of weaving patterns, a unique form of Alaskan art. Nearby, The Ulu Factory on Ship Creek offers the traditional Ulu knives with a wide selection of handles.
The Anchorage Performing Arts Center, or PAC, presents a full calendar of events, with three national tours of Broadway shows each year. Musicians and performers such as Lisa Loeb, Joan Osborne, the Anchorage Orchestra, Potted Potter, the annual Nutcracker ballet, and Cirque du Soliel are among those in recent seasons.
Around town, the Egan Center, Moose's Tooth Pizzeria, Humpy's Great Alaskan Alehouse and Chilikoot Charlie's have featured both local and national acts in recent years.
9.) Local Markets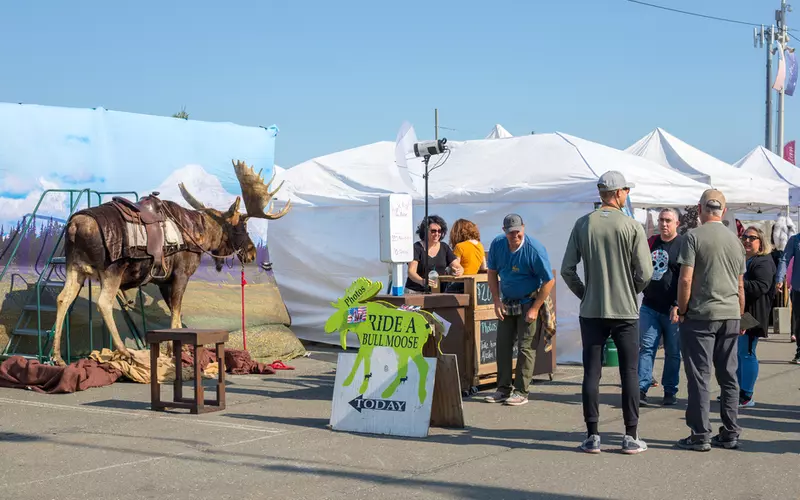 On the weekends between Mother's Day and mid-September, the outdoor Anchorage market operates in the parking lot at 3rd and C street downtown, hosting rows of stalls featuring clothing, art, fur creations, and crafts with a local emphasis. Food trucks and carts abound to meet every appetite, with music and performance art on stage. Across the street, there will be pony rides and horse drawn carriages.
There are outdoor farmers' markets across town in Spenard, at the Dimond Center, Muldoon Park and at the O'Malley Center in Anchorage where locally grown vegetables are sold along with seafood, ice cream, bakery goods—many also feature musical artists. Additional markets surface each season at fresh locations.
At the Midtown Mall, formerly known as the Sears Mall, there is a year-round indoor market. Specialty items from honey to garlic balsamic vinegar and fresh local vegetables are sold. Many locally owned and operated shops share the mall space with REI and Nordstrom Rack.
The same organization that puts on the weekend summer market also operates a series of holiday markets in November and December at the Dena'ina Center downtown. Schools, churches and coffee shops hold smaller markets throughout the holiday season as well.
Anchorage has a multitude of activities to offer through every season with something for everyone. Weather may slow things down and the swing in daylight hours may drive us a bit bonkers at times, but these rarely stop folks from making the rounds. Getting out and about in spite of the forecast is part of the allure. The largest city in the nation's largest state is easy to navigate, giving Anchorage the feel of a big small town.