Are you looking to grab some of the best eats while passing through Anchorage? If not, you're going to miss out on some of the best tasting food. You wouldn't think that Alaska would have much to offer in terms of food other than salmon, but that statement is far from true.
We have a large variety of different cuisines coming from a large variety of different cultures. No matter what type of food mood you're in, there's bound to be something that tickles your fancy. Reviewing Yelp can help give you an idea of highly-rated restaurants. However, we'll give you our recommendations for where locals like to eat.
1. Moose's Tooth
If you were to ask every Alaskan about which place to go, you'd most likely get the answer of Moose's Tooth. Moose's Tooth is the state's top-grossing locally owned pizza pub and is known for their tasty creations. Aside from just mouth-watering foods, the pub also specializes in brewing their own sodas and beers.
Moose's Tooth also owns a few other pubs/restaurants in town that provide multiple types of cuisines. Our personal favorite is Bear Tooth Theatre pub which allows you to see rerun movies for a discounted price. You'll also be able to order some of their delicious pizza, and a limited appetizer, dessert, and Mexican inspired menu while enjoying your movie.
Attached right to the theatre is the Bear Tooth Grill that features breakfast, lunch, brunch, and dinner menu. They offer a wide variety of foods, including mixed cuisine foods with either Asian or Mexican flares.
2. Glacier Brewhouse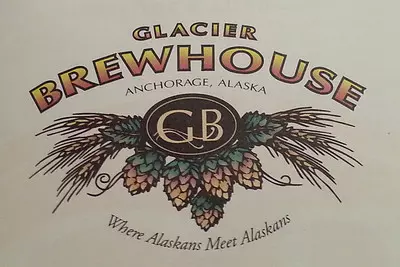 Another top pick amongst locals is the notorious Glacier Brewhouse. If you've come to Alaska for seafood, this is one of the prime locations. They include a wide selection of locally caught seafood, wood-smoked meats, and freshly brewed beers.
Aside from that, the atmosphere of the dining room gives off a rustic vibe. This is due to the craftsmanship of collecting timbered rafters that are set along with the fireplace and walls. If we could classify it as anything, it would be an Alaskan gastro pub with amazing locally sourced food.
3. 49th State Brewing Co
While this may not be one of the oldest pubs in Anchorage, it is one of the most popular. The 49th State Brewing Company was founded in 2010 and has continued to be downtown's prime location for your favorite local pub food and tasting handcrafted beers.
Their food consists of all the classic pub foods but does its best to source all their ingredients locally. This allows their chefs to experiment and provide you some tasty treats you won't find anywhere else. Have you ever heard of a Yak burger? Or, how about grabbing a King Crabby Grilled Cheese?
The menu has everything from your classic chicken tenders, to Asian inspired Tuna Poke Bowls. And some of your Alaskan classics like Reindeer stew, Elk Lasagna, or Halibut fish and chips.
4. Seoul Casa
Are you not quite looking for Alaskan foods? Don't worry, Seoul Cases has you covered with delicious Korean-Mexican inspired dishes. Their menu features a wide variety of nachos, tacos, and burritos – all stuff with freshly made kimchi.
Some of their most popular items include kalbi tacos garnished with BBQ short ribs, green lettuce, onions, cilantro, and ssamjang aioli. Other highly recommended dishes are their K-town nachos, loaded tots, and braised tofu tacos.
5. Rustic Goat
The Rustic Goat is your perfect go-to experience if you want to grab a bite while enjoying the beautiful mountain views. Its interior is lavishly constructed using fine timber and flooring from the historical Alaskan Salmon Cannery. Aside from that, it's a fan of locals but attracts folk traveling from all over the world.
Their chef is highly spoken of and considers food his love language. All cuisines presented are a mixture of All-American classics with a little twist. Some of our menu favorites are the Margarita pizzas, Reindeer Skewers, and Bison sliders.
However, their kitchen also is vegan and vegetarian friendly. If you have dietary restrictions, this place includes Vegan Stir Fry's, Mediterranean Brunch Platters, and Colorful Salads.
6. Lucky Wishbone
If you're taking a vacation, there's no reason not to go ahead and indulge yourself in some fast food. One of the locally-owned chains that feature delicious battered fish, chicken, and fries is the Lucky Wishbone. The extensive menu features all your favorite cheat day eats, including wings, malts, and ice creams.
The interior gives that authentic family-owned diner feel and gives you a real sense of a small community. All of the servers greet you with a smile, and most of them have been working there for years.
7. Snow City Cafe
A local classic brunch and breakfast cafe is the Snow City Cafe. The company itself does its best to only source fresh ingredients from Alaskan farmers and vendors. Everything is made from scratch, and you won't find any pre-made items on their menu.
Walking into the cafe, you'll notice a brightly colored dining area that is surrounded by local artwork. The cafe gives off a very friendly, upbeat, and cheery vibe. Their classic menu includes oatmeal, stuffed French toast, and pancakes. Additionally, they also serve Salmon BLTs, Spicy Vegan Burgers, and even Crab mac and cheese.
8. Ginger
Date night is a must on any unique eats list, so we've chosen Ginger for that. This locally owned restaurant's chef has been nominated Best Chef Northwest by the James Beard Foundation. He has a huge passion for creating Alaskan cuisine, both tasty yet refined.
A lot of the cuisine is Asian fusion and includes unique flavor profiles. Their brunch menu ranges from classic breakfast options to Alaskan tofu and quinoa salad. If that doesn't suit your fancy, they also include baked sea scallops mac and cheese, Penang beef curry, and even fried chicken sandwiches.
Conclusion
Alaska may seem like a great vacation spot for fishing, hunting, and outdoor activities. But, you'd be missing out one some of the best eateries on your visit. Even if you're just passing by for a business trip, we highly recommend that you try at least one of the restaurants during your stay.