Once a year, the Fur Rondy festival is held in Anchorage, Alaska. It's a celebration to greet the coming spring months and say goodbye to the winter. Every year, tons of small events and contests are held within the Fur Rondy Festival.
The festival itself is one of the biggest winter celebrations in the United States. In 2012, it was selected as the top winter carnival by National Geographic Traveler. To local Alaskans, the event is known as "Rondy" and is the biggest attended winter event.
As you can see, the Fur Rondy festival is a big deal for both Alaskans and travelers. If you're looking to participate in the celebration, it takes place between February 23 to March 5 of 2023. Listed below are more details about the festival.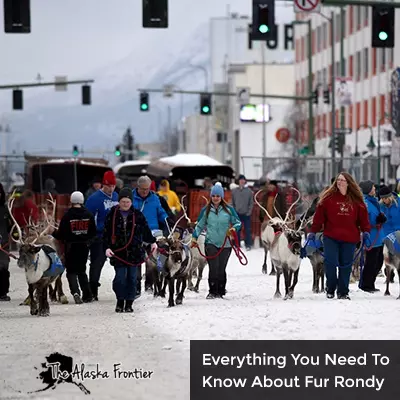 History of the Fur Rondy Festival
The Fur Rondy started in 1935 as a three-day sports tournament and fur trade. These two events were separated initially, but later combined due to being held at the same time. Alaska had a tiny population at the time, which was under 3,000.
Due to the coincidence between the Winter Sports Carnival and the Fur Trade, they decided to combine the two festivals together. Hence, the name change to Fur Rendezvous. It was canceled in 1946 due to wars, but since then has remained open.
Year after year, the Fur Rondy festival started to attract more attention from people out-of-state. The festival soon became bigger, and numerous attendees were flying in from all over the world to join in the fun.
Traditionally, the event spans over three days, but it has now grown to be over a ten-day event. A major event that has been combined with the Fur Rondy event is the Iditarod. The sled dog race used to be held separately, but due to the starting point being in Anchorage, the two combined their events.
Upcoming 2023 Fur Rondy Events
The Fur Rondy Events include multiple winter sports and also some fun and crazy competitions you won't find anywhere else. And trust us, when we say they are crazy, we legitimately mean they are one of a kind events. Some include racing with reindeer or pulling outhouses on skis. Other activities include ice cream and root beer chugging along with jumping into cold water without winter gear on.
Although, among the crazy, there are also classic festival events. Major events fun for the family are the firework display, auction houses, and outdoor ice skating. However, there is also a major scavenger hunt that you can sign up for. It has fantastic rewards such as free flights anywhere Alaska Air is available.
Beyond that, there are also tons of other events for attendees. Each day, the Fur Rondy festival is packed with competitions and wacky events. This way, there's never a dull day to attend.
Although, if there are specific events you want to participate in, then we recommend checking out their website ahead of time. This can help save you from missing out on something you want to participate in.
Aside from that, any competition or event requires that you sign up beforehand. Spaces are limited, so heading to the website can help ensure that you get in on time. Registration only takes a few minutes, and you'll be able to reserve a space for you or your team.
How To Get To Fur Rondy?
Getting yourself to and from the event isn't that complicated, considering it takes place in downtown Anchorage. Parking is extremely limited, and chances are you will have a difficult time if you aren't carpooling. If you're traveling from out of town and staying at a hotel, then we highly recommend just walking to the event.
If you live further away, then you can also access a few shuttle stops that drive directly to the event. The shuttles provide free access to the Fur Rondy Festival site and even within the event grounds. Many travel sites also have limited packages or discounts on airfare for those looking to attend the event.
The central hub for the event is located at 400 D Street and is open from 10 am – 3 pm. For more information about parking downtown, check the event's official website here.
Fur Rondy & The Iditarod
The Iditarod is an annually held sled dog race that covers over 1,000 miles of stunning Alaskan terrain. The race begins in early March and mushers race from Anchorage all the way up north to Nome. The event itself is a sight to behold and is streamed on national television.
The Fur Rondy event is the official starting point of the Iditarod, which allows you to see and meet the mushers and their teams personally. This gives you an up-close and personal view of what the event is going to be like.
Each team of mushers has around 14 sled dogs pulling them. These dogs have been professionally trained to withstand Alaska's harsh environment. The race is as vital to the mushers as it is to the sled dogs.
Sled racing is a unique winter sport that doesn't happen anywhere else. If you're looking for a once in a lifetime experience, you can't go wrong with personally viewing the Iditarod.
Why You Should Attend The Fur Rondy Festival
Fur Rondy is a uniquely Alaskan event and one of the top winter celebrations in North America. If you're looking to experience a true Alaska holiday, then the Fur Rondy is for you. Attendees will be able to view wondrous ice sculptures, participate in contests, and join in on carnival rides and games.
All events have unique prizes ranging from gift cards, airfare tickets, and t-shirts. Numerous travel companies have recommended coming to Alaska simply to experience this event. It's a once in a life-time experience, and you can't get it anywhere else. If you'd like to know more about the event itself, feel free to check out their main website here.
Other than that, we hope that we've convinced you to join in on the delightful fun. If you've ever gone or plan to go, feel free to add your comments down below.
Christina Eck is a content writer who's lived in Alaska her whole life. Her main focus is ghostwriting for blog-style posts or product reviews. However, she does have Alaska experience due to living there her whole life. She's moved around Alaska since she was a child with some of the places she's lived being Selawik, Ketchikan, and Whale Pass. However, she now resides in the main city of Anchorage, Alaska.