Talk to someone from Fairbanks and they will tell you about Chena Hot Springs, caribou on the upper reaches of the Dalton Highway, or moose sightings on the highway to Anchorage.
One thing you don't have to drive out of town for is food. There are plenty of good places to eat in Fairbanks and, believe me, this town has a good showing for all the normal cuisines.
If you are looking for a good restaurant in Fairbanks, you are on the right page.
We have made a list of some of the best places to eat in Fairbanks. This list includes some of the hidden and easily missed places that really shouldn't be looked over.
If you are driving from Anchorage to Denali and then coming up to Fairbanks, keep this list of places to eat while you are here!
Places To Eat Near UAF
1.) Sun Sprout Cafe | Healthy Option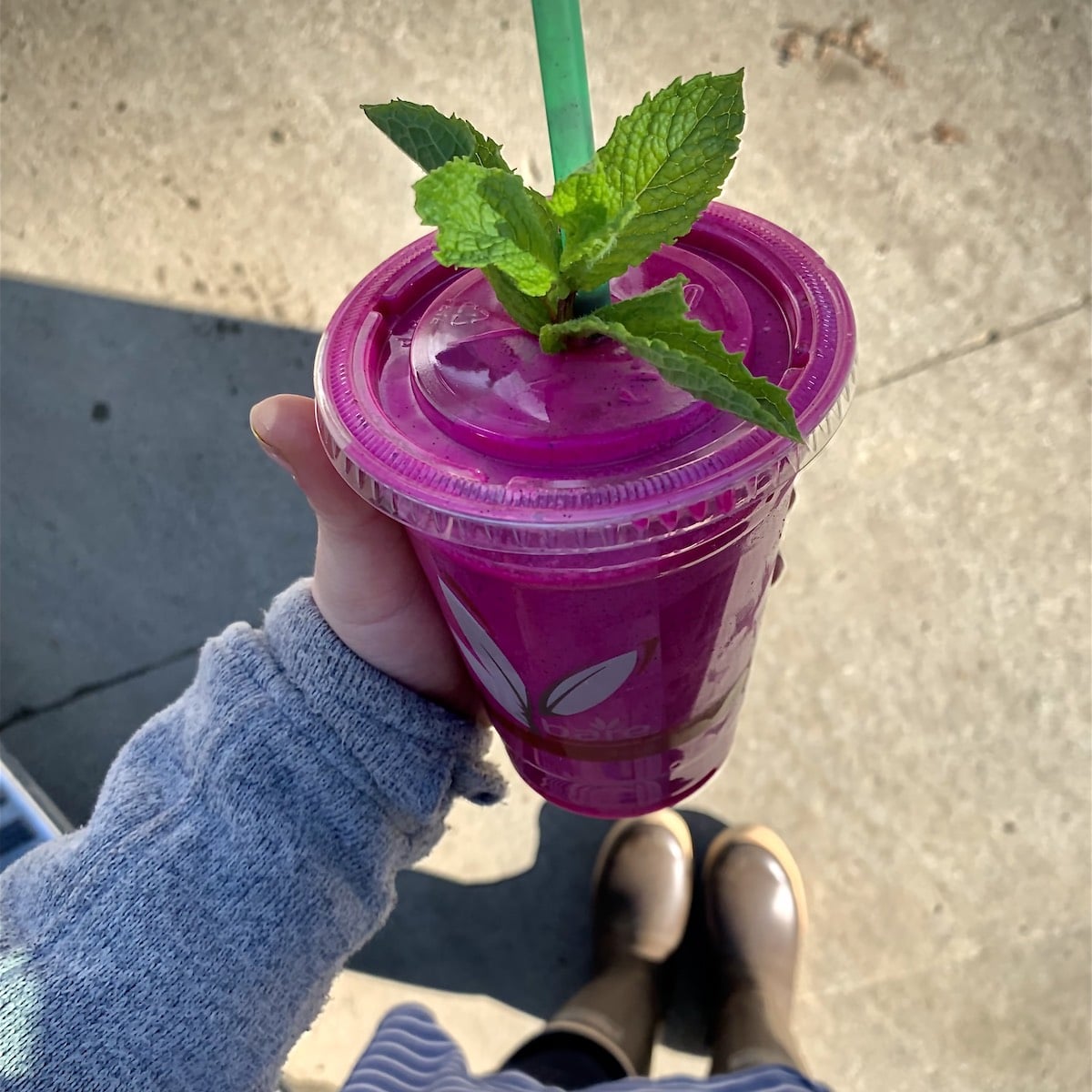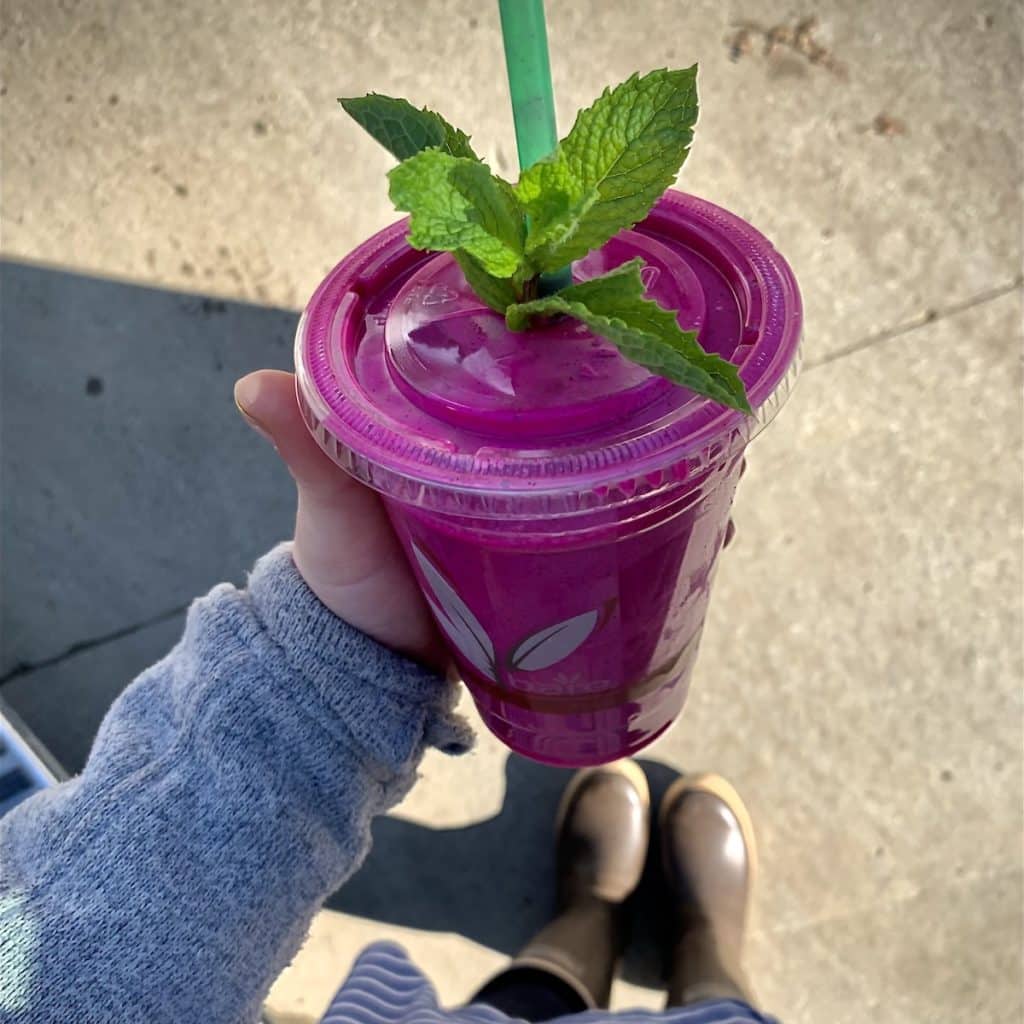 If you are over on the college side of town and want a quick nutrient-rich meal, look no further. The Sun Sprout Cafe makes tasty and satisfying wraps and salads in a short amount of time.
You don't have to wonder about the quality of the food you are eating when it is made in a health food store unless you are a real skeptic.
Their menu lists bagels, soups, and brunch with a few vegan options to boot.
If healthy drinks and smoothies are your jam, this place will have you covered.
House of Fire Pizza | 3 Locations
This pizzeria is newly established but is without a doubt making great pizza, so they had to be on our list of places to eat in Fairbanks.
They are now in three locations (West, East, and Badger) and provide a welcoming and pleasant environment for all people and even large groups.
The menu lists multiple options for pizza, salads, strombolis, and other baked options. If they can't bake it they won't make it.
Everything is baked with extreme attention to the little details and their home scratch made recipes are the finest twist of the Eastern United States and European baking experience.
The mozzarella cheese is sourced from a small dairy in Wisconsin, and the remaining ingredients are the best you can find.
Address: 3677 College Rd STE 4 Fairbanks AK 99701
Address: 300 Old Steese Hwy Fairbanks AK 99701
Address: 771 Badger Rd North Pole AK 99705
Website: houseoffirepizza.net
Social Media: Facebook
Hot Licks | Ice Cream Delight
If you are looking for a cool desert while taking in a sunny evening, keep this place in mind. Hot Licks is open in the summer.
Their award-winning ice cream is phenomenal. The dairy products they use contain no bovine growth hormones and contain 16% butterfat which makes for an incredibly creamy dessert.
If you are lactose intolerant or can't consume dairy at all, fear not. There are a few options for you to choose from. No need to stand by as your friends enjoy a summery delight.
Address: 3453 College Rd Fairbanks AK 99709
Website: hotlicks.net
Places To Eat In North Fairbanks
The Cookie Jar | Great Breakfast and Lunch
The Cookie Jar is a great place to grab breakfast or lunch. The high-quality food is delicious and presented well.
Be prepared to wait for a table and your food especially if you plan your meal on the weekend. This restaurant is popular, well-managed, clean, and has well-prepared and presented food.
Enjoy a nice breakfast platter of country fried steak, or a specialty Halibut burger for lunch along with other numerous skillet and hot sandwich meal options.
They are only open for evening meals Thursday through Saturday but are open at 7 AM on weekdays for people that want to grab breakfast.
Address: 1006 Cadillac Ct Fairbanks AK 99701
Social Media: Facebook
The Food Factory | Good For Large Groups
Located close to downtown Fairbanks and a short walk from Costco, this eatery is open for lunch and dinner hours every day of the week.
If you are looking for a good place to grab a meal as a family this place has some options for you.
The menu has been updated with new ownership, and the prices are moderate. There have been some poor reviews in the past, but with new management, the service seems to be better than ever, and the food is top notch.
With advanced notice, The Food Factory can take large groups of people.
Expect a solid American food showing and good service in a kind atmosphere in this family owned and operated restaurant.
The Bakery
If you are looking for a true interior Alaska restaurant this one will fit the bill.
Enjoy your reindeer sausage and satisfying platter without having to stray far from the center of town.
Wait time to be seated is negligible most days, and the food is prepared usually in about 30 minutes unless you go at a very busy time. The Bakery has had staffing issues in the past, but they always manage.
Their menu supplies ample breakfast, lunch, and dinner options.
Address: 44 College Rd Fairbanks AK 99701
Social Media: Facebook
The Hungry Robot | Wood-Fired Pizza
Add one more pizza place to the list. This award-winning Fairbanks pizzeria uses the best cooking technology available to bake its woodfired pizza.
Enjoy the soft crust with good mozzarella cheese either in the restaurant, takeout, or delivered to your door.
With an extensive menu, you can expect a good baked meal for almost everyone: pizzas, bread sticks, loaded fries, portobello caps, the list goes on.
They boast the best pizza in town and have had some high-placing showings at the state level which is impressive considering the pizzerias in Anchorage.
Places To Eat In South Fairbanks
KC's Kitchen | Korean, Japanese, Asian
In the reviews of this restaurant, you will consistently see people who know how Asian food is supposed to be prepared, and they state it is prepared correctly here!
This is a well-managed eatery that covers multiple cuisine and seems to make them all very well.
Expect a kind and happy atmosphere with large portions of the Asian food of your choice with a few American options. KC's Kitchen is a crowd-pleaser and makes our list of "best places to eat in Fairbanks". Be sure to check their Facebook page for updated hours and menus.
Address: 1707 S Cushman St Fairbanks AK 99701
Social Media: Facebook
Nims House of Thai Food
Voted the best Thai food in Fairbanks, this place had to make the list. The easygoing atmosphere and generous platter sizes for the cost make this option a great value.
The dine-in and takeout options on the menu are traditional Thai meals: egg rolls, rice platters, soups, Thai Curry, Vegetarian, and others.
This is a family owned and operated business that has been established for over 30 years. They are focused on making and serving delicious and authentic Thai Food.
Address: 1456 S Cushman St Fairbanks AK 99701
Social Media: Facebook
Hari Om Cuisine Of India
Hari Om is located conveniently off Cushman Street in South Fairbanks. If you are looking for Indian food, this is one of the top Places to eat in Fairbanks.
If you are familiar with the Diners, Drive-Ins, and Dives food show, Hari Om was featured because of their flavor profiles and authentic Indian cuisine.
You can check out their menu to see the platters they offer. They are willing to work with anyone's dietary restrictions and make all of their meals from scratch using their own recipes.
Enjoy a masala, korma, or paneer without having to worry about gluten. They have lots of vegan options as well.
Restaurants Near The Airport
For those who are headed out to the airport and want to grab a meal before your flight, these places to eat are close to the airport, making for a convenient stop.
East Ramp Wood Fired Pizza
Yep, you heard that right, real wood fired pizza right next to the airport. This place isn't open late, so try to keep that in mind when making dinner plans.
Eating a little earlier will be worth it. East Ramp Wood Fired Pizza is well known for the authentic Italian-style crust and flavorful toppings on their menu.
If you are an aircraft enthusiast and enjoy watching airplanes take off and land, you will enjoy the view here. You will be looking out over the general aviation ramp where pilots and passengers will be taxing to the main runways for departure.
Make a reservation to avoid long wait times for a table during busy meal hours. Food is generally served within 30 min of sitting down. The interior is clean and cozy.
Lulu's Bread and Bagels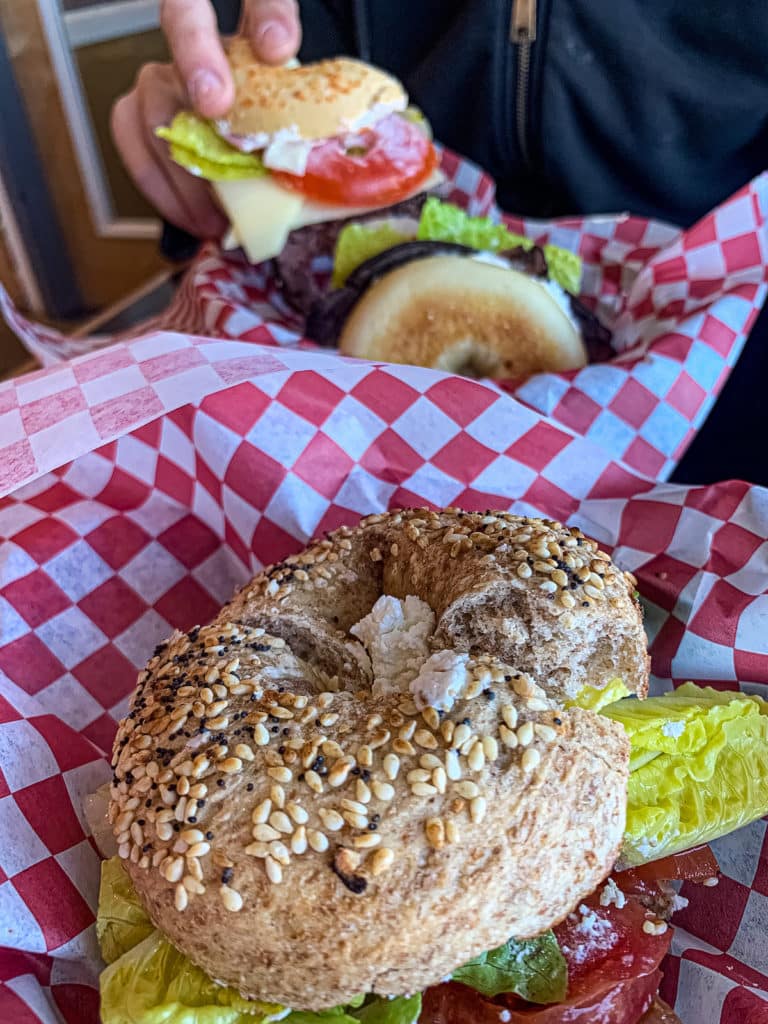 This little bakery outlet is great for grabbing breakfast or lunch with a nice cup of steaming coffee. Also, don't miss the takeout options.
Lulu's bagels are top notch, the food is high quality and presented nicely, and the team is friendly and fast.
The people at the front counter work very well with food allergies and are always helpful if you need to know more info about the ingredients of an item on their menu.
You can also enjoy watching the baking process as you enjoy your meal through the window into the bakery. Try this place out, it's easy to miss but very memorable. The food is great and the price is right.
The Pump House
The Pump House is an award-winning, high-standard dining destination along the Chena River with great views and a warm atmosphere.
All food is prepared and served Alaskan style with locally sourced ingredients as often as possible.
Their menu covers seafood, flavorful cuts of beef, poultry options, as well as vegetarian meals. The numerous add-ons and appetizers make for a meal with variety. Numerous beverages are offered to go along with your meal from local breweries.
The high quality comes with a higher price tag but with a great fine dining experience.
We recommend making a reservation ahead of time to protect seating options during their busy evenings.
Places To Eat Near Downtown Fairbanks
Big Daddy's
This downtown award-winning barbeque makes big portion sizes, has great quality control, and has happy and presentable staff.
This is the best showing of southern-style food in Fairbanks by far and has been featured on nationally watched television shows like Food Network.
The Northernmost Southern BBQ has a lot to offer. Their platter sizes are generous and almost always provide enough extra for a take home box.
Inside the restaurant, it is open and spacious with high ceilings. They also provide catering to events and meetings. You can order for takeout if you want a meal on the go.
Don't avoid downtown. Check this restaurant out and experience award-winning flavor. We do recommend checking in on their Facebook page for any up-to-date announcements. Sometimes the banquet hall is booked for a party so they will only serve takeout.
Blue Roof Bistro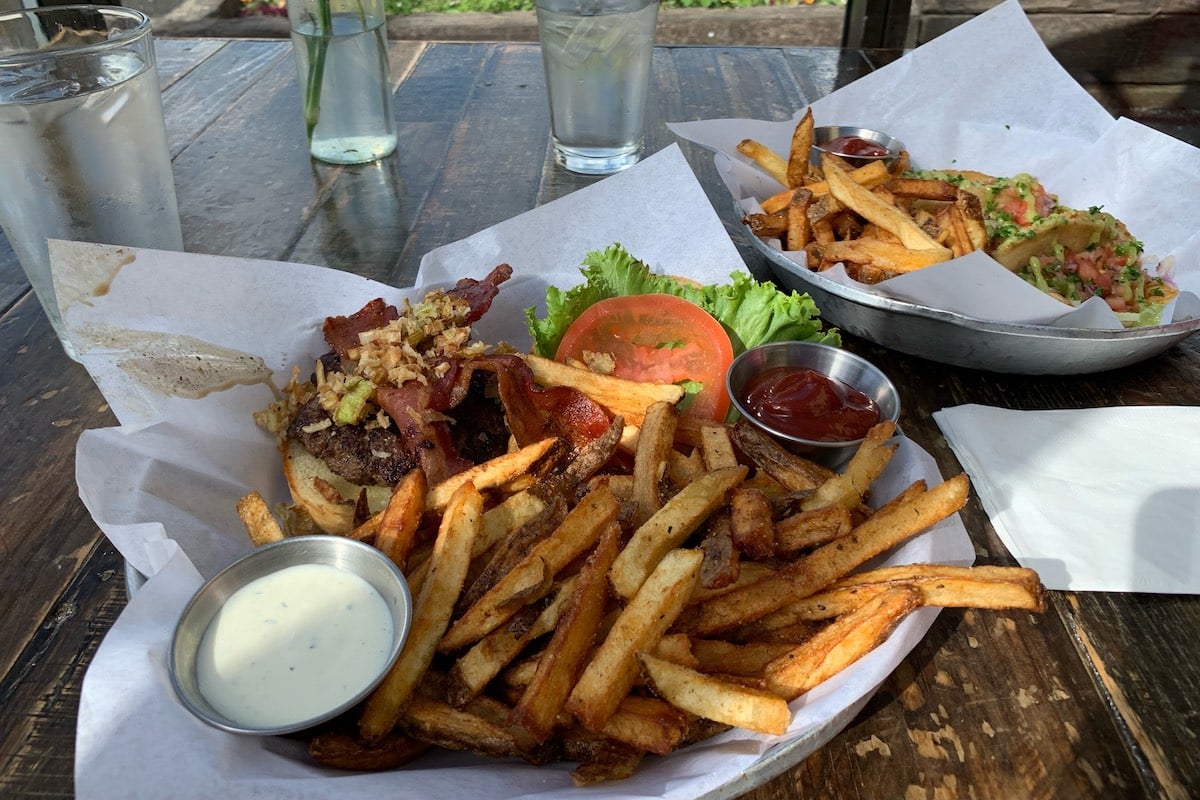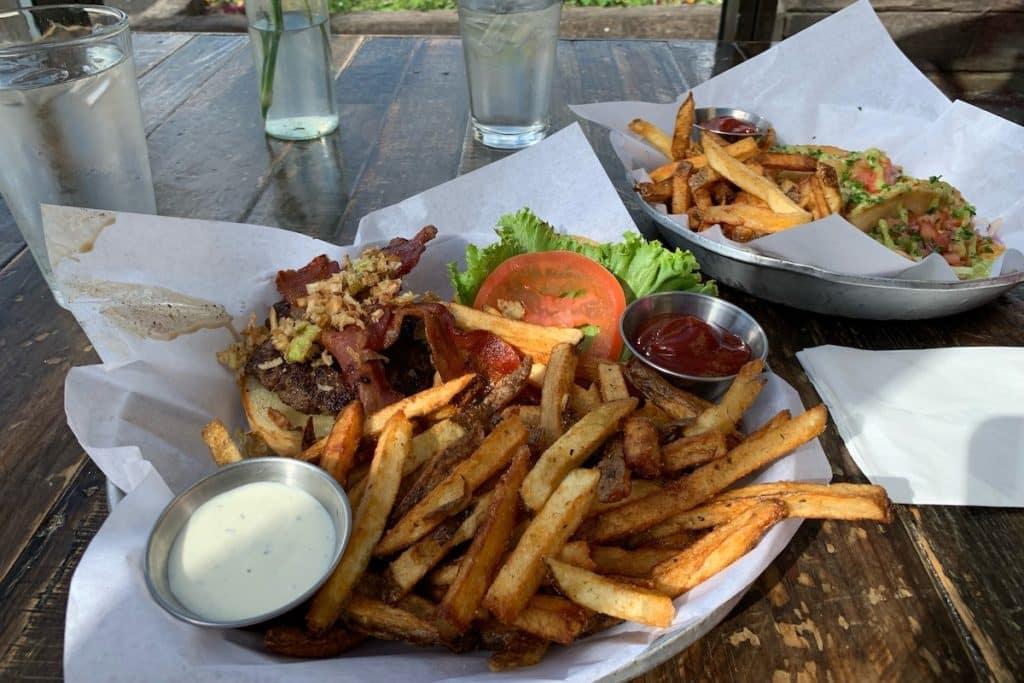 This locally owned and operated eatery uses only the best ingredients to create bold and memorable flavors. The Blue Roof Bistro offers a comfortable and light atmosphere while giving a personable experience so it had to make our list of "best places to eat in downtown Fairbanks".
They encourage checking their Facebook page for updated specials and changes to their menu.
The Blue Roof Bistro is known for its burgers, seafood tacos, and amazing french fries.
They close for winter break in December and January to encourage family connection and relationships, but are otherwise open from 10:30 AM to 7 PM every day except for Sunday.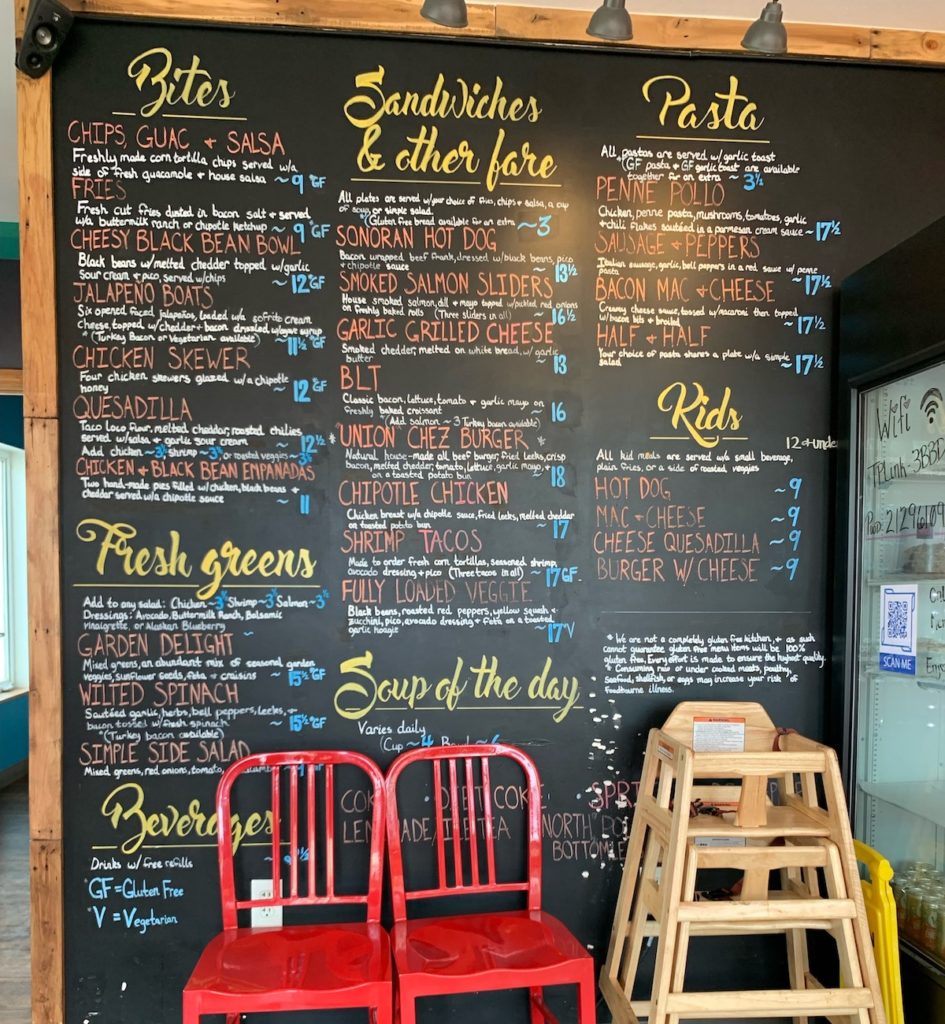 The Salmon Bake
The Salmon Bake boasts the true Alaskan experience. Located right within pioneer park, you don't have to go far to see and experience the history of Fairbanks.
This restaurant is open in the summer which could be argued to be the best time to visit Alaska, so get in while it's open!
If you love seafood listen up. Craft beer battered halibut, grilled salmon, beer battered bering sea cod, and Alaskan snow crab list a few options on the menu.
They also offer well-prepared prime rib for people who want to stick to red meat!
As you experience the outdoor dining atmosphere you can enjoy a number of great beverages sourced from our great state of Alaska.
Address: 2300 Airport Way Pioneer Park Fairbanks AK 99701
Website: akvisit.com
Airport Way Restaurant
Speaking of true Alaska interior restaurants, this place is managed with the Alaskan summer schedule in mind.
If you are running odd hours at any time of the year, this place is open. This family-style diner serves breakfast all day as well as a full American food menu.
Food quality is moderate, but the price is lower. This is an old-style restaurant, and a bit of a greasy spoon, so people looking for fine dining should probably look elsewhere.
Wait times for food are about half an hour unless you go at a busy time.
Address: 1704 Airport Way Fairbanks AK 99701
Brewsters | Food and Spirits
Brewsters is a well known Alaskan food outlet. They are known for their burgers and sandwiches as well as their beverage options.
Both locations are well-maintained and have good food options.
Prices are moderate. You can see the menu on their Facebook page.
Address: 3578 Airport Way Fairbanks AK 99709
Social Media: Facebook
Places To Eat Just A Little Drive Outside Town
The Turtle Club
You will need to drive about 20 minutes out of town for this one. The turtle club is situated in Fox but is known in Fairbanks for its fine dining experience.
Yes, we do have fine dining options in Alaska!
The Turtle Club is known for its ribs, Australian Lobster, Alaskan king crab, and deep fried halibut in addition to other great menu options.
The price is higher, but the food is good and the fine dining experience will make a great memory of your trip to Fairbanks.
Baan Laos Khawneiow
You will leave this owner-operated outside eatery full and with leftovers! It's the easiest place to miss but it's worth the short drive.
If you are looking for real Thai food that you know is freshly prepared, you can't go wrong here.
Multiple lunch and evening meal options for the hungry eater. Expect about a 15-minute wait for an order for two, but don't worry there are a few things to do nearby.
Get some fresh spring water from Fox Spring, check out the pipeline about a mile away, or walk to the park about a hundred yards away.
Address: 2287 Steese Hwy Fairbanks AK 99712
Where Will You Eat In Fairbanks?
That sums up our list of places where you should eat in Fairbanks. This list did not list every restaurant in Fairbanks, but we did try to cover most of our favorites and places known for good food and a good atmosphere.
There are a number of food trucks in Fairbanks that you can also check out. If you are headed to Anchorage, you should check out these great food trucks as well.
Do you have a favorite place to eat in Fairbanks? Let us know so we can get out and try them.
Are you traveling around the area and looking for day trips that you can make from Fairbanks? Check out our list of things you can do around the area as well as our article about 24 amazing things to do in Fairbanks while you are here.
---
Pin It For Later!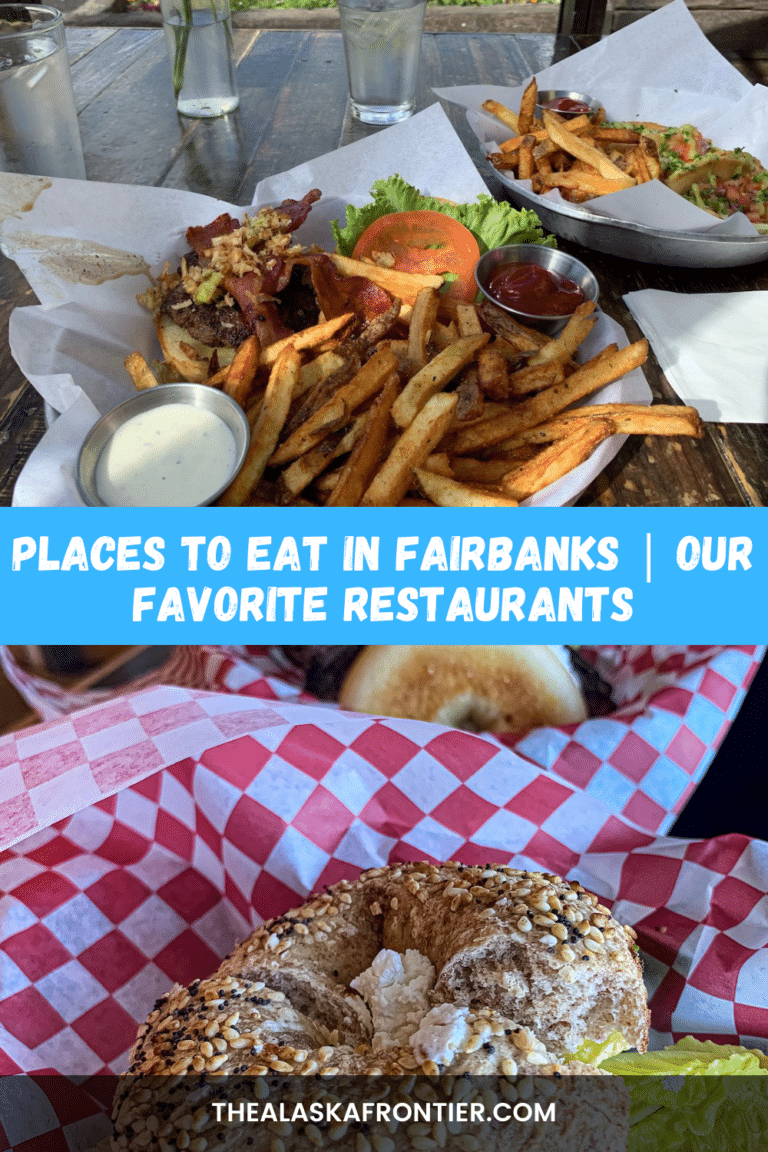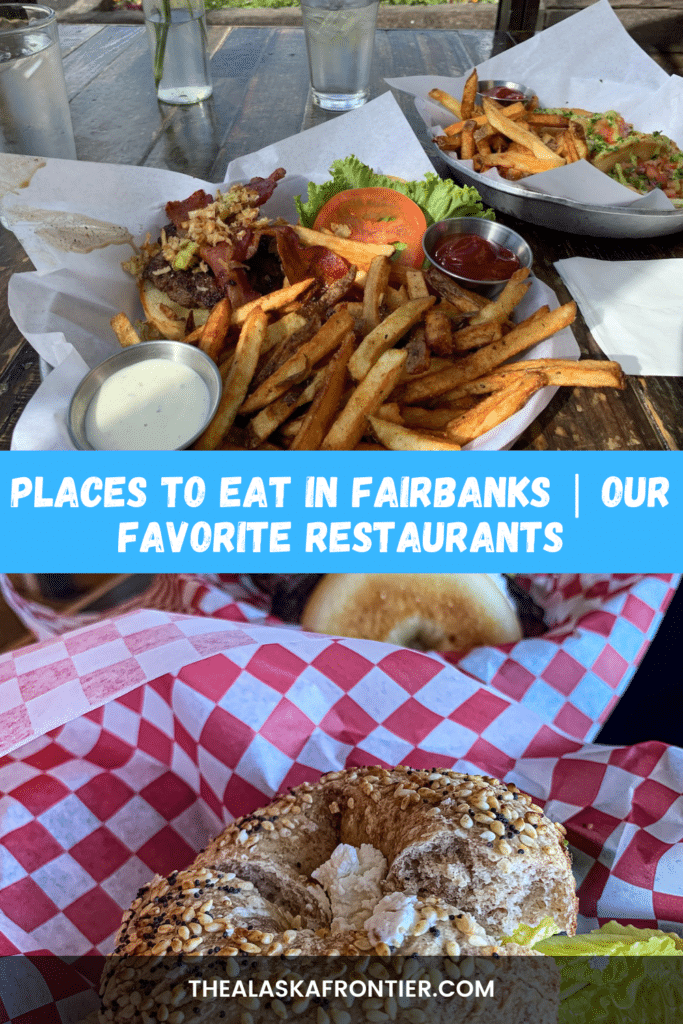 Evan Grimm is a freelance writer based in Fairbanks Alaska. He is a husband, father, certified pilot, and committed outdoorsman. He runs a digital marketing business that serves service-based businesses and is heavily involved in non-profits helping people in remote places of Alaska with construction and mechanical services.