Looking for where to eat in Valdez while you are visiting the area?
Valdez is known for its fishing, coastal views, mountains, and wildlife. With all of the things to do in Valdez and see, you need somewhere to eat as you take in the full experience.
We have a short list of restaurants in Valdez. It's a small town but the restaurants are good. There are multiple cuisines to choose from.
We will cover the top 8 restaurants in Valdez. This was from our experience, but also by the direction of some of the local residents who regularly go out to eat.
This is not a comprehensive list of all the restaurants in Valdez, but it contains what in our opinion are the places everyone should check out, especially if you are driving from Anchorage to Valdez for the day.
The Fat Mermaid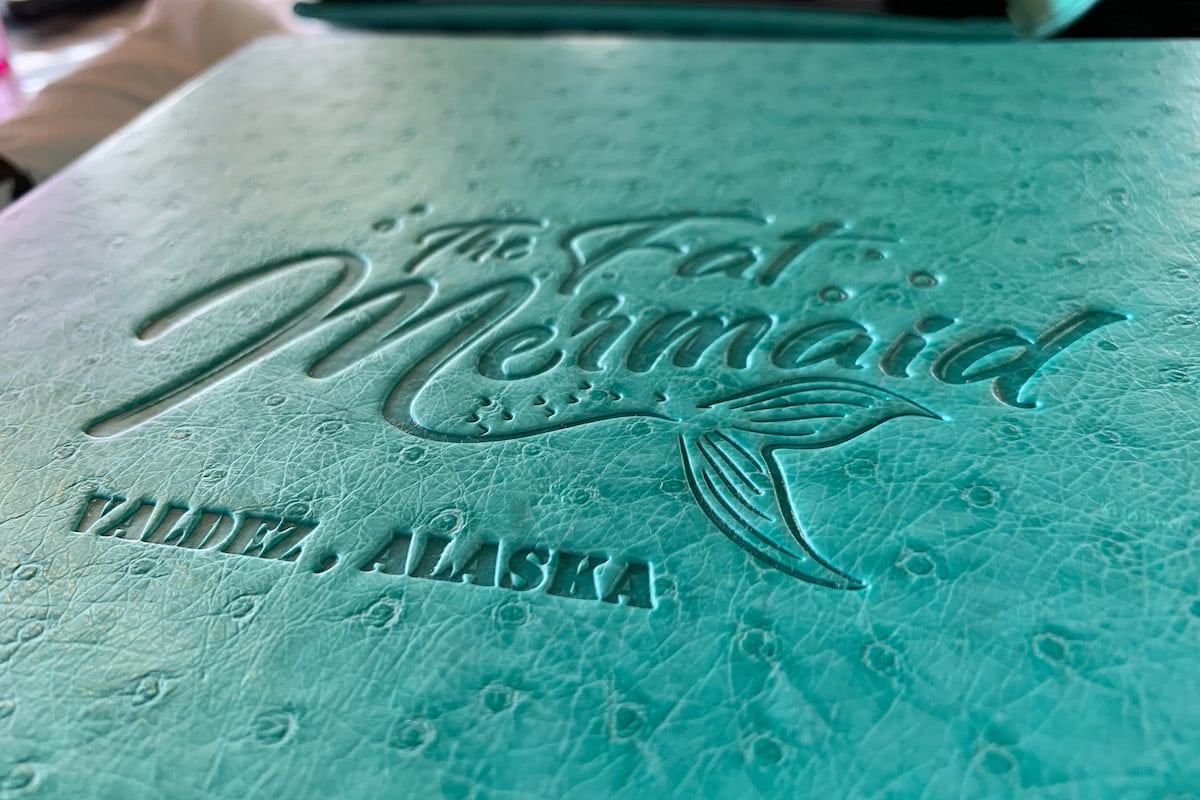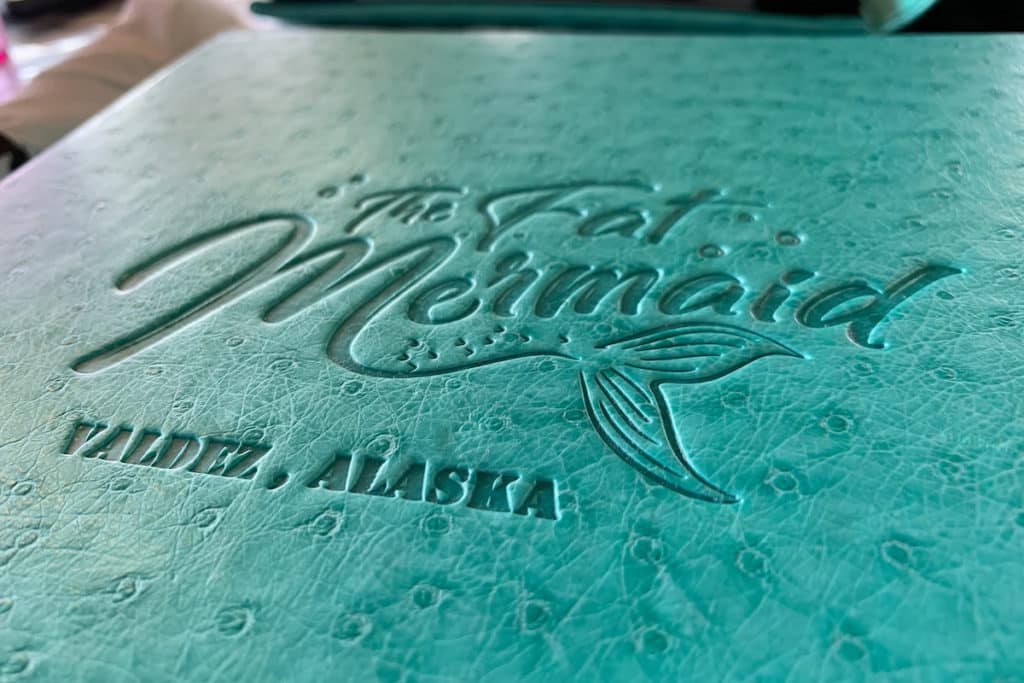 The Fat Mermaid not only has a memorable name, but it also has memorable food and a nice harbor restaurant feel.
It is located directly across from the boat docks and close to the harbor gift shops, so it's an easy place to duck into for a meal if you are already near the water.
While Valdez is not nearly as touristy as Seward, this particular restaurant will get packed, so we recommend making a reservation in advance.
While enjoying the waterfront view you can feast on quality Prince William Sound seafood or, if comfort food is your thing, they have options for almost everyone.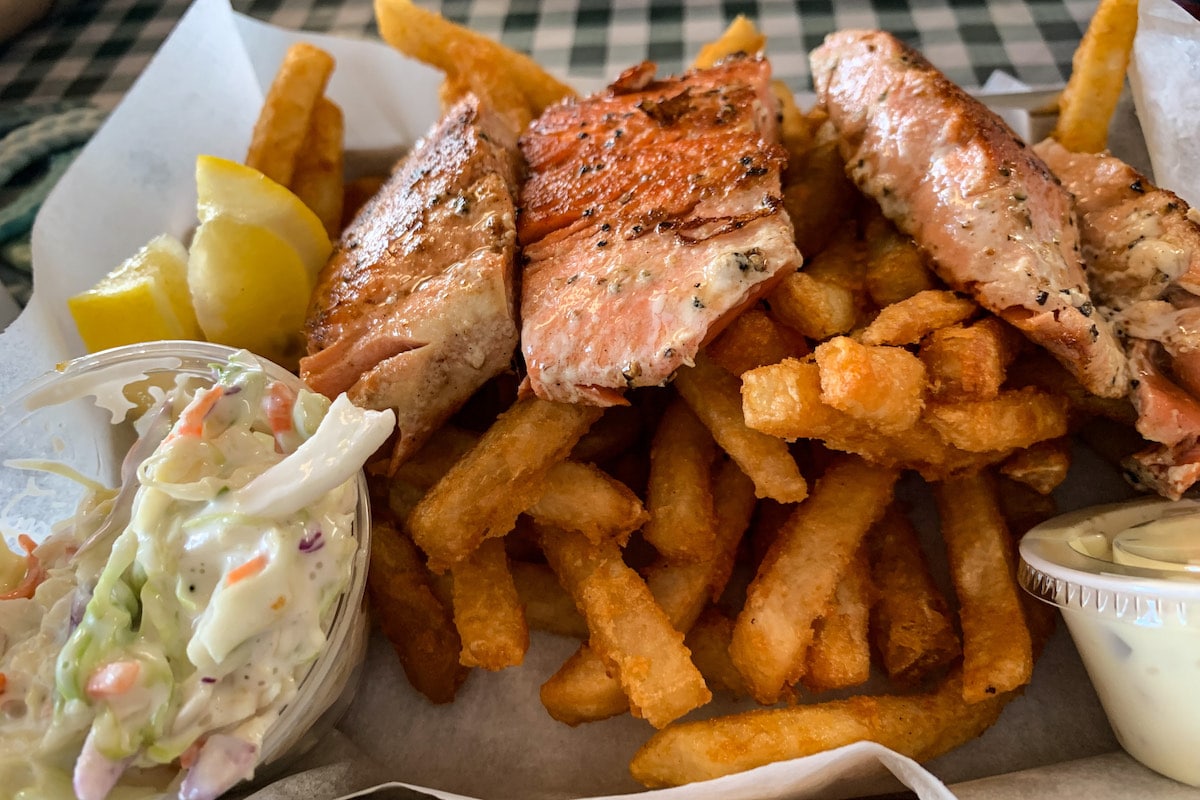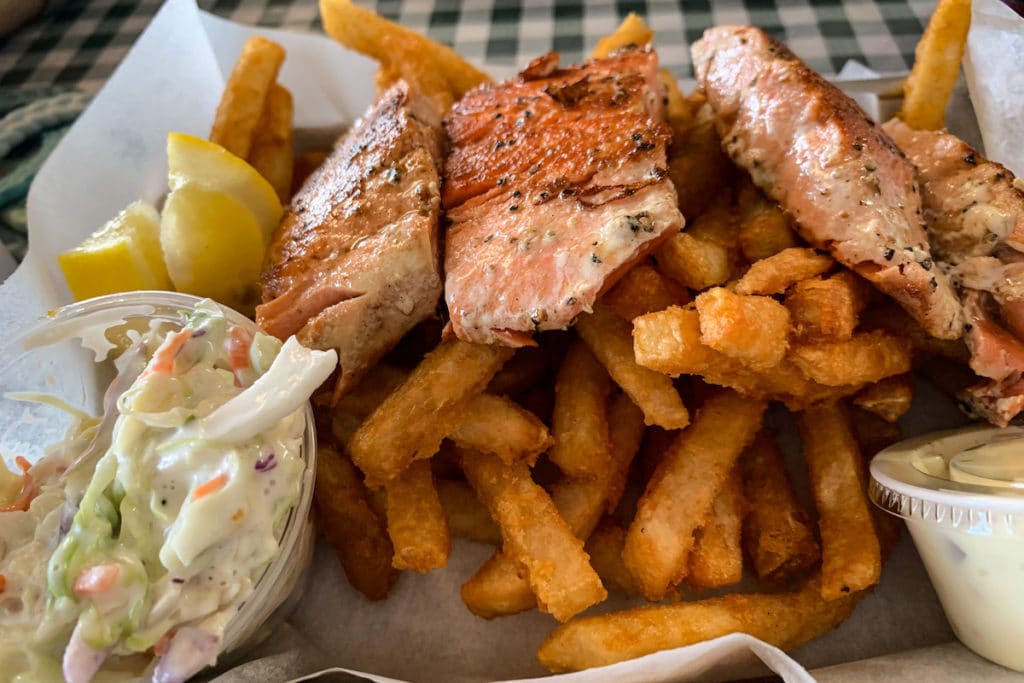 There are lots of options available on the menu so come with an appetite. They are very accommodating to people with food allergies like gluten or dairy, without sacrificing great flavor.
Getting there: 143 N Harbor Drive Valdez AK 99686
The Wheelhouse
The Wheelhouse boasts the best view of all the options on this list. If you want a meal with a view this is the place to go.
Unfortunately, during our stay early this year, the Wheelhouse was temporarily closed so we did not get to experience the food firsthand, but the local residents thought this place should without a doubt be on the list of restaurants in Valdez to try out.
The food quality is well known; not only locally, but anywhere you travel in Alaska and ask someone to recommend a good restaurant to visit in Valdez, the Wheelhouse is likely to come up.
Their popular dishes like the Alaskan seafood, steaks, burgers, sandwiches, pasta, and salads are prepared fresh and will not disappoint.
If you like the sound of an evening with a good view and a nice glass of wine this is a place you should check out.
Getting there: 100 Harbor Drive Valdez AK 99686
Fu Kung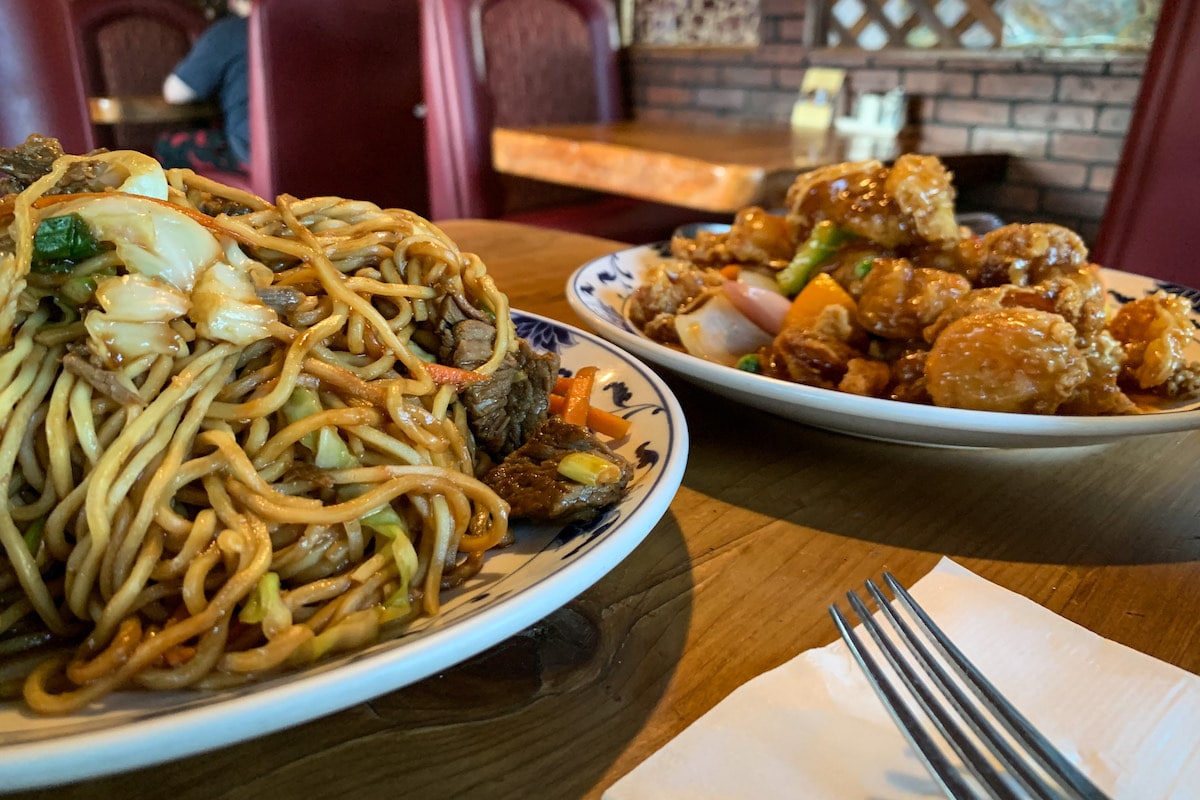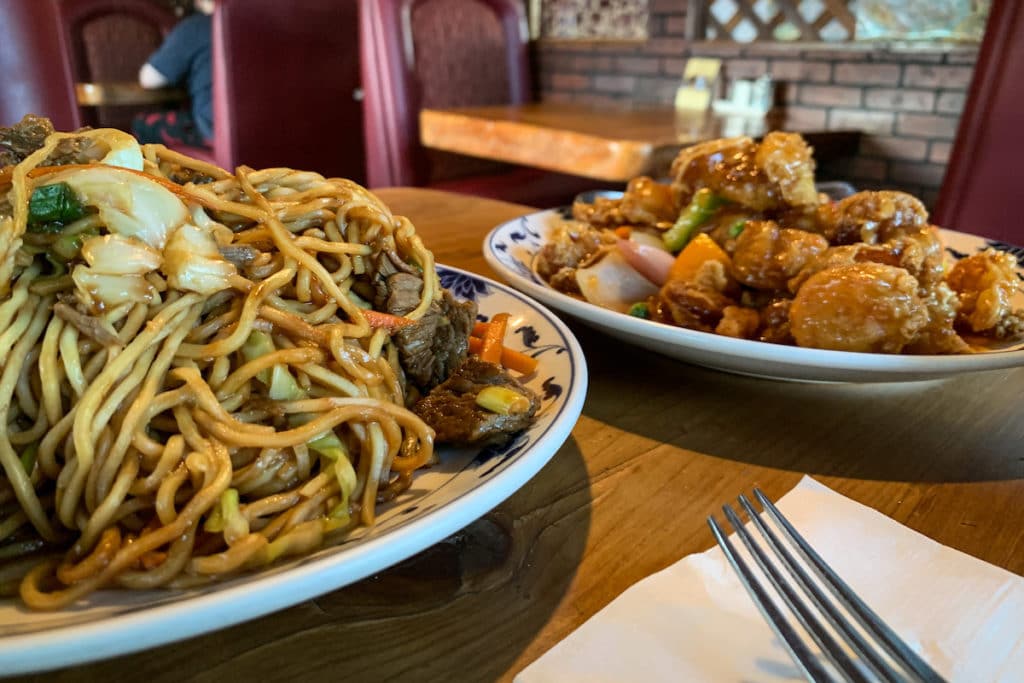 Not to be confused with Kung Fu, Fu Kung is a high-quality Asian food restaurant located a short walk from the boat docks. As you look through the menu you will see all kinds of Chinese food options as well as Sushi and Thai food.
This restaurant is a very comfortable and inviting place for a meal. The rustic interior will take you back to a time when the world seemed to spin slower.
Regardless of the inviting interior, the waiters were very kind and the dishes were pleasing.
If you are hungry for a big and delicious meal this may be the place you want to go. Their helping sizes are liberal, so unless you have a huge appetite you can expect some leftovers to take to the camper or hotel room to enjoy for lunch the next day.
Getting there: 207 Kobuk Dr Valdez AK 99686
The Potato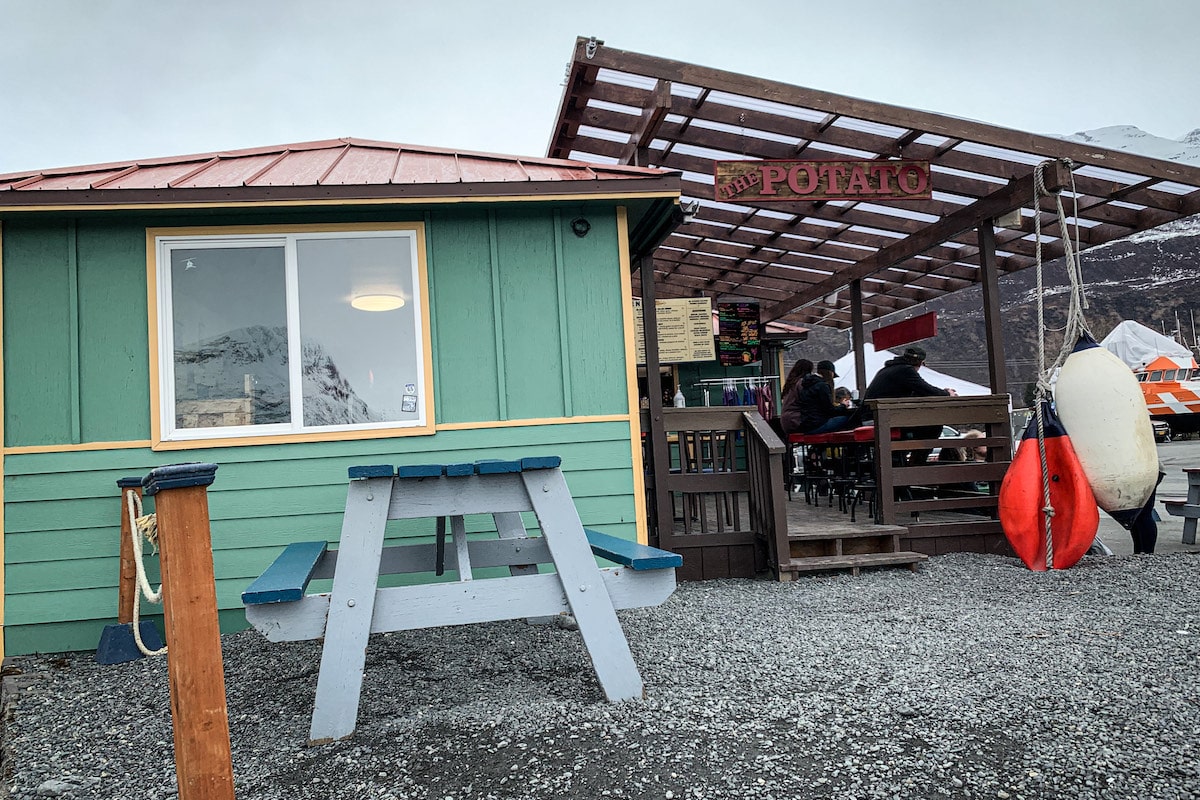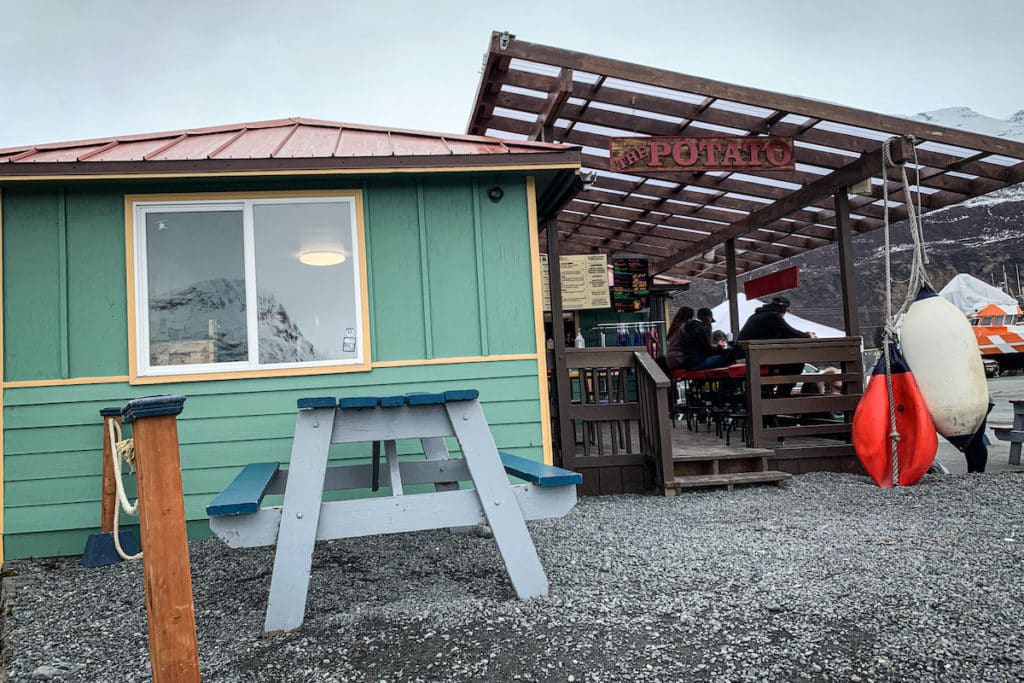 Once again, this little restaurant is located up close and personal with the boat docks.
Just across the street, you can watch boats coming in and going out. Their friendly staff were very accommodating to food allergies and the menu had multiple options for people that have sensitive stomachs.
The food quality was great and there was not a long wait for the food after we ordered. Along with the high-quality comfort food, beer, and wine are available for those that want it.
While enjoying your meal you can either sit inside or feel the coastal air as it sweeps across the outdoor seating options. The Potato's flexible menu and friendly staff leave a favorable memory on your mind and the good taste of great Alaskan food in your mouth.
They are open from May 1 – September 15.
Getting there: 255 N Harbor Dr Valdez AK 99686
The Stampmill
The Stampmill is known for its delicious pizza. Additionally, they offer sandwiches salads, and pasta which are all spoken highly of by the residents of Valdez.
Unfortunately, this restaurant was also closed for renovations during our stay in Valdez so we did not get to experience the delicious food the locals raved about.
Located directly across from the Keystone Hotel, this restaurant is on a convenient road a few minutes from the coast. This is one restaurant we were really disappointed to miss.
The food on the menu is said to be top notch and the interior rustic with an artistic twist to the bar area. If you want a memorable meal experience this is a place you should visit.
Getting there: 328 Egan Dr Valdez AK 99686
Mike's Palace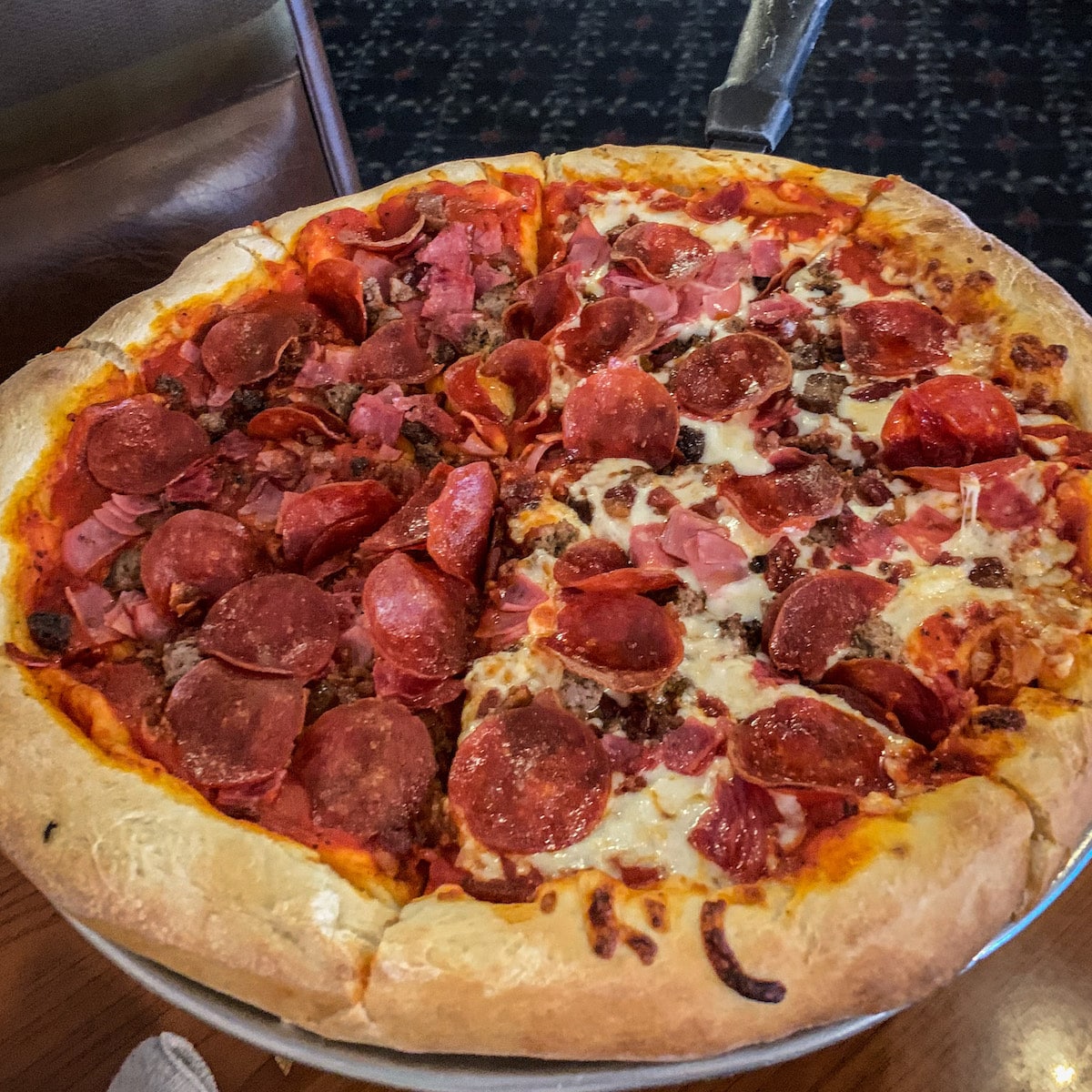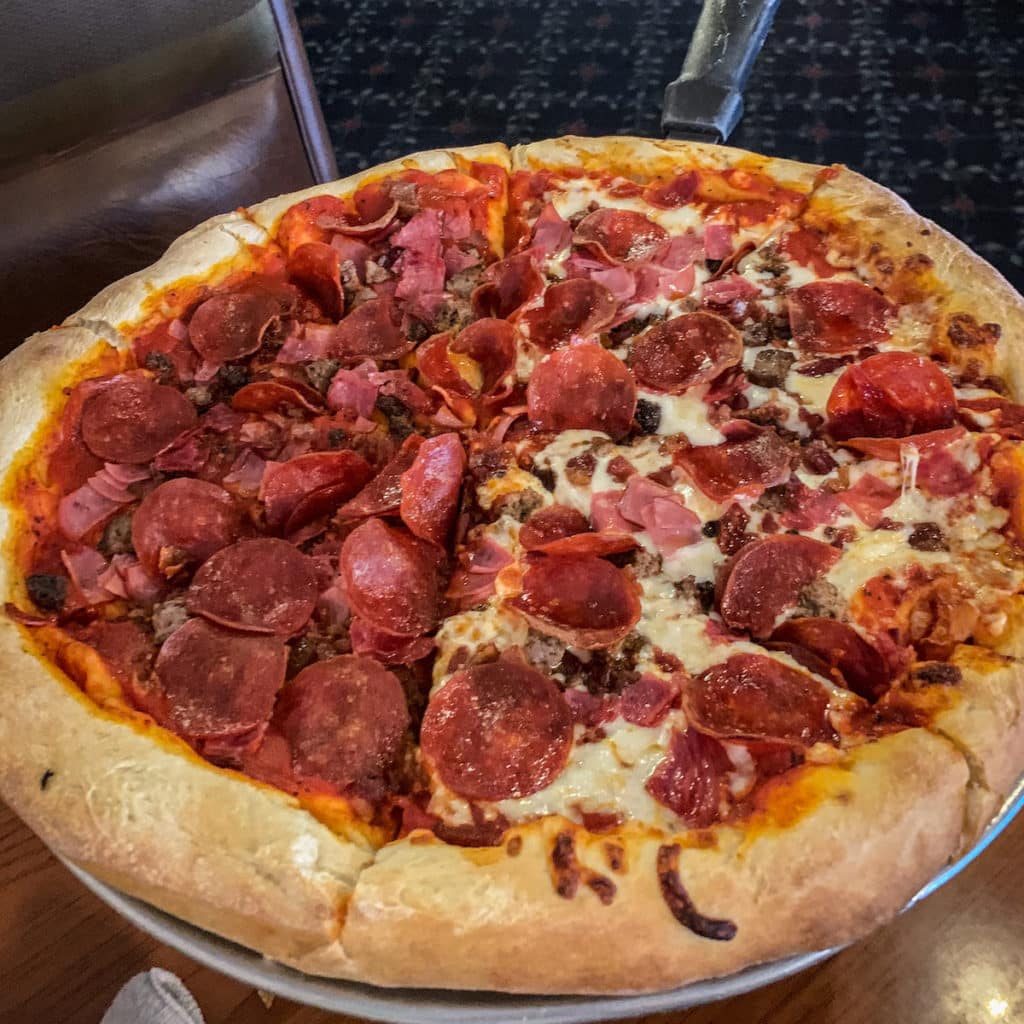 Once again, this restaurant is situated across the road from the boat dock.
Mike's Palace is a convenient place to sit down and enjoy Italian food if you are near the water or just getting off a fishing charter with a hungry stomach.
It truly is a palace. With the high ceilings and plenty of space, you will find yourself looking at the finished wood interior while feeling like you stepped back 50 years in time.
In the true Italian American spirit, we enjoyed one of the pizzas they offered. They were able to work around food allergies and had a very kind and caring staff.
There is plenty of space for everyone so we recommend this restaurant to families with multiple children or larger groups of people who want to sit together.
Their menu includes the normal Italian pasta and pizza as well as sandwiches and local seafood.
There have been reviews on this business that reflect poor service, but in our experience, they were very good to us and made sure we had what we needed.
Getting there: 205 N Harbor Dr Valdez AK 99686
Nat Shack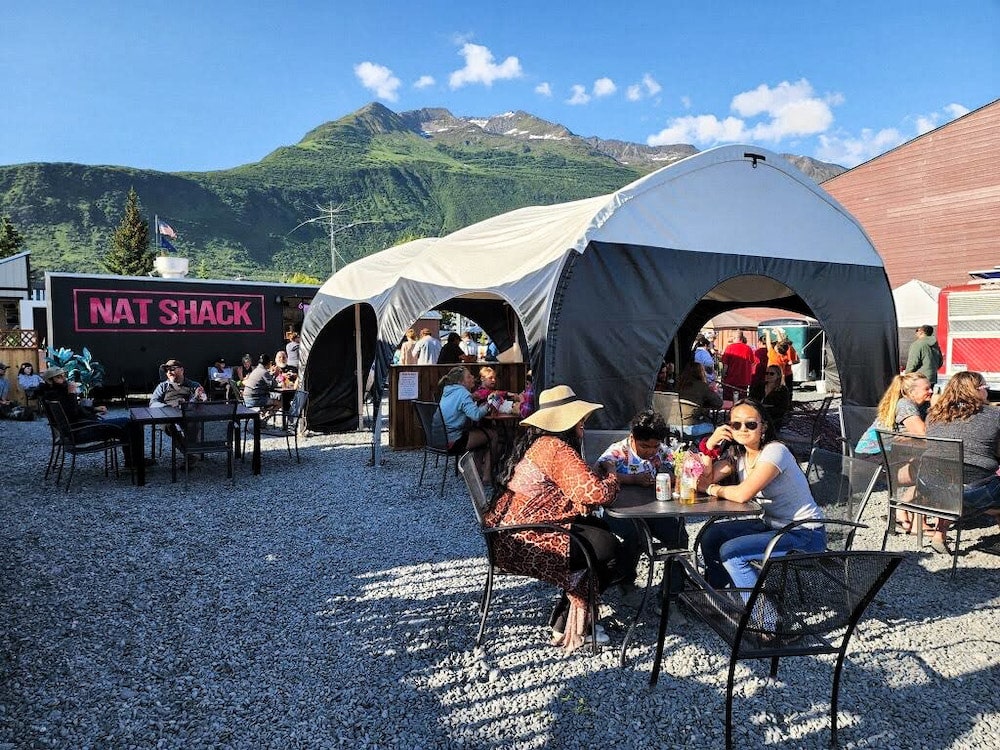 Nestled in the harbor is this nice little Cal-Mex outdoor eatery. The Nat Shack is known for its tacos and healthy and delicious food options.
If you are looking for a delicious taco this is the place to be! You can enjoy your freshly cooked Crunch Wrap or Taco while sharing a go-along dish with a friend and experiencing the cool inlet breeze.
Their healthy meal options include tacos, crunch wraps, burritos, salads, and various sharable dishes. With gluten-free, vegan, and vegetarian options, the Nat Shack will have a meal for everyone.
Getting there: 239 N Harbor Dr Valdez AK 99686
Old Town Diner
Old Town Diner is known for its amazing old-fashioned food. They strive to provide excellent food for all their customers.
Their menu contains several American food options that are satisfying and tasty. If you like a burger this is the place to go.
We recommend tracking with their Facebook page for updates. Occasionally their phone system does not work, but they will be active on Facebook to let their customers know what is going on.
Getting there: 139 E Pioneer Dr Valdez AK 99686
What Place Will You Eat At In Valdez?
If you are headed to Valdez and wondering where to eat, this post gives you some of the top restaurants in the area. Whether you are looking for coastal Alaskan food or a familiar American meal, this small town has you covered.
Enjoy Valdez and experience the views and wildlife. We are sure you will enjoy the full coastal Alaskan experience.
---
Pin It For Later!