Alaska is known for its stunning wildlife that can be spotted all the way from the depths of the ocean, to the skies above our tallest mountains.
Every year, visitors make the journey to the United States' largest state for a chance at animal viewing, and there is no shortage of animals to find!
In the ocean, summer visitors have a great opportunity to spot whales after they have made their migration north.
In May, it is easy to spot land mammals like moose, bears, and wolves.
Look skyward and you may see one of the most recognizable symbol of the USA — the bald eagle.
However, wildlife is just that; wild.
Viewing wildlife in Alaska is not guaranteed as these animals are not always in Alaska, depending on their migration patterns. Of course you may always find Moose and bears.
They also have a healthy fear of humans, and some will be harder to spot than others. If you are planning a trip to Alaska and are hoping to log some wildlife viewing hours, here are some of the best places to add to your itinerary.
1.) Alaska Wildlife Conservation Center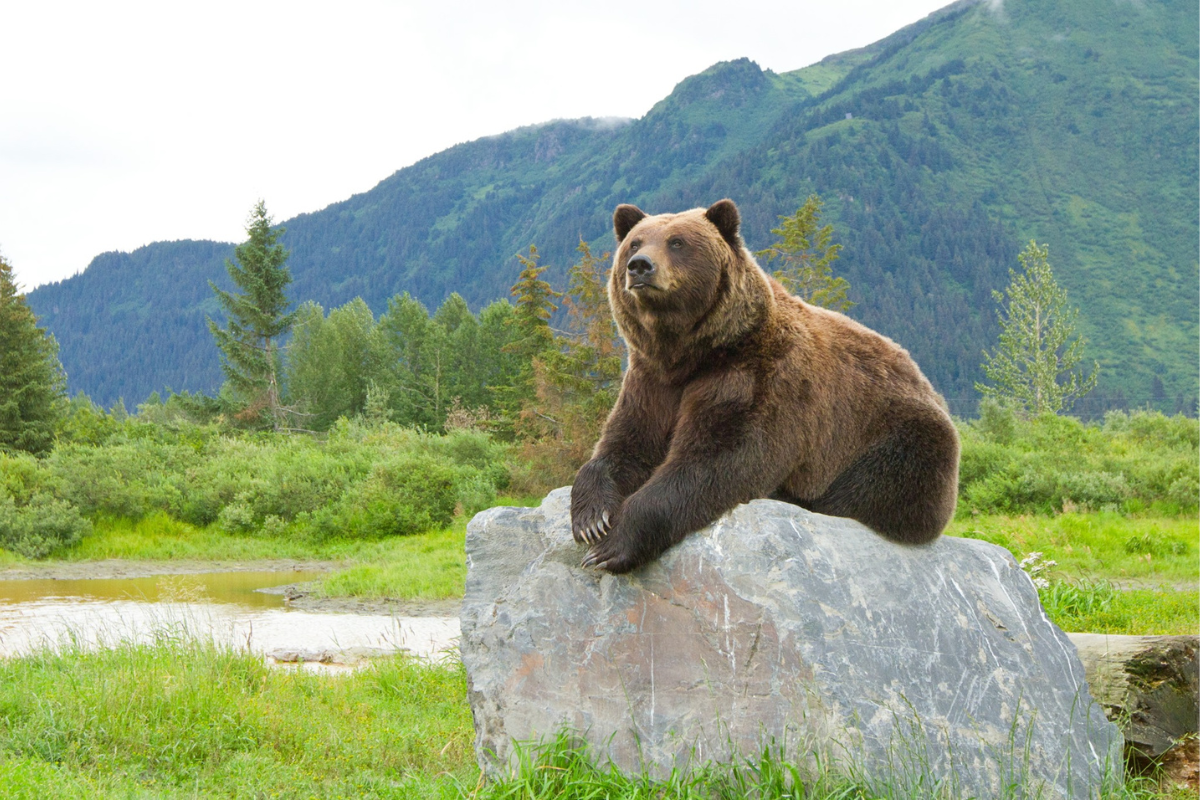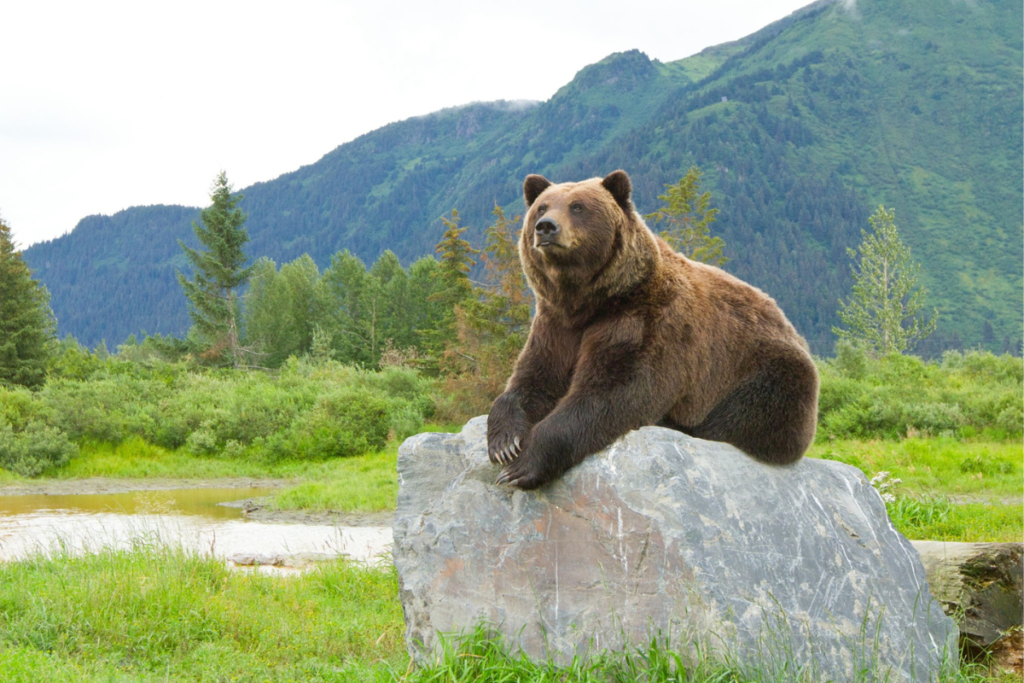 At the Alaska Wildlife Conservation Center, you can expect to see many of this state's iconic animals. Most of the animals at the Conservation Center have been injured or orphaned and are given the best care, and for many, a home for life.
What can you expect to see at this conservation center?
There are many fluffy friends to spot, including the official animal of Alaska, the moose! Say hello to Arnold, a male moose, as well as two younger females, Pip and Jo.
In addition to moose, you can learn about the difference between brown and black bears, wave hello to Adonis the bald eagle, watch the wood bison graze, and maybe even catch a glimpse of some prickly porcupines!
What is great about this location is how easy it is to get to from Anchorage. Just a short jot down the highway towards Seward and you'll find a pull off for the Alaska Wildlife Conservation Center.
Be sure to stop by and spend an hour looking at the animals. Think of it as an outside zoo with a gift shop that helps support their cause.
Location Information
Address: Mile 79 Seward Highway Portage AK 99587
Phone: (907) 783-0058
Website: alaskawildlife.org
2.) The Alaska Zoo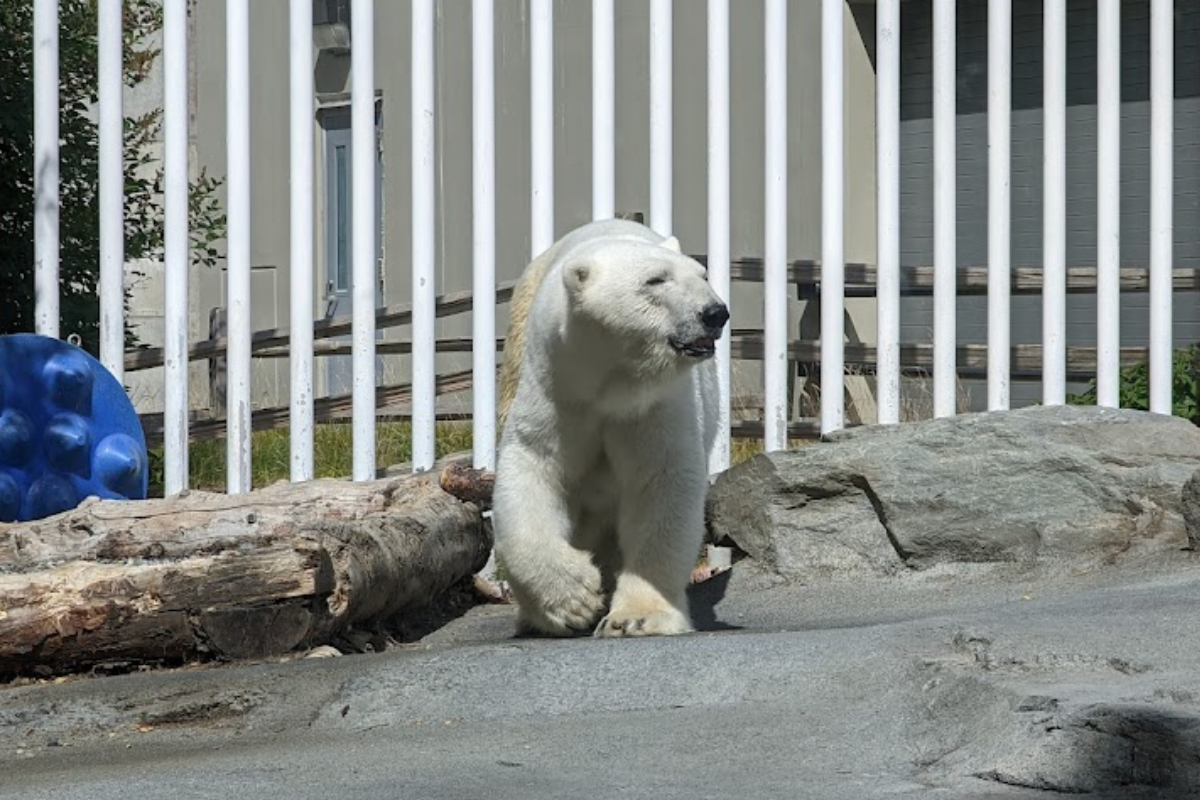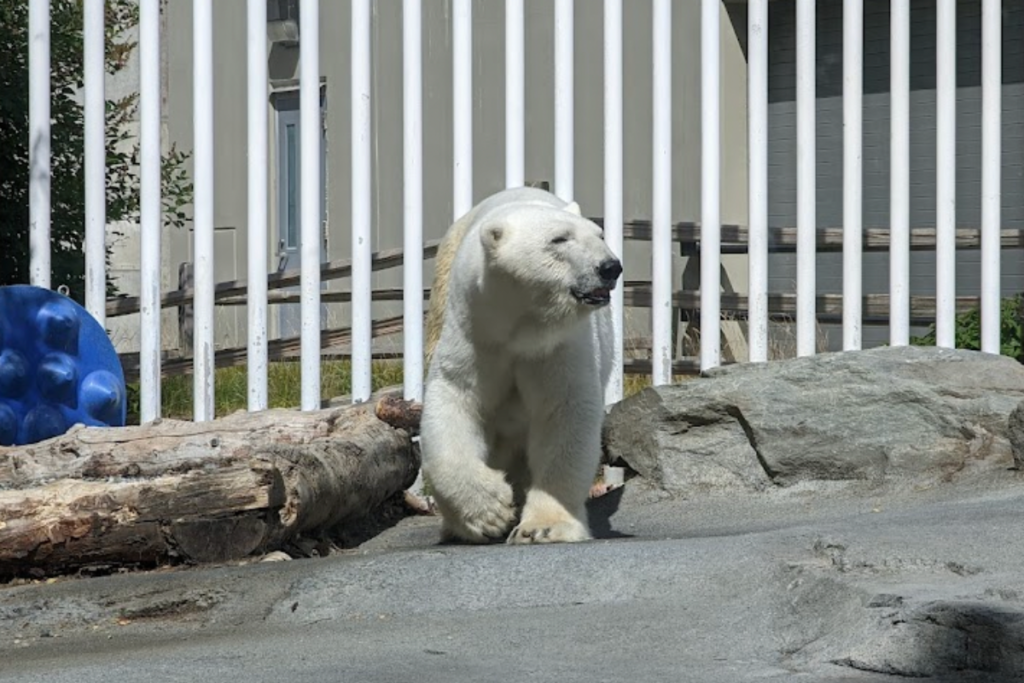 The Alaska Zoo in Anchorage is dedicated to the conservation of Arctic and sub-Arctic species, so there are lots of Alaska-specific wildlife here.
Get excited for your Alaskan excursion before you ever head to the airport with the zoo's polar bear live cam, where you might catch a glimpse of Cranbeary splashing in the water.
Once you arrive, you will be able to see the other animals including a snow leopard, moose, caribou, Tibetan Yak, and Harbor Seal, to name a few.
From Memorial Day through Labor Day, the zoo offers Summer Tours and feeding experiences, so enthusiasts can get up close and personal with the animals.
Location Information
Address: 4731 O'Malley Road Anchorage AK 99507
Phone: (907) 346-2133
Website: alaskazoo.org
3.) Brooks Falls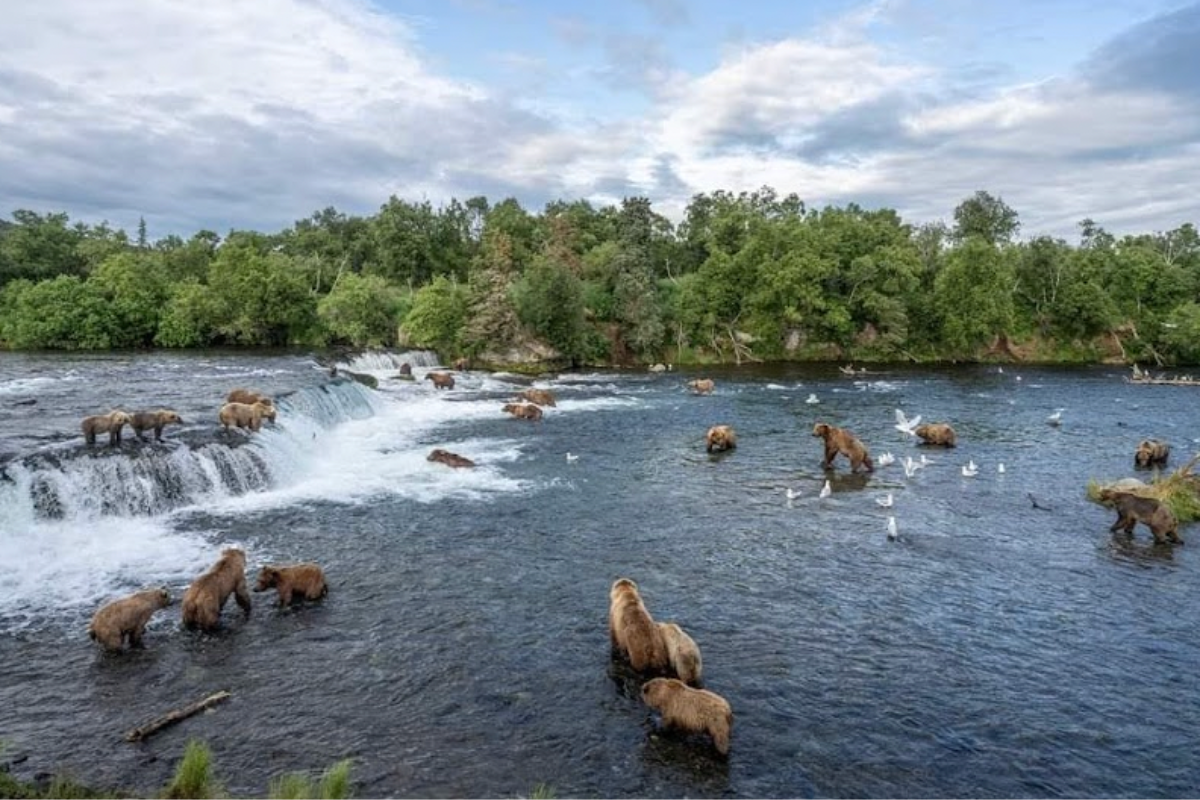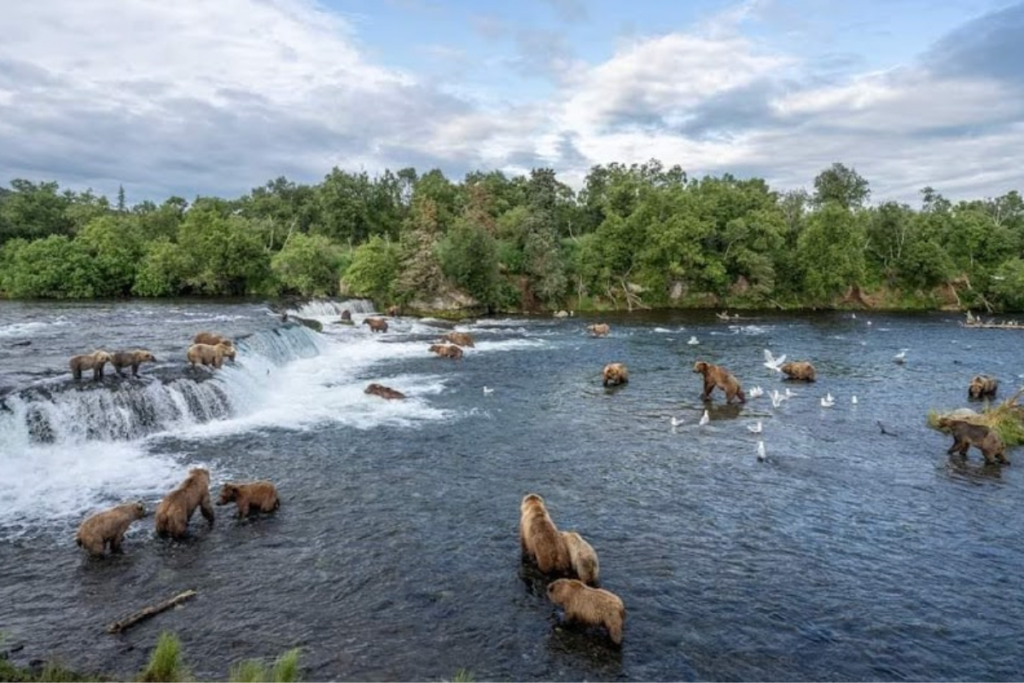 Nestled in Katmai National Park you will find the infamous Brooks Falls. These falls are a famous viewing point for watching salmon leap, and brown bears trying to grab a few of them for dinner.
Katmai National Park is a bit more difficult to get to as it is inaccessible by road, but a remote park can offer some of the best wildlife views. And it is just a quick flight from Anchorage to get you here.
Hop on the Brooks Falls Trail, a hike that is only about 0.6 miles long, and leads to the viewing platforms. Keep an eye out for bears.
Location Information
4.) Glacier Bay National Park and Preserve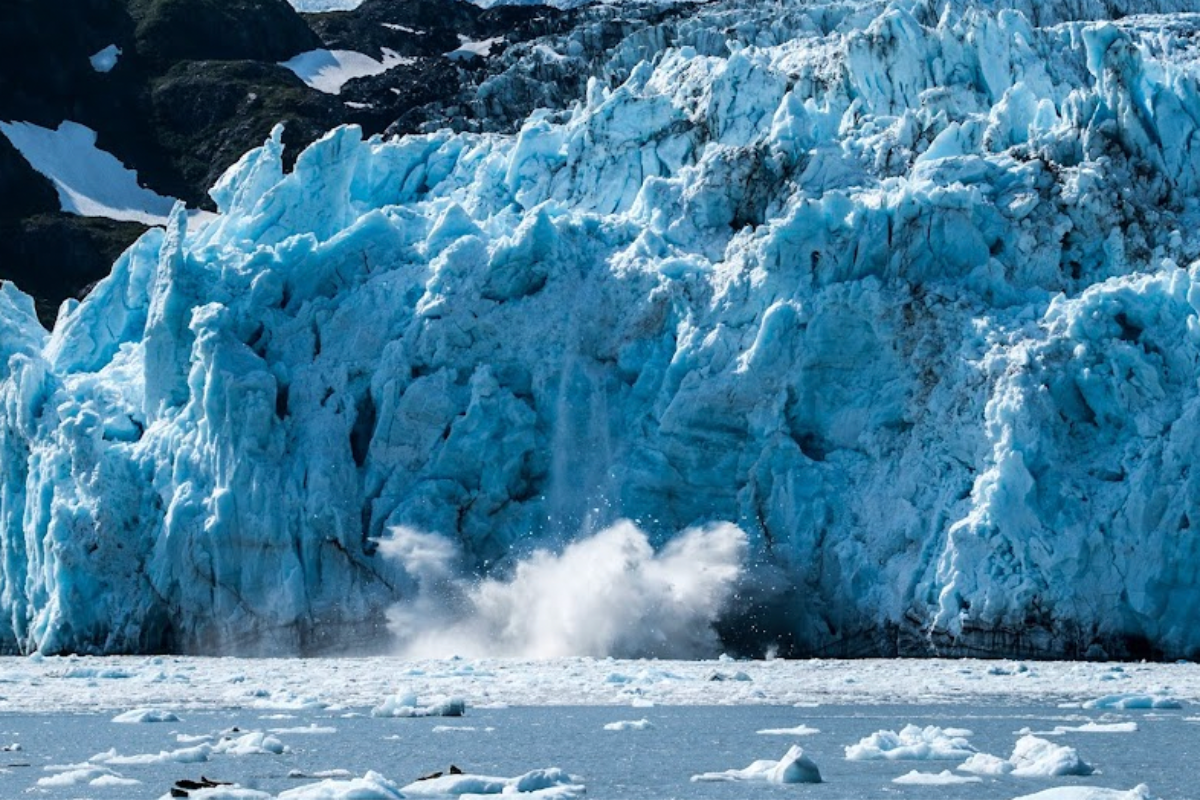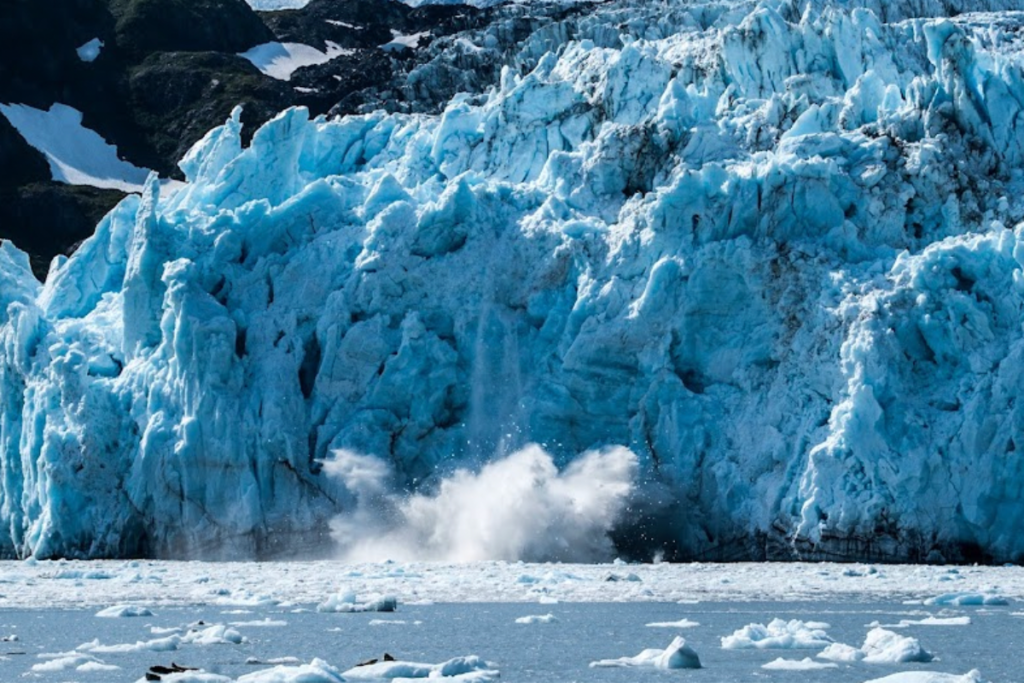 Is there anything more quintessentially Alaskan than Glacier Bay National Park?
Not only is it a National Park, but a World Heritage site as well.
Because this site is heavily reliant on marine life, there is tons of animal action to see.
Check out their seasonal wildlife viewing chart to learn what you might see during your visit. And make sure to hop on a boat; it will be your best chance of checking out the local wildlife.
Location Information
5.) Resurrection Bay in Seward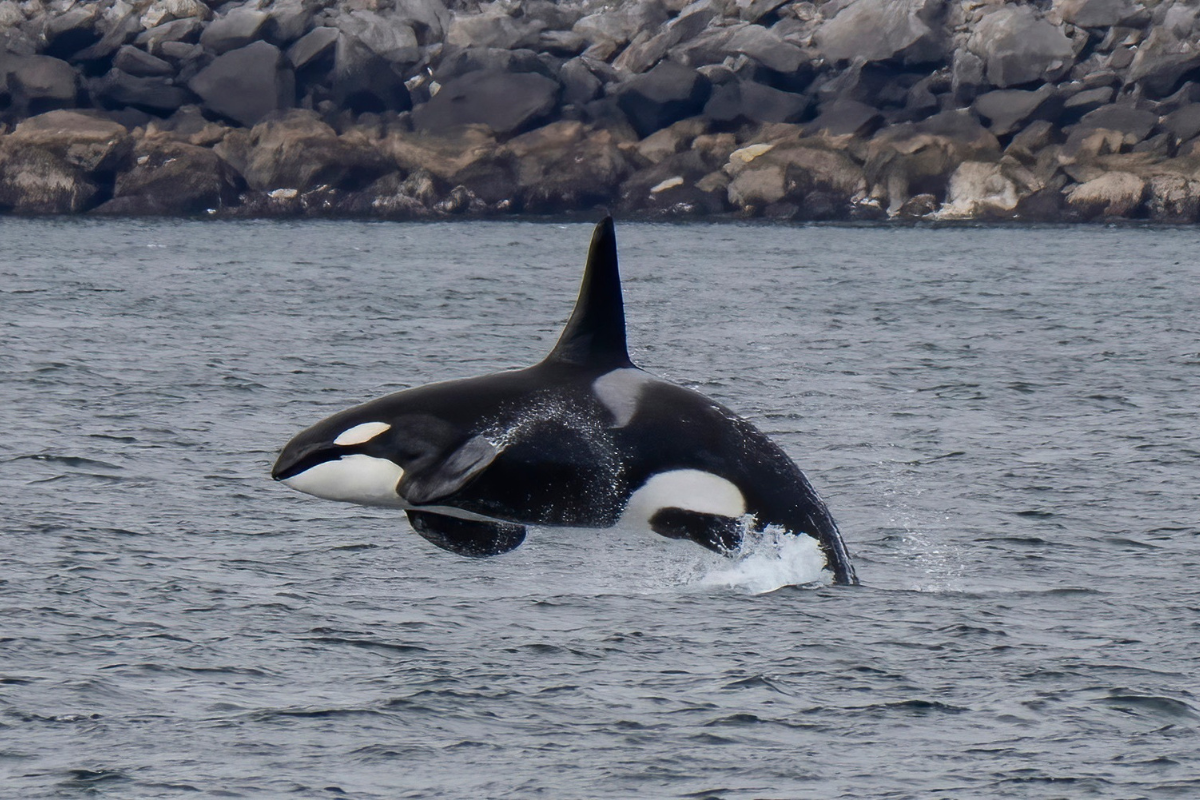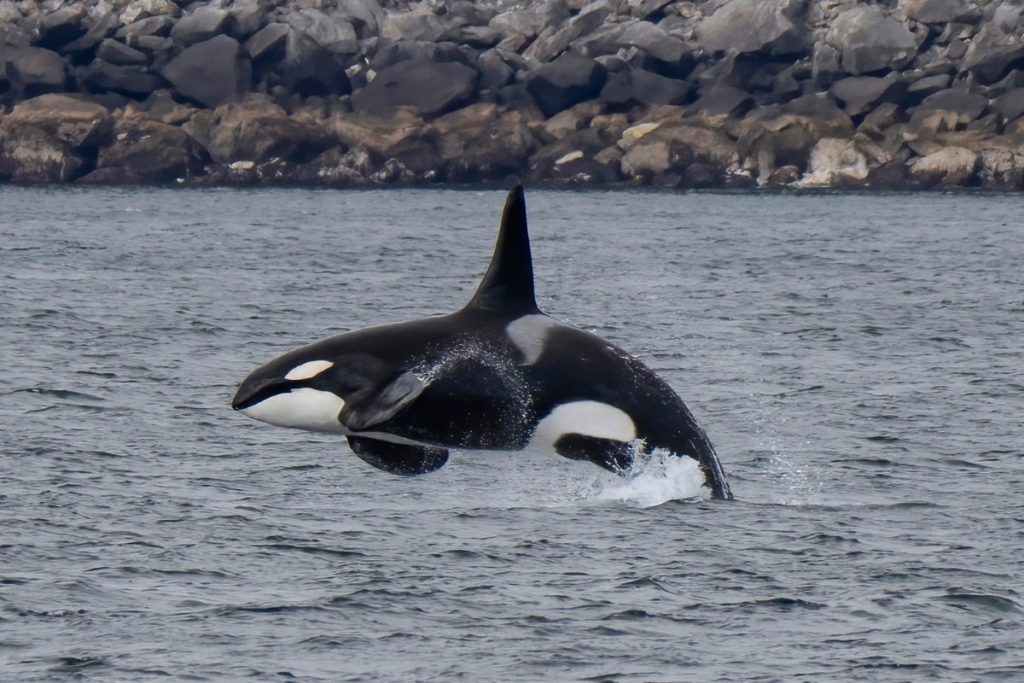 There is nothing that compares to seeing a whale breach and leap from the ocean, except for maybe hearing their beautiful noises and songs.
Resurrection Bay in Seward is a great place for whale watching, especially Humpback whales as well as pods of killer whales.
Most people get their wildlife viewing fix via a boat tour with Kenai Fjords tours. You will love spotting the puffins, sea lions, salmon, and otters.
Bonus Tip: If you get motion sick, be sure to bring the Dramamine and make sure you sit next to the door or stand outside. There's something about being outside in the brisk cold air that lessens the feeling of motion sickness, especially when the boat is moving.
6.) The Alaska SeaLife Center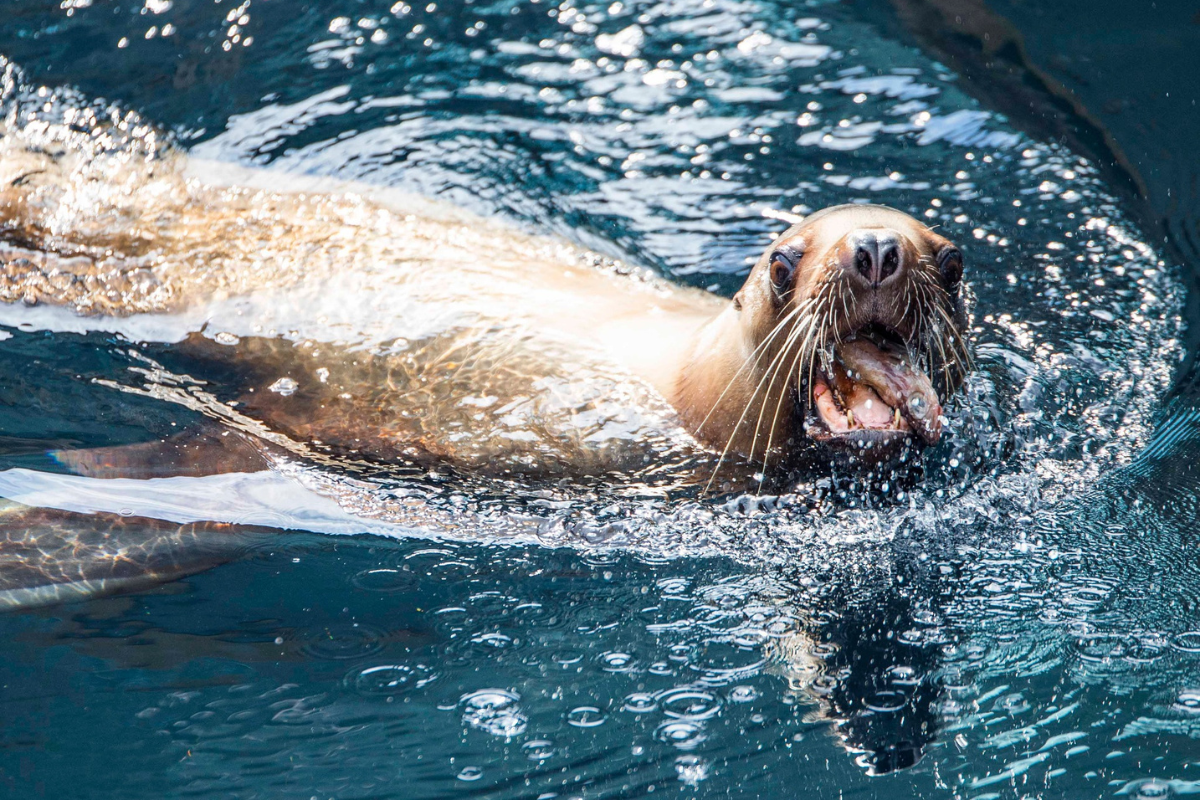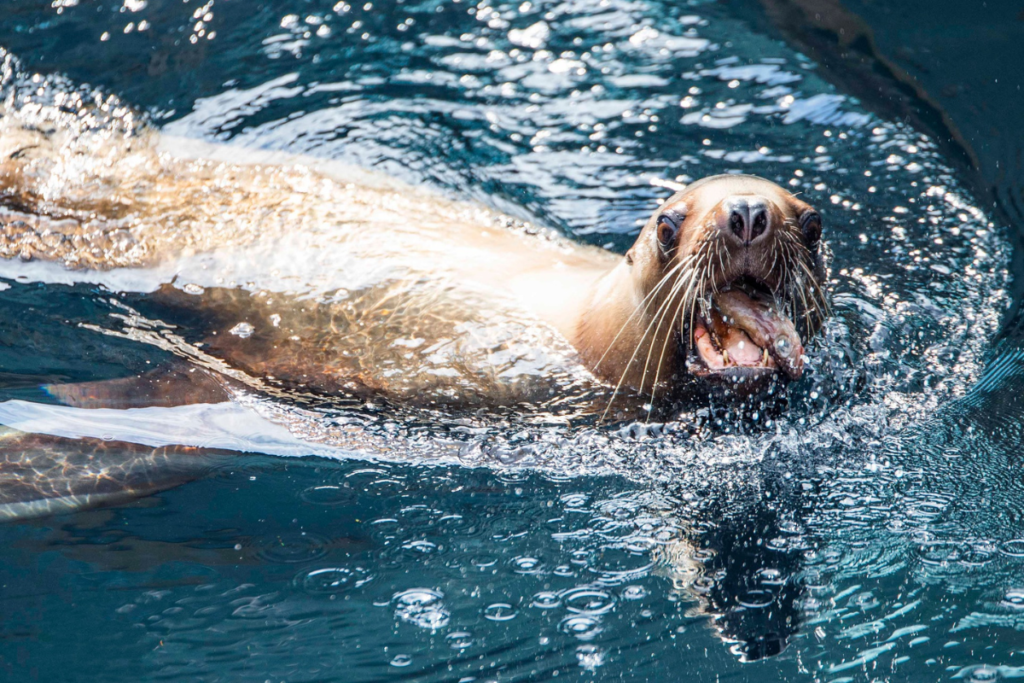 The Alaska SeaLife Center, also located right on Resurrection Bay, is one of the best ways to get in front of the incredible marine life you can find in Alaska.
From small seals, to very large sea lions, and all of the creatures that live far below the surface, it's fun for kids and adults alike.
If you can, visit on a weekday. You will find there to be less crowds, so you will have more time to visit at your favorite spots.
We love the tidal pool, where you can touch your favorite small sea animals inside the case, like the sea star.
Location Information
Address: 301 Railway Ave Seward AK 99664
Phone: (888) 378-2525
Website: alaskasealife.org
7.) Prince William Sound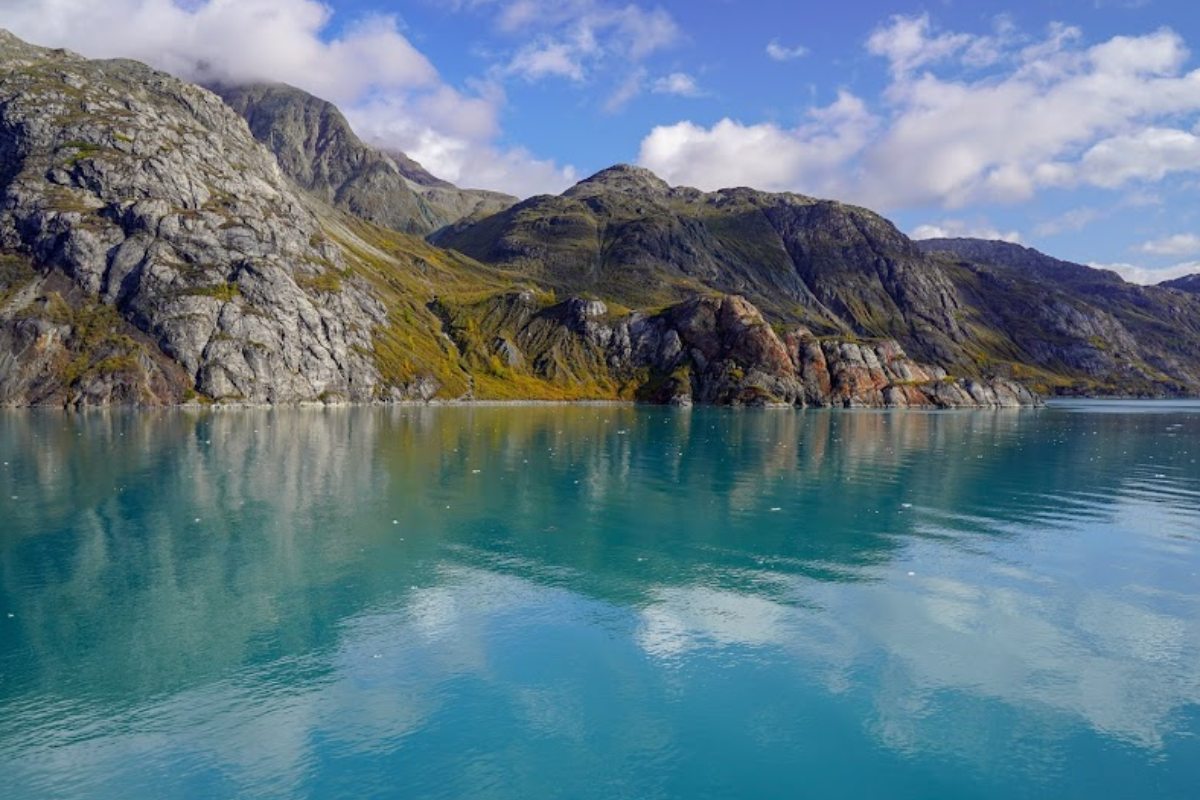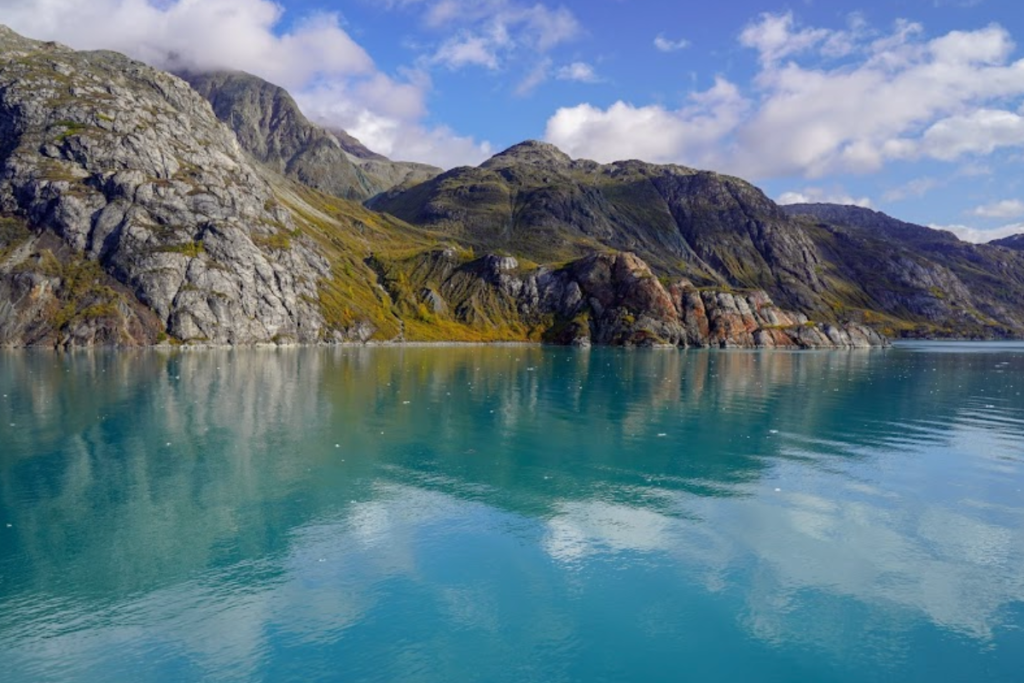 Prince William Sound boasts more than 220 species of birds, 30 species of land mammals, and a dozen marine mammals on its 3,800 miles of coastline.
The towns of Cordova, Valdez, and Whittier offer entry points for wildlife viewing trips, excursions, and kayaking opportunities in this beautiful area.
8.) Denali National Park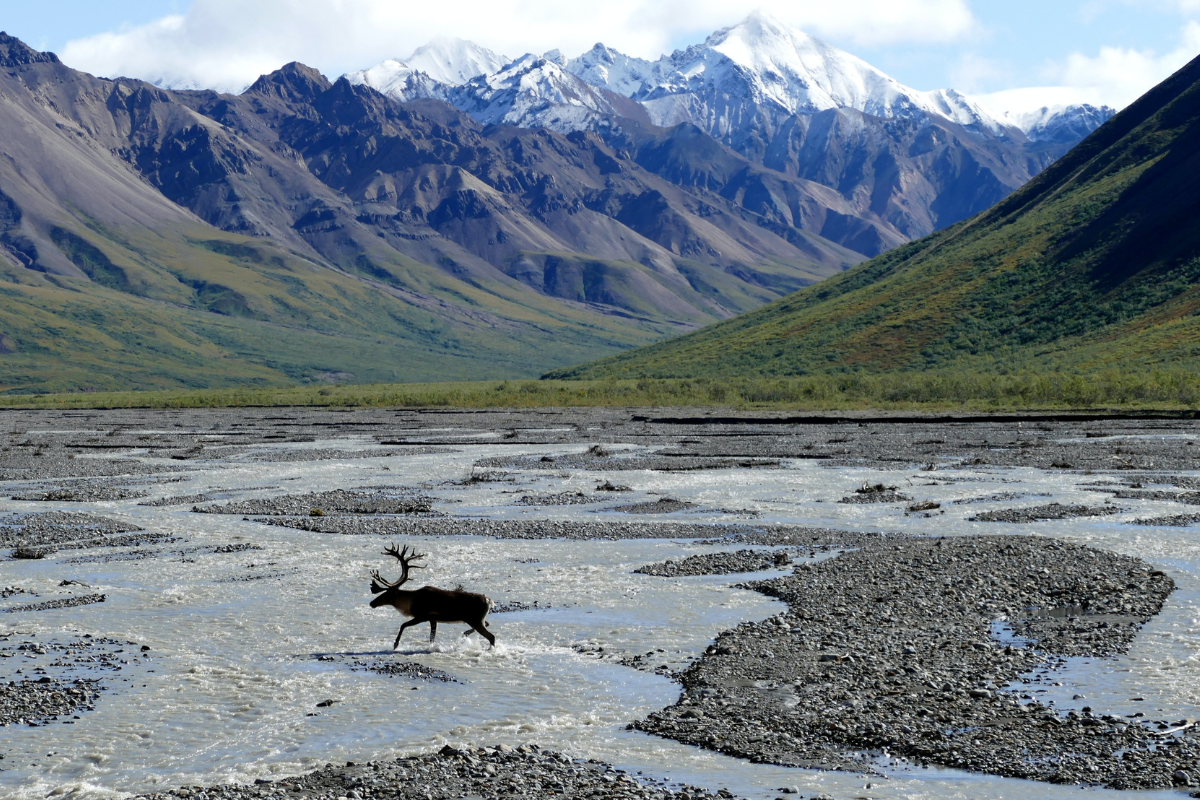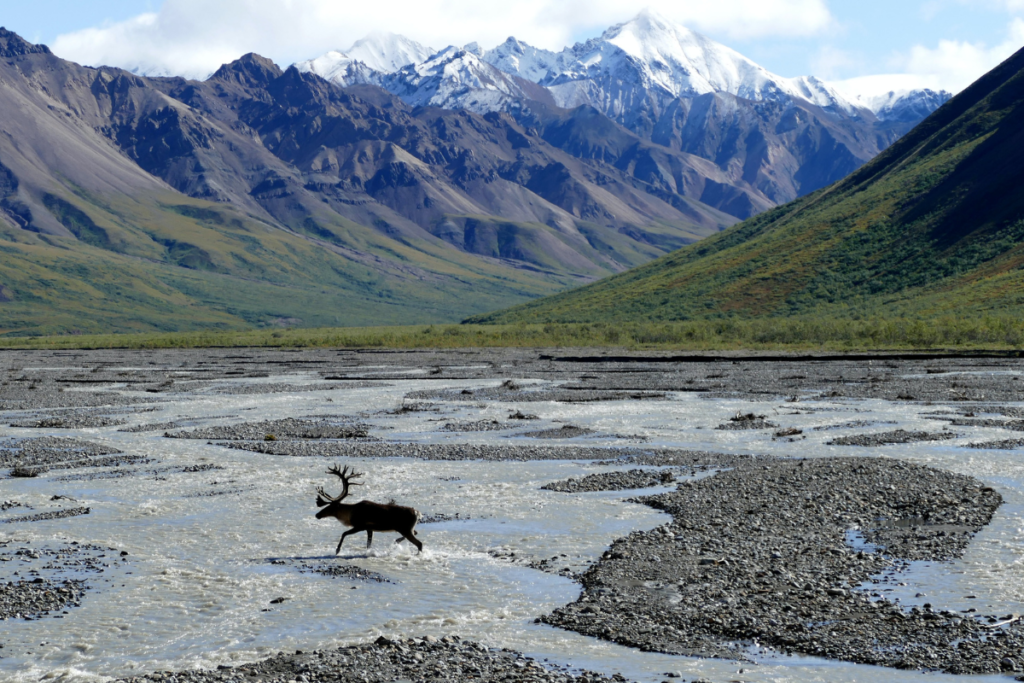 The Denali National Park and Preserve is home to six million acres of wildland and the tallest peak in North America – Denali herself!
Most of Alaska's iconic wildlife has been spotted in Denali National Park, including bears, moose, wolves, and caribou. The best way to spot wildlife according to the park is by bus.
This is a great option if you're traveling with someone who is hiking averse or can't walk for long stretches of time. Cover more ground and see above some of the obstructive foliage on these bus adventures — don't forget your binoculars.
The problem with the bus trip is sometimes it's hard to see the wildlife from within the bus. The only other way into the park is by winning the Denali Road Lottery – where a certain number of people are given a pass to drive themselves through the park each year.
You can view the Denali Road Lottery page here.
As of this writing, this has all been canceled due to the Pretty Rocks landslide.
Location Information
9.) University of Alaska Fairbanks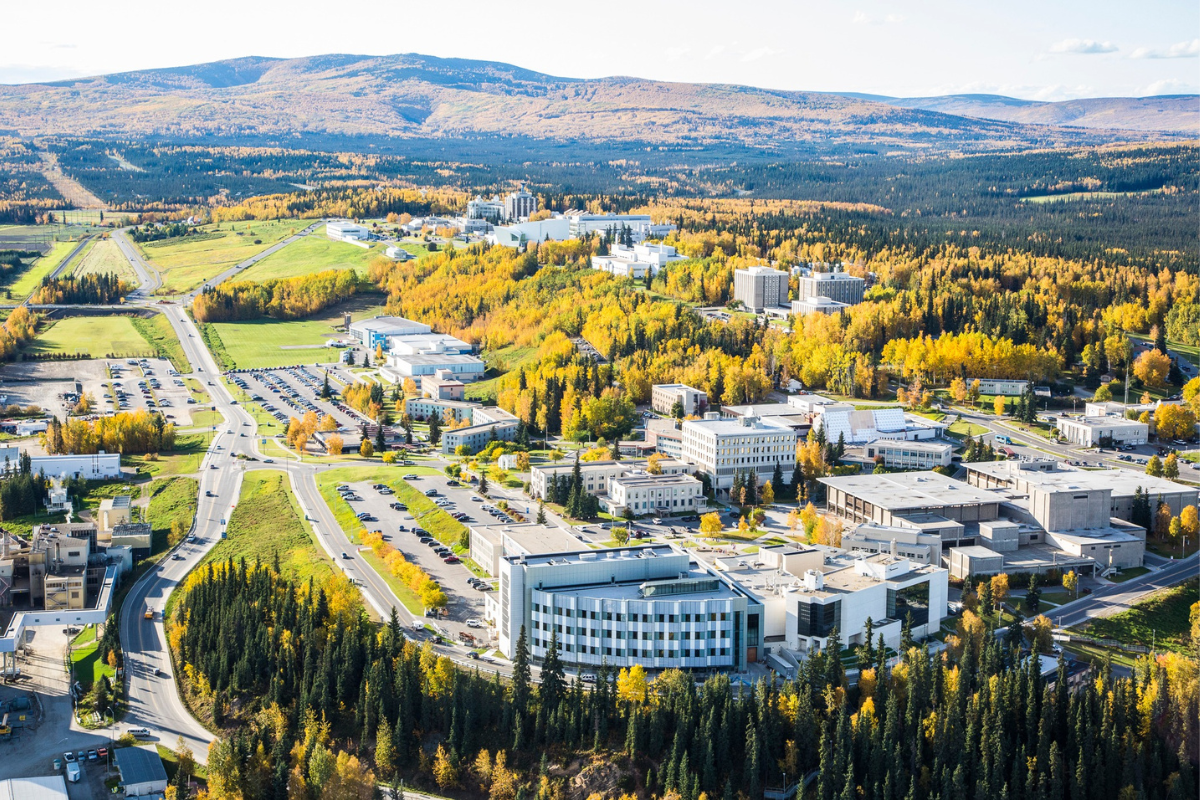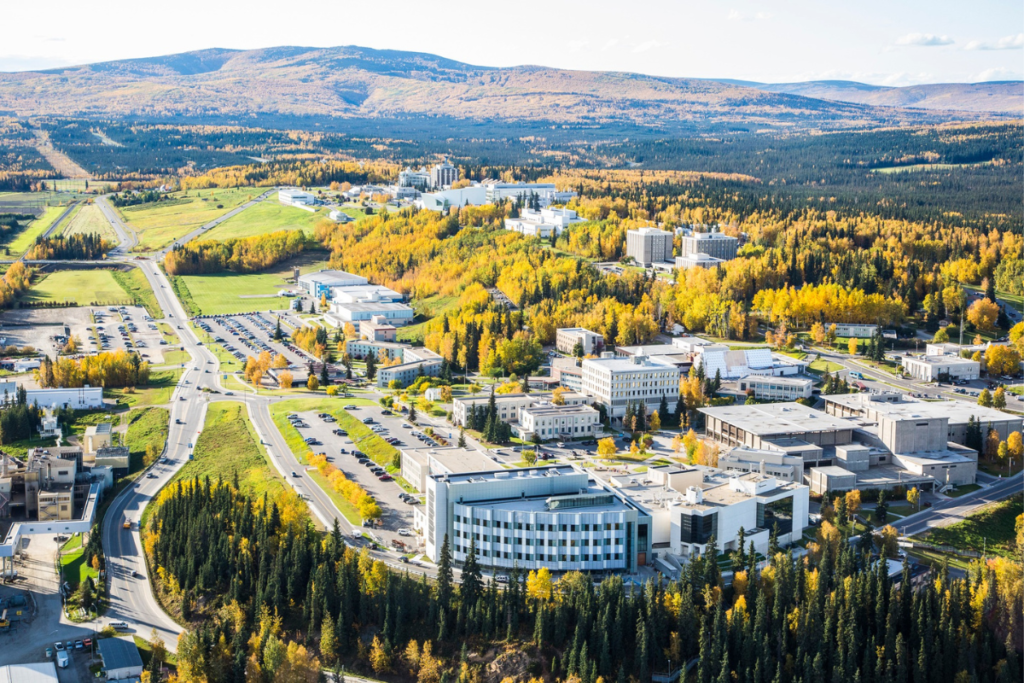 Did you know that the Large Animal Research Station at the University of Alaska Fairbanks offers tours?
Learn more about the bigger Alaskan mammals like caribou and oxen, or take the little ones to storytime.
Location Information
10.) Moose Viewing at Kincaid Park, Anchorage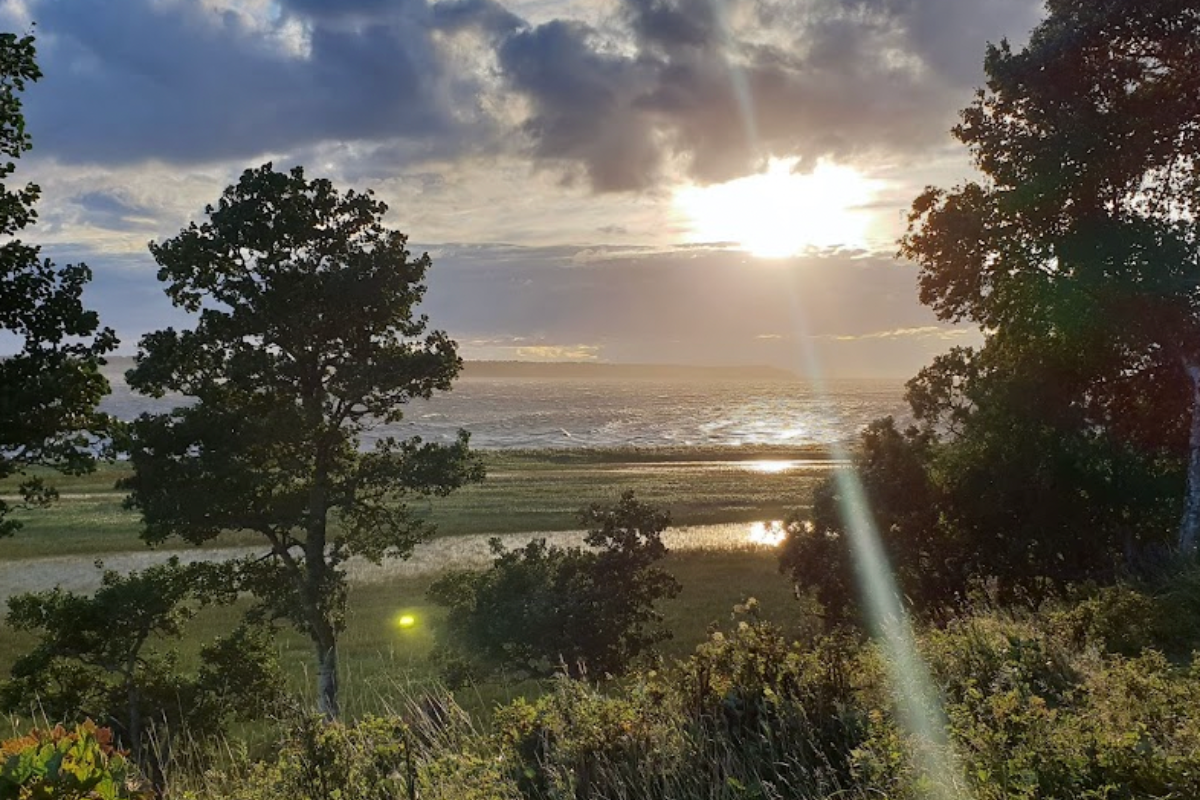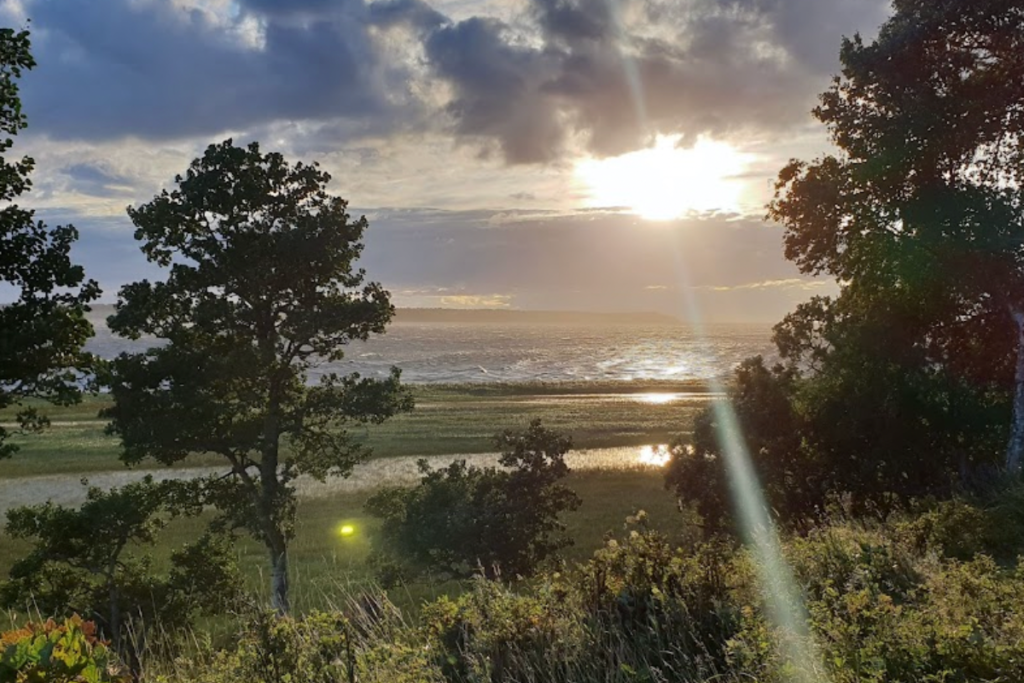 Catch a glimpse of a moose along the paths and walkways in Anchorage's Kincaid Park.
Black bears have also been known to feed out in the open. Remember to always take the proper safety precautions when looking at wildlife on your own and without a guide.
This is an easy way to see them, but there have been plenty of moose tramplings on these trails, so make sure you give them a healthy distance.
Be sure to bring your bear spray!
Location Information
Address: 9401 Raspberry Rd Anchorage AK 99502
Phone: (907) 343-6397
The wildlife in Alaska are something pretty amazing to behold.
Are you getting prepared and doing your research for an upcoming tip? Be sure to read up on activities available year round in Anchorage. Looking for free things to do in Anchorage?
After living over 14 years in Alaska, Megan McDonald can confidently state that there's not much of the state on the road system that she hasn't visited. From the Brooks Range to McCarthy, Homer, and everywhere in between, every nook and cranny of Alaska is always her new favorite place.
As President and co-founder of Alaska-based boutique media agency HuMu Media, she spends her work time writing, photographing, and traveling, and her off time writing, photographing, and traveling. They say do what you love, and she is lucky enough to do so!
You can follow her travels on Instagram at @theitinerantginger