Anchorage is the largest city in Alaska which means, there is ALOT to do! You can enjoy a fancy dinner at one of the many amazing restaurants, a movie with a friend, play games at Dave n Busters and so much more but what can you do if you are on a budget?
Hike, Bike, and Stroll
Physical activity is always free and what better place to explore the great outdoors than Alaska. Anchorage is a city known for the balance of the urban lifestyle and the cities layout utilizes the beautiful landscape. You can read more about this beautiful city in our other article, Is Alaska A Good Place To Live?
Tony Knowles Coastal Trail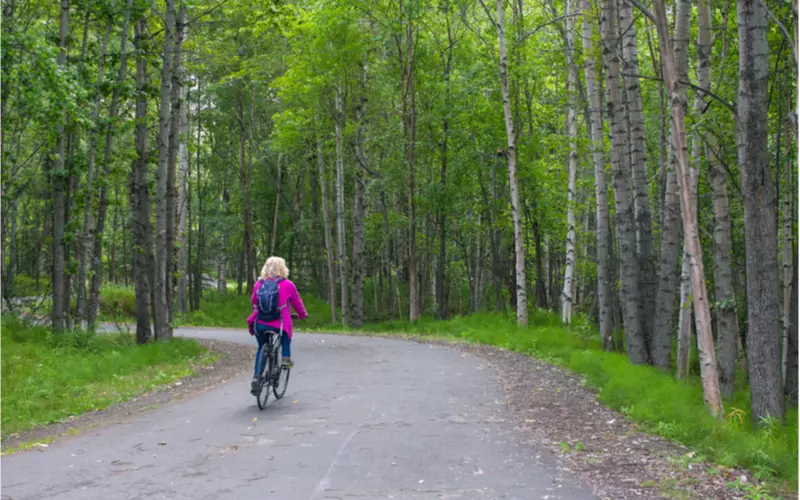 This trail follows the Cook Inlet coastline for 11 miles. There are lots of entry points to the trail so you can make it as long or as short as you'd like. This trail offers beautiful views of the Chugach mountain range, the inlet itself, the downtown city lights, and sometimes, wildlife. Throughout the year there are many races and fundraisers that use this trail. The trail has little to no incline and is paved so you can ride your bike and take the kids. On a 'bluebird day' (an Alaskan term for when there is not a cloud in the sky) you can even see Mount Susitna (aka The Sleeping Lady), Denali, and Mount Foraker.
Flattop Trail Hike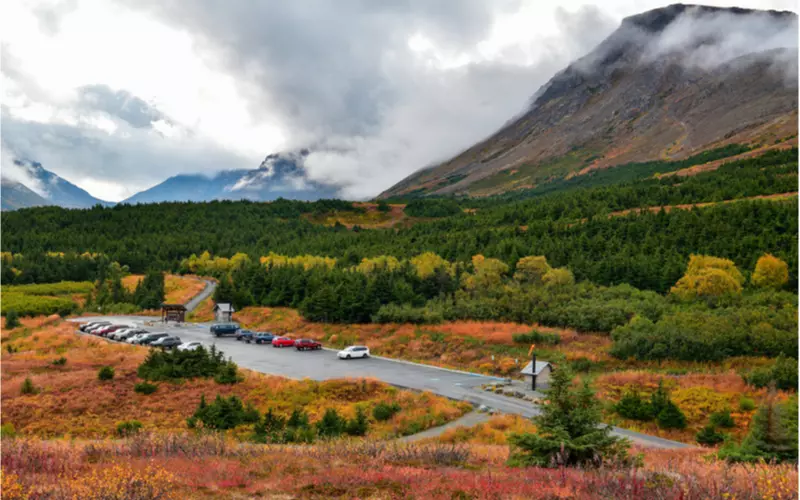 If you thought that view sounded nice, wait until you summit Flattop! Don't let the name fool you. Yes, the top is flat but it is a 3-mile hike with a 1,500ft elevation gain. There are a few different paths to summit this popular peak as well as a shorter, paved loop that is wheelchair accessible. This is thought to be one of the most climbed mountains in Alaska and for good reason. When you get to the peak you can see the entire city of Anchorage. Many people summit this hike at sunrise or sunset to view the city lights against the horizon.
Campbell Creek Greenbelt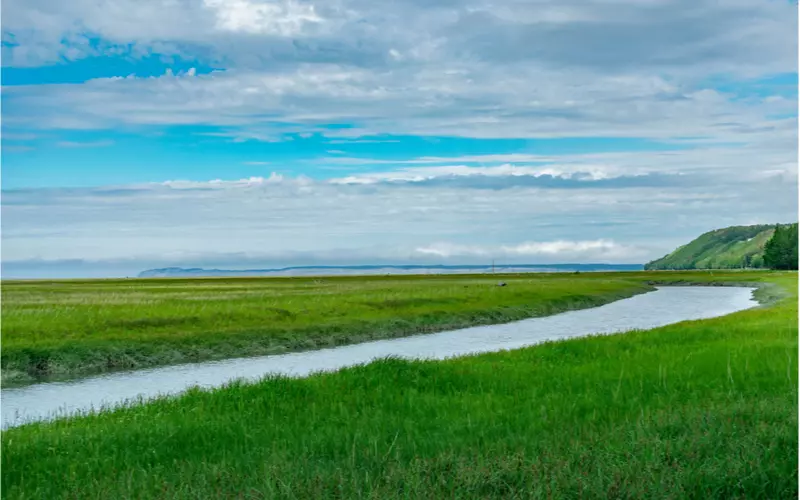 Campbell creek runs through the center of Anchorage, curving through different residential areas and city parks. The trail is roughly 7.5 miles from start to finish but there is a small portion of the trail that is split by the Seward Highway. This trail is accessible to walk, run, bike, or ski and is a great way to view the city.
Geocaching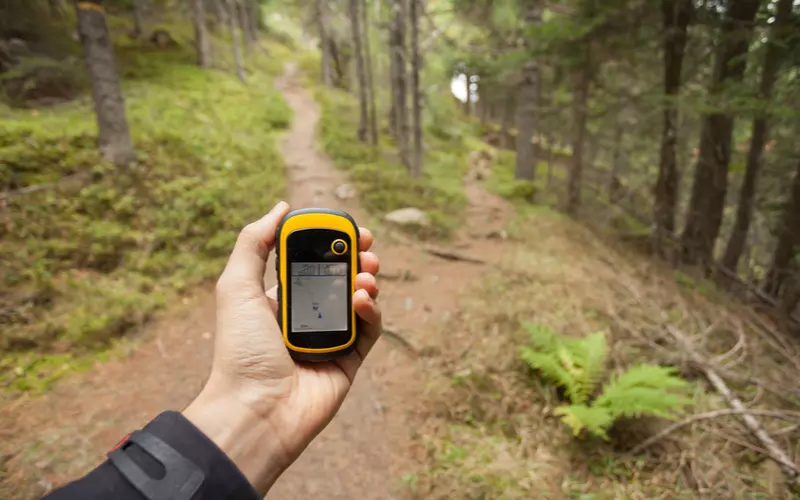 This is a fantastic way to stay active, explore the city, and have a wonderful time doing it. There are Geocaches all around the city and the riddles to find them can make it an all-day adventure. Challenge your friends to find the most Geocaches or take the family out to do it together.
Thunderbird Falls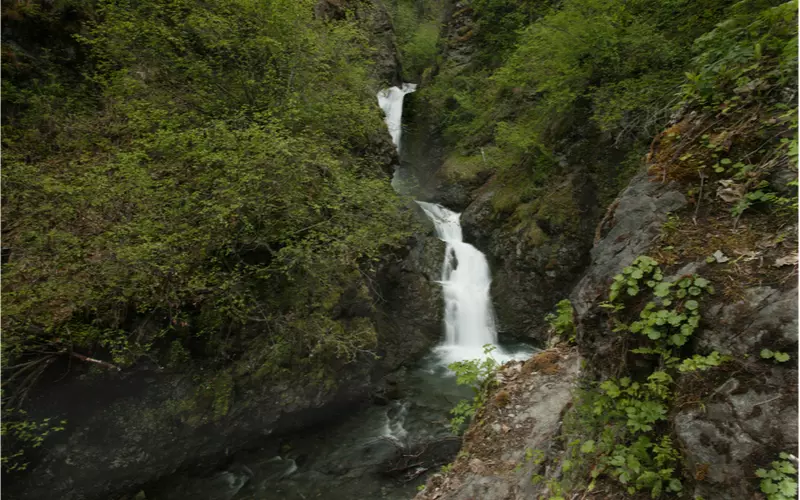 The trailhead is at Mile 25 of the Glenn Highway, just a few minutes north of Anchorage. The trail has a short incline before you come back down to a viewing platform overlooking the beautiful waterfall. If you want the extra steps you can go below the platform and follow the trail to the water's edge. Remember to stay on the trail, there are some hikers that have made their own way but when they do this the trail becomes corroded and unsafe for others. It also destroys the natural foliage that makes this hike a magical one.
"My favorite thing to do is hike. There is an abundance of amazing hikes at all skill levels that offer some of the most beautiful mountain and ocean views that I have ever seen!"
– Jessica Rumbold, RN Providence Alaska Medical Center
A Little Further Out
Girdwood is a small resort town roughly 40 miles south of Anchorage and it is still a part of the municipality. It is worth the drive to explore here for many reasons, plus the hiking trails are endless and the views are breathtaking.
Virgin Creek Falls Trail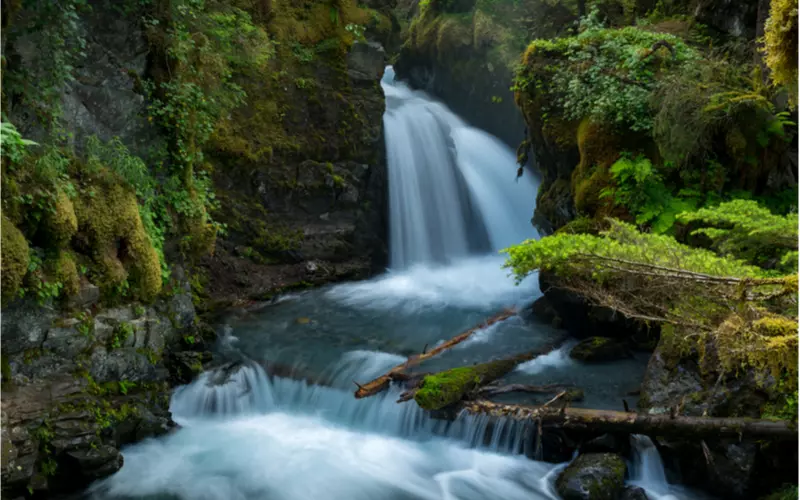 A short half-mile hike in and you are able to view beautiful waterfalls on this hike. The trail is tucked into the woods near Girdwood, offers bird viewing, and is accessible for all skill levels.
Byron Glacier Trail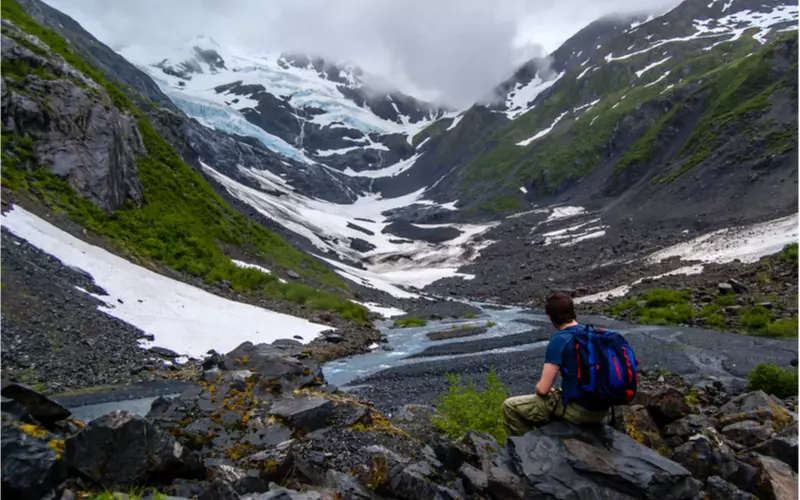 Another in and out hike that offers water views and birdlife is the 3.2-mile hike that brings you to a beautiful view of the Byron Glacier. Many hikers mention that it is not as visible in the early spring and winter months because it is still covered in snow. Some Alaskan peaks keep snowfall on them all year round!
Winner Creek Trail Hand Tram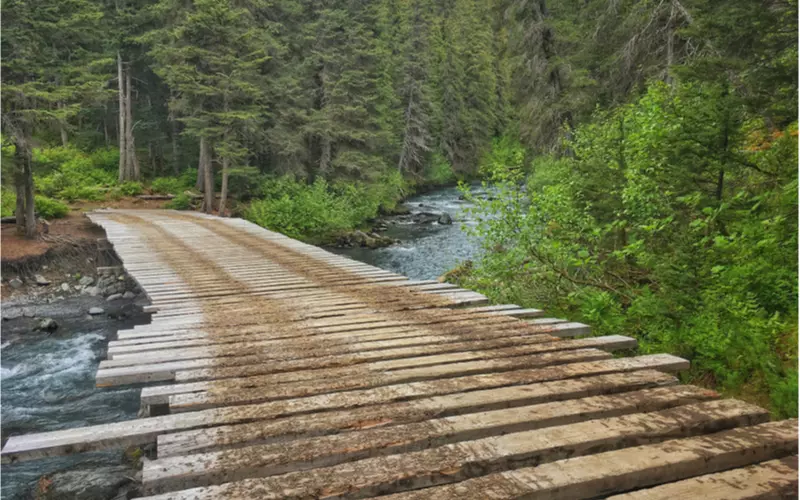 This hike is normally 6.4 miles and requires you to take a hand tram over Glacier Creek. There was a recent closure of the hand-tram in 2020 so the trail stops about 2.5 miles in for now. The United States Department of Agriculture Forest Service will update its website when the hand tram is open for public use once again.
Williwaw Nature Trail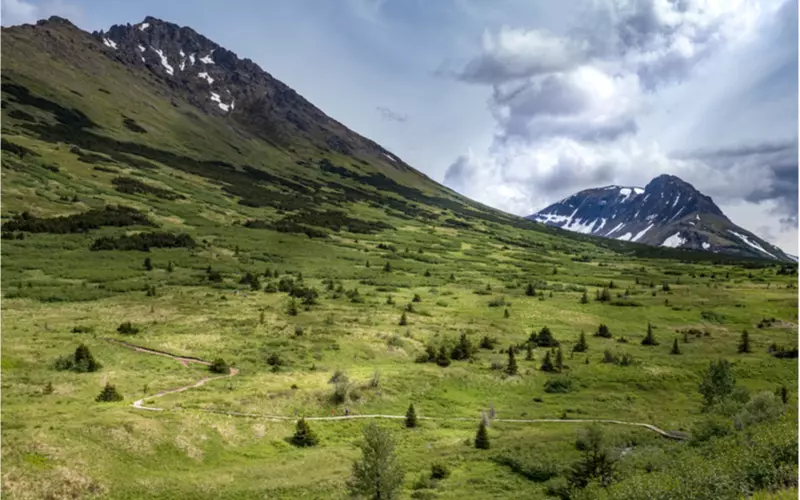 This trail can be found a little further south of Girdwood in the Portage Valley. The trail includes a fish viewing platform and several beautiful ponds. The total length is about 1.25 miles and there is a small amount of elevation gain. The trail does cross over the main road so be mindful of oncoming traffic.
Wildlife and Wild Views
Alaska is known for being wild. Wild summers where locals never sleep and the sun never sets. Wild landscapes that scrape the skies with giant mountains and border towns with glassy seas. Wild men and women who homestead and live off the land and the most exciting, wildlife. You may see all sorts of wildlife in Anchorage without going too far off the beaten path. Giant bull moose sway their antlers while meandering down 5th avenue and bald eagles soar above the cities edge, searching for their next meal.
Ship Creek Salmon Viewing
From May to June you can visit Ship Creek's salmon viewing station to watch the hatchery-made run of the Chinook Salmon make their way back home. The best time of day to view these beautiful fish are the hours before and after high tide. Do not forget to wear polarized glasses so you can see past the bright glare of the Alaskan sun and into the cool waters.
William Jack Hernandez Fish Hatchery
The salmon viewed at Ship Creek are incubated and hatched at this hatchery, formally known as the Elmendorf State Fish Hatchery. You can take a self-guided tour through the facility to see fish schooling in giant tanks or for a small fee that supports the growth and sustainability of Alaskan fisheries, you can pay for a guided tour that is full of information.
Potter's Marsh Bird Sanctuary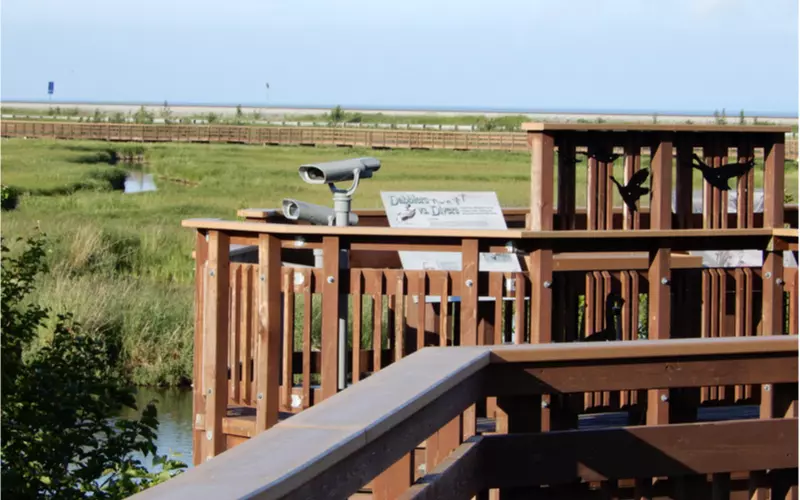 In the warmer months, Potter's Marsh is flourishing with fowl life. There are different kinds of gulls, trumpeter swans, bald eagles, Canadian geese, and other birds that come here to raise their young and hunt off the beaches of Cook Inlet. A boardwalk borders the marshes edge for optimal viewing points and there are sometimes moose hunkered in the wooded edge. In the winter, this same marsh becomes a recreational paradise. Locals play fetch with their dogs, ice skate, ski, take photos and walk around the frozen marsh.
Watch Airplanes at Lake Hood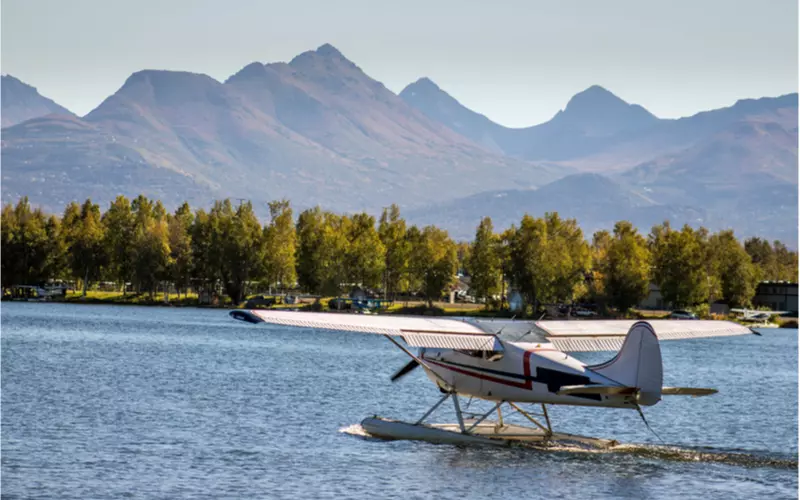 Lake Hood is a seaplane base that started off as two different lakes but was later combined into one lake to support the incoming and outgoing aircraft. There are several spots where you can sit on the water's edge and watch pilots enjoying a recreational activity that sometimes doubles as a career and supports many rural Alaskans.
Westchester Lagoon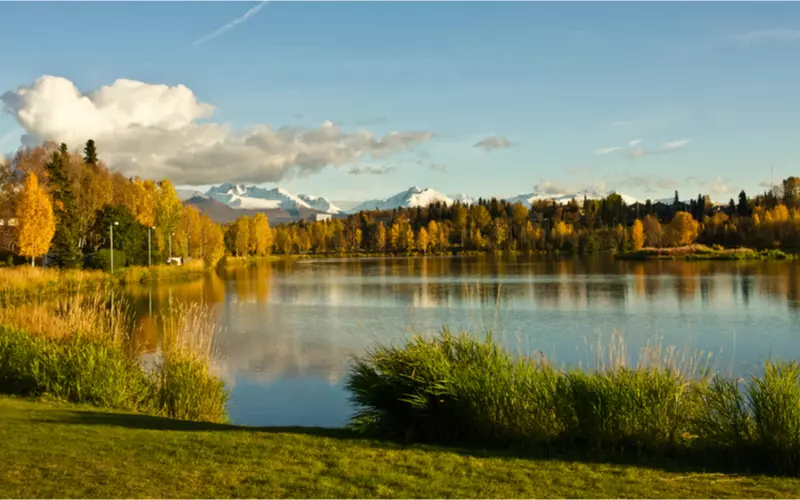 The Westchester Lagoon is a popular place for locals to access trails, kayak, paddleboard, and in the winter ice skate or play hockey. The lagoon also attracts wildlife in quieter hours like river otters and foxes.
"Ice skating on city maintained rinks is one of the most fun activities to bust out of a long, dark winter slump. There are ice rinks scattered across the city that are maintained and operated by the municipality. All of them have nets, benches, and solid ice level. Great for a pickup hockey game or a casual skate along the boards!"
– Patrick FitzGerald, Independence Park
Drive the Seward Highway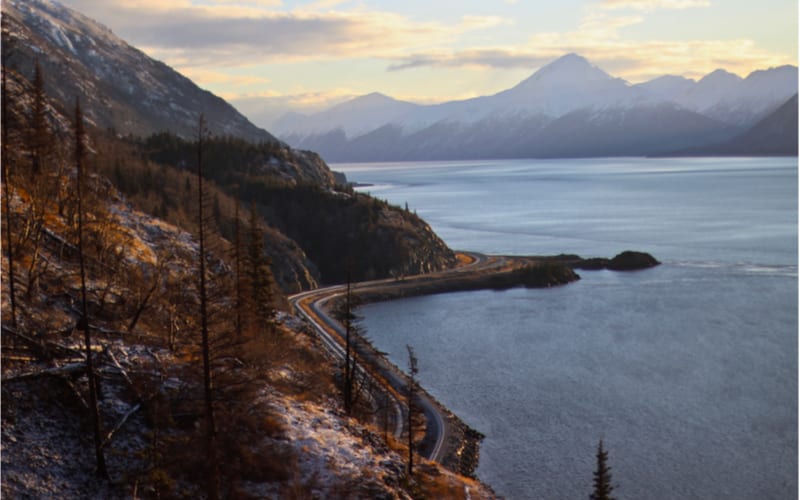 The Seward Highway travels far from Anchorage but you can see a lot of beautiful sights within the Municipality of Anchorage by cruising the Turnagain Arm. This is one of the most scenic roadways. On one side of your vehicle, sharp cliff edges tower into the skies. Keep your eyes peeled for sheep and also falling rocks. On the other side of you, the ocean reaches far up the arm and into the mudflats. There are several pullovers to stop and take pictures. For your own safety, keep off of the mudflats. The bore tide comes in fast and it is easy to get stuck in this thick mud and drown.
Beluga Point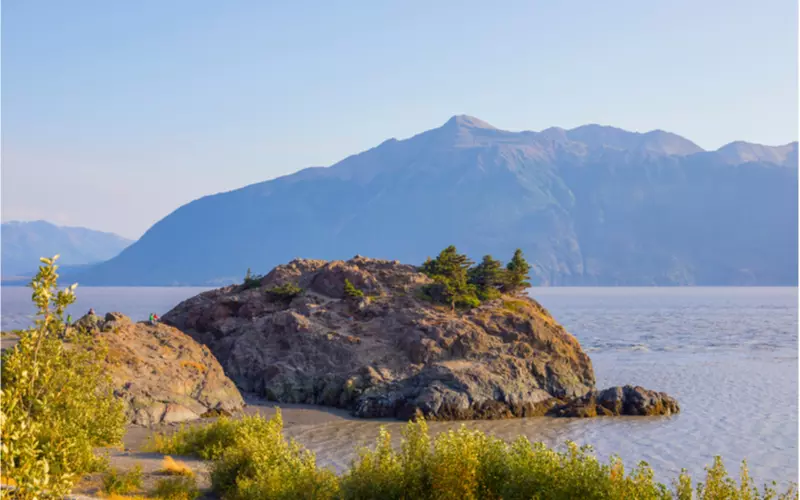 On your drive down the Turnagain Arm you can stop at Beluga Point. This pull-out is named appropriately because the beluga whales can be seen from July to August during the peak of the salmon run. Watch the murky grey waters for a round white object surfacing. My husband shouted with joy the first time he saw a beluga surface while driving home from a trip to Seward. It really is a unique experience to see an all-white animal of such grand size just a few hundred yards away.
Portage Glacier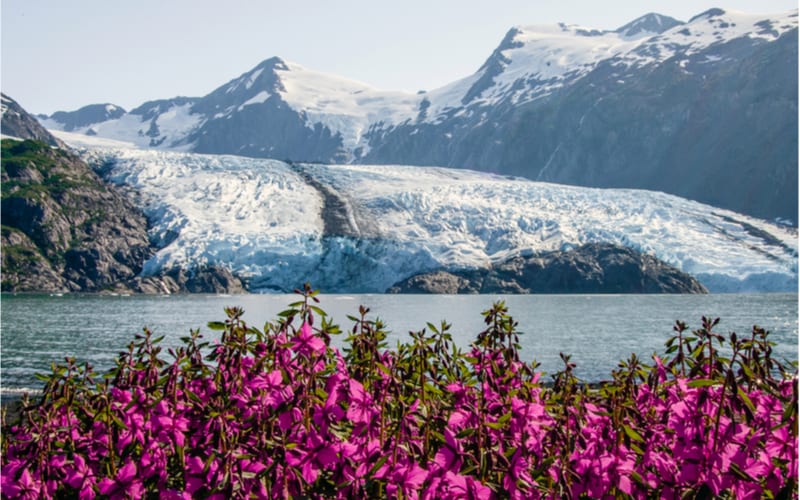 Just a little bit further down the road is the Portage turn-off. Drive down this road to see the glacier that sits across the water's edge. For a small fee, you can also go through a mountain tunnel to the town of Whittier.
History & Heritage
The best way to learn about the place you are visiting is to learn about the history and heritage that makes it unique. Alaska has many museums and information centers located in Anchorage.
Anchorage Log Cabin Visitor Center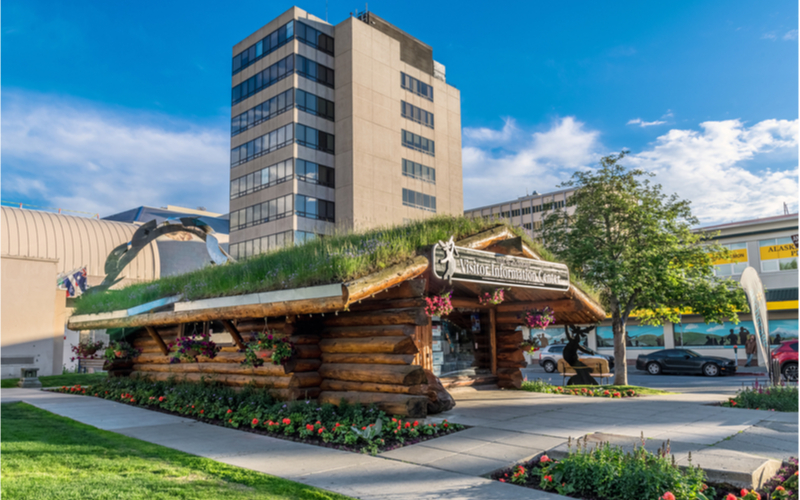 A good place to start is the visitor's center. This visitor center is unique because it is built as an original homesteaders cabin. The structure was built in the 1950s in Homer Alaska and reassembled in Anchorage with the rustic sod roof. In the summer it is surrounded by beautiful flowers.
Alaska Public Lands Information Center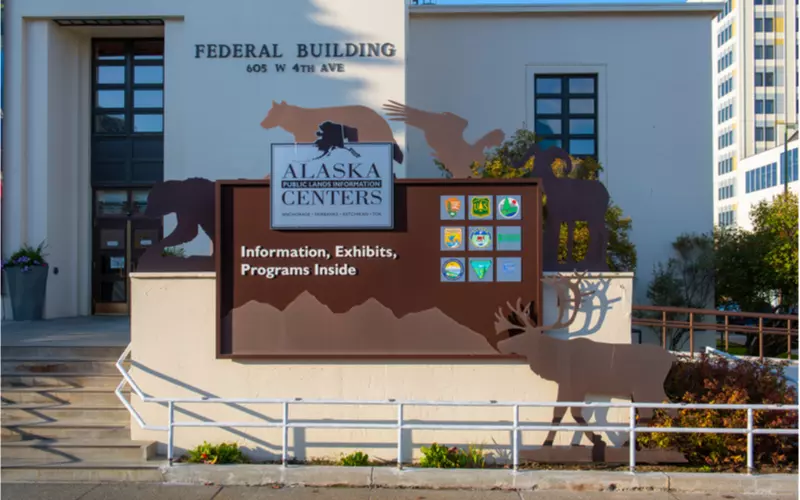 The center has free exhibits to provide a mini-indoor tour of Alaska. There are natural, historical, and cultural exhibits and the National Park Rangers on staff can provide information and tips to keep you safe on your Alaskan adventure.
Campbell Creek Science Center
The science center entertains year-round with programs, events, workshops, and rentals. The center is located in the heart of Anchorage and is surrounded by trails and other natural resources. Many of the programs focus on youth engagement and education.
Alaska Law Enforcement Museum
There is a small fee to visit this museum and keep it operational but children and Fraternal Order of Alaska State Troopers (FOAST) members can visit for FREE. The museum is a fun way to learn about what it takes to be in law enforcement. View the room of patches, learn about women in law enforcement, check out the escape room and try out the shooting simulator.
Anchorage Museum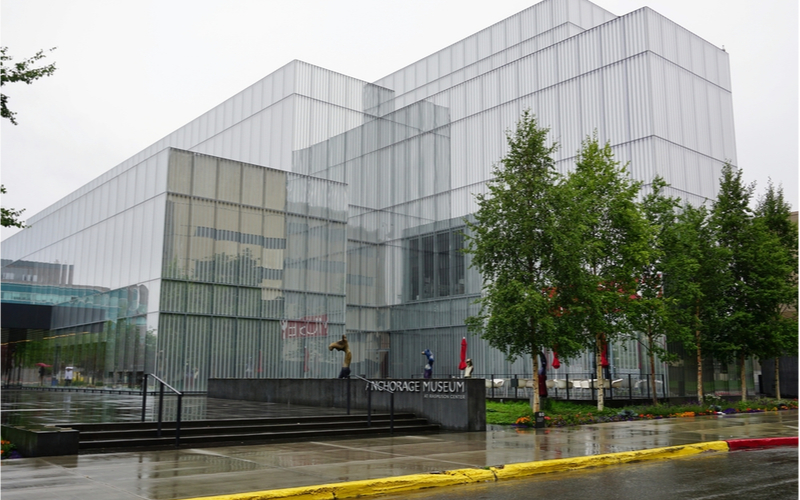 General admission to this museum does have a fee but museum members and children can go for free and there are several discounts offered. This is Alaska's largest museum and it has Alaska Native art and items from the Smithsonian Institution. You will be blown away by the resiliency of Alaska Natives and their art, ingenuity, and craftsmanship.
Alyeska Roundhouse Museum
This unique museum is located at the summit of a mountain in Girdwood Alaska. Admission to the museum is free but there is a small cost to ride the tram to the top. This museum will share the history of how Girdwood's resort came to be and how the community has grown. The views from this museum are like no-other and the tram ride is a wonderful experience too.
Eklutna Village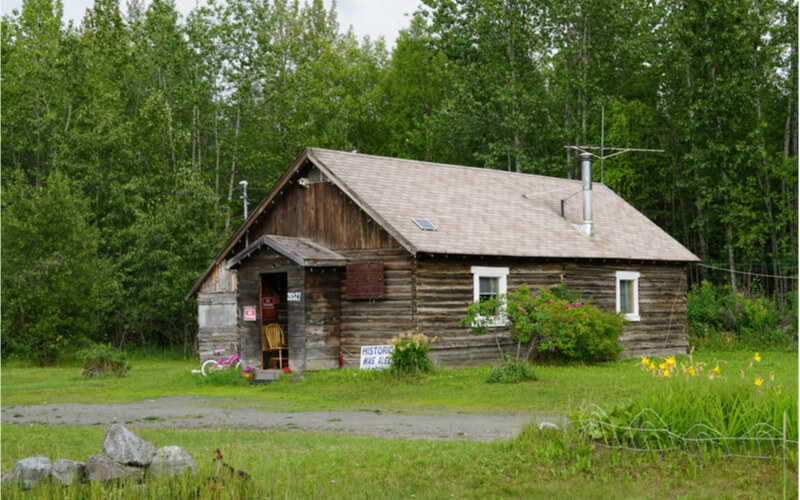 On the other side of the Municipality of Anchorage is a small village called Eklutna. This village dates as far back as the 1650's when it was solely inhabited by Athabaskan Indians. When the Russian Orthodox culture came to this village, small houses known as spirit houses were constructed above burial graves as homes for the deceased. These can be viewed year-round and the museum hours as 'as long as the sun is up' in the winter months.
Old St. Nicholas Russian Orthodox Church
The oldest building was constructed around 1870 and still stands to this day. Children 11 and under can visit for free and visitors can view the old church, the new church, the domes, the cross, and the spirit houses.
Appreciate the Arts
Art comes in many shapes and sizes. Music, drawings, sewing, gardening, cooking, dance, etc. Anchorage has a huge focus on the arts and when COVID doesn't affect social gatherings, there are many events and shows.
Music in the Park
During the summer there are free concerts held in the park. This used to be a time for families to gather in the sun, have a picnic, and dance to beautiful songs. The coronavirus attempted to shut this lovely activity down completely but the event still went on throughout the 2020 season with virtual shows. Although people had to listen from the safety of their homes they still were able to enjoy free music and the artists got to perform and share their passions. The 2021 schedule has not yet been announced but Alaskans have high hopes that the city can have these events in person while still being mindful and protecting everyone.
First Friday Art Walk
On the first Friday of each month, many business owners feature a new local artist in their establishment. This is a time for people to explore the city and view the art created from around the State. I plan to have some of my artwork featured in a brewery for the month of April! If you are out and about don't forget to look for Artwork by Sierra Winter. Touring the arts is free but it is encouraged that you support the businesses hosting the artist.
Anchorage Market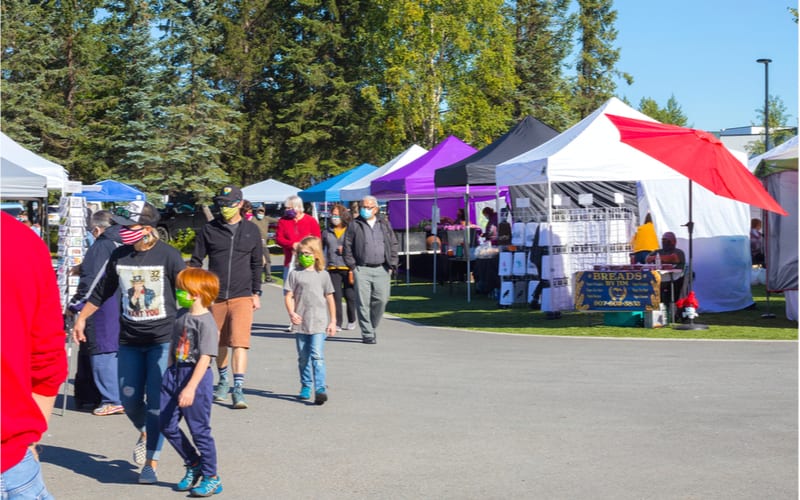 The market is free and family-oriented but it will be hard not to make a purchase while you stroll past the many talented vendors. This is the largest open-air market in Alaska and it is open from May to September on Friday, Saturday, and Sunday!
The Ulu Factory
While visiting the factory you can see how the unique knives are made and ride a vintage trolley. The Ulu used to be made out of rocks or slate and has been used for over 3,000 years. Learn about how the Ulu is a sustainable and resourceful tool even today.
Murals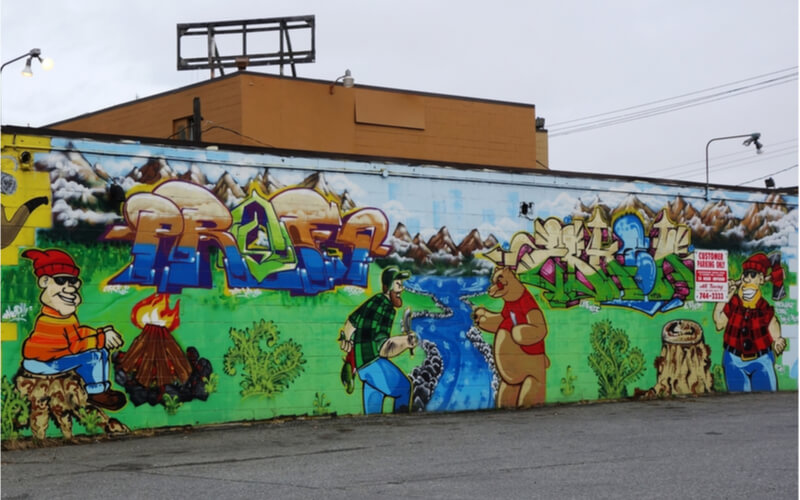 Take a self-guided tour to view the many murals in Anchorage Alaska. My favorite might be the Wyland Whaling Wall or the one of an Alaska Native boy done in black and white.
Eagan Civic & Convention Center
The event list is currently blank and the center is temporarily closed to keep everyone safe during the pandemic but when operations return to normal, many different events are hosted here, some of which are free. Check out the event calendar for future updates.
Alaska Native Medical Center Craft Shop
Normally when on a vacation one would hope to stay far away from the hospital but not when you are vising Alaska. The craft shop at the Alaska Native Medical Center works on commission to host art made by local Alaska Native artists from all regions of Alaska. It is completely operated by volunteers and does not accept credit or debit cards.
Alaska Wild Berry Products
Visit this Alaska Wild Berry Products store to view 3000 pounds of chocolate pouring from the ceiling. This is a real-life Willy Wonka experience. Although you cannot taste the creamy chocolate it is worth viewing the world's largest chocolate waterfall and spending some money on a delicious treat to take home.
Anchorage Public Library
Alaskan weather can change within seconds. If it is a rainy day, you are tired of the busy agenda you planned out, or you just want to take a break the best way to relax is deep in the pages of your favorite book. Visit the local library to settle into a good book, catch-up on emails, and take a minute to rejuvenate.
Play in the Park
"There are so many parks tucked away in random parts of different commnunities across the city and people don't realize how amazing some of them are."
– Patrick FitzGerald, Independence Park
Point Woronzof Park
The Tony Knowles Coastal Train runs through Point Woronzof Park. This is a huge park, roughly 191.7 acres, so the opportunity to see wildlife is ample. Watch for whales off the inlet and for moose just inland. Sit back and watch the airplanes land at the Ted Stevens International Aiport. When I was in college this was a date my now-husband and I would frequent. We were on a budget so we'd grab our snacks and watch the airplanes for hours.
Kincaid Park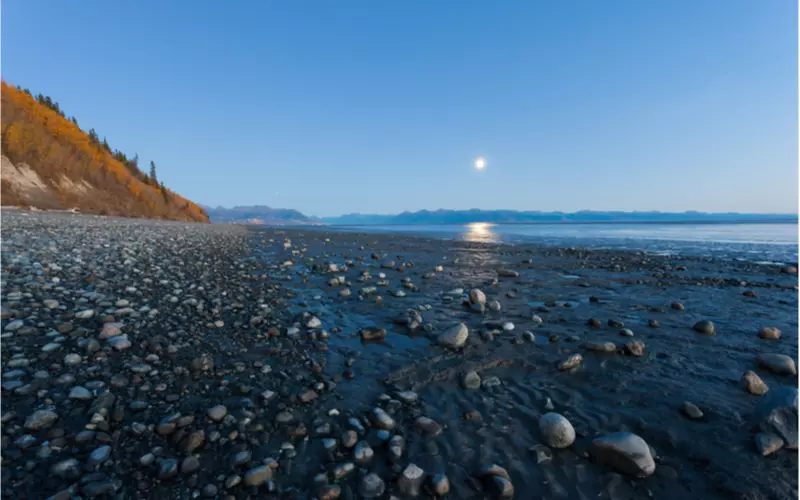 This park used to be the Cold War missile base and has trail systems intertwined for all sorts of recreation. My personal favorite is the large sand dunes just above the inlet. Alaska's beaches don't always offer the soft sand you'd expect at a beach so it is fun to venture here and put your toes in the soft sand.
"As a parent, I'm all about the know-how and where to find the parks in the places I go. Anchorage offers amazing views and it is fun to watch the planes when you get near the airport."
– Danielle Bischoff, Alaskan Resident
Centennial Park
This park offers trails, soccer fields, and campgrounds. The trail is only 3 miles long and is primarily used for skiing.
Earthquake Park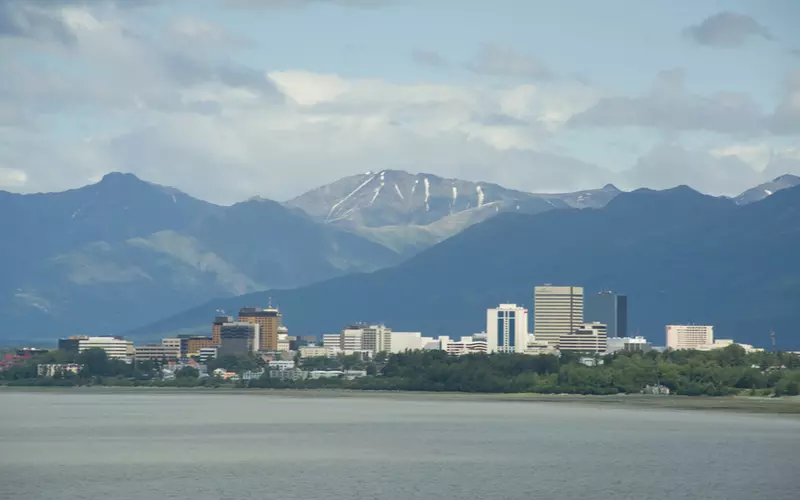 This park offers trails, nature, and other things you'd expect at a park but what makes it special is the history of the 1964, 9.2 earthquake that shook the state. Throughout the park, there are different signs explaining how the quake-affected that area of the park.
Delaney Park Strip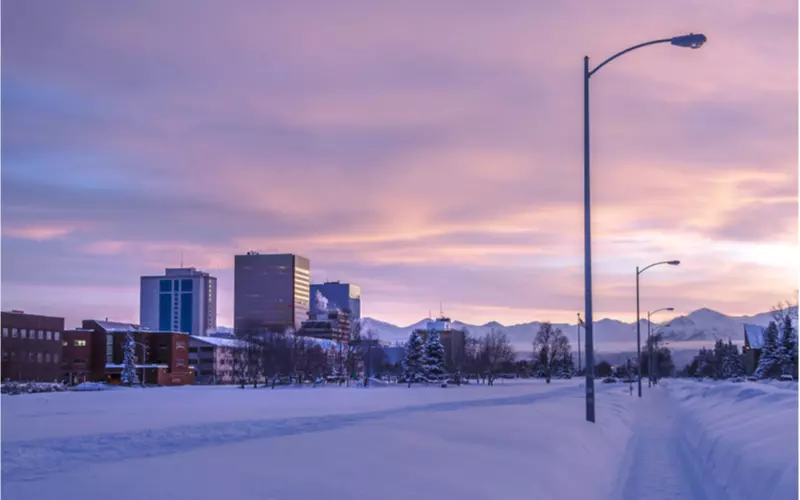 The park at the edge of the town was many different things throughout the years before it became the Delaney Park Strip. It once was a firebreak between the city and the forest before it became an airstrip, then a golf course, and finally a community of houses. Now it has ball fields, ice rinks, and plenty of open air space to spend time outside with the family.
Town Square Municipal Park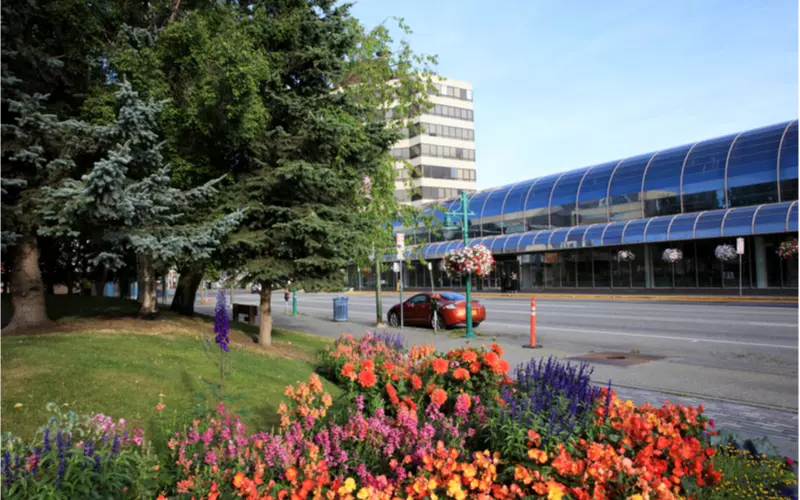 The square is located near the Eagan Center and typically hosts events and festivals. It is decorated year-round with flowers and sunshine in the summer and Christmas lights and snow crystals in the dark winter months.
Disc Golf i.e. Frolf
If you haven't tried disc golf before, now is the time to try. This activity is fun for all ages and is a great way to play outside. Alaska has several frolf courses that are free but you must supply your own discs. If you don't have your own you can rent them for an affordable adventure.
Anchorage has a lot to offer for free and countless things to do on a budget. Tell us what your favorite free activity is and why!