The last frontier or the far north lifestyle is not for the faint of heart. This massive state attracts all sorts of individuals. People move here for adventure, the land, the peacefulness, the isolation, the resources, and more. Alaska is often referenced as a melting pot because of the variety of personalities you may encounter.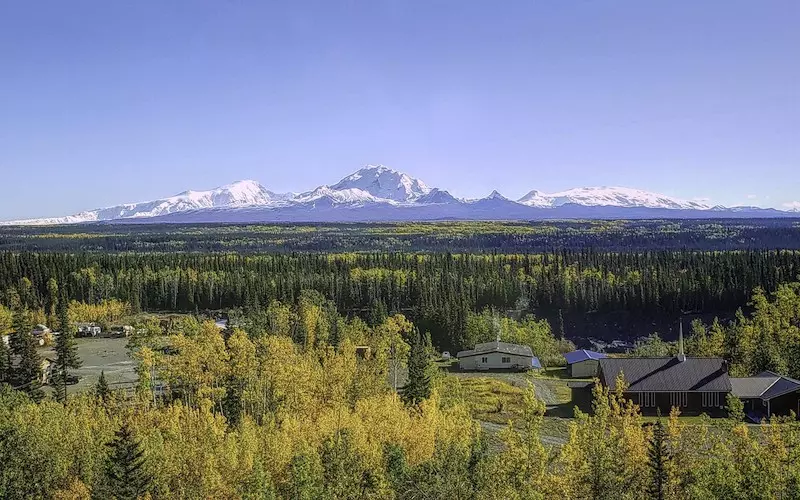 The state is rich in many ways. The summers are filled with hunting and fishing trips, hiking and camping, kayaking, boating, swimming, riding four-wheelers and dirt bikes, harvesting berries and plants, and of course enjoying near-endless hours of sunlight. The winters are cold and dark but there is beauty in the dark nights. The full moon is crispy and reflects on the blanket of snow while the northern lights dance between the stars. Winter activities aren't very different from the summer bucket list. Many Alaskans ride their snowmachines through the mountains, hike with snowshoes on their feet, camp in recreational cabins, ice-fish, and apply for winter hunting tags.
Top Cities to Live In Alaska
For those of your that are intrigued by the thought of living in Alaska, your next step is determining what city or town is best for you. Each location has something unique to appreciate and different economical focal points.
It is hard to define the top cities in a single list. A quick Google search will show you top cities based on livability, based on their uniqueness, based on unemployment rates, crime rates, the value of homes, and more. Our list is based on a combination of information and some first-hand experience visiting or living in these places.
Big City, Big Economy
The definition of 'big' is relative. I was born and raised in Alaska and I always thought our biggest city, Anchorage, was huge compared to the small towns I grew up in. The city lights, the business district, the places you could go for fun were astronomical. Later in my life, I learned how small my perspective was when I visited cities like Baltimore and Chicago. These next three cities are probably names you have heard before.
Anchorage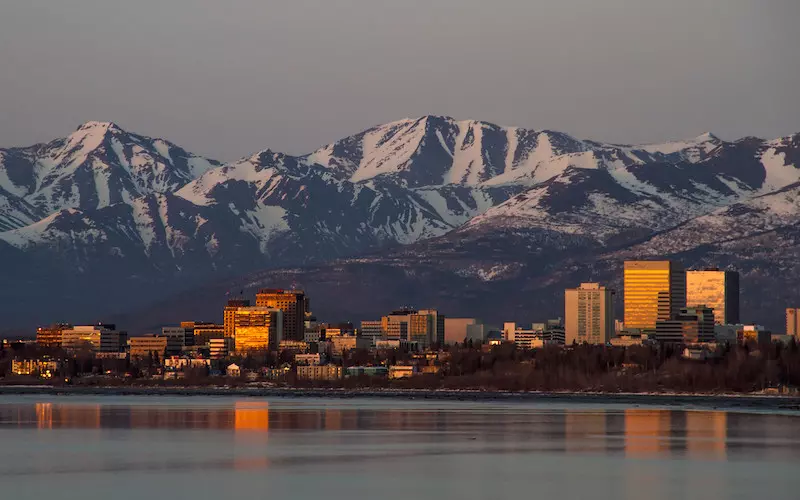 Population: 288,000
Median Household Income: $82,716
Median Rent: $1,230
Anchorage is the biggest city in Alaska in terms of the economy and residents. The city has a unique balance of urban living mixed with the wild and natural resources. The city is located on the edge of the ocean and backed by the Chugach mountain range. While on your drive to the mall with friends you may encounter massive bull moose using the crosswalks and meandering throughout the town.
There are several trail systems that intertwine with the pavement paths making this a wonderful place for the avid runner, biker, or skier. The city is full of culture and art. Handmade art is displayed proudly in many stores, coffee shops, and breweries. The Alaska Native Heritage Center will take you back in time before the conveniences of today.
The city stays busy year-round with family-friendly events, shows, and activities. I ran in The Alaska Heart Run to raise money for the Alaska Heart Institute and then plundered the town during the Pirate Pub Crawl to raise money for the Blood Bank. Events like these and many more show how the community of Anchorage comes together to support one another and makes this city a wonderful place to live.
Read our other articles 9 Anchorage Activities Available All Year Round and 8 Unique Eats in Anchorage to learn more about the wonderful things the city of Anchorage offers.
Fairbanks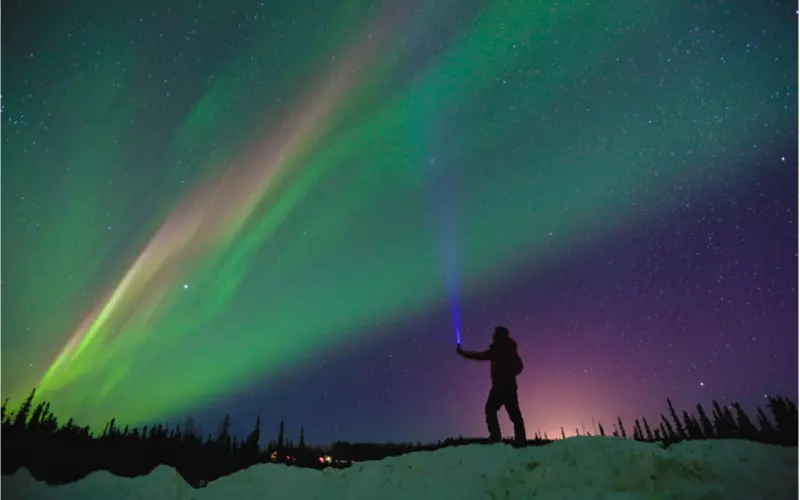 Population: 30,917
Median Household Income: $58,596
Median Rent: $1,365
The biggest city in the north and the second-largest city in Alaska, Fairbanks is a bustling community. The city is made up of aspiring college students, long-term homesteaders, and military personnel. The University of Alaska Fairbanks is the founding campus for the University of Alaska education system and the military base, Fort Wainwright, still stands strong since it was built in 1939.
Fairbanks is a great down for individuals and families that love being in the great outdoors. Because Fairbanks is in the heart of central Alaska the summers are hot (again, a relative term) and the winters are cold. When the waters are thawed you can find locals floating the Chena River on their kayaks and rafts or fishing along the shores. In the winter, the rolling hills and tundra can be explored by ski, snowmobile, or snowshoe. There are also a couple of snowboard and ski resorts for a fun weekend adventure.
Do you have kids? Take a short trip to the North Pole to see where Santa gets work done year-round! There they can see Santa's village, play laser tag, and get an experience most children dream about. Another fun adventure is just a short road trip north of Fairbanks. Chena Hot Springs is a natural resource and a great way to watch for the northern lights while staying warm.
Learn more about Chena Hot Springs and other hot springs in Alaska by reading our article, Hot Spring Dipping Through Alaska.
Juneau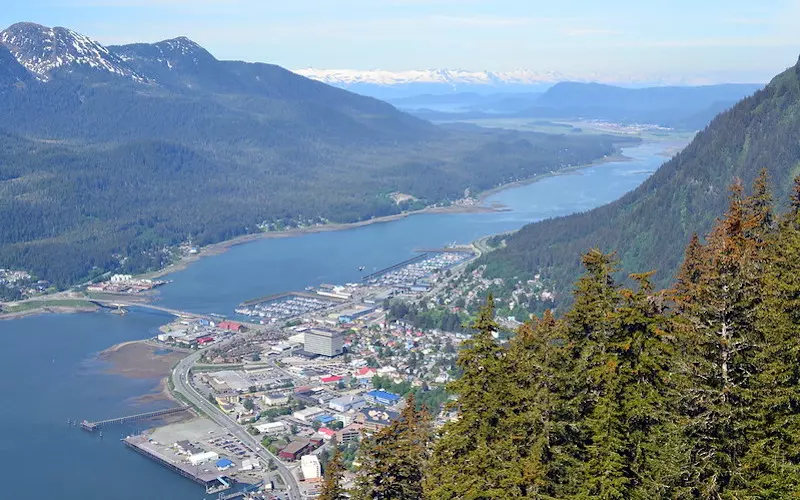 Population: 31,974
Median Household Income: $85,912
Median Rent: $1,264
Juneau is Alaska's capital and it has a beautiful city center and was established with Russian Orthodox roots. This coastal town is not an island but there is no road system to the mainland. You can get to travel on a quick flight or take a slower more scenic route on a boat or ferry.
People are drawn to Juneau for many reasons but a great bonus is the mild coastal winters and the beautiful and warm summers. Unlike the interior, the temperatures often stay above zero degrees and make outdoor activities comfortable with the right gear.
There are many activates close to home that will keep you entertained year-round. The Mendenhall Glacier is a short hike and a 10-minute ride from downtown and the Taku River winds and twists through the Tongass National Forest all the way up into British Columbia, Canada.
A friend of mine moved to Juneau from his hometown of Petersburg Alaska. He works for the government, which is the city's largest employer. He, like many other locals, enjoys hunting for deer and grouse, fishing during the salmon run, and taking his dog mountain biking to beautiful views. In the winter he spends most of his time skiing on Mt. Ben Stuart, Mt. Troy, and at the Eaglecrest ski resort. One of his favorite things to do after all of these adventures is enjoy a handcrafted beer at one of the local breweries, especially Forbidden Peak.
" I just love being in the mountains or on the water with my dog and my friends. Sure, you can do that stuff a lot of places in the world but here it is all accessible within minutes and you can literally do both in the same afternoon!"

Juneau Local
Most Beautiful Places to Live In Alaska
If you are looking for a small-town living versus the Alaskan 'big city' there are hundreds of small communities, each with its own niche. These towns are some of the most beautiful places.
Talkeetna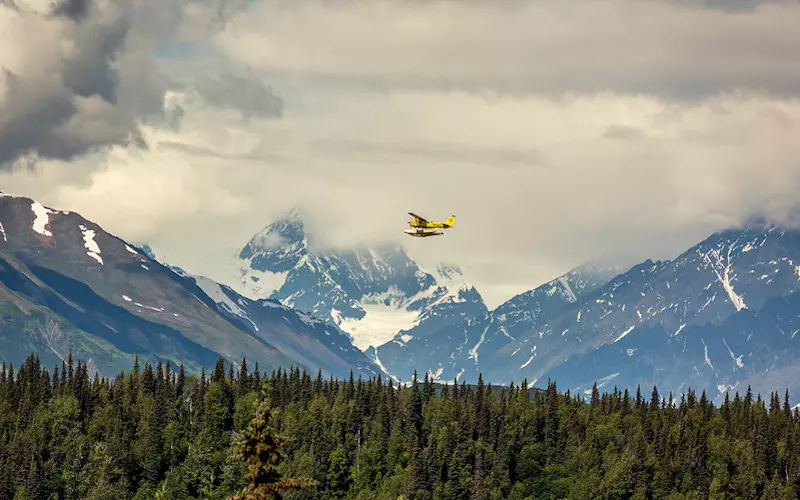 Population: 1,237
Median Income: $70,648
Median Rent: $1,227
Talkeetna, a small town whose name is often mispronounced, is located roughly 2 hours north of Anchorage. How did your narrative pronounce Talkeetna? Did you say 'Tell-Ket-Na" or "Talk-Ey-Tena"? Having worked in the tourism industry for so many years, I have heard so many different variations of the name. The correct pronunciation is "Taa – Keet -Nuh".
Talkeetna means 'where three rivers meet' and is named because the town is located at the confluence of the Talkeetna River, Susitna River, and the Chulitna River. The town was developed to support the mining community developing in the Dutch Hills of Petersville. Today, the town's economy is supported primarily by tourism.
I was raised primarily in Talkeetna by my father (and the other part of my upbringing was in Seward with my mother). Growing up here taught me a lot about living off the land, helping your friends and neighbors, playing outside, and appreciating the greatness of Alaska.
In the summer months, the town becomes a must-see location for out-of-state travelers and local Alaskans. It is a base for mountain climbers chasing the thrill of summiting Denali, a fisherman's hub for the salmon seekers, and a wonderful place to go site seeing. The town's mothers and fathers become pilots, fishing guides, waiters and waitresses, and zip line guides; anything to make money for the winter season.
Many people are drawn to this community in the summer months because of the seasonal jobs that are available. In a short few months with long summer days, people work endlessly and play even harder.
"I was asked to move to Talkeetna with a friend. I grew up in Indiana and knew nothing about this small town in Alaska. When I learned about our destination I was really intrigued by the sense of community and adventure. That was 7 years ago and now I am raising a family here and I couldn't be happier!"

Jackie Terstegge, Talkeetna Local
In the winter, the town becomes quiet and the days are short. Locals find joy in snow machining, skiing, ice fishing, and community events. A group of locals started the Talkeetna Bachelor Auction and the Wilderness Woman contest to raise money for and awareness of women and children in need in the communities. Talkeetna residents are supportive, caring, and creative; always finding ways to bring light to the dark winter months.
Sitka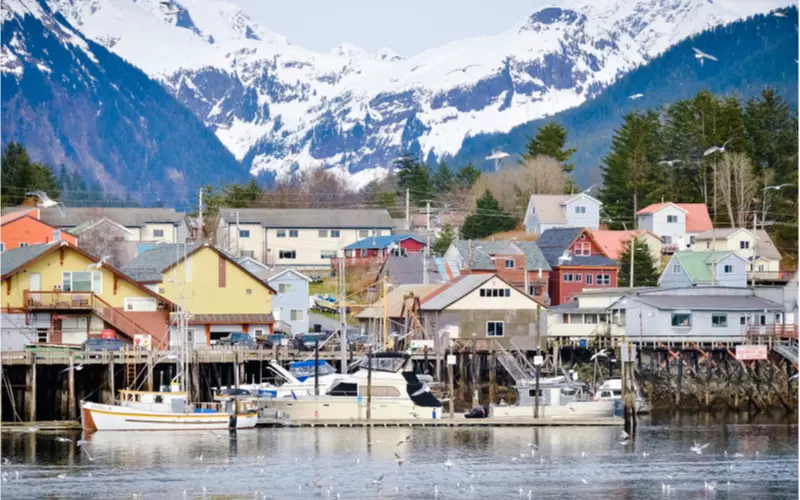 Population: 8,640
Median Household Income: $71,534
Median Rent: $1,091
Sitka, in the eyes of many, is considered one of the most beautiful towns in Alaska. It is nestled in a cove on Baranof Island, just off the Gulf of Alaska. It is most known for the fishing economy, both commercial and sport fishing. Most individuals are busy in the summer, like many other Alaskan towns, but locals make time for fun. The area offers activities on land and sea in many forms. Take a hike and always prepare for rain, even when the skies are clear. Kayak in the bay and cruise the surface with sea birds and sea otters. Take a flight to see the island's grandness or rent an ATV or bike to explore on your own time. The community stays busy supporting one another through fundraising, shows, and art-inspired events like the Sitka Whale Fest and the Sitka Summer Music Festival.
Homer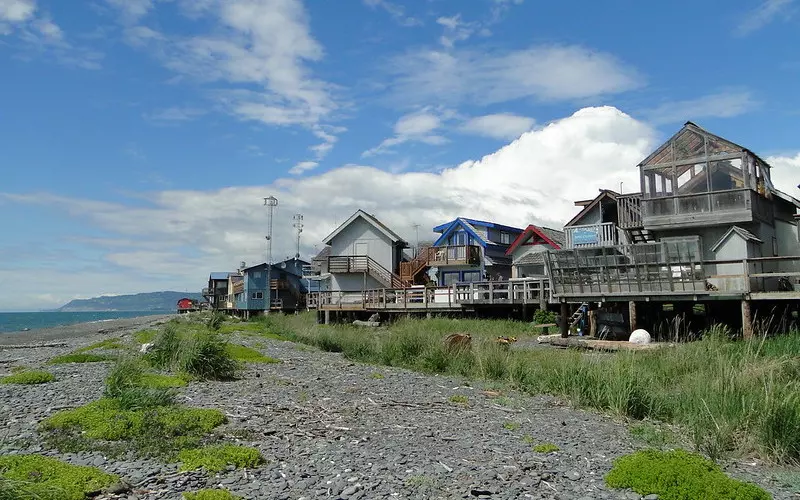 Population: 5,922
Median Household Income: $59,837
Median Rent: $970
Why wouldn't you move here? The town literally has "home" in its name! Homer has always intrigued my husband and I. We always say we will move there someday for many reasons. The Caribou hills fill with snow in the winter so we can still ride our snowmachines and explore. Kachemak Bay is filled with resources to harvest and fill the freezers. Across the bay there are more hikes than you can ask for and recreational cabins for rent.
The small town of Seldovia is a short flight or boat ride and a unique community to visit. The list goes on and on, this town is incredible.
Many locals spend their summers working on their high-tunnel gardens, working through the tourism industry, and exploring. The homes in Homer are charming, and you can purchase beautiful land. The hillside offers more acres above the city looking over Kachemak Bay and homes closer to town provide walking distance resources.
Check out our article, 17 Fun Things to Do in Homer Alaska to learn more about what this community has to offer.
Seward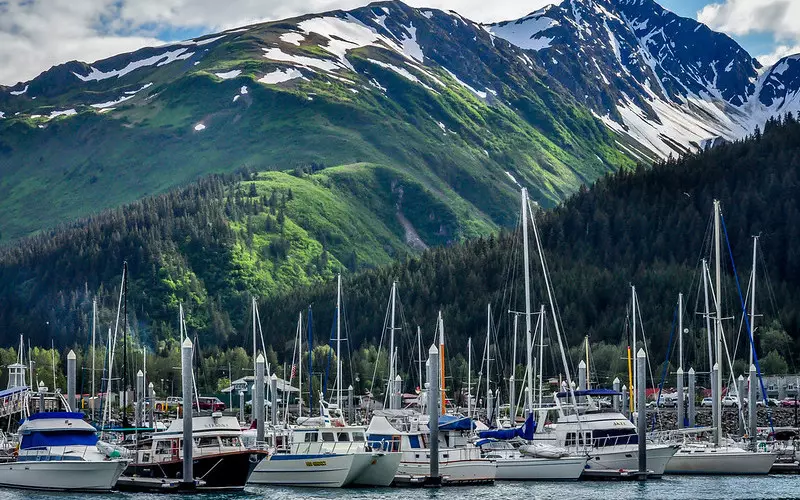 Population: 2,796
Median Household Income: $76,410
Median Rent: $749
Seward is my home away from home. I was born here and like I mentioned earlier, raised between here and Talkeetna. I was blessed to get the best of both worlds. The land and sea are a part of who I am today. When I am in Seward I enjoy riding my snowmachine in the mountains surrounding Lost Lake, hiking these same mountains in the summer months, and jumping onto a friend's boat or jet ski to explore Resurrection Bay. This coastal economy is made up of fishermen and tourists and is also bustling with a ton of locally owned businesses.
My mother still lives in Seward and she is, in my eyes, the definition of community. She and her co-owners run a local thrift store, Ukanuzit, and they are always looking at ways to give back. She also is a master event coordinator. She and a few others started the Alaska Mermaid Festival and she continually looks for fun ways to keep locals busy and boost the town's economy.
The Most Beautiful Thing About Alaska
You may have noticed some trends about the cities and towns of Alaska. We love hiking, fishing, camping, and hunting. We work hard in the summer months and play even harder. We stay busy in the winter and we all do our part the bring our communities together.
What makes Alaska unique and why should you call this great land your home? The people. I often reference Alaska as a big state and an even bigger family. We are here for one another, even if we have never met before. My friend's car broke down and she asked to use mine for the week. I didn't need it and without hesitation handed over the keys. One of her co-workers who recently moved here from the lower 48 was blown away by that act of kindness, but it was second nature to me. Just last night I locked my keys in my truck at a gas station near to my home. I had over 10 people help me and make sure I made it home safely. We say hello to strangers, we wave from our cars, we offer you what we can, and we look forward to meeting you when you do make the move.
I am a born and raised Alaskan who enjoys being outside and living a subsistence lifestyle. I spend most of my time camping, hiking, snow machining, harvesting, fishing, hunting. I love cooking with ingredients provided to me by this great state. I was raised between two hard-working parents. My father, who lives 20 miles by snowmachine from the nearest town taught me all about subsistence living and utilizing our natural resources. My mother, who lives in one of the most beautiful destinations, Seward Alaska, has always been involved in the tourism industry. Her work ethic inspired me to start working at 14 years old as a customer service representative for Kenai Fjords Tours. I helped many travelers fulfill their Alaskan dream vacation by coordinating boat tours, flights, hiking trips, and even providing the best places to eat.