When you are looking for places to stay you will find cabins, hotels, lodges, bed and breakfasts, and more.
A lodge is defined as a small home that is occupied by a lodge-keeper and is usually near the entrance or in a park.
There are several lovely lodges on your way to Denali National Park and plenty on the Denali Highway as well. Denali National Park is roughly 5 hours from Anchorage and 2 hours from Fairbanks.
We recommend breaking up your drive time while exploring the great state by staying at some of the beautiful lodges below.
Lodging From Anchorage To Denali National Park
The drive from Anchorage to Denali National Park takes about 5 hours and then you spend even more time in a vehicle when you book a trip into the park itself.
To help break up the trip and to explore more of what Alaska has to offer, we highly recommend checking out some of these Lodges along the Denali Highway.
Susitna River Lodging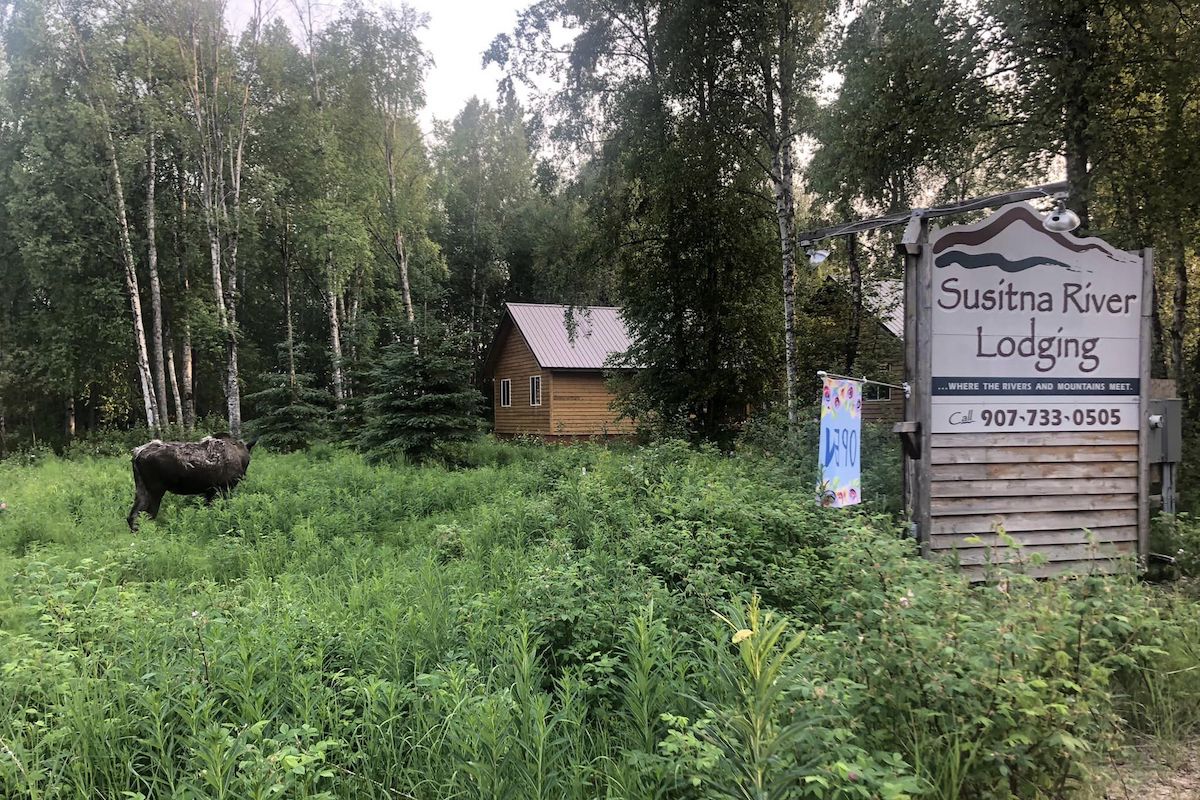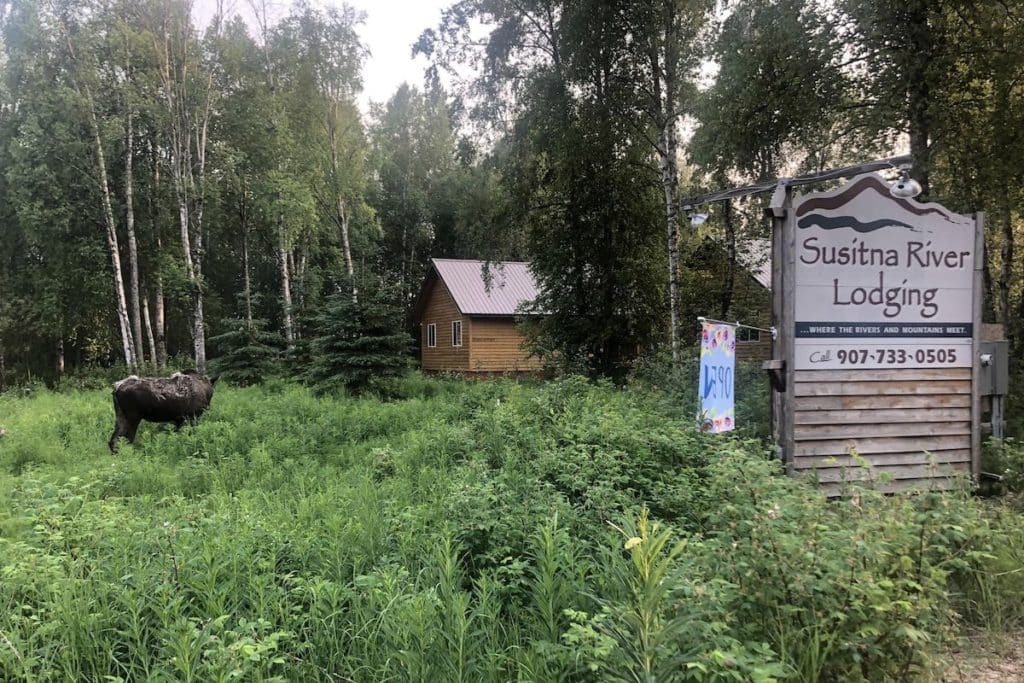 North of Anchorage is a small town called Talkeetna. "Talkeetna" means where three rivers meet. Right at the edge of town, three beautiful rivers converge into one big body of water. Nestled on the banks of this beautiful sight is a beautiful lodge.
Susitna River Lodging is family-owned by a local Talkeetna family and is open year-round. There are seven cabins and three suites within the lodge.
The riverfront cabins offer a cozy and private space with a full bathroom, an open floor plan dining/living area, and a loft for additional guests.
The backwoods cabins are located just behind the riverfront cabins and while they don't have the same view as the others, they have two private bedrooms, a full bathroom, and an open floor plan dining/living area. All of the cabins offer a picnic area and a grill.
Inside the lodge, there are four suites. One is handicap accessible and has external and internal access. The upstairs suites have high vaulted ceilings, a full bathroom, an open floor plan dining/living area, and beautiful views of the property and river banks.
Any of the guests are welcome to use the lodge's shared space in the lobby.
There is a television with access to popular streaming apps, books, games, and cozy couches to enjoy coffee or tea with your family.
Susitna River Lodging has a hidden gem on the property as well. Tucked near the main lodge is a small outbuilding called the Talkeetna House of Prayer (THOP).
"You'll be sorry if you only stay one night!" – Guest Review
Talkeetna Alaskan Lodge
A much larger lodge located in Talkeetna offers the lodge aesthetic with all of the amenities you would find in a hotel.
There is a restaurant and bar in the lodge, a gift shop, a beautiful viewing deck, and trails on the property. This is located just outside of Talkeetna but they offer shuttle services into town.
Their rooms vary from a standard to a suite. We stayed in one of the larger suites on our wedding night and felt like we had traveled far away to a beautiful resort.
The room was elegant, clean, and had a wonderful jacuzzi tub for relaxing with a view.
McKinley Princess Wilderness Lodge
The McKinley Princess Wilderness Lodge is a sister company to the Talkeetna Alaskan Lodge.
It is located 49 miles north of Talkeetna and they usually start to book early in the season. If you are making plans on visiting Denali National Park, book your stay here as early as you can to make sure they have room.
Byers Creek Lodge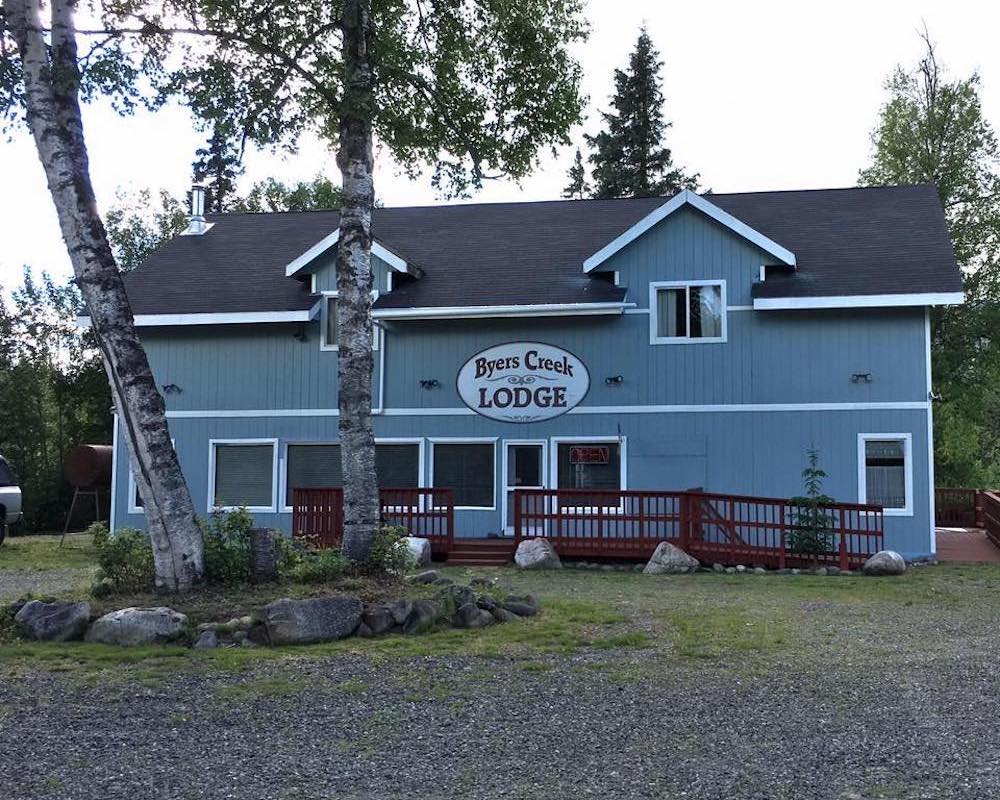 One hour north of Talkeetna is Byers Creek Lodge, Byer's lake, and the Alaska Veteran's Memorial.
Byers Creek Lodge is open seasonally and offers both apartments and cabins.
The apartments are located above the lodge and have a private entrance so guests can come and go as they please. In the apartments, guests will find a full bathroom, kitchen, and 1-2 bedrooms depending on what is reserved.
The cabins and the bunkhouse are dry cabins, meaning there is no running water, but guests have access to shower rooms on the property.
If it doesn't look like their space is quite big enough for your family, give them a call. They offer air mattresses and cots when extra sleeping space is needed.
McKinley View Lodge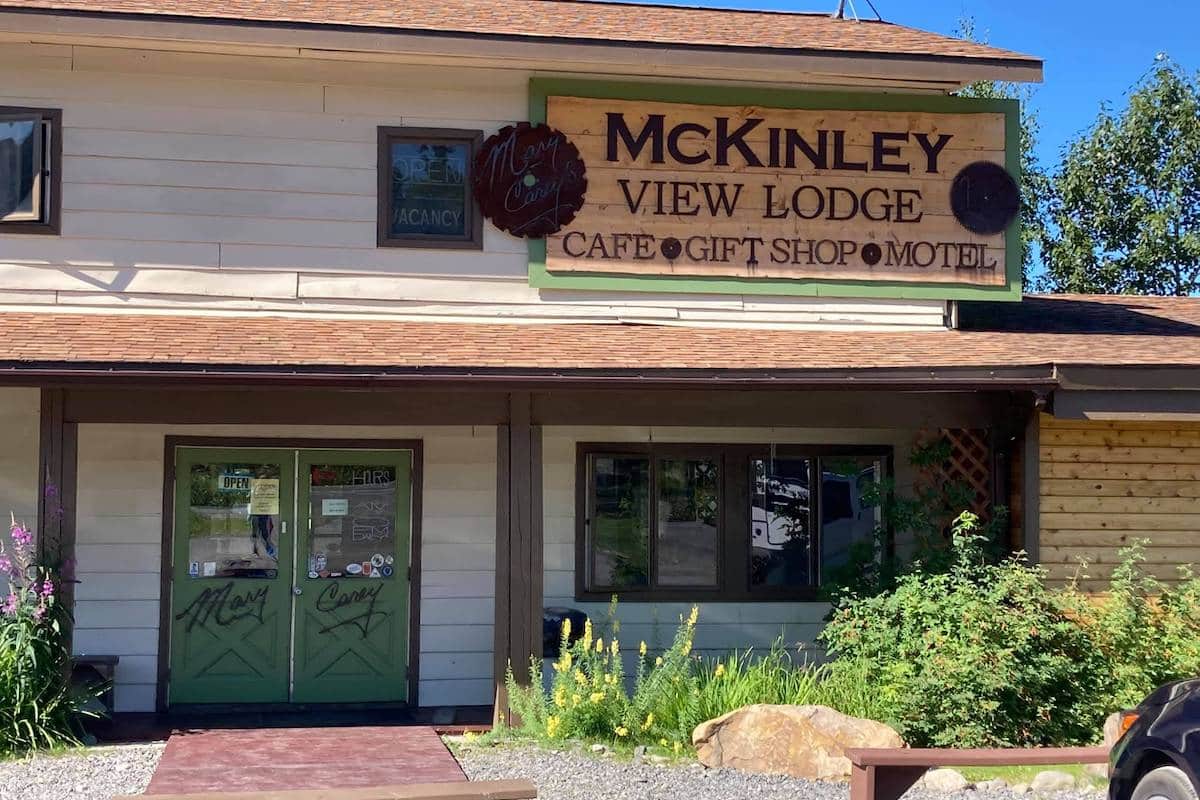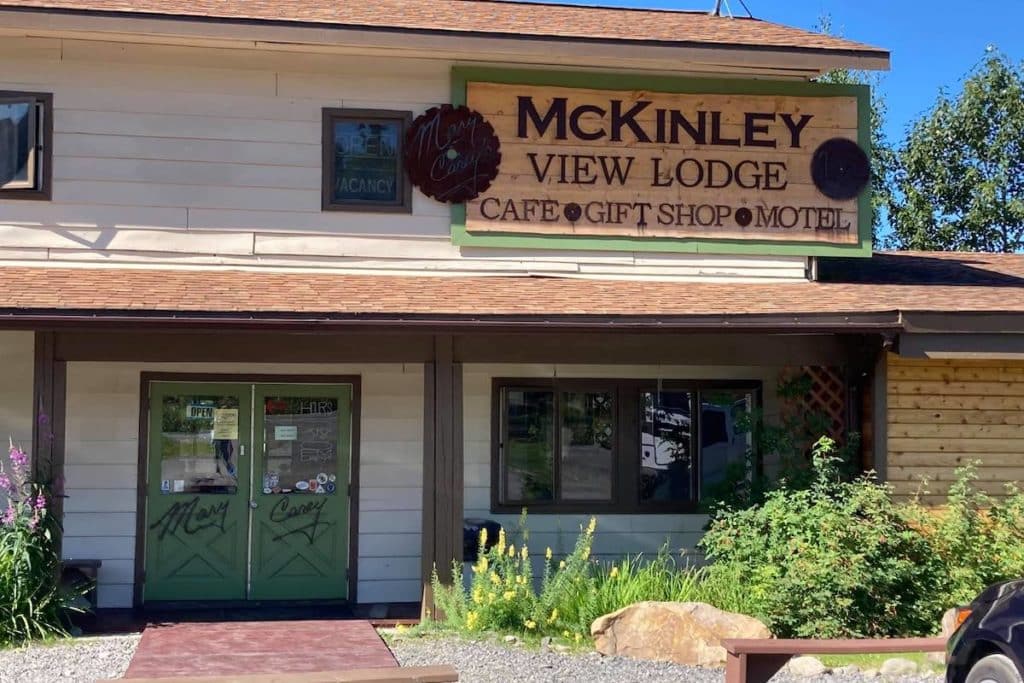 Roughly 10 miles north of the Byers Creek Lodge is the McKinley View Lodge.
They are open from May to September. All of their rooms have a private bathroom and wonderful views of Mount McKinley. Their rooms do not offer a kitchen or dining area but there is a wonderful restaurant in the lodge itself. Swing by the gift shop for an Alaskan-made souvenir too!
This lodge has a neat history to be explored. Mary Cary homesteaded this lodge in 1962 and it is now owned and operated by her daughter, Jean Carey Richardson.
Mary has set many records in her lifetime. She was the first woman in the world to be on Mt. McKinley in the winter months and was noted as the "Nation's Most Versatile Female Writer" after publishing 15 books.
Her daughter followed in her footsteps and is also an award-winning author with 15 of her own books published.
Caribou Lodge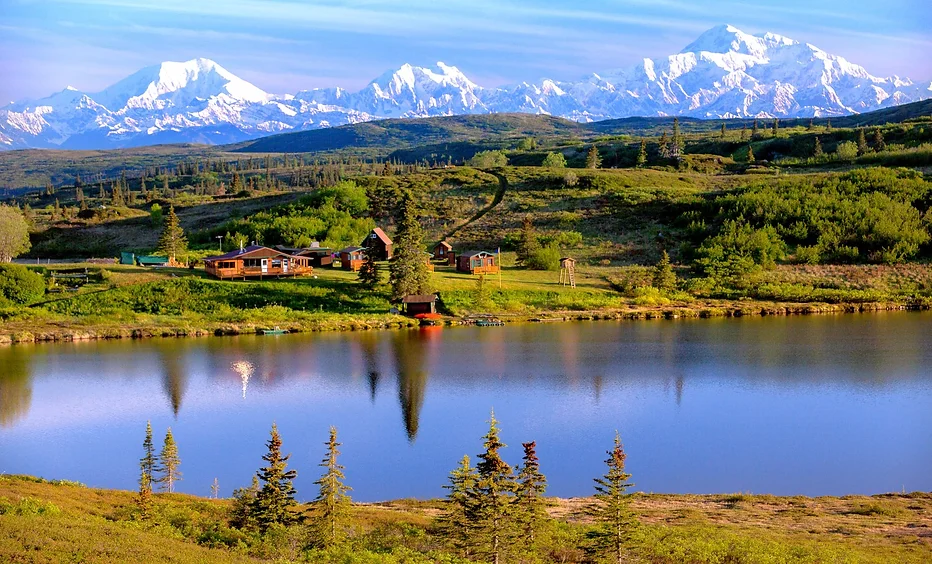 If you are looking for a retreat that is slightly more adventurous, book a stay at the Caribou Lodge.
This lodge can only be accessed by plane, typically leaving from Talkeetna Alaska.
The lodge started in the 1960s when it was a flourishing hunting lodge for roughly 20 years. The current owner, Zac, bought it after being the groundskeeper for many years.
This lodge offers incredible scenery and a true Alaskan experience. If you are looking for that incredible never-forgotten adventure, then a trip to the Caribou Lodge should be at the top of your list.
Visit the owners and hear their stories in person.
Lodging From Fairbanks To Denali National Park
If you are headed to Denali from Fairbanks there is not as much drive time but just as much to see.
You can break up the time you are in a vehicle and visit some unique places in Alaska.
Denali Park Village
The Denali Park Village is a popular destination for those visiting Denali National Park.
In the winter, the town is almost eerie as it becomes a ghost town with just a few that stay behind to take care of the lodge.
In the summer months, it becomes the complete opposite. Restaurants open, gift shops welcome guests to browse, and the lodge is filled with travelers from around the world.
The lodge opens its doors in May. The beautiful and rustic lodge is on the banks of the Nenana River and there is plenty to do on the 20 acres of land owned by the lodge. There are easy trails scattered around and restaurants nearby.
There are a few different types of rooms available depending on your needs.
A standard room with 2 queens or 2 double beds, a river view room with 2 queen beds, a king room with a big and cozy king bed, or even a king room with a view which faces the river.
All of the rooms have daily housekeeping, a private bathroom, alarm clock, telephone, coffee maker, hairdryer, and even television (although you will most likely be spending your time exploring and looking at some amazing views). There are ADA-accessible rooms and cribs available upon request too.
On The Denali Highway
You can explore the Denali National Park in a few different ways.
The Denali National Park and Reserve stretch 92 miles to the West on dirt roads uninhabited by humans for the long term. You may drive your personal vehicle for the first 15 miles (which are paved) but if you wish to see the sights further in or even camp in the park you must book your transportation.
There are narrated and non-narrated tour buses that can take you further into the park which greatly increases your chances of seeing wildlife.
South of the park, starting in Cantwell, is the Denali Highway that stretches 135 miles to the East where it connects to Paxson. This dirt road will also provide you beautiful views, chances to see wildlife such as moose, caribou, bear, ground squirrels, eagles, swans, and more – and there are also lodges to stay at along the way.
Backwoods Lodge
At the entrance to the Denali Highway in Cantwell, there is a humble place to stay; the Backwoods Lodge.
My friend grew up in Cantwell and she worked there for many years. I've stayed there in the winter months as a home base for our snowmachining excursions and caribou hunts.
The owners have always been kind and accommodating. Working with our late check-ins and early check-outs.
Within the lodge itself, they have 11 rooms and there are also 2 cabins on the property.
There are grills and picnic tables to enjoy an outdoor meal and their rates vary depending on the season.
The rooms have a fridge, microwave, coffee maker, hot pot, tea, popcorn, hot chocolate, salt and pepper for your tasty treats, plates, coffee mugs, glasses, silverware, napkins, hairdryer, TV, and WiFi.
It sounds like home doesn't it? There is plenty of parking as well for those of you that explore with all-terrain vehicles.
Cantwell Lodge
The Cantwell Lodge is exactly where you would expect it to be; Cantwell. The lodge has a restaurant attached to it as well as TV, private bathroom, hairdryer, toiletries, microwave, fridge, and a coffee maker.
Looking for a great place to see the Aurora? Staying here will give you a good place to stargaze while in Alaska because of the low light pollution.
There are hiking trails nearby and a lounge area for guests to relax for the evening.
Clearwater Mountain Lodge
82 miles down the Denali Highway you'll find the Clearwater Mountain Lodge nestled in the spruce trees near the river's edge.
This lodge is a great place to overnight since you can fuel up your vehicle and there is a small bar/restaurant on the property called the Sluice Box.
The bar opened in 1982 and started as an old trailer that was refurbished into a cozy bar. They offer burgers, brats, and sandwiches too.
The Sluice box opens up Memorial Day weekend and stays open until late fall. We stopped here on our fall caribou hunt and enjoyed a cold IPA and hot fries, it was a wonderful place to warm up from the cold fall weather.
The lodge owners want to accommodate all budgets so they offer many ways to stay.
Tent campers can set-up in their campground and make use of their bathhouse. If you don't want to worry about breakfast they offer a special rate for the campsite with breakfast included.
Laundry facilities are available too. A basic campground room offers 2 single beds and use of the bathhouse.
A room in the main lodge includes a full and a single bed, breakfast, and a shared bathroom. Traveling with a larger family? They have 2 and 3 room cabins available with a private bathroom.
Alpine Creek Lodge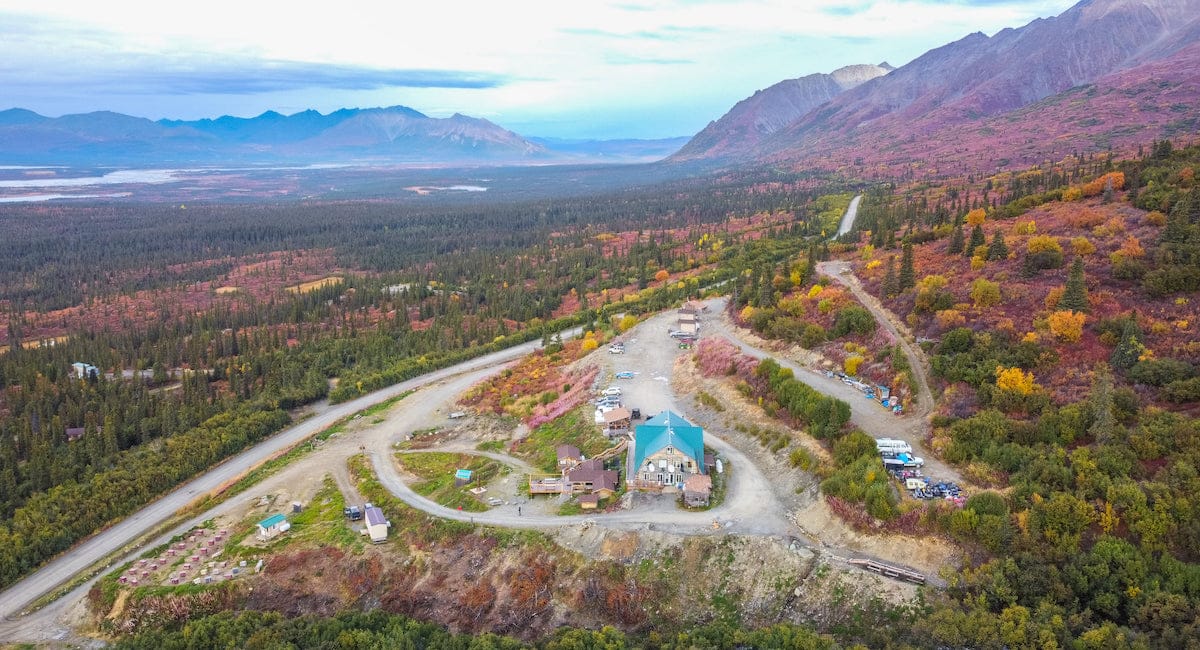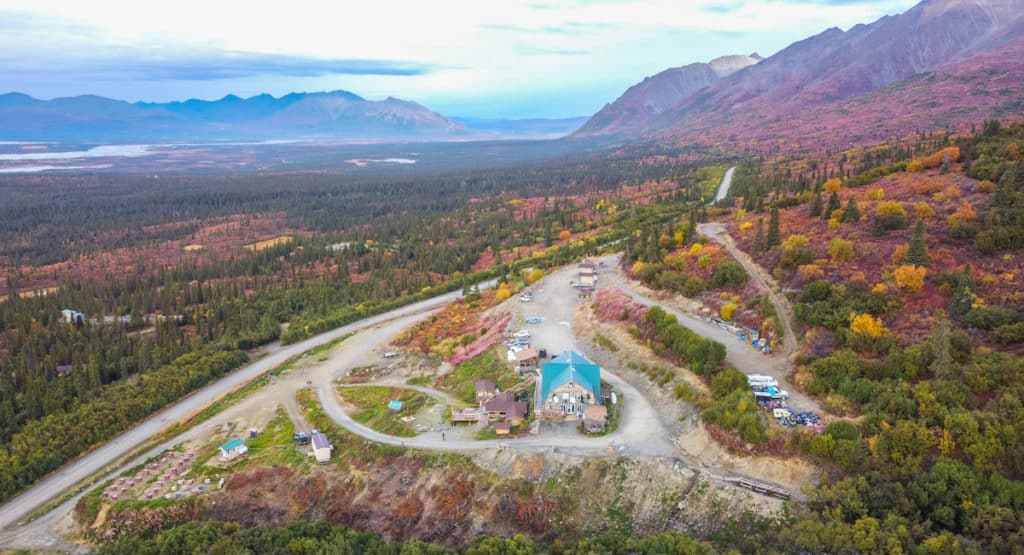 About halfway down the Denali Highway, at mile 68, the Alpine Creek Lodge sits high on the hillside overlooking a beautiful valley.
They offer rooms, cabins and have a small bar onsite. Their dinner style is more like home.
There is a large dining room table in a cozy living area. Guests are served a home-cooked meal that changes each night and there are restaurant services available too.
In addition to lodging, they offer many other services. Go on an offroad excursion in the summer or winter. Try gold panning or bird watching. Rent mountain bikes or go fly fishing. Book a dog sled tour or a horseback ride.
Go on an overnight camping trip without worrying about all of the gear; they will provide it for you. Go on a photography/videography tour; they have taken many film crews out to produce wildlife and reality shows.
Maclaren River Lodge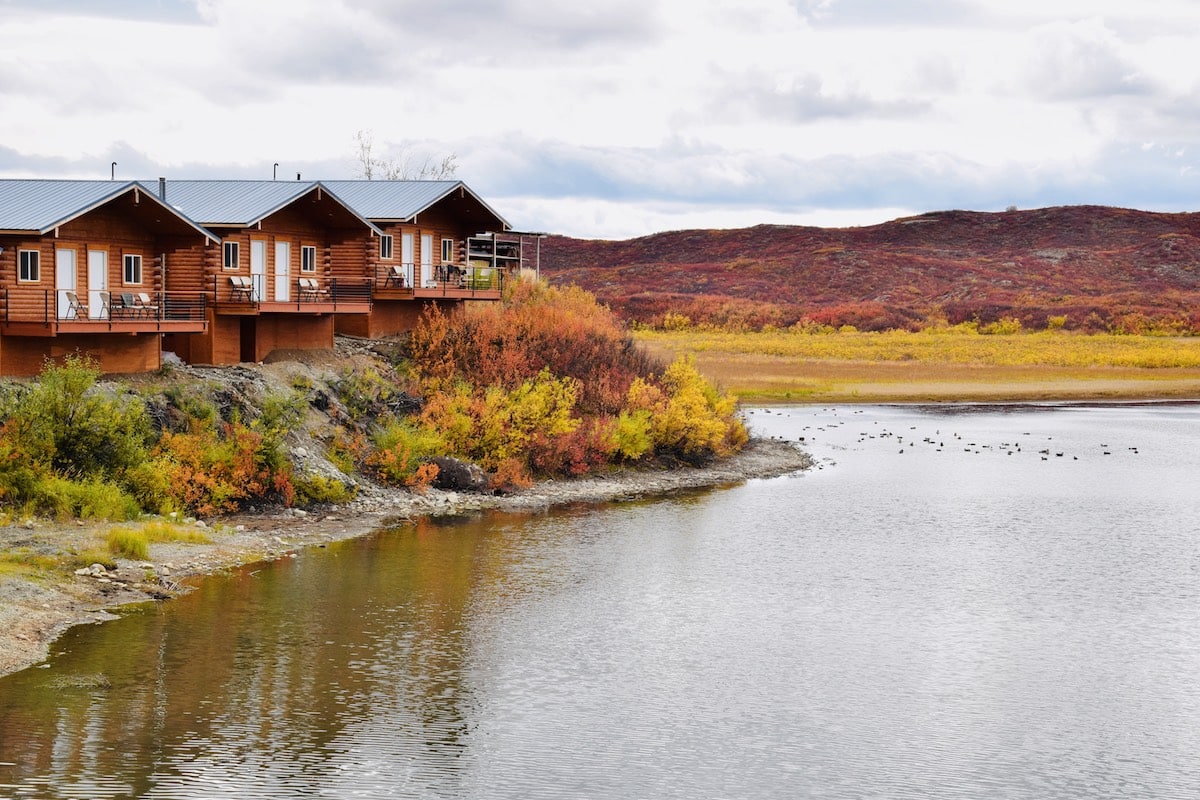 Further down the highway at mile marker 42, just after you cross the Mclaren River, you will find a small log cabin called the Maclaren River Lodge.
There is a restaurant and bar to relax and enjoy. Their cabins overlook the beautiful water.
If you prefer a more rustic adventure, you can rent camp supplies from them and explore the great outdoors.
Tangle River Inn and Tangle Lakes Lodge
Mile 21.3 of the Denali Highway brings you to the beautiful Tangle Lakes. These intertwined waterways reflect the beautiful scenery of the park and make for a serene location for a lodge.
Only open from May to September this Inn is a great place to stop while exploring all that Alaska has to offer.
The Tangle River Inn is just 3 hours from Denali National Park.
Guests have remarkable things to say about this place and the owners too.
"Killer place with great hospitality! Very rustic but that's what Alaska is all about!" – Guest Review
Denali Highway Cabins & Paxson Alpine Tours
Just off the Denali Highway, at mile 185.6 of the Richardson Highway are the Denali Highway Cabins and Paxson Alpine tours.
The lodge is located just off the banks of the Galena River. Nearby the lodge is the former Paxson filling station.
This abandoned building used to be a hot spot for tourists and local travelers to grab a meal, fuel up, and even spend the night. The owners, Audie and Jenny, will make your stay one for the books. You will feel at home and have an experience of a lifetime.
Alaska has many places to stay and the option that is best for you depends on what type of adventure you want, what route you decide to take, and the amount of time you can stay. Alaska is a big state!
We recommended breaking up your road trip with several stops at these beautiful lodges.