Deer can be found in South East Alaska and some southern points of interior Alaska like Kodiak island where they have been transplanted. They are not as commonly hunted as caribou or moose, but they do have some of the best flavors in big game hunting. Until recently, the deer species in Alaska was limited to whitetail deer, but sightings near the Canadian border have confirmed that both blacktail deer and mule deer are making their way to the last frontier.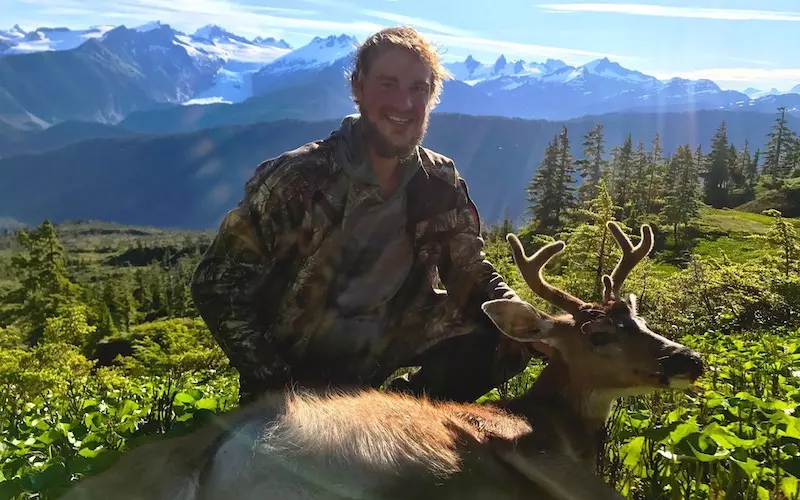 My husband hunts for deer each year just outside of Petersburg, a small town on the panhandle of Alaska. At the end of his fishing season, September to October, he takes to the rainforest in search of an animal to fill our freezer. His time is limited before he packs his bags and gets on a return flight to our home in central Alaska so he goes hunting rain or shine.
Over the years he has harvested 8 different deer. He loves hunting for deer because it is a hunt that is easy to complete alone. A single man (or woman) can load up their gun, put on their rain gear (even if the sun is out), and head to the hills. Then, with patience and education, the deer can be skinned, harvested, loaded into a meat pack, and hiked back home without taking multiple trips.
Prince William Sound Rescue
I am grateful that my husband enjoys this hunt and that he makes time to do it. The southern coastal towns of Alaska are much more abundant in deer life. You can walk from the city center to the hunting grounds and be back in time for supper.
From central Alaska, you will find deer if you take a boat out to more coastal places like Kodiak or Perry island outside of Whittier. We attempted this journey one cold October day and the trip took a turn for the worst. What we expected to be a quick trip with plenty of meat to fill the freezer turned out to be a long and arduous journey that required the United States Coast guard to help us return to safety.
Why Deer Meat?
I said it before and I will say it again, venison is one of the most flavorful game in Alaska. Bear, moose, and caribou can have a musky flavor, especially in fats. Deer, on the other hand, has many similarities to beef but unlike beef, the fat is minimal. It has roughly 50% less fat than your average beef cut. The meat is a wonderful texture, strong and smooth, but it doesn't require extra steps to tenderize it. The flavors are earthy. If you don't mask the natural flavors with spices, you will notice the meat is already dressed in the herbs the animal had once grazed on.
Cooking With Venison
Like beef, there are many recipes that you can make with venison. Many hunters prefer the basics so that they can truly taste and appreciate the animal they harvested. My husband saves the backstrap cut for a special occasion and we usually cook it as a steak with basic seasonings like garlic, salt, rosemary, and thyme. It can be made into burger, jerky, sausage, and cut into roast, steak, and stew meat.
Deer and Dumpling Soup
When you are feeling under the weather, most people crave chicken noodle soup or some form of warm broth to soothe their throats and uneasy stomachs. My husband had not been feeling good and we had recently thawed out some venison. I decided I would make him deer and dumpling soup.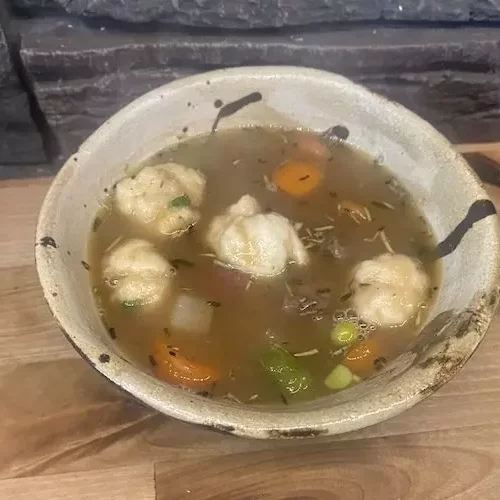 Deer and Dumpling Soup Recipe
Flavorful deer and dumpling soup for any occasion.
Print
Pin
Rate
Ingredients
8

oz

Venison (deer meat)

Carrots

Snap peas

Bacon

Round red potatoes

Thyme

1

tablespoon

Cayenne pepper

1

tablespoon

Rosemary

2

tablespoons

Montreal steak seasoning

2

tablespoons

Garlic powder

4

cups

Beef broth

1

cup

Water

1

tablespoon

Olive oil

1

tablespoon

Cornstarch

1

cup

White flour

2

teaspoons

Baking powder

1

teaspoon

White sugar

1/2

teaspoon

Salt

1

tablespoon

Butter

1/2

cup

Milk

1/2

cup

Chives

2

tablespoons

Everything But The Bagel seasoning
Instructions
Preparation (10 minutes)
Prepare the dumpling dough by combining all ingredients into a large mixing bowl and set it aside. Do not mix right away, you will have plenty of time for this while the soup cooks.

Chop the potatoes, carrots, and whole peas into equal size pieces.

Dice the venison into bite-sized cubes and mix in a bowl with the Montreal steak seasoning, cayenne pepper, garlic powder, rosemary, and leaves off of the thyme.
Cook Time (30 minutes)
In a large pot over medium-high heat cook the four strips of bacon until golden brown and crispy. Set three of the pieces aside for later and eat one now. You deserve it for making dinner tonight!

Now that the pot is greased with bacon flavor, add the olive oil and allow the temperature to rise (roughly 1 minute).

When the oil begins to crackle add in the potatoes, carrots, peas, and venison. Stir occasionally and cook until the meat is brown on all sides.

Add in the cornstarch and mix thoroughly. Continue to cook on medium-high heat for another 5 minutes. The cornstarch will add a nice crunch to the ingredients and hold them together in the soup.

When the potatoes are just starting to become soft on the inside and crunchy on the outside, add in the broth and water and turn the heat down to medium-low. Cover with a lid and let it cook for another 10-15 minutes.

While the soup marinates, start to mix up the dumpling ingredients. Make sure to mix thoroughly and knead the dough until it is a strong playdough-like consistency.

Start to take small chunks off of the dough and form marble-sized pieces. They will seem small now but will grow when they are boiled and cooked.

Remember the bacon for earlier? You only ate one piece right? Assuming the other three pieces made it this far, chop them up into bacon bits and add them to the soup. If you ate them that is okay, just don't tell anyone about step 1 and they won't know what they are missing.

When the potatoes and carrots are thoroughly soft in the center, add the dumplings into the soup and give it a good stir. Place a lid back on the soup and leave it to simmer for 15 minutes.

Add salt to taste and serve it to your loved ones.