May in Alaska is a true joy! Summer has officially started in the hearts of Alaskans, and the bright, long sunshine is around to prove it. May 15th is the official "start" of summer, when the expeditions, hotels and resorts, and cruise ships begin to make their summer trips.
And if you are planning a trip to this incredible state in May, get ready for an adventure of a lifetime! Despite the chill in the air, there is no shortage of exciting activities and breathtaking sights to experience in Alaska during this time of year. And the wildlife is waking up and out and about.
May in Alaska is sure to leave you with unforgettable memories. So grab your jacket, put on your hiking boots, and let's dive into all the amazing things to do in Alaska in May!
What Is The Weather Like In Alaska In May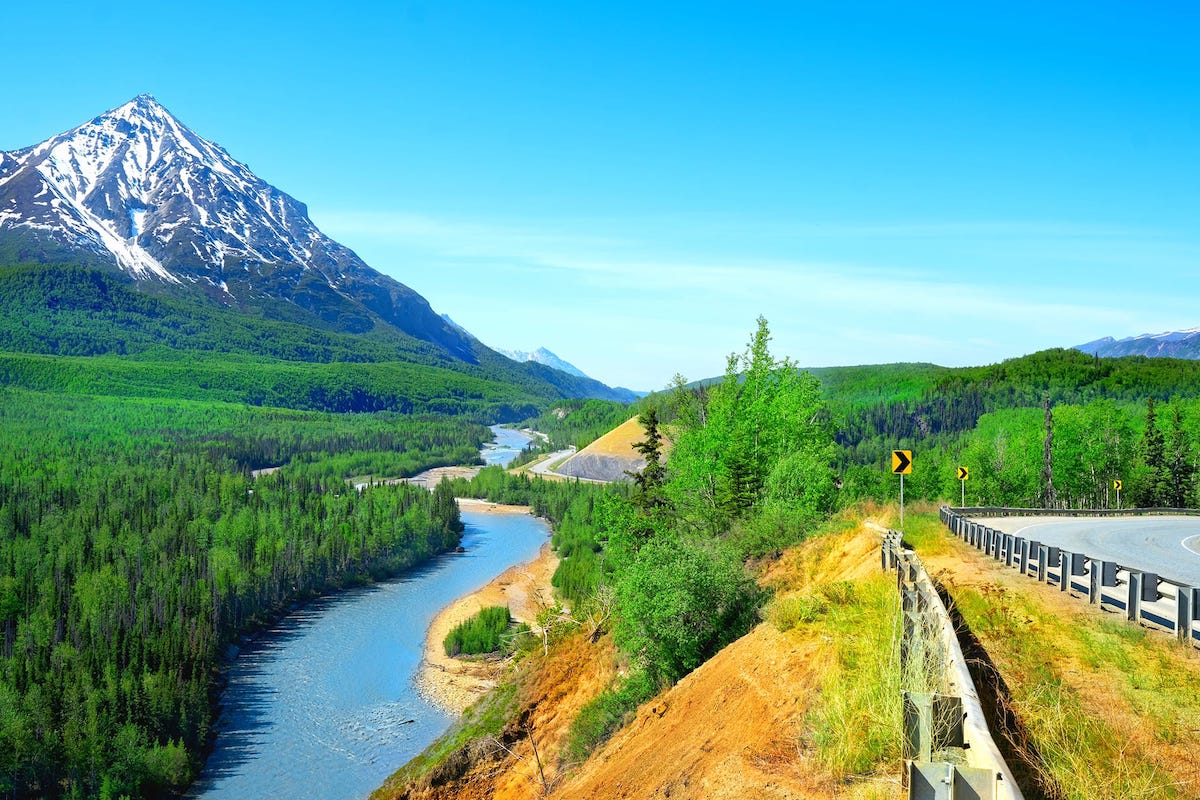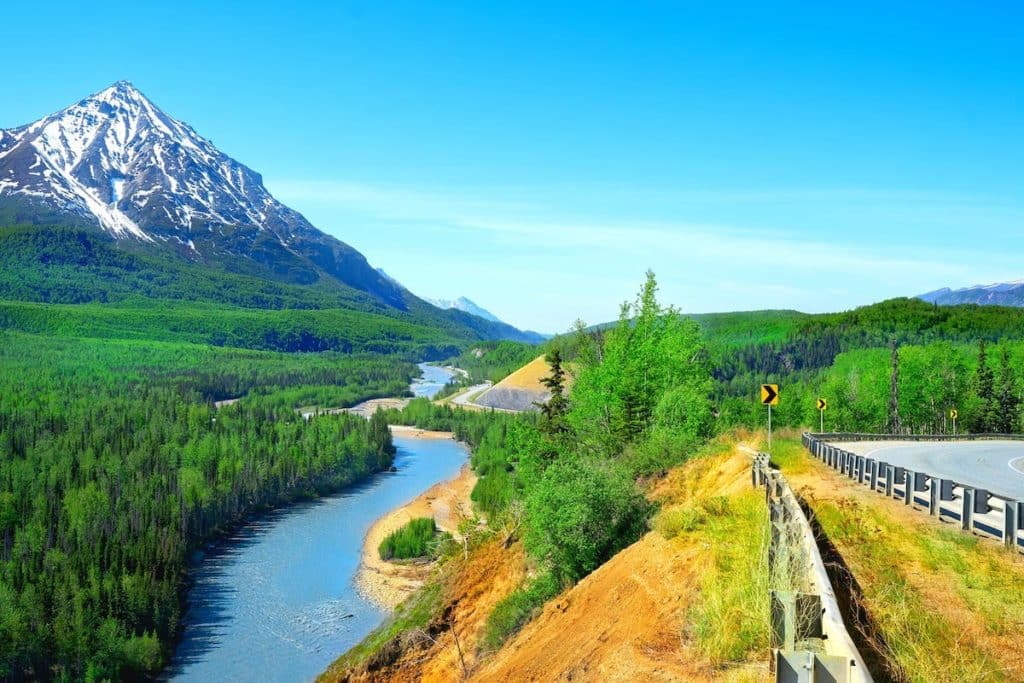 May in Alaska is technically Spring, but it feels like Summer to Alaskans. The landscape is coming to life, wildlife is waking up and returning, and the sunlight hours are long.
The weather in Alaska in May can be unpredictable, but generally, temperatures start to rise, and the snow begins to melt, making way for blooming wildflowers and lush greenery.
It is important to note that Alaska is a vast state, and the weather can vary greatly depending on where you are. So whether you are planning to visit the coastal towns of Juneau or Sitka or venture further north to Fairbanks, it is always a good idea to be prepared for anything Mother Nature may throw your way.
From bright sunny days to chilly rain showers, May in Alaska is full of surprises, and you never know what kind of weather you might encounter.
Don't worry – with the right gear and a spirit of adventure, you can make the most of any weather and enjoy all the wonders that Alaska has to offer in May.
What Weather To Expect In May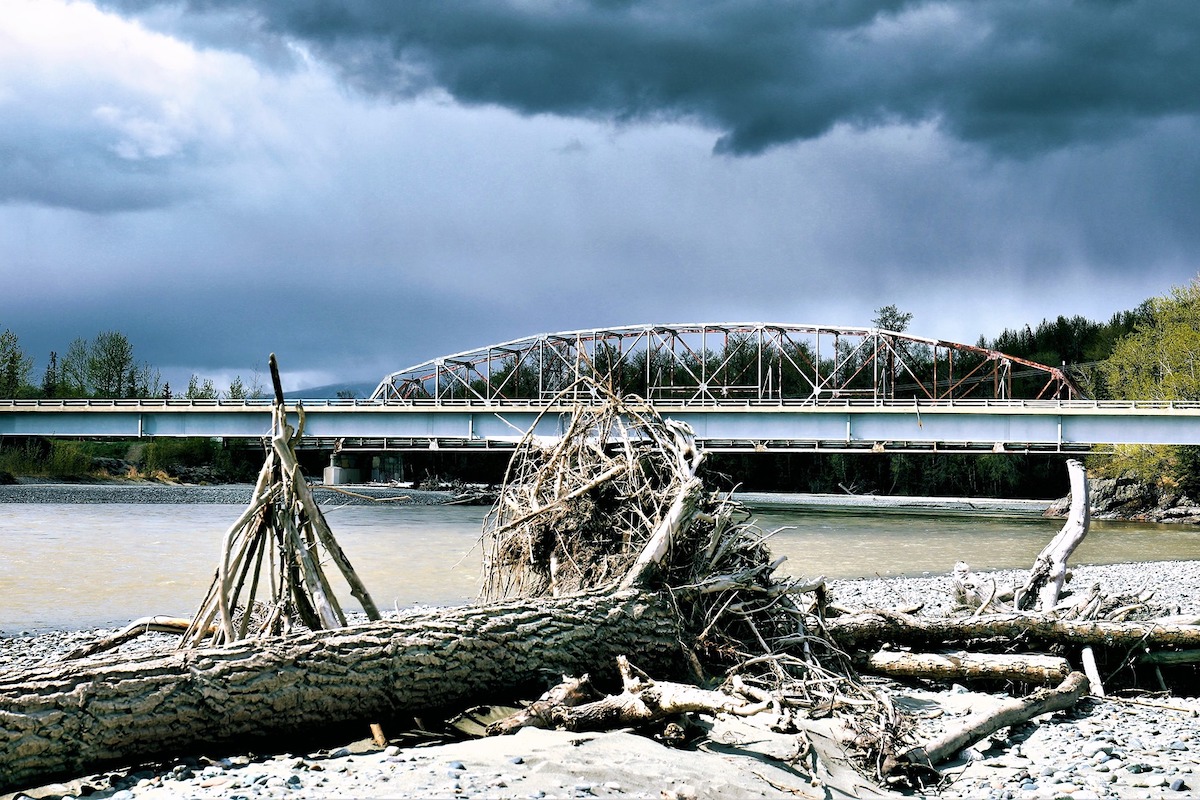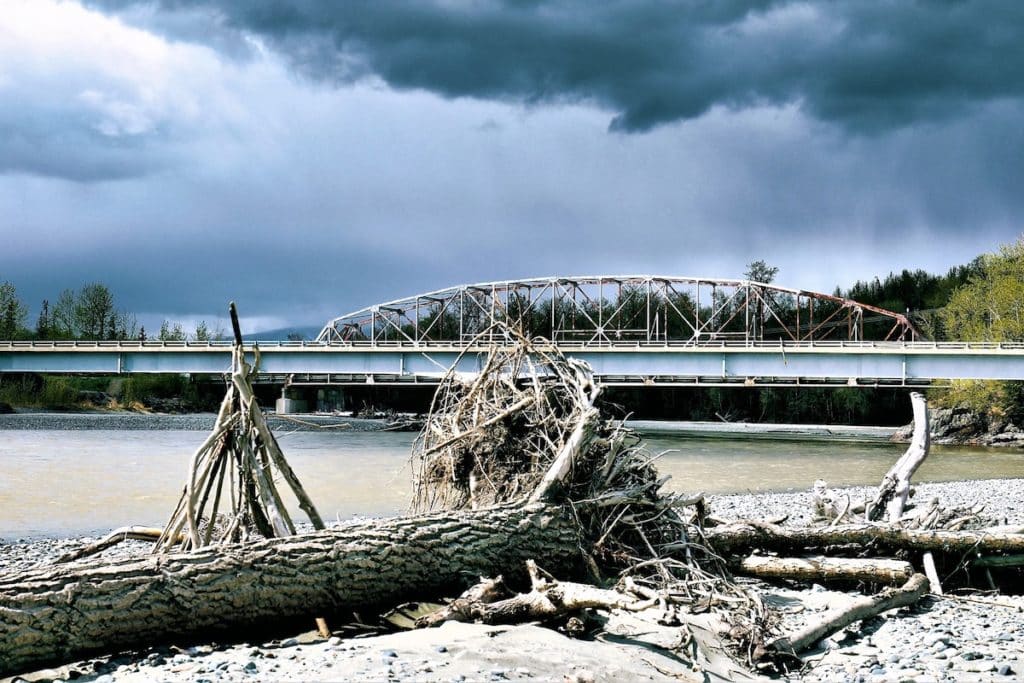 May Is A Great Time To Go On A Hike
Spring hiking in Alaska is an experience like no other, with stunning views, blooming wildflowers, and plenty of wildlife sightings along the way.
May marks the beginning of the warmer season, with temperatures ranging from the mid-40s to the mid-60s Fahrenheit. This means you can comfortably explore the trails without the need for heavy winter gear, making hiking in May an enjoyable and accessible activity for all skill levels.
One of the most popular hiking destinations in Alaska is Denali National Park, which boasts over 6 million acres of pristine wilderness and the highest peak in North America, Denali.
May is an excellent time to visit the park, as the snow begins to melt, and the park's trails start to open up.
Denali National Park is open May 20 through the 2nd or 3rd week of September. The main road into Denali closes for the winter.
Take a guided hike or set out on your own and explore the rugged terrain, spotting wildlife such as grizzly bears, caribou, and moose along the way.
Here are some more of our favorite hikes in Alaska during the month of May:
Harding Icefield Trail – This challenging 8.2-mile roundtrip hike in Kenai Fjords National Park offers stunning views of the Exit Glacier and the surrounding mountains. The trail winds through alpine meadows, past waterfalls, and eventually leads to a panoramic view of the Harding Icefield, which is the largest icefield entirely contained within the United States.
Hatcher Pass – Located in the Talkeetna Mountains just outside of Anchorage, Hatcher Pass offers a network of trails that wind through stunning alpine scenery. This is the same place you can find the famous Pika Village. The Gold Mint Trail is a popular option for hikers in May, offering stunning views of the surrounding mountains and wildflowers in bloom.
Flattop Mountain – Located just outside of Anchorage, Flattop Mountain is a popular destination for hikers of all skill levels. The trail is relatively short, just over 3 miles roundtrip, but offers stunning views of Anchorage and the surrounding landscape.
Savage River Trail – Located in Denali National Park, the Savage River Trail is a 2-mile round trip hike that winds through the stunning Denali wilderness. The trail is a great option for visitors looking for a shorter hike with plenty of opportunities to spot wildlife.
Check Out The Alaska Wildlife Conservation Center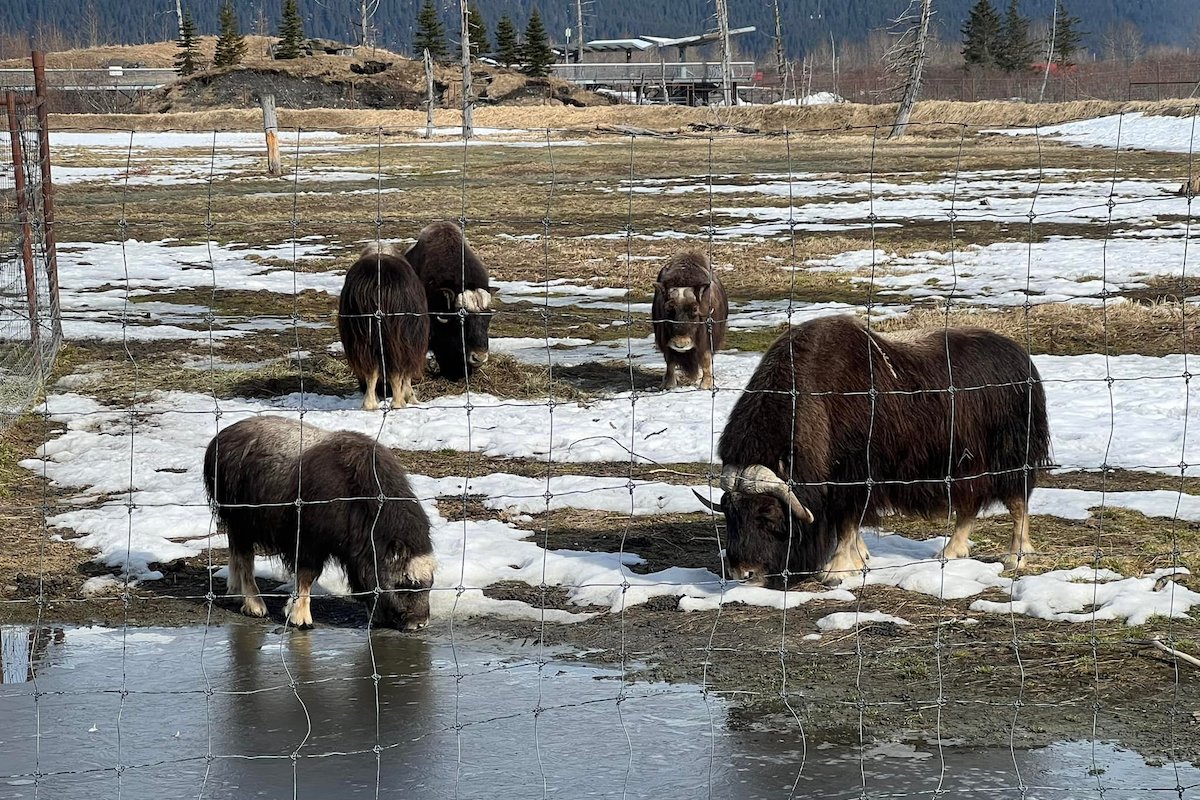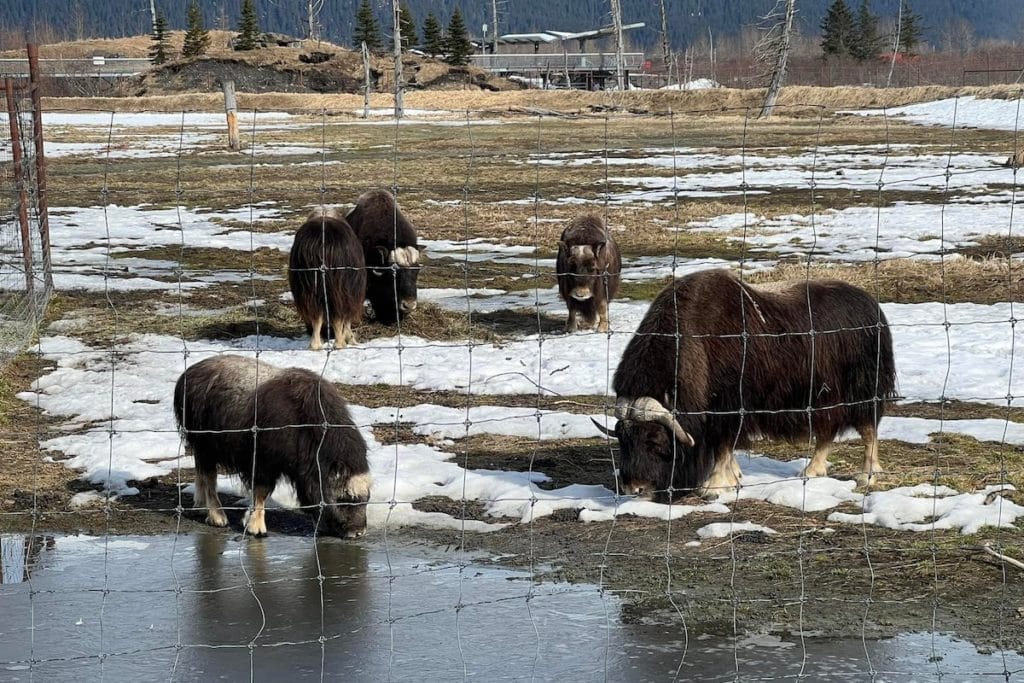 Located just outside of Anchorage, the Alaska Wildlife Conservation Center is a non-profit organization dedicated to preserving Alaska's wildlife and providing educational opportunities for visitors.
The center is home to a variety of animals, including grizzly bears, black bears, moose, bison, and muskoxen, all of which were orphaned, injured, or unable to survive in the wild on their own.
Visitors can take a guided tour of the center, or simply wander the trails on their own, getting an up-close look at the animals as they go about their day. And with knowledgeable staff on hand to answer any questions you may have, you will leave the center with a newfound appreciation for Alaska's incredible wildlife.
If you are looking for an extra-special experience, consider booking one of the center's behind-the-scenes tours. These tours offer a rare glimpse into the daily operations of the center, giving you the chance to meet some of the animals up close and learn more about the conservation efforts underway.
Alaska Wildlife Conservation Center
Take A Ride On The Alaska Railroad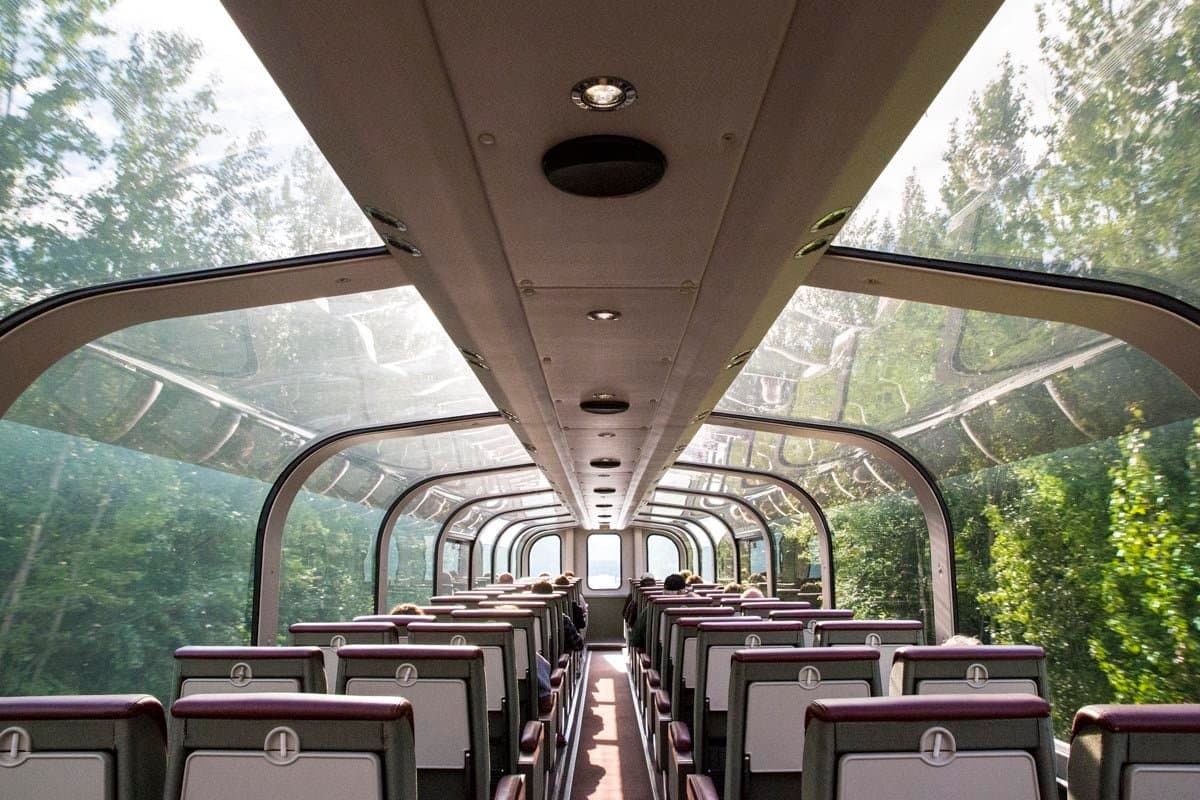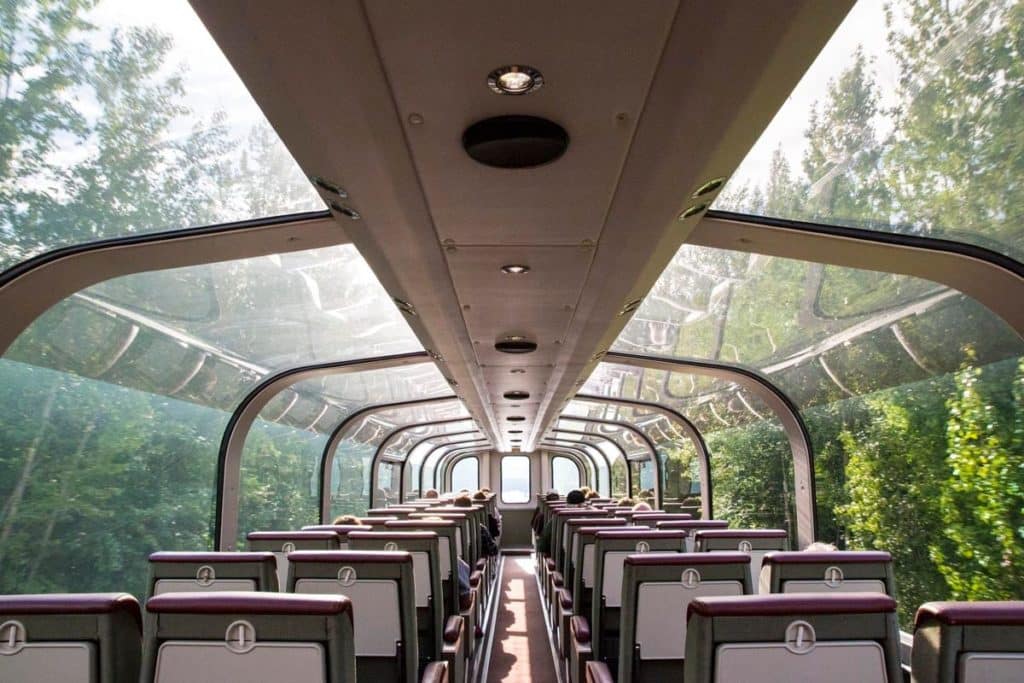 With May starting to warm up in Alaska, you may be able to enjoy the beautiful scenery of one of the open-air viewing platforms on some of the trains. If the weather isn't warm or is raining, you can still see amazing views by riding in one of the glass top cars as seen above.
Alaska's famous wildlife becomes more active and visible during this month as well. You may spot grizzly bears, moose, bald eagles, and other animals along your train route.
Denali Star route
This is the Alaska Railroad's flagship route, which travels from Anchorage to Fairbanks via Denali National Park. Along the way, you will pass through some of the state's most spectacular scenery, including the Alaska Range and the Nenana River Canyon. This route offers both standard and deluxe dome car service, as well as open-air viewing platforms.
Coastal Classic route
This route runs from Anchorage to Seward, a picturesque coastal town on the Kenai Peninsula. Along the way, you will pass through the Chugach Mountains, along Turnagain Arm, and through the Kenai Peninsula's lush forests. The Coastal Classic also offers both standard and deluxe dome car service, as well as open-air viewing platforms.
Glacier Discovery route
This route runs from Anchorage to Whittier before returning to Anchorage. Along the way, you will pass through the Chugach Mountains, alongside the shores of Turnagain Arm, and through the Anton Anderson Memorial Tunnel (the longest highway tunnel in North America). This route offers standard service only, but the views from the train are still absolutely stunning.
Alaska Railroad
Enjoy A Whale Watch or Glacier Cruise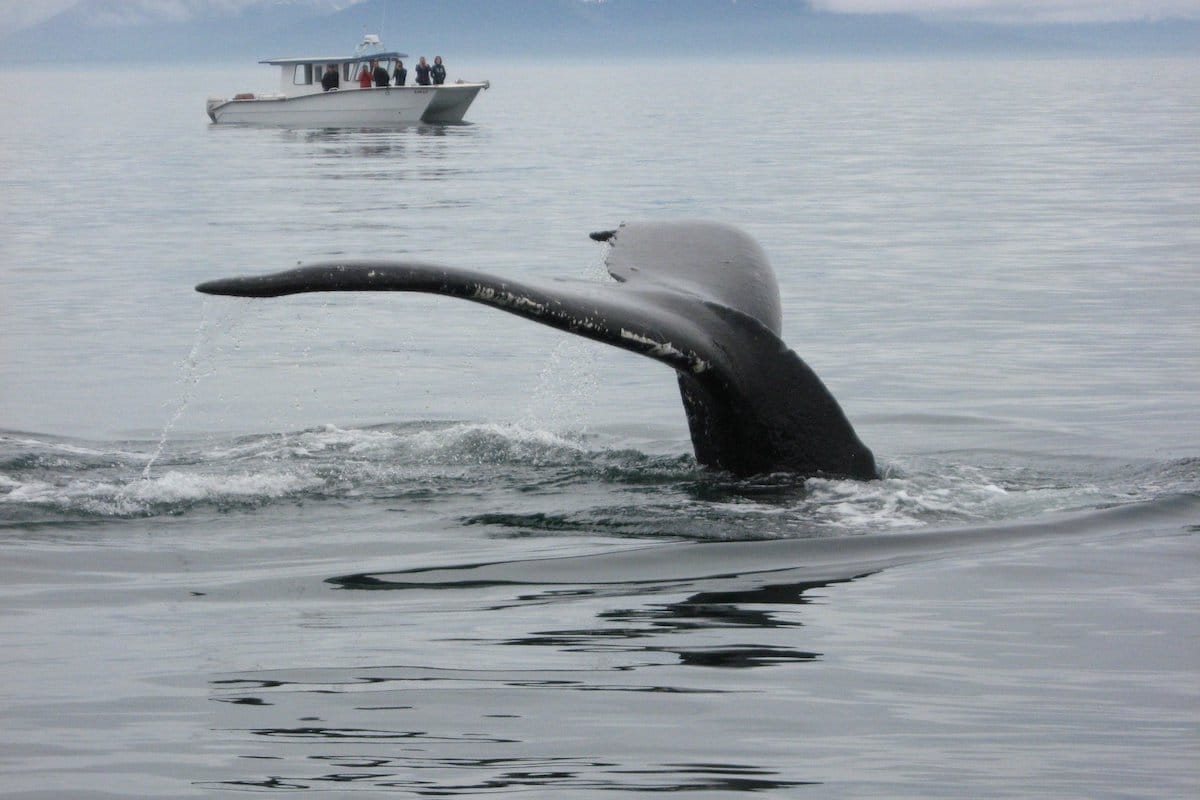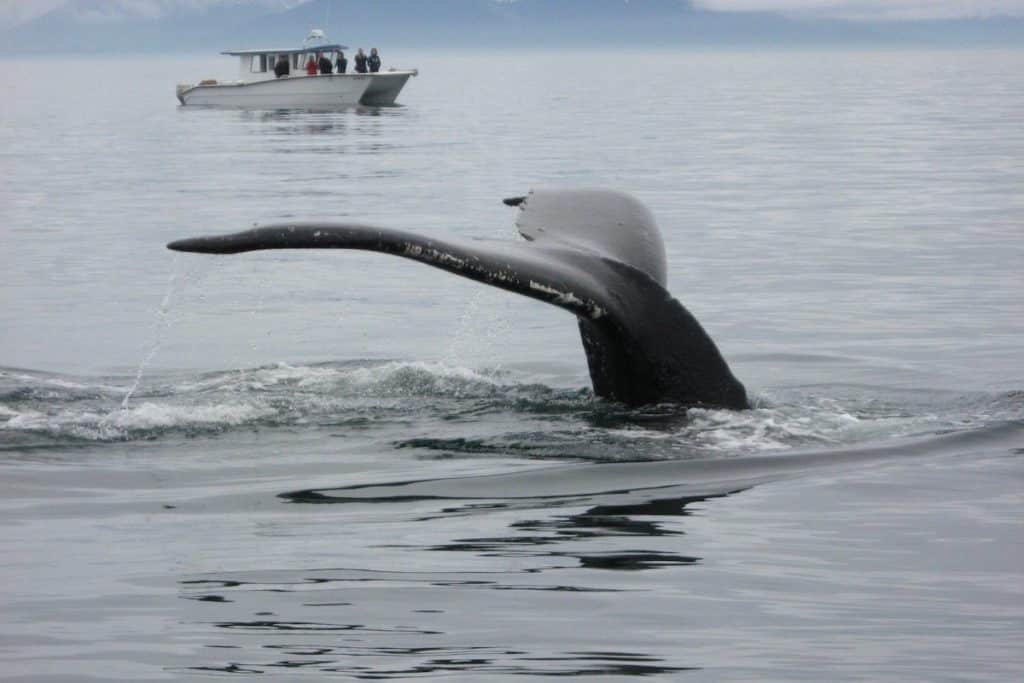 May is the beginning of the peak whale watching season in Alaska. During this time, humpback whales, gray whales, and orcas are migrating to their summer feeding grounds, and you will have an excellent chance of seeing these magnificent creatures in their natural habitat.
The skies are generally clear, and the water is calmer than during the colder months, which makes for a more comfortable whale watching experience.
In addition to whales, you are likely to see a variety of other wildlife during your whale watching excursion. Sea otters, sea lions, porpoises, and eagles are just a few of the animals you may spot along the way.
There are many places where you can take a whale watching tour. Some of them more popular options are in Seward and Juneau.
Major Marine Tours (Seward Alaska)
Juneau Tours
Rent A Bicycle And Explore
Renting a bicycle is the perfect way to explore the natural wonders of this stunning state. There are plenty of reputable rental companies to choose from, but one of the best options is Alaska Trail Guides.
Their expert team of guides and high-quality equipment will ensure that you have a safe and unforgettable experience.
Once you have your bicycle, it is time to hit the trails! One of the top spots to cycle in Alaska is the Tony Knowles Coastal Trail in Anchorage.
This 11-mile trail offers breathtaking views of the Chugach Mountains, Cook Inlet, and even the occasional moose sighting.
Another great option for the more advanced cycler is the Denali Park Road, which stretches for 92 miles through the heart of Denali National Park. With stunning mountain vistas and plenty of wildlife to spot, this trail is a must-visit for any cycling enthusiast.
Alaska Trail Guides
Dogsled On A Glacier
A dogsled ride on a glacier is the perfect way to immerse yourself in the stunning natural beauty of this incredible state.
One of the best companies to book your adventure with is Alaska Icefield Expeditions. With their expert guides and well-trained sled dogs, you will be in good hands as you glide across the icy expanse of the Juneau Icefield.
For those who are traveling to Anchorage, there are a few different options for dog sledding on a glacier. Alaska Helicopter Tours in Palmer has hundreds of great reviews.
This once-in-a-lifetime experience will take you through a breathtaking landscape of sparkling ice formations and jagged peaks, while being pulled by a team of energetic and friendly Alaskan dogs.
You will also have the opportunity to learn about the history and culture of dogsledding in Alaska, as well as the amazing bond between the musher and their dogs.
Alaska Icefield Expeditions (Juneau)
Alaska Helicopter Tours (Palmer)
Take A Ride On The White Pass – Yukon Railroad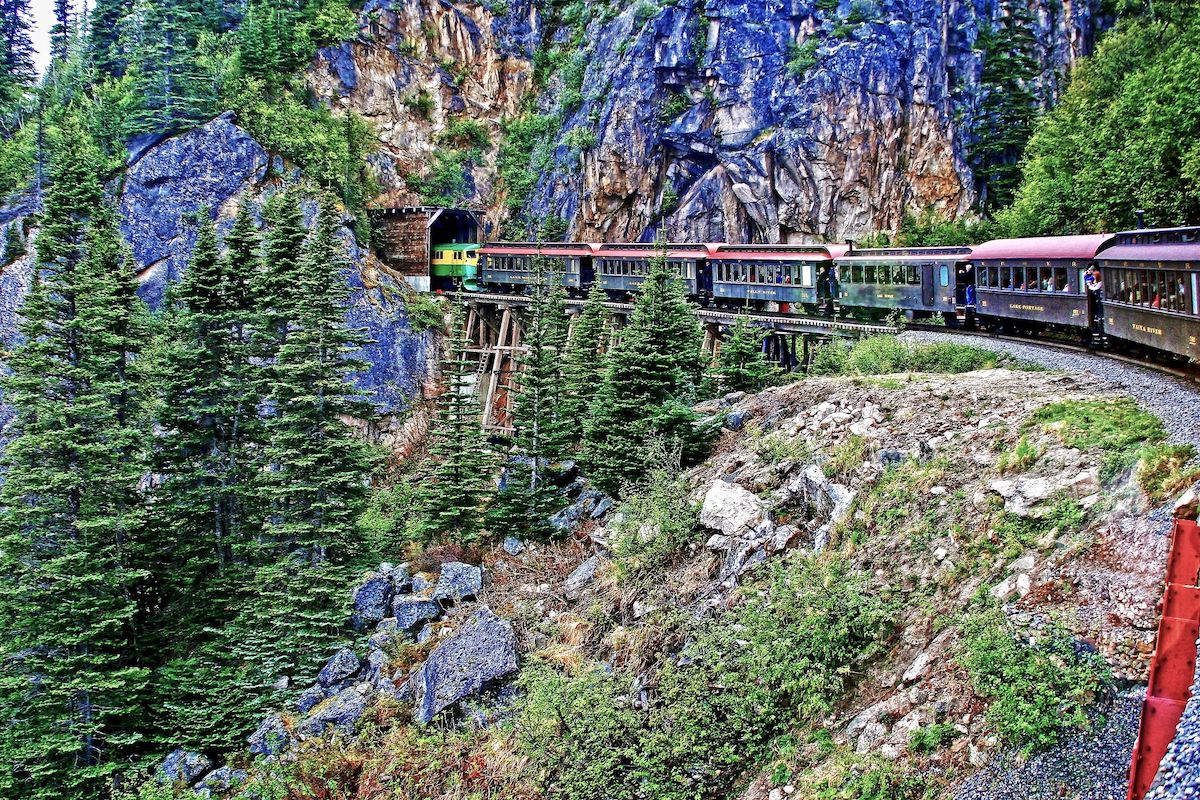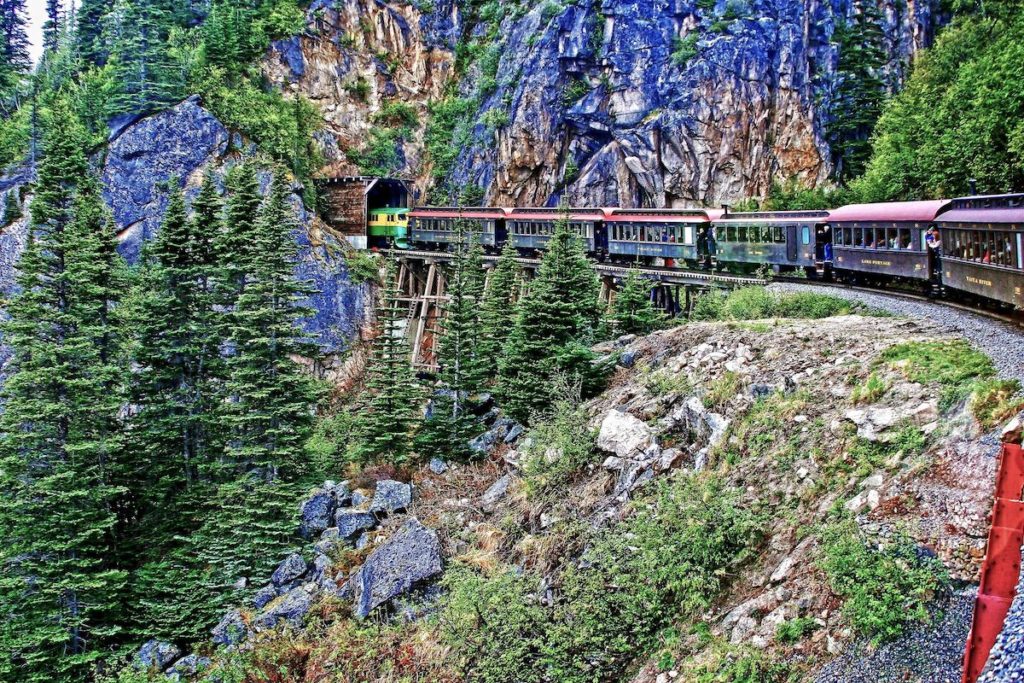 The White Pass & Yukon Route Railroad is a must-do experience for anyone visiting Alaska. This narrow-gauge railway was originally built in 1898 during the Klondike Gold Rush and still retains much of its historic charm.
As you chug along the rails, you will be transported back in time to an era of adventure and exploration. The route winds through the breathtaking scenery of the White Pass, offering incredible views of glaciers, mountains, and lush forests.
You will also pass by the original Klondike Trail and see the Skagway River rushing by below. And the best part? You will get to do it all in the comfort of vintage rail cars, complete with plush seats and panoramic windows.
Whether you are a history buff or just looking for a unique way to experience Alaska's natural wonders, the White Pass & Yukon Route Railroad is not to be missed.
White Pass-Yukon Railroad
Go To A Festival
May is when many of the state's most exciting festivals take place. One of the biggest and most popular is the Kodiak Crab Festival, which takes place over Memorial Day weekend in the charming coastal town of Kodiak. This festival celebrates the region's rich fishing heritage with live music, carnival rides, and of course, plenty of fresh seafood.
Another great option is the Sitka Fine Arts Camp's Sitka Jazz Festival, which brings together some of the world's top jazz musicians for a week of concerts, workshops, and jam sessions.
For something truly unique, check out the Kachemak Bay Shorebird Festival, which celebrates the return of the 134 bird species to the coastal community of Homer.
One of the newer festivals takes place in Seward each year, the Seward Mermaid Festival. This festival runs about 4 days in the middle of May of each year. You can find more about this unique festival on their website here.
Go On A Fishing Charter In Homer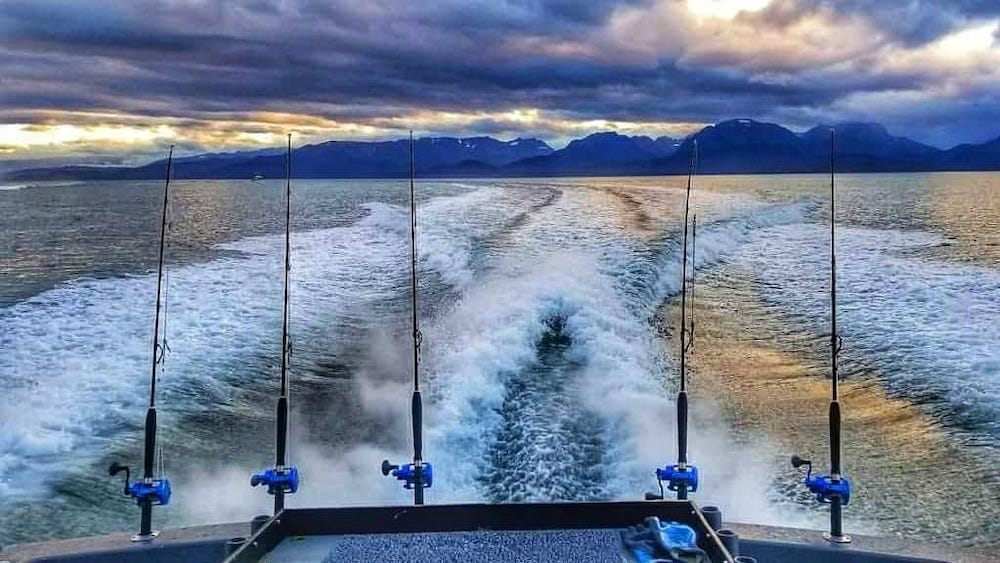 Are you ready to catch some of the biggest and most delicious fish in Alaska? Look no further than Homer, where fishing charters abound! One of our favorite charter companies in Homer is Homer Ocean Charters.
With over 30 years of experience, their seasoned captains and crew know all the best spots for halibut, salmon, lingcod, and more.
The real highlight of a fishing charter is the thrill of reeling in a huge halibut or king salmon. These waters are teeming with fish, and the expert guides will help you every step of the way. Once you have caught your limit, you can take your catch back to shore to be processed and shipped home to enjoy the freshest fish you have ever tasted.
Homer Ocean Charters
Visit The Totem Bight State Historic Park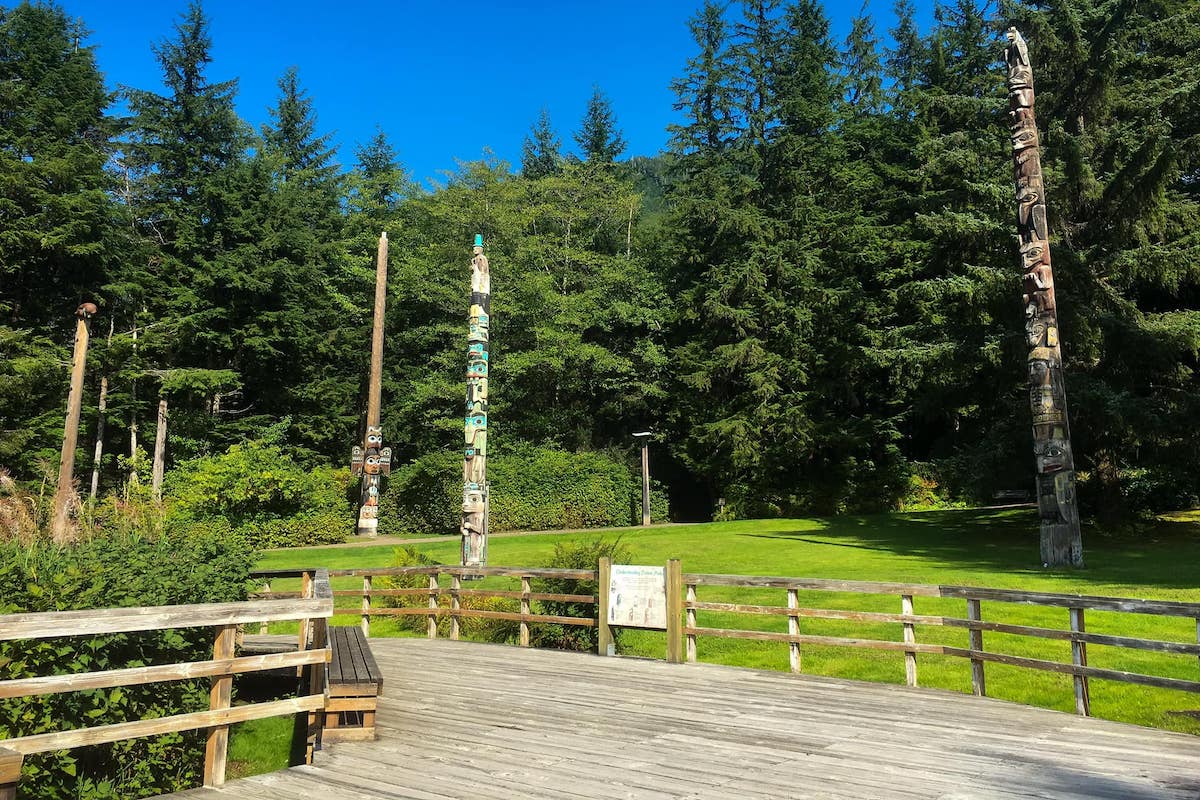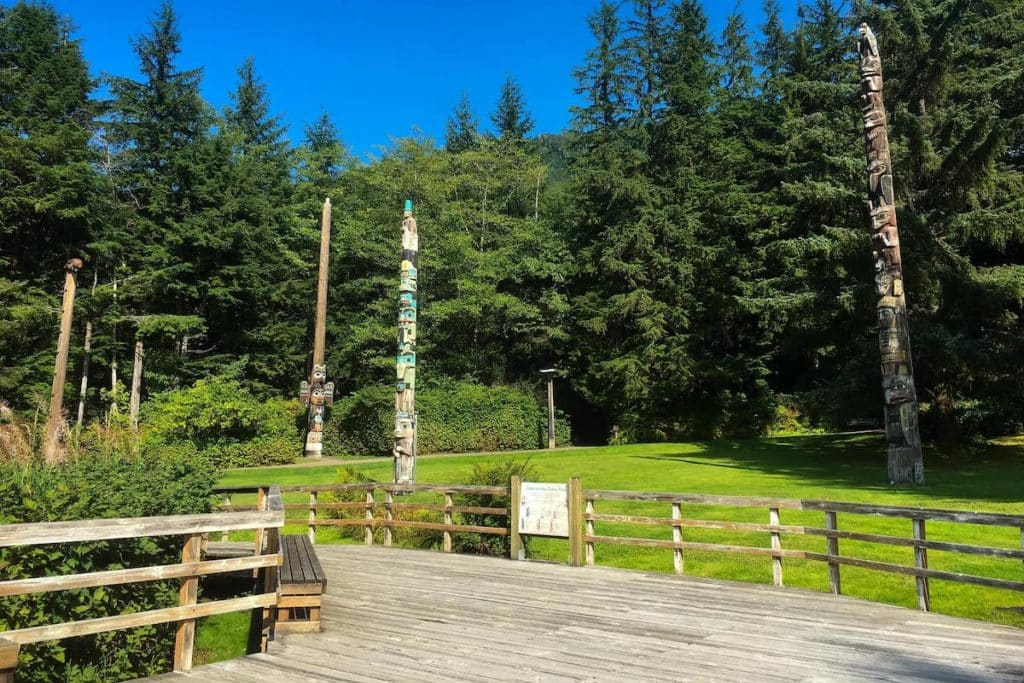 This stunning park is located just north of Ketchikan and is home to a collection of beautifully restored totem poles and traditional Native Alaskan buildings. As you wander through the forested trails, you will see intricate carvings and learn about the stories and legends that inspired them.
For a truly immersive experience, you can even take a guided tour with a knowledgeable park ranger to learn even more about the rich cultural heritage of the Tlingit and Haida people.
If you are looking for a unique and educational way to experience Alaska's natural beauty, be sure to add Totem Bight State Historic Park to your itinerary!
Totem Bight State Historic Park
See New Wildlife In May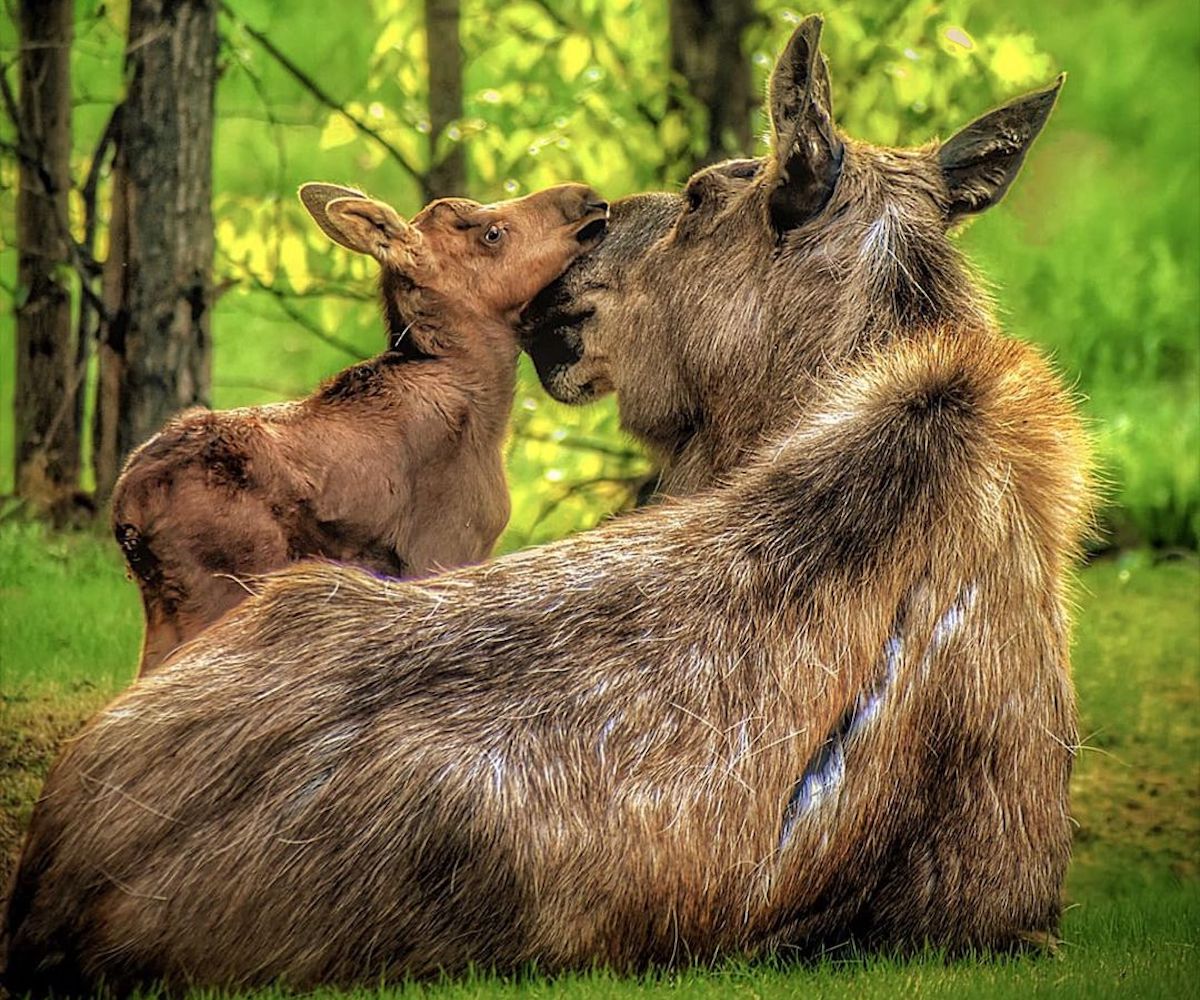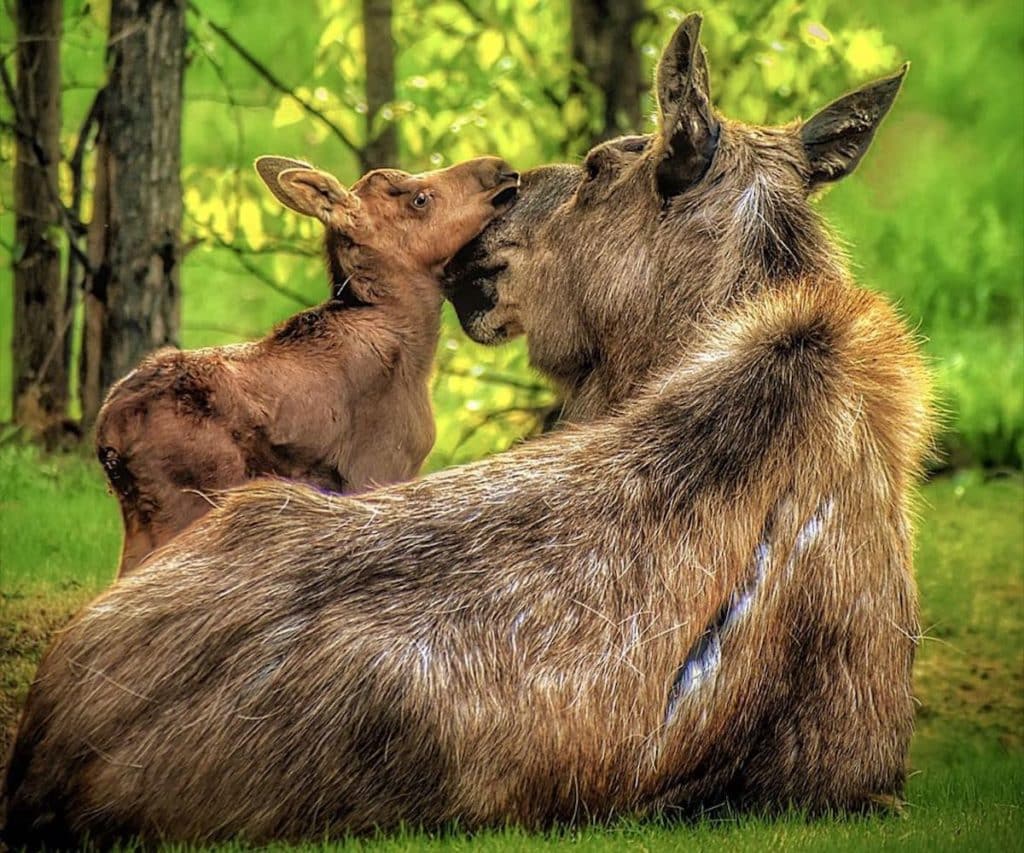 If you love Moose, then coming to Alaska in May will offer a unique experience. This is the time of year when a bunch of newborn baby moose arrive. You most likely will get a glimpse at these new little ones as they will stick close to their mothers.
As they grow for the next few months – they will be easy to spot and super cute to watch.
Will You Come To Alaska In May?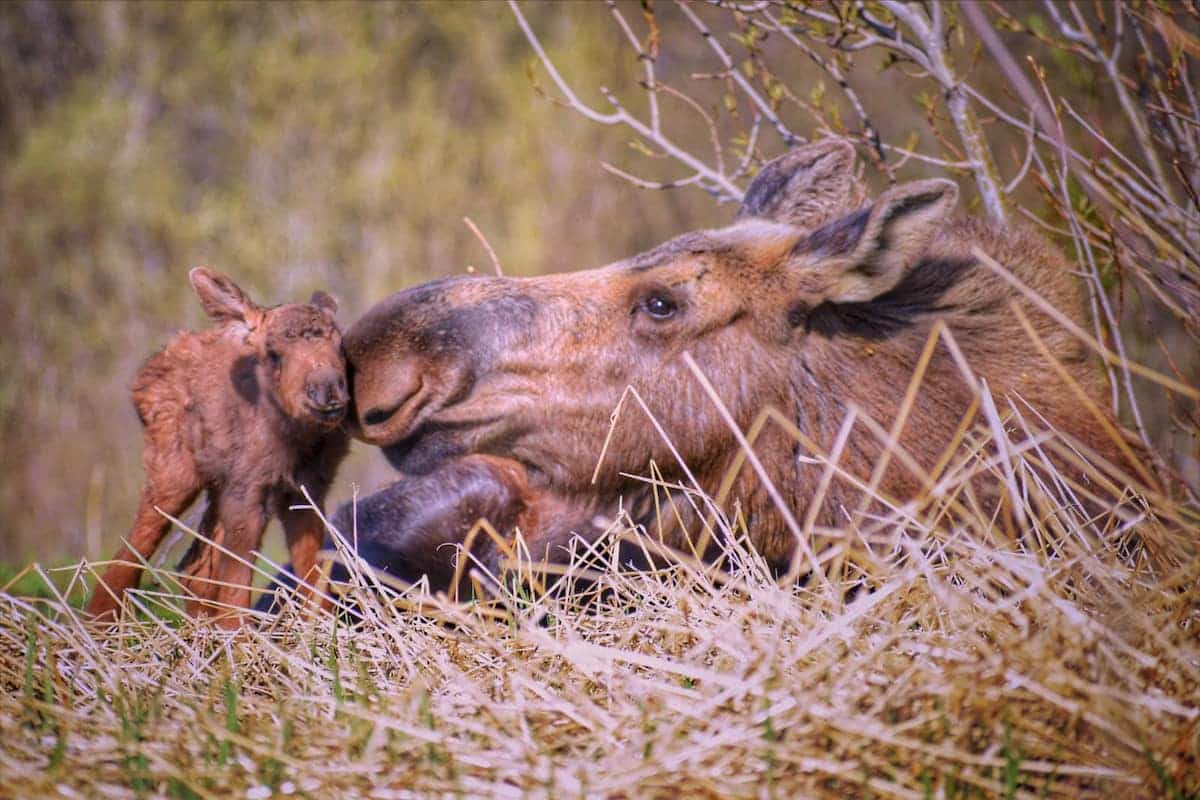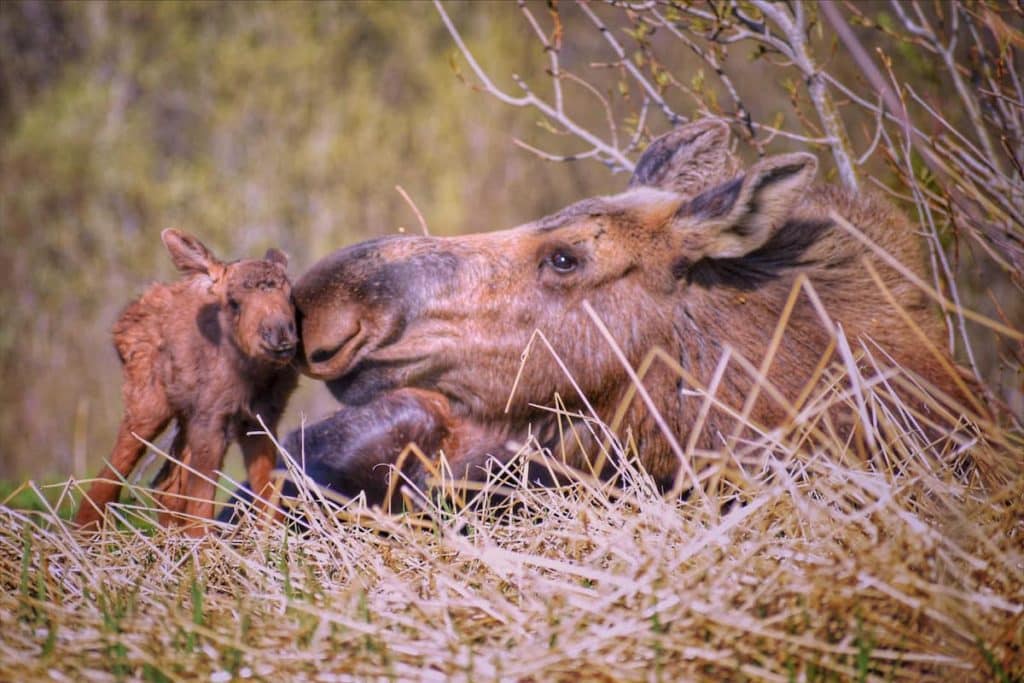 Visiting Alaska in May is an experience like no other. From the stunning natural beauty to the rich cultural heritage, this month is the perfect time to explore all that this incredible state has to offer.
Whether you are fishing for giant halibut, riding a historic train through the mountains, or immersing yourself in the traditions of Alaska's indigenous people, you are sure to make memories that will last a lifetime.
With so many exciting festivals and events taking place throughout the state, there's never been a better time to plan your Alaskan adventure. So pack your bags and get ready for an unforgettable trip to The Alaska Frontier!
---
Pin It For Later!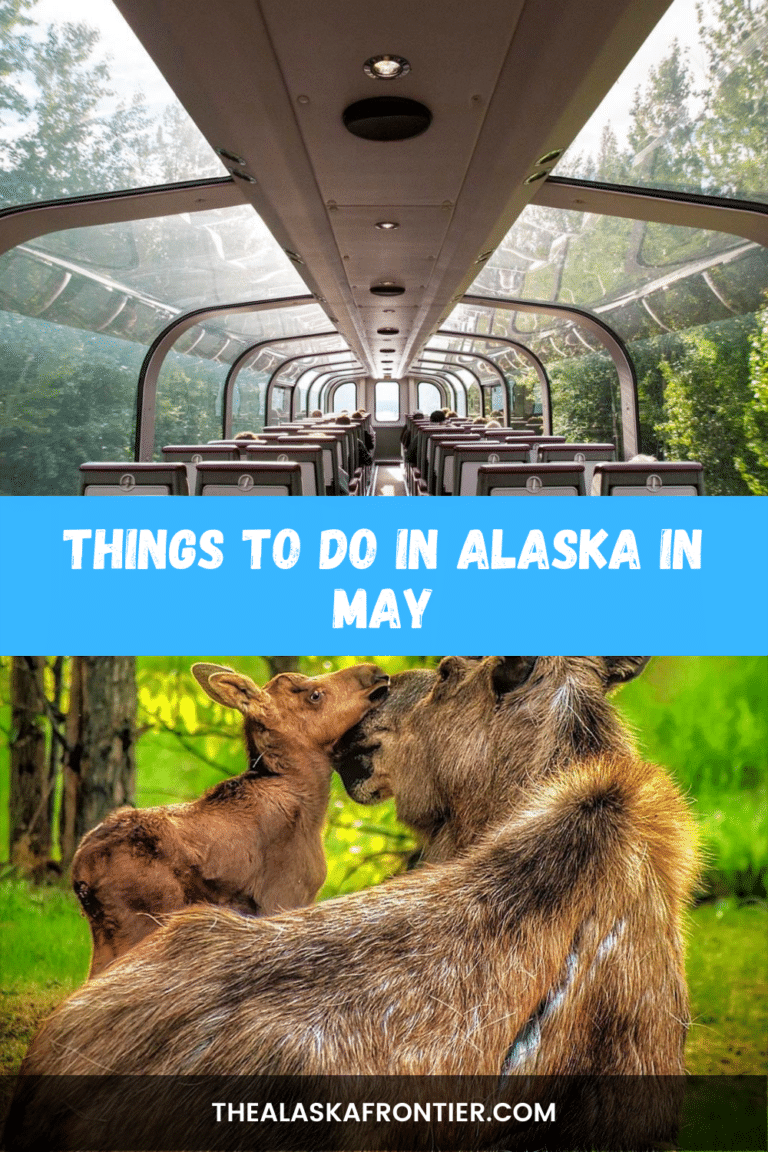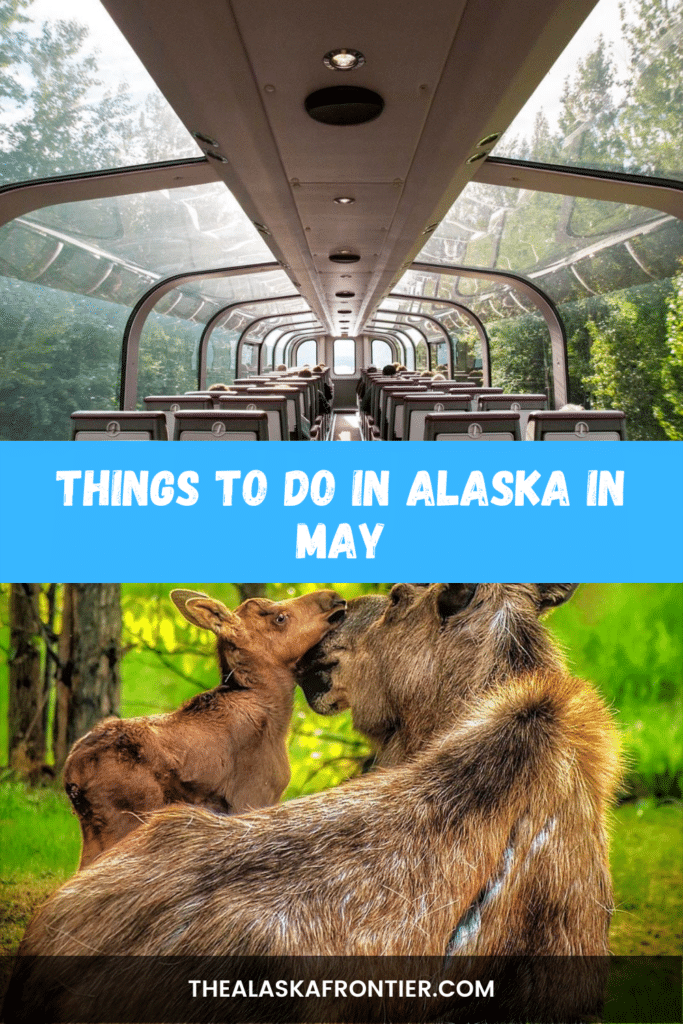 After living over 14 years in Alaska, Megan McDonald can confidently state that there's not much of the state on the road system that she hasn't visited. From the Brooks Range to McCarthy, Homer, and everywhere in between, every nook and cranny of Alaska is always her new favorite place.
As President and co-founder of Alaska-based boutique media agency HuMu Media, she spends her work time writing, photographing, and traveling, and her off time writing, photographing, and traveling. They say do what you love, and she is lucky enough to do so!
You can follow her travels on Instagram at @theitinerantginger