Alaska is home to beautiful mountains, gleaming glaciers, and tall green trees. But many visitors to the Last Frontier may not realize that we have vibrant flowers as well.
People frequently travel to Alaska to catch a glimpse of the wild animals, but tend not to look down at the beauty on the ground. There is so much incredible flora and fauna to see when you are not looking for the big game animals.
In fact, there are a staggering 1500 species of wildflowers in Alaska, due to the large size of our state and variety of climates within the state lines.
Many of these species are native to the Alaska region, and offer a variety of unique colors and appearances.
Below are some of the most common Alaskan flowers, as well as where to find them across our beautiful state:
Alpine Aster (Aster Alpinus)
Blooming from early to mid summer, the Alpine Aster is a cold-weather perennial with purple or pink flowers. This is a short-lived perennial flower that boasts an early bloom time, low profile, and single blossom per stem, unlike many other aster varieties.
This lovely flower enjoys full sun, and thrives in poor soil. It has low nutrient needs, making it a frequent sight on mountain sides and even on the edges of a road or highway.
You can find these purple beauties all over the state, especially in areas with rocky soil and poor drainage. They thrive in USDA Hardiness Zones 4 to 7, which means you can spot them in Alaska's Southcentral and coastal areas.
If you are in Anchorage or farther south, you may spot these purple flowers out hiking, or perhaps even in your backyard.
Alpine Forget-Me-Not (Myostosis Asiatica)
The beautiful Forget-Me-Not became our great state's official flower in 1949. You will find it blooming all summer long in Alaska.
These small blue flowers have a bright yellow center. Each flower head has five petals, a quarter to a third of an inch wide. These seemingly happy-go-lucky flowers self-seed and spread very easily. They grow in clumps about 5-12 inches high.
You can spot different varieties of the Forget-Me-Not in Alaska. You will find the Alpine Forget-Me-Nots, Alaska's state flower, in high-altitude meadows and rocky mountainsides. You will find Splendid Forget-Me-Not along the lower altitudes and treelines. And perhaps even your back yard!
This stunning blue flower is actually part of the inspiration for our state flag.
13 year old Benny Benson, of Seward, submitted his state flag design in 1927 referencing the Forget-Me-Not in his design: "The blue field is for the Alaska sky and the Forget-me-not, an Alaskan flower. The North Star is for the future state of Alaska, the most northerly in the union. The Dipper is for the Great Bear – symbolizing strength."
It thrives in USDA Hardiness Zones 4-8, so you can catch them south of Denali, and all along the coastline of Alaska up to the Kusilvak Census Area.
Beach Strawberry (Ragaria Chiloensis)
The Beach Strawberry is a wild strawberry you can find growing around the state. Known by many other names, including the Seaside Strawberry, Coastal Strawberry, Shákw, and Chilean Strawberry, this fun berry can be picked along the shoreline all over our state.
This small white flower with a bright yellow center matures into a strawberry when pollinated.
These are edible, although not as sweet and juicy as a traditional strawberry. In fact, the Beach strawberry is one of the two species of wild strawberries that were hybridized to create the modern strawberry that we all know and love.
You will find this flower in the Southwest, Southcentral, and Southeastern Alaskan regions, and prized in the Southeast for the fruit it bears, frequently featured in pies and jams.
Chocolate Lily (Fritillaria camschatcensis)
Though they have a tasty sounding named, Chocolate Lilies don't actually taste like chocolate! They get their name from their deep brown coloring.
They are also known as Rice Lily, for their root that breaks apart into rice-like bulbets, and is frequently harvested to eat later.
Many harvesters gather the Chocolate Lily and preserve them in water or brine. They can also be frozen or cooked in seal oil and stored in an air tight container.
The Chocolate Lilly can in fact be eaten raw. But most gatherers prefer to boil the bulbs until tender, and eat them with oil.
Others like to mix the bulbs with berries and sour dock, eat them after adding them to mashed potato akutaq, or use them as a stuffing for baked fish. Some find they prefer the bulbs roasted over a fire.
If you get close to a Chocolate Lily, you might find it gives off a foul odor that smells distinctly unpleasant. In fact, it has been nicknamed "Skunk Lily" due to its distinctly terrible odor.
These flowers can be found in damp areas across the state: meadows, marshlands, riverbanks, and woodland areas, all within the USDA hardiness zones of 4-8.
Common Red Paintbrush (Castilleja miniata)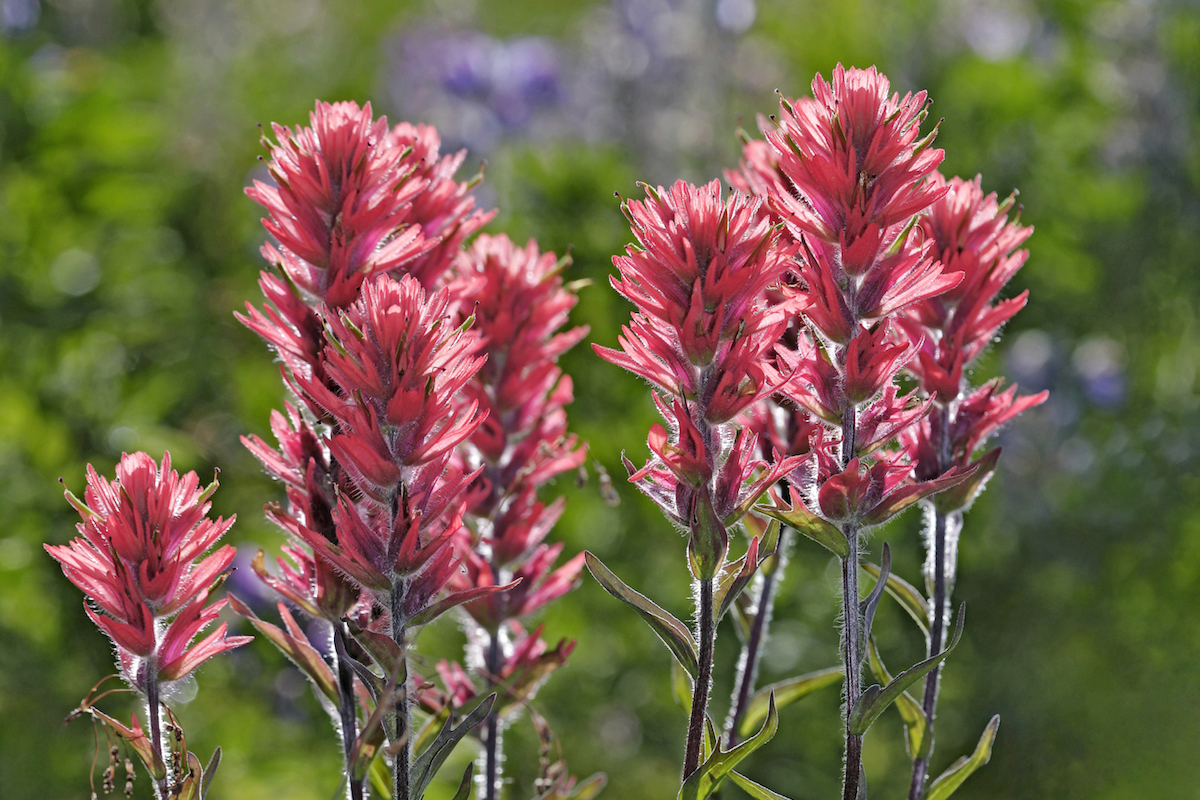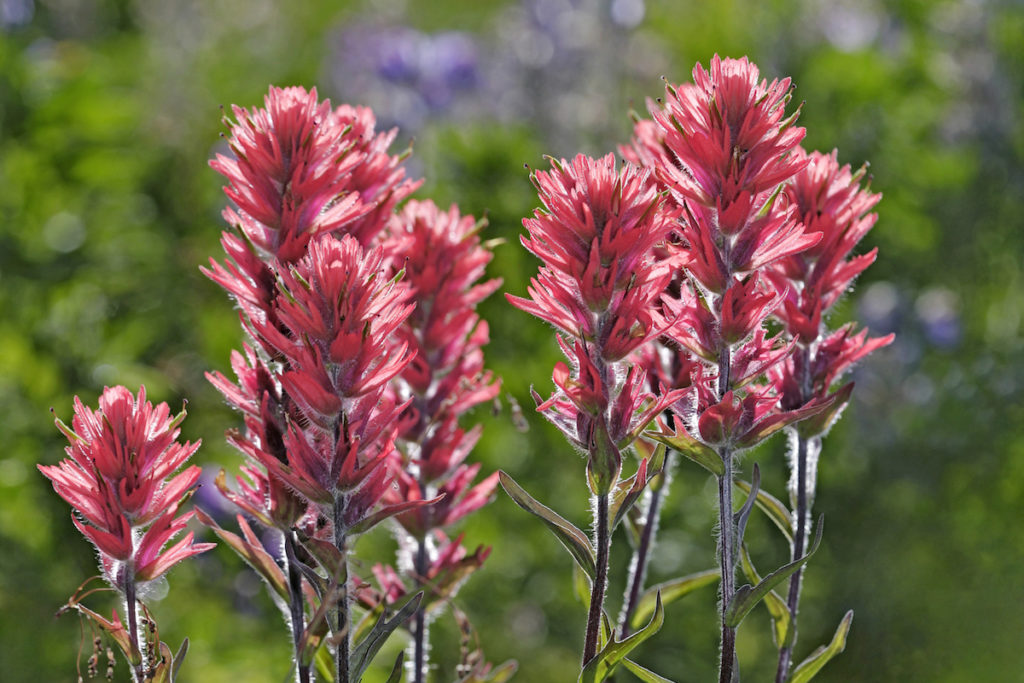 This perennial herb is easy to spot in Alaska due to its bright red paintbrush-like leaves on its stalks. These leaves, a cluster of bracts that look like flower petals, actually protect the smaller flower petals on the inside.
You will find these almost everywhere in Alaska, from field to slopes to roadsides. They thrive in moist places and in a wide variety of climates and habitats. They are easy to spot in tidal marshes, rocky sea bluffs, and even open forests.
These flowers are so hardy, and can grow in so many different places, that you will find them from the Yukon area in Alaska, all the way down to New Mexico.
There is another variety, called the Unalaska Paintbrush, that grows all along Alaska from the coastal regions to the Yukon River. This variety has yellow petals and yellow-green bracts.
Fireweed (Chamaenerion angustifolium)
Did you know that plants can predict the weather? According to Alaskan legend, when the fireweed blooms the first snow is six weeks away. Though in Alaska, is snow really that hard to predict?
Fireweed is easily recognized by its tall spire of hot pink or light purple blooms. While fireweed isn't technically our state flower, this spray of bright pink blooms are hard not to find across the state.
These flowers can grow to heights of 3-10 feet tall. The flowers themselves can reach up to 1.5" across, and are clustered together in four groups around the stem.
And Alaskans love our fireweed!
We love our fireweed honey, our fireweed art prints, our fireweed tea, and our fireweed jelly. The spring shoots of fireweed are tender and edible. This emblematic flower fills Alaskans with love and wonder, until of course, we realize that winter is close behind.
See if you can find a fireweed-covered hillside or plants by the side of the road, in your backyard, up a mountain side, or on your favorite hiking trail.
Once the bloom reaches the top of the plant, the leaves start to turn red making a field of fireweed look completely different than when the fireweed was blooming as hot pink.
Salmonberry (Rubus spectabilis)
Alaskans love our berries!
Who doesn't love a brightly colored flower that can sit on a shrub that grows to heights of 13 feet tall? The shrub is usually dotted with solitary hot pink flowers, made up of five petals, each 1" in diameter.
The fruit of the Salmonberry looks like a raspberry, but is a bit larger and can vary in color from yellow to orange.
Salmonberry flavors tend to be a bit milder than some of the other berries found in Alaska, and are best used in jams and sauces.
The salmonberry leaves themselves are also edible, and they have a lightly sweet flavor due to the pollen and nectar nearby. They are frequently used to garnish salads and even desserts.
The shrub grows in dense thickets and can grow rapidly. The stalks are thorny and love to grow in the most interesting places: find them on stream banks, alpine slopes, in moist coastal meadows, and even in avalanche chutes!
The hardiness zones are 5-8, and you can find salmonberries from southern Alaska all the way down the coast to California.
Small – Flowered Anemone (Anemone parviflora)
This white flowered perennial herb is found in rocky, well-drained soils. You will find them in rocky areas, or tundra beneath the snow line on mountains.
They may be confused with a white poppy, but Small-Flowered Anemone have white or blue petals with yellow stamens. This flower is part of the buttercup family Ranunculaceae.
It is also known as the "northern anemone," "small-flowered anemone," or even "small-flowered thimbleweed."
This flower is native to North America and Eastern Russia, so you will be able to find this delicate beauty mainly in the northern and eastern parts of the state. Its hardiness zone of 3-7 makes it easy to grow even in the much colder areas of the state.
It blooms from early spring to late summer, and likes both full and partial sunlight.
Fool's Huckleberry (Menziesia Ferruginea)
Fool's Huckleberry is a shrub with small, bell-shaped flowers that are often mistaken for the Huckleberry plant. Unlike the Huckleberry which has berries, Fool's Huckleberry has only brown seed pouches.
Also known as False Azalea, if you crush the flowers a pungent skunky smell will emit from the petals. The leaves themselves are sticky, and the plant bears no fruit, although it resembles other plants that do.
Fool's Huckleberry can reach heights of up to 6-10 feet tall, and the flowers are urn shaped and blossom in light pink to bronze colors.
These are most commonly found in the forest understory, from sea level all the way to the alpine understory. You can find these in the hardiness zones 4-9, and they grow in shady, moist, well drained spots all the way down to California.
Giant Marsh Marigold (Caltha Polypetala)
The beautiful yellow blooms of the Giant Marsh Marigold can hold up to 40 stamens in their centers! This perennial herb can grow to 16" tall, and is frequently seen sprawling over marshes, bogs, and quiet shallow streams.
They are one of the earliest flowers to bloom, so if you see one of these golden beauties you will know spring is well on its way. Although they are call "Marsh Marigolds," they do not resemble marigolds. Each flower can reach up to 2" in diameter.
They actually look like giant yellow buttercups, but be cautious– these charming little flowers are actually poisonous. Some parts of the plant can be an irritant, and has been known to cause rashes on the skin. The plant is poisonous when raw; however when the stems, leaves and roots are cooked, they can be eaten as a vegetable.
These flowers are seen from the southern areas of Alaska all the way south and east to North Carolina! They love full sun and bloom brightly under our 24 hours of sunlight each summer.
Liverleaf Wintergreen (Pyrola Asarifolia)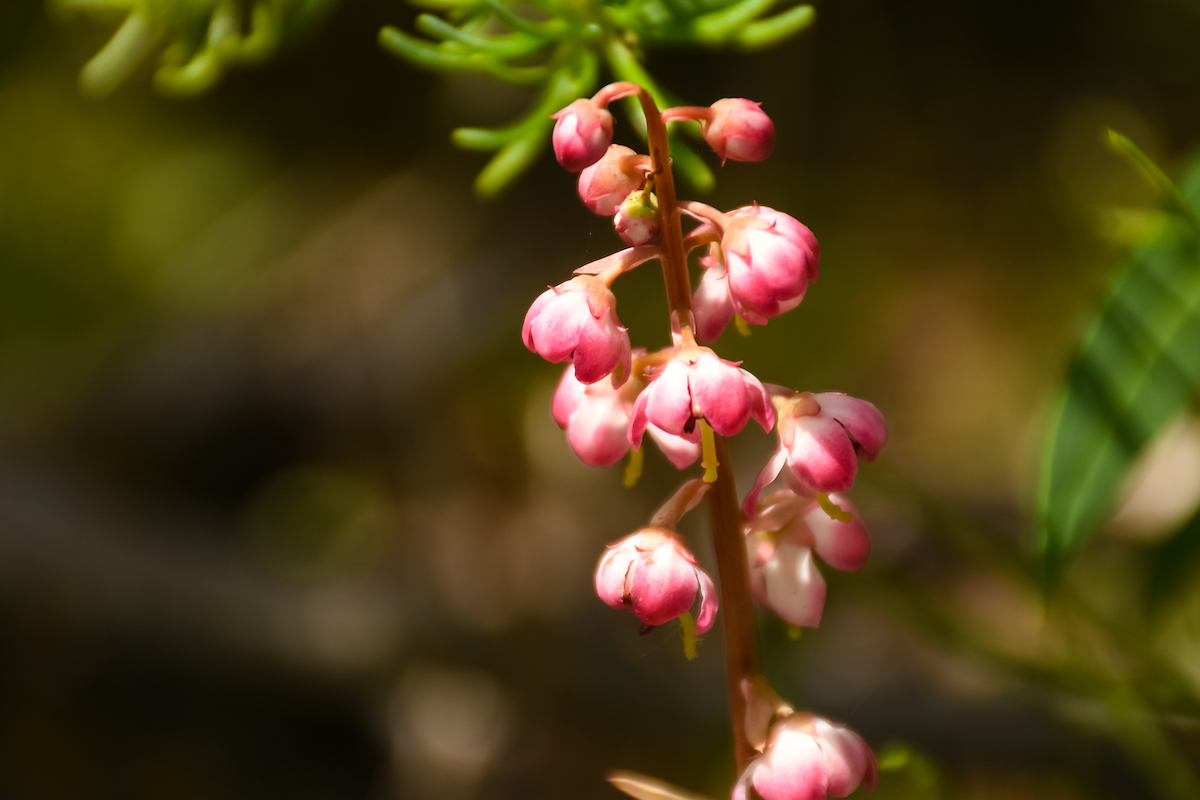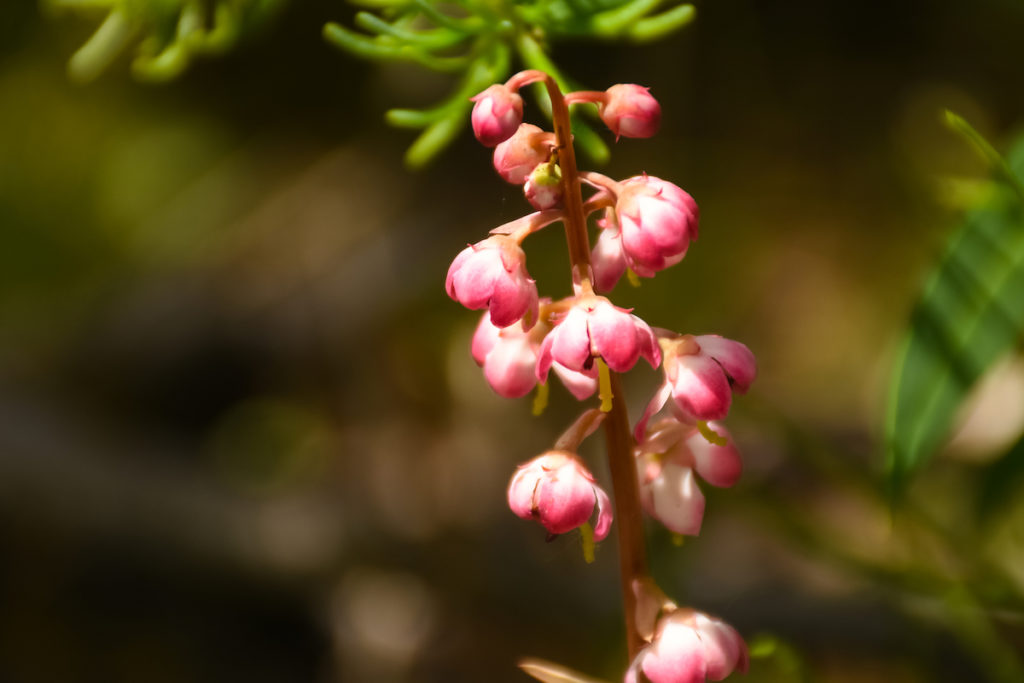 Commonly known as Pink Pyrola, this evergreen perennial has delicate pink bell shaped flowers attached to a stalk that can grow to 16" tall.
You will find this plant in the forests to the north and west of Juneau. It loves to grow in moist woodlands, meadows, and thickets.
The plant has shiny, leathery leaves on the base of the stalk, and bunches of flowers dotting the tip.
It grows best in USDA hardiness zones 4-8, and can be found south of Anchorage, primarily along the coastline. But you can also find it as far south as New Mexico, but no farther east than Montana.
Even though it does well in warmer climates, it has been found as far north as the Yukon and Coldfoot!
Pretty Shooting Star (Dodecatheon pulchellum)
Another perfectly named plant!
The Pretty Shooting Star grows in wet, open spaces. They like wetlands, and you can frequently find them growing along riverbanks.
The long petals have a yellow ring at the base, giving the appearance of a shooting star. This perennial herb can grow up to 18" tall.
Deep pink petals form a point outwards from the white, yellow, and dark purple center. With a hardiness zone of 4-8, you can find it all along the coastline of Southern Alaska. Many visitors to Valdez have spotted them at Duck Flats or along Mineral Creek.
Yellow Lady's Slipper Orchid (Cypripedium Parviflorum)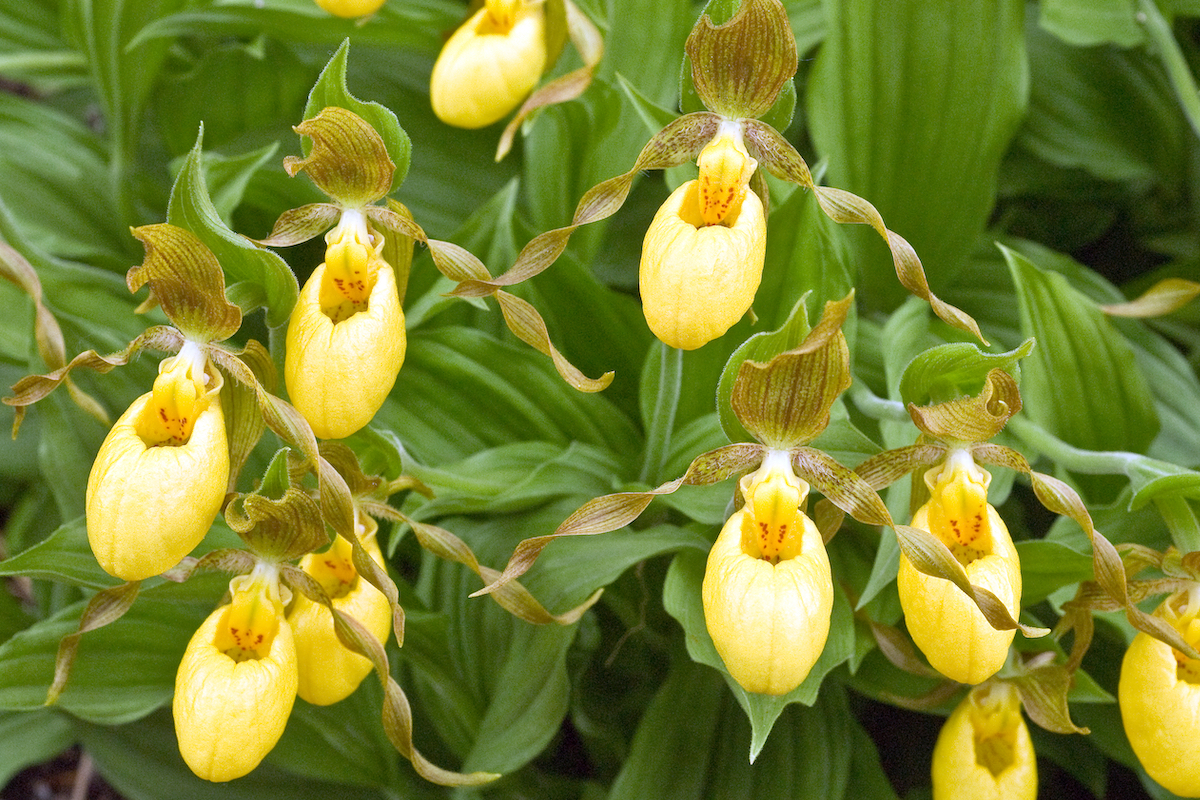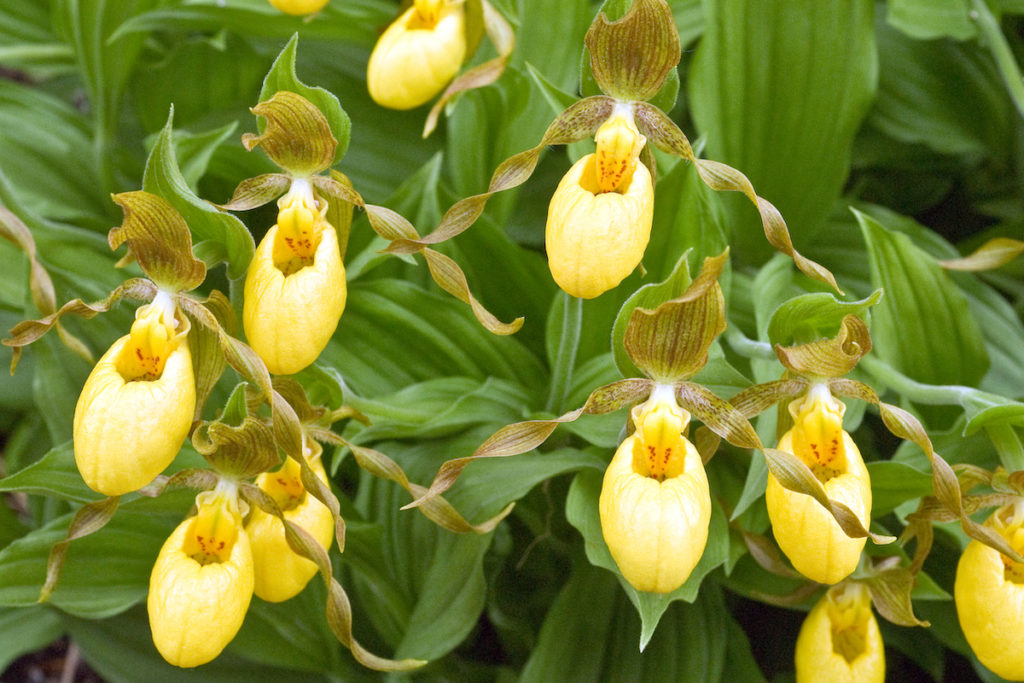 Don't you love it when a flower's name describes exactly what it looks like?
The Yellow Lady's Slipper Orchid has the appearance of a yellow pouch-like blossom, growing on a bright green stalk. Also known as "moccasin flower," this beautiful flower can range in height from 3" to 31".
You can find these primarily in the Tongass National Forest! But they do find a foothold across much of Alaska.
In fact, Yellow Lady's Slipper Orchard is found all across the United States. You will find it as far south as Georgia! With a wide range of hardiness zones of the perennial orchid is impressive.
Horsetail (Equisetum Arvense)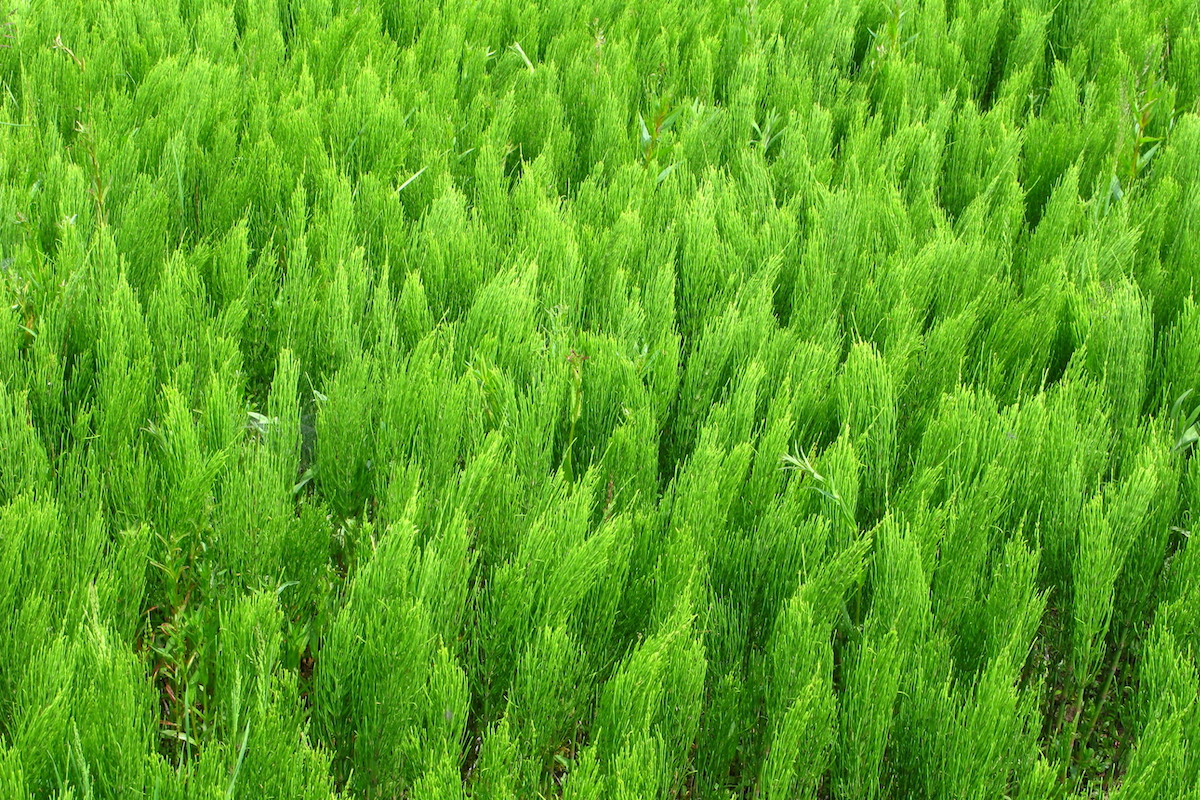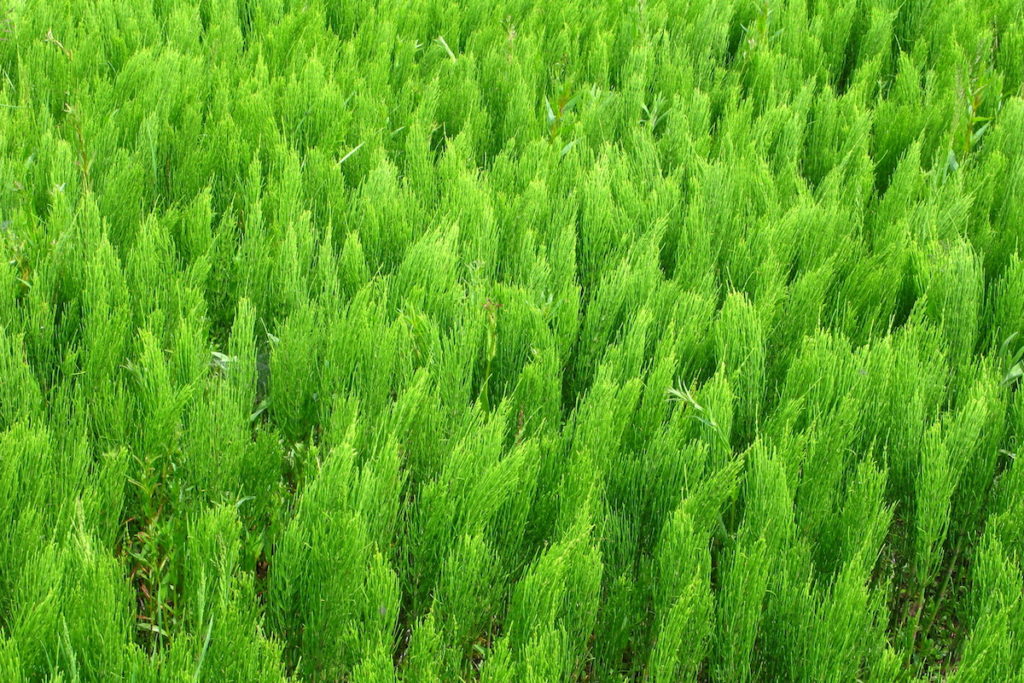 The Horsetail is a favorite of Alaskans everywhere for its many medicinal properties. In fact, research on Horsetail and its uses have indicated that horsetail has antioxidant, antimicrobial, anti-inflammatory, and pain relieving properties.
It should only ever be ingested after cooking however, because heat destroys the toxin thiaminase, present in its raw form. Otherwise, use of the raw young native shoots are used in healing and drying sores as a poultice, pack, or ointment.
It is so common in Southeast Alaska that many people think it's a weed. But even though this plant is often overlooked, it's an interesting flower that almost resembles the tip of an asparagus.
A common snack of caribou, moose, sheep, and bears, the horsetail is a unique plant with some fun uses.
It grows in extremely moist places, and can be found in hardiness zones of 4-9.
There are two phases of this plant: the spore and vegetative green state.
During the spore state, the Horsetail appears as a long brown stalk with whorls that look similar to a pinecone.
Made with silica in their cellular makeup, they act as great scrubbers if you find yourself without a sponge on a camping trip!
Foxtail Barley (Hordeum Jubatum)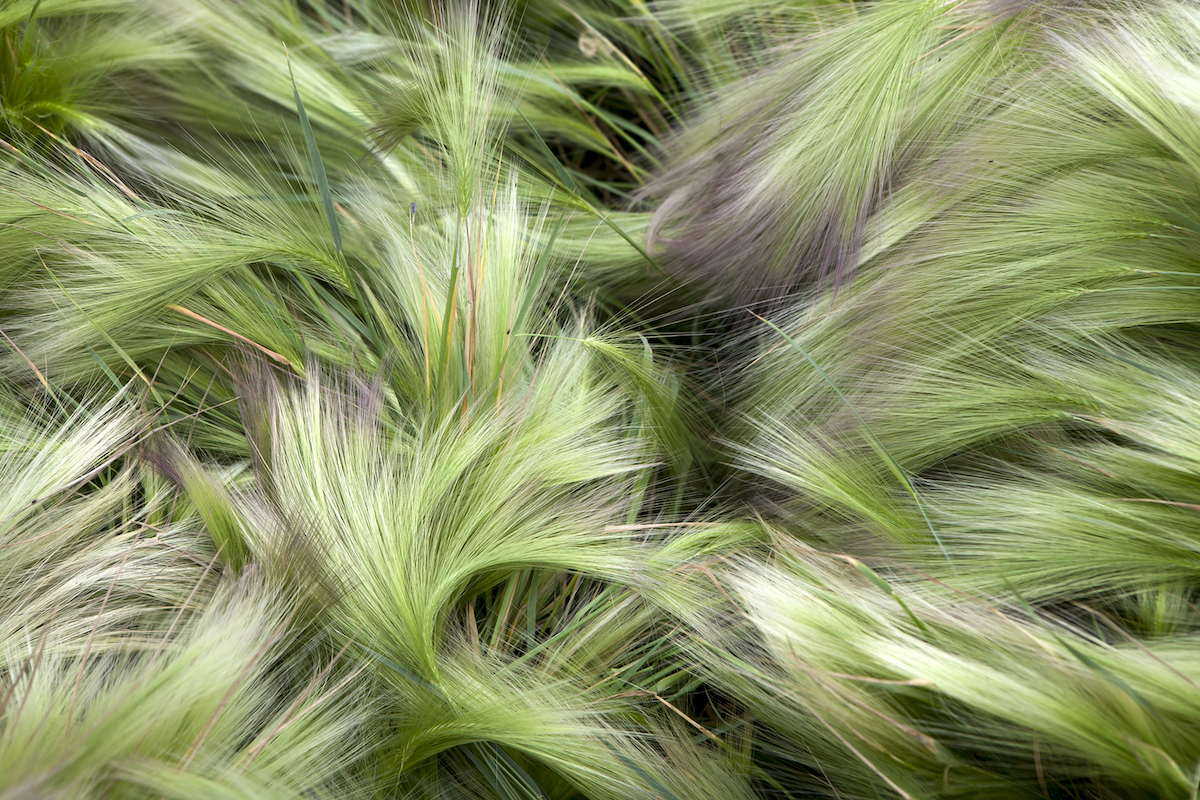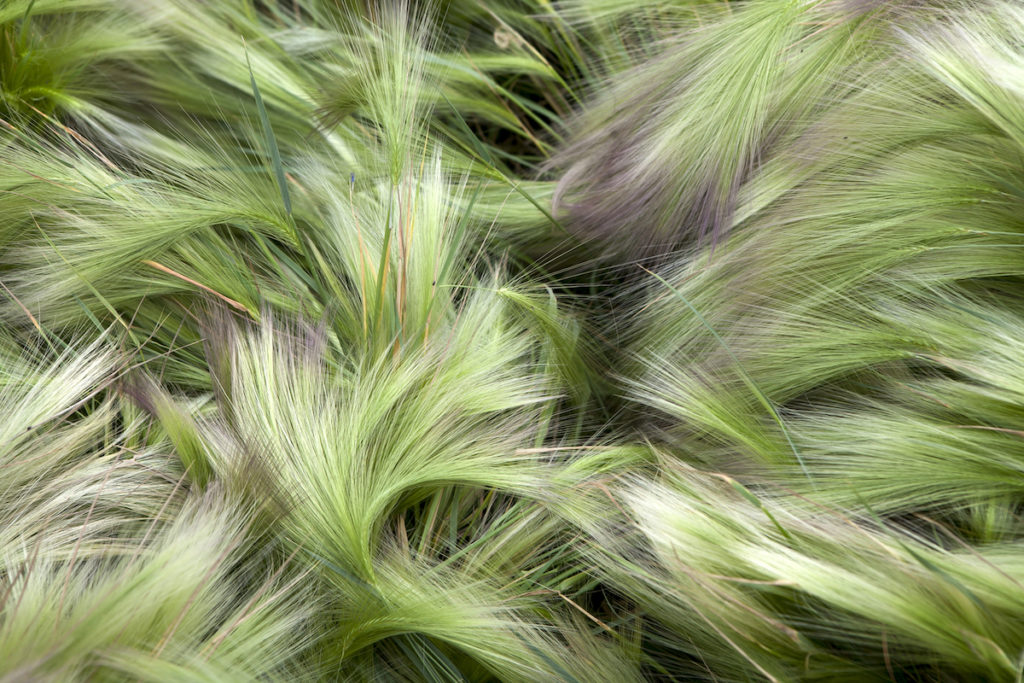 Foxtail Barley is a beautiful fluffy plant thought native to Alaska, that some consider to be a weed. We however adore the fields of pink topped grass that look absolutely magical when the wind passes over it.
This perennial grass can grow up to two feet tall, and is spotted all over Alaska. It loves a high water table, and prefers to be in soil that stays wet. It has a hard time with drought, and won't usually survive it.
You will see this annual or biannual grass pop up with a red head on green stalks by early July, but the color will be blown out and the plant will begin to die back by the end of August.
If these show on your property, and you have animals as well, you may want to eradicate it. The spiky barbs around the seeds can cause irritation and inflammation in animals if swallowed, so many Alaskans remove this plant from their properties.
Foxtails can also be deadly to animals that swallow them.
White Yarrow (Achillea Millefolium)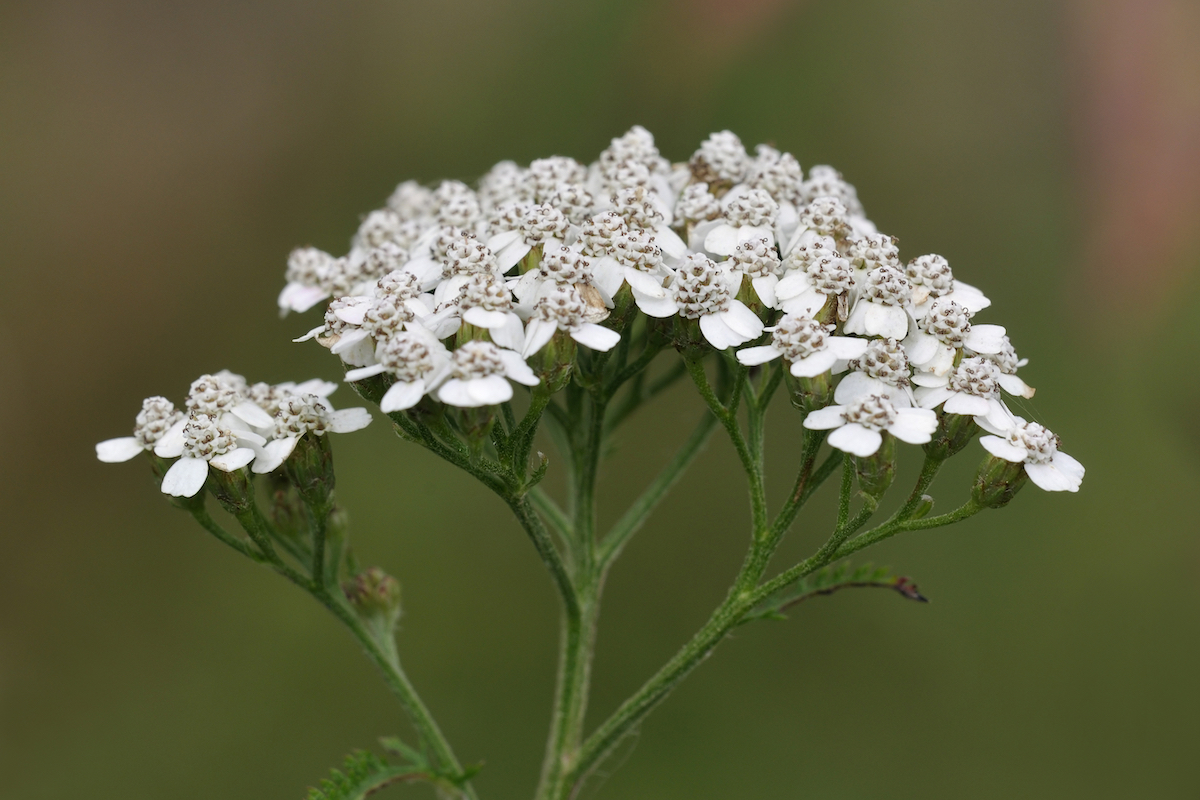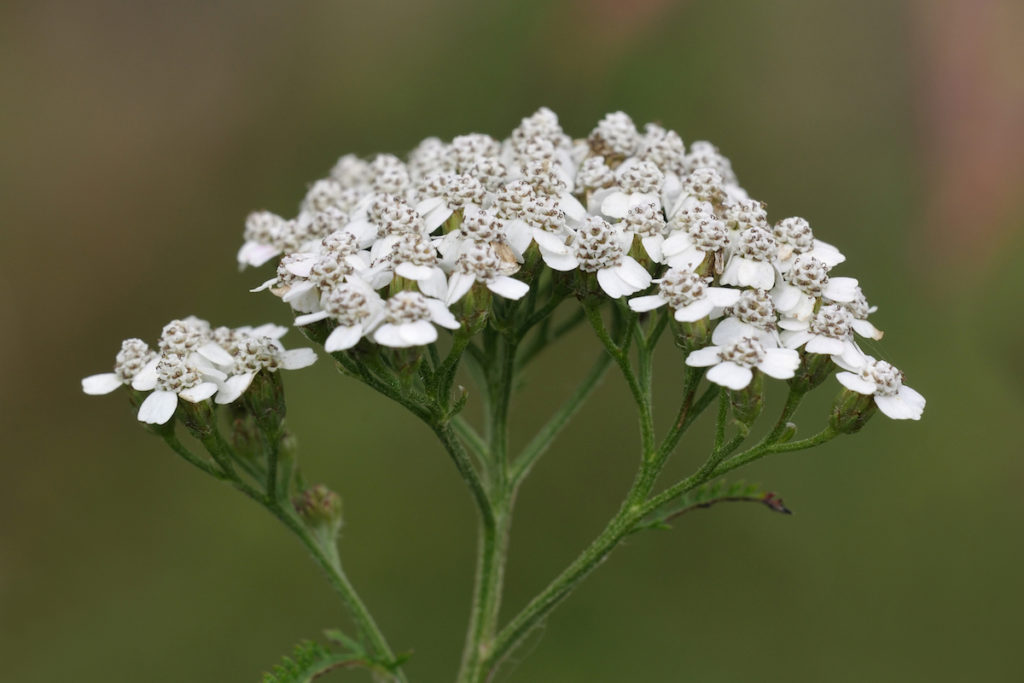 Yarrow can be found throughout most of Alaska, but is especially abundant in Valdez. You can recognize these delicate flowers by their white blossoms on a long, thin stem. You might spot pink and magenta variations, though these are not as common.
This perennial wildflower is widely used for medicinal purposes in Alaska.
From insect repellent, to skin lotion, used for its blood clotting properties, or taken internally as tea, White Yarrow is highly prized in tea or poultices.
This adaptive flower grows in meadows and mountains, and wet and dry areas. Its hardiness zones are 3-10a, making it one of the most versatile flowers on our list.
And its lovely smell is highly aromatic. White yarrow is a winner in almost all categories!
So many flowers, so little time! Alaska has so many incredible flowers, it was hard to choose just a few.
One of Alaska's most beloved flowers, the blueberry, is also one of our favorite berries to pick and enjoy.
Locals love to pick these and eat them during hikes or bring them home to bake, can, or eat raw. Learn more about some classic Alaskan cuisine – including delicious berries you can find while wildflower hunting.