The beautiful state of Alaska is known for its incredible scenery, unique wildlife, and lots of outdoor adventure. One of our most underappreciated features? Our delicious food!
With incredible game and the freshest seafood, our Alaskan delicacies are sure to satisfy even the pickiest of eaters. And Alaska's seafood is absolutely legendary; you will find it winning awards across the globe, as well as being packed with a nutritional punch from its start in our cold waters.
Many people travel to Alaska just to experience our food, our seafood, our fish, our game (Moose/Bear) and our way of life.
Many of these items are foods that every Alaskan has tried at least once in their lives, and we recommend that you try it, too!
Below are 13 foods that you must try while here in Alaska!
Eskimo Ice Cream (Akutaq)
You can't talk about classic Alaska foods without mentioning Eskimo Ice Cream.
Also known as Akutaq, Eskimo Ice Cream is typically made from whipped fat (think whatever animal you have been hunting), berries, and snow.
Now this is not ice cream as you have come to know it. It is not a creamy ice cream delight, but more of a concoction made from traditional Alaskan ingredients.
Frequently used in this dish is reindeer fat or tallow, seal oil, and freshly fallen snow or water. Then you mix in fresh berries, and sometimes even ground fish.
While it does have a slightly fishy flavor, the dish is considered a fun and refreshing delight that has enough energy inducing ingredients to power you through the day.
To create the Akutaq, air is whipped into the concoction (usually by hand), so that it slowly cools into a beautiful foam-like consistency.
Akutaq is a Yupik word that means "mix them together", the perfect name for this treat that was usually used to give energy to hunters while they were outside for long hours.
Reindeer Sausage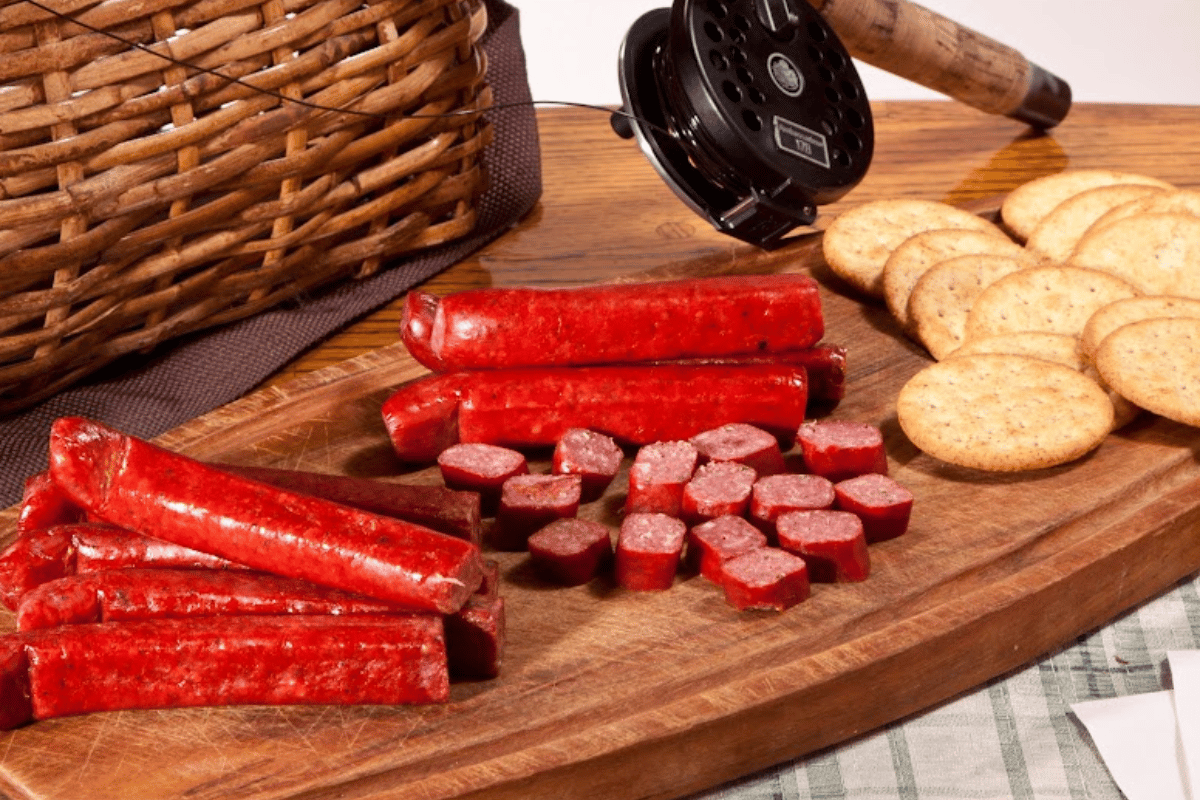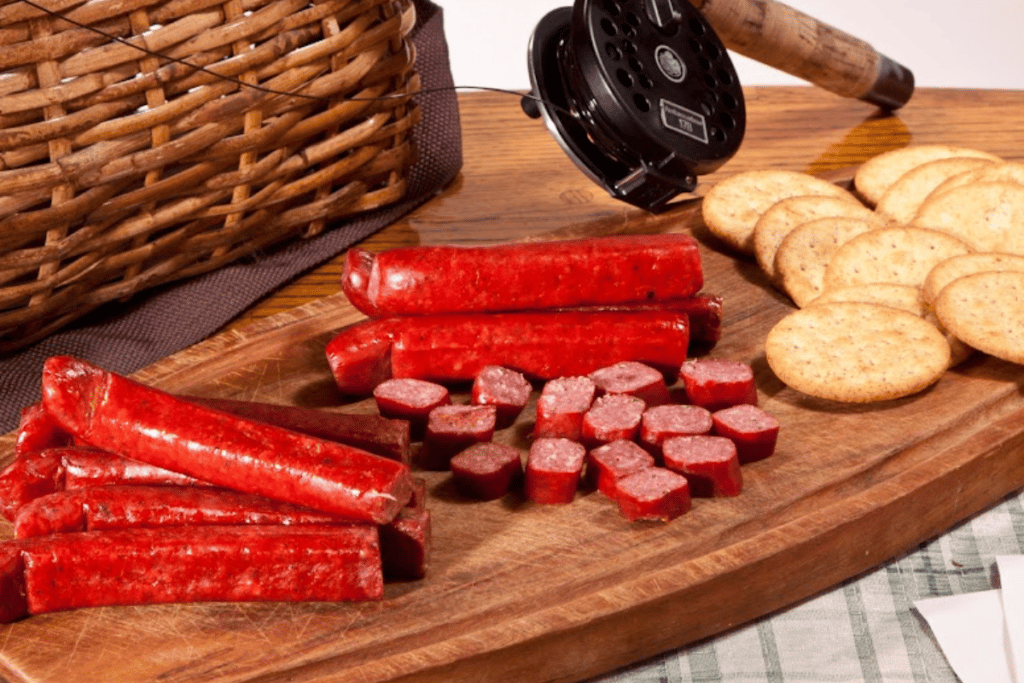 Reindeer sausage and reindeer dogs are a summertime staple. You can have them spicy or mild, and eat them just like regular hot dogs, or pan fry them up with your favorite breakfast dish.
We replace our bacon choice with reindeer sausage, and also love the punch they pack on pizzas, in omelets, and even in a chili!
The links are usually a combination of reindeer, pork, beef and spices. Reindeer, as it is a lean meat, needs to be paired with a fatty binder to keep the link juicy and tasty. Alaska Sausage Company has a great reindeer sausage that you can find at Costco, and one of the main binders is pork.
Find reindeer sausage usually wherever you would find regular pork or beef hot dogs. We love the reindeer dog stands in downtown Anchorage. Classically, the reindeer dog was served with Coca-Cola-glazed onions, we also love it with ketchup, mustard, and sauerkraut!
Many people are surprisingly unaware that reindeer is just domesticated caribou. And if you have the chance to try caribou in a steak or roast, don't pass– guaranteed you will love it!
Restaurant We Love for Reindeer Dogs: Red Umbrella Reindeer
Fry Bread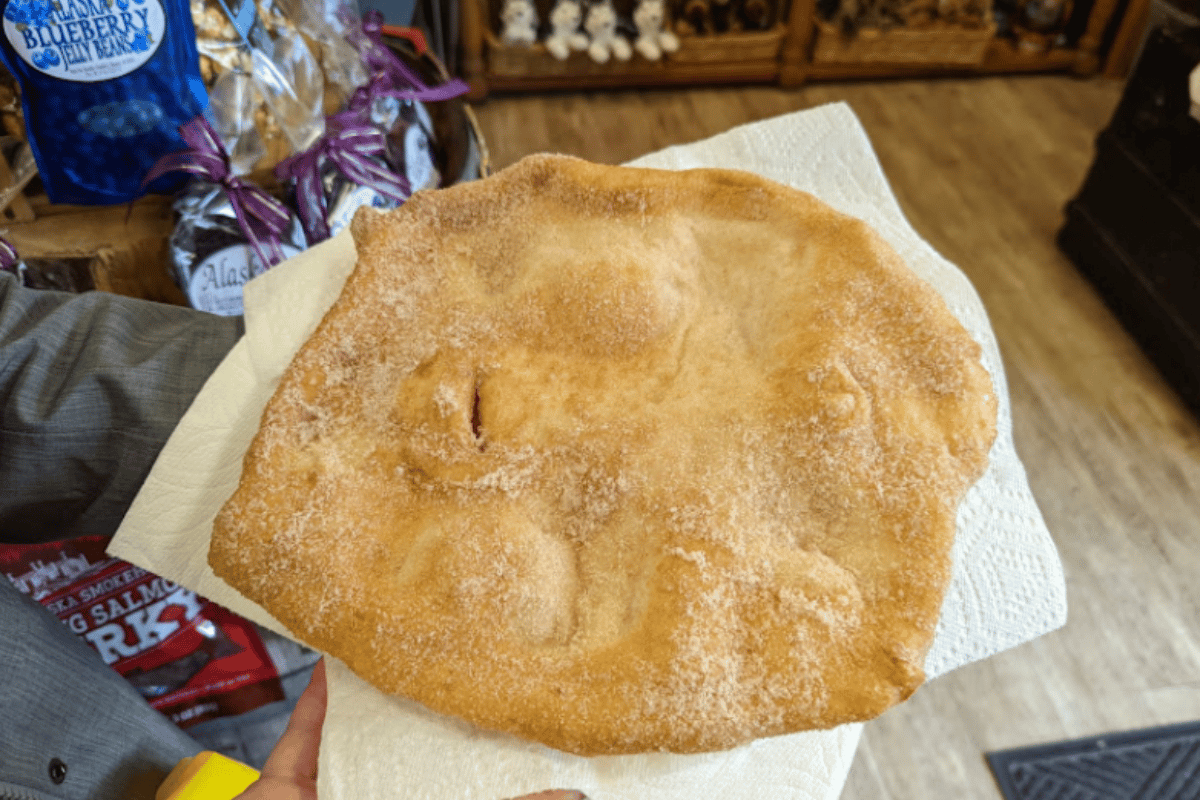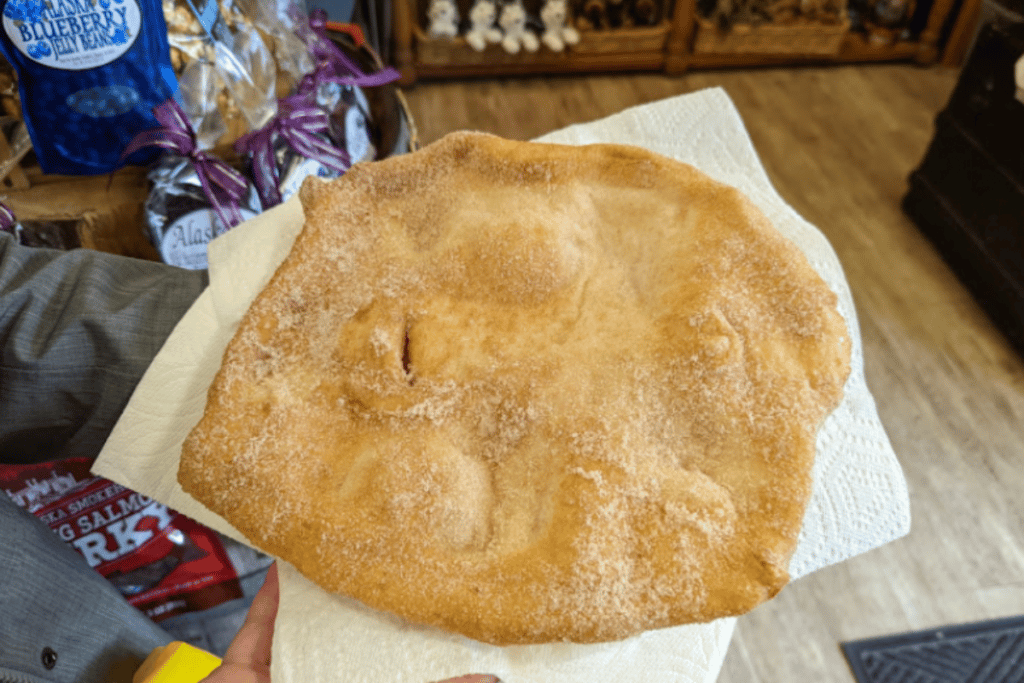 Also known as Alajuks, Fry Bread is another Alaskan staple. This fluffy treat is made from yeast, dry milk, flour, salt, and sugar, differing from baking-powder base fry bread variations you might find in the lower 48.
Fry breads can be served as a savory or sweet dish. Some serve it topped with chili and salmon, others cinnamon or sugar. We love it hot and fresh, served with a drizzle of honey or jam made from fresh berries.
The large disc of buttery, crunchy fried pastry is at the heart of many Alaskan's upbringing. Its origin in Alaska is a bit of a mystery, but there is no question that this golden dish makes plenty of people happy when they eat it.
Restaurant We Love for Fry Bread: Klondike Doughboy
Wild Alaska Salmon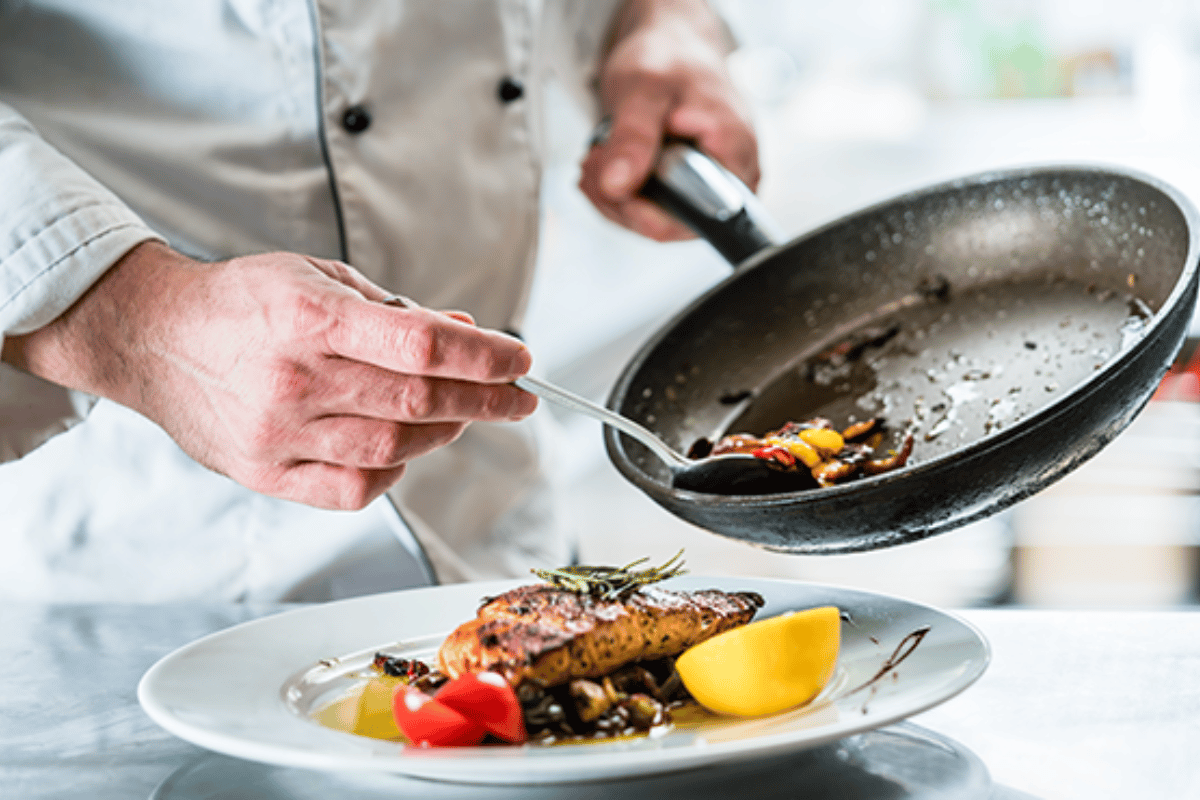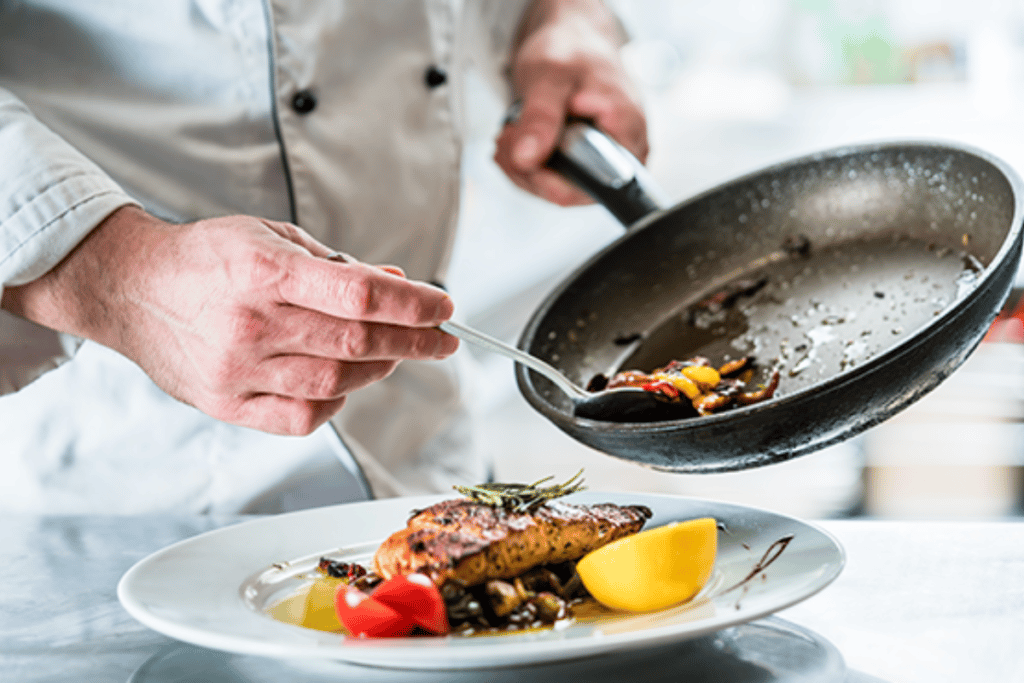 Our salmon is the absolute best in the world! Fresh salmon, salmon filets, salmon burgers, or smoked salmon– you can't go wrong with Alaska's favorite fresh-caught fish.
Salmon season is May through September, which means getting this on your plate in the summer time is best, as this is when the fish will be the freshest. But we all know our freezers are full after a long season of fishing, and we'll be enjoying our salmon all winter long.
There are several types of tasty salmon, including:
Chinook (King) Salmon
The Chinook is the largest of all the salmon, with the fish often exceeding 30 pounds. Some of the biggest fish can be the same size as an adult human– up to 126 pounds! Its meat is thick and buttery, and a very delicious treat that's highly sought after by seafood lovers.
King Salmon season is eagerly awaited all year round, and when the "Copper River Kings" begin to hit the restaurants and grocery stores, we all hustle in to get a taste before they are gone!
Sockeye Salmon
Sockeye Salmon are known for their distinctive red coloring. They are known for having the richest flavor, which makes them delicious smoked. People who love a fishy, but not oily, salmon flavor is going to love eating this one.
Sockeye salmon is hearty enough to be grilled, which makes it easy to cook and enjoy. But it's also fantastic poached, baked, or pan seared.
Pink (Humpback) Salmon
The smallest of the salmon is also the most mild, a great intro for those who may not be used to a stronger "fishy" taste. Their pale flesh has a mild flavor, excellent for more delicate dishes like a salad topper.
Others like to can or smoke pink salmon, and it's low food cost makes it a great choice for those on a budget.
Restaurant We Love For Salmon: Alaska Fish House
Ketchikan is also known as the salmon capital of the world, so a stop at Alaska Fish House is a must! The fish is so fresh, you have the option to cook it yourself.
This waterside restaurant also offers Dungeness crab and a delicious chowder. It really does not get any better than this.
Pacific Halibut
Want a light, white seafood instead? Halibut meat is white and flaky, with a delicious not-too-fishy flavor that melds beautifully in many fish-based dishes. This giant fish, reaching weights of over 400 pounds, offers a sweet, meaty flavor to your entree.
And if the fact that the flavor isn't delicious enough, it also contains nutrients that keep the heart healthy like selenium, magnesium, niacin, and omega-three fatty acids.
Try a piece of fresh Halibut or in your fish and chips! Or take it pan seared, baked, poached, and more. There are no wrong ways to cook and enjoy this delicious Alaska fish.
Restaurant We Love for Halibut: Orso Restaurant
This downtown Anchorage restaurant is practically an institution, and they know how to do halibut right. Try their Prosciutto Wrapped Alaska Halibut, with garlic roasted potatoes, spinach, fennel, onion, sweet grape tomatoes,and a Marsala garlic butter sauce.
King Crab Legs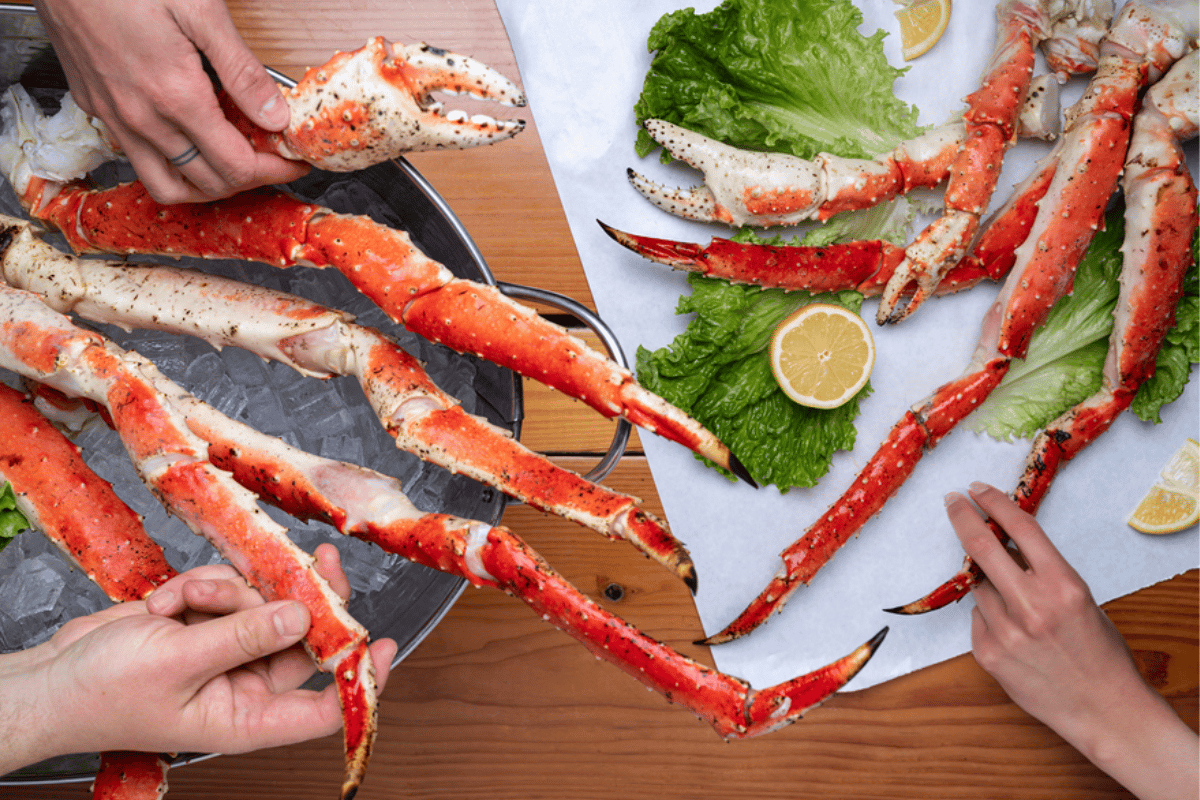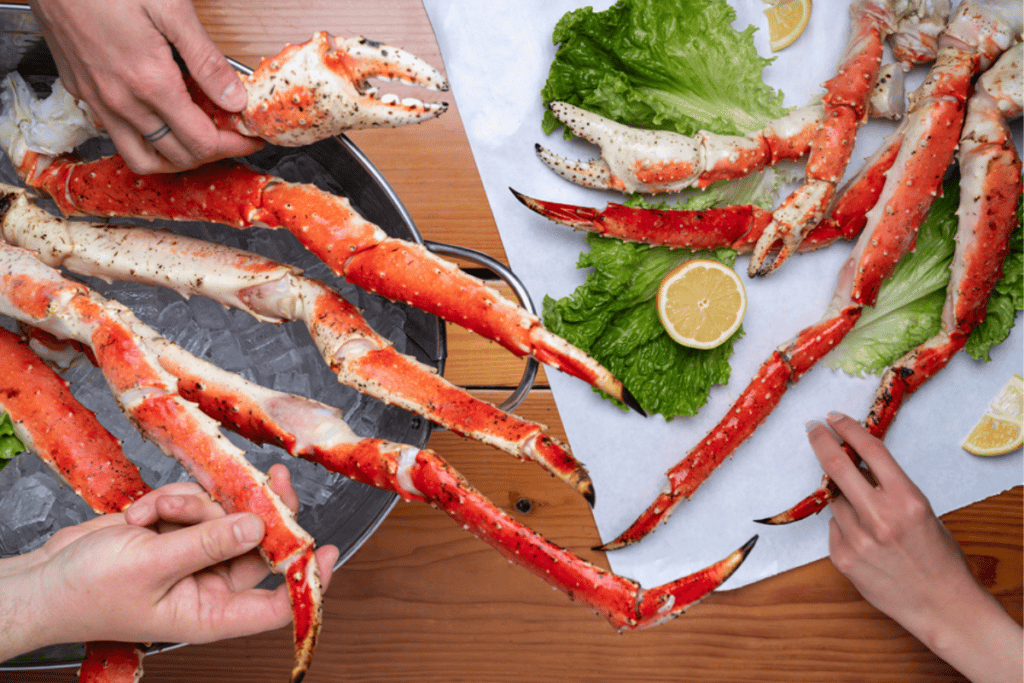 Did we mention that Alaska is a seafood lover's paradise? Fresh King Crabs are a delicacy, as the fishing season is very short and dangerous for fishermen. These 10 legged crustaceans are caught wild primarily in the Bering Sea and off the coast of Southeast Alaska.
These babies are also huge. If you have eaten Maryland blue crab, expect something several times larger. And there are three distinct types of King Crab: blue king crab, golden king crab, and red king crab.
Red king crab is generally regarded as having the best flavor, but if you are on a budget you might be able to find blue or golden king crab at a slightly cheaper price.
If you have never eaten fresh crab, you will have to put a little bit of work in. The legs are rich and flavorful, and best eaten right away. Get those nutcrackers and your drawn butter ready for these giant crab legs!
Restaurant We Love For King Crab Legs: Tracy's King Crab Shack
You will have no trouble finding Tracy's King Crab Shack – it's the bright red building in Juneau!
Muktuk
Made from the bowhead, beluga, or narwhal, Muktuk is cubed white blubber. This may be a new experience for some, but the taste has been described as being similar to toasted coconut or fried eggs.
Many people love to enjoy muktuk skin, which can be eaten raw, aged, or cooked. You will also find Muktuk served fried or pickled.
Muktuk has also been found to be an excellent source of Vitamins C and D. It was frequently used as an antiscorbutic by British Arctic explorers. Beluga blubber has also been found to be a good source of protein and omega-3 fatty acids.
Inuit diets rely on muktuk to round out their nutritional needs. They utilize the entire whole whale, including consuming its blubber and skin, as an act of respect. And it is a great snack that offers a huge dose of vitamins and nutrition!
Fish & Chips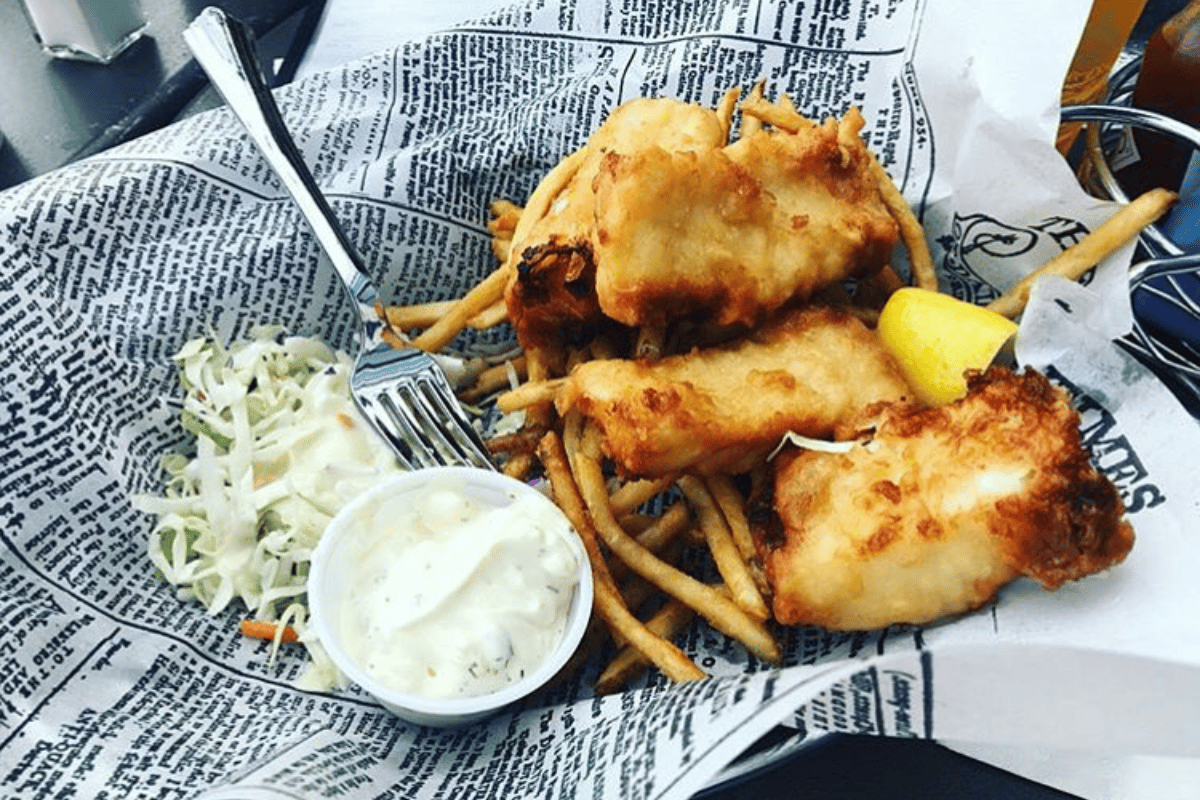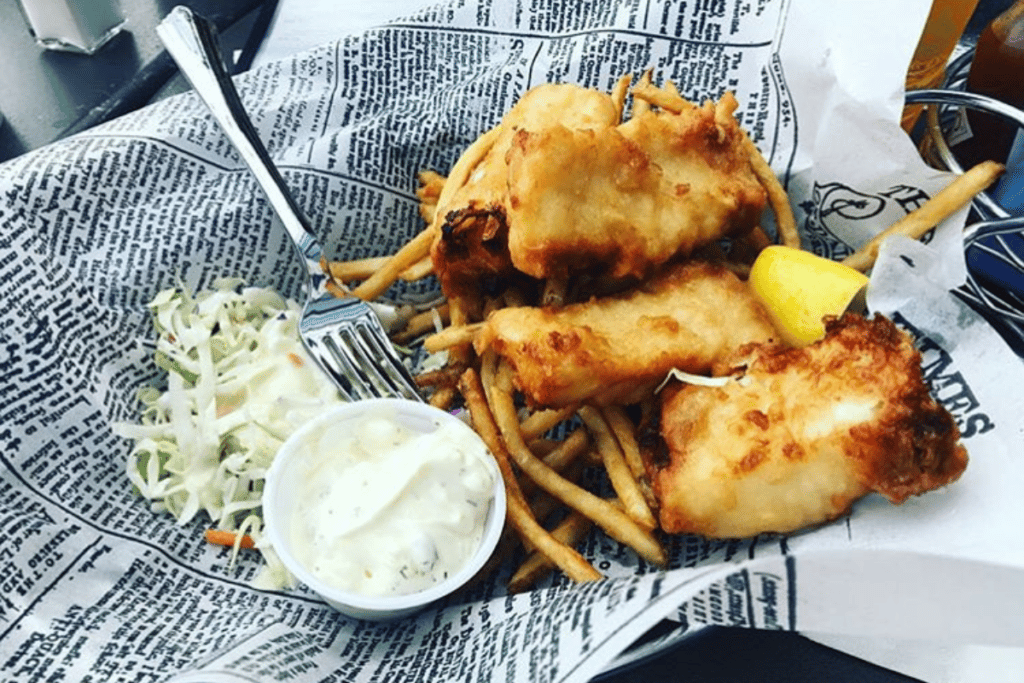 When you think of fish and chips, you probably think of a classic English dish, right? Not if Alaska has anything to say about it!
When in the Last Frontier, you can enjoy fresh fish that has been locally caught, for a seafood experience that is unparalleled anywhere in the lower 48.
In Alaska, most of the fish used in Fish & Chips is halibut, rockfish, or cod. And diners usually have a strong preference for which fish is the best to be used in the dish. But as long as there is a flaky white fish at the heart of your fried fish dish, we promise you will love it.
Each restaurant will prepare the dish a little bit differently: panko, bread crumbs, or a light flaky crust. Whichever you choose, you can't go wrong. And don't forget vinegar for your fries!
Restaurant we love for Fish and Chips: Alaska Fish and Chips
Their specialty is halibut fish and chips, but they also serve fish tacos, king crab (that's another must-try to check off your bucket list!), and oysters.
Wild Berries
Alaska produces some of the best berries in the world, and picking them can be just as much fun as eating them! They are packed with antioxidants, and scientists are discovering that the levels of vitamins and nutrients in our wild berries can far exceed the amounts you will find in the grocery store.
Blueberries are especially abundant in Alaska's backcountry wildlands, and are in season from late summer to early fall. If you are on a hike, you can feel free to harvest your very own berries! They make excellent pies and other desserts, or you can eat them on their own as a nutritious snack.
The most popular berries to harvest on Alaska's hillsides are salmonberries, blueberries, cranberries, raspberries, lingonberries, cloudberries, and watermelon berries.
One safety note: avoid all white berries as these are poisonous. If you come across an unknown red berry, like Baneberry, make sure to do your research as there are some poisonous varieties as well.
Alaskan Coffee
While coffee might not technically be food, Alaskans take their coffee very seriously!
In fact, the state of Alaska consumes more coffee than almost anywhere else in the United States. We have at least one coffee shop for every 2,000 residents in the Last Frontier. Our coffee shops have been going strong since the 1980s.
No matter where you are getting the Alaska coffee you love, you are guaranteed to find a community of people who love the coffee bean. Very much like a great glass of wine, coffee offers many distinct flavors and aromas, and the Alaskan coffee scene is all about procuring the very best for its customers.
The most famous brand of coffee in Alaska? Our favorite local roasters Anchorage-based Kaladi Brothers Coffee, which can be found all throughout Alaska, to the delight of its residents. Kaladi Bros Coffee roasts more than 1.2 million pounds of beans each year!
Restaurant we love for Coffee: Kaladi Brothers Coffee
You can visit the original shop in Anchorage at their Brayton Cafe, or any of their other 14 in-state cafe locations. They are also now in Seattle!
Fireweed Honey
Believe it or not, fireweed honey from Alaska is becoming a very popular. With so many travelers to the state every year, people not only fall in love with the state, but also the beauty of our landscapes.
Fireweed grows all throughout Alaska, making it one of the most popular wildflowers you will see. Every year honeybees will forage in these massive areas of fireweed, bringing the nectar back to their hives. For the entire month of July, our honeybees are busy collecting nectar and making honey.
By August this honey is ready to harvest and is packaged and ready to sell. Since honey has no expiration date, it can be stored for years and still hold its natural flavors.
In Alaska, we aren't making enough fireweed honey to supply the huge demand and since this honey is dependent on honeybees, if the season yields lower quantities – the supply can be exhausted until the next harvesting season, one year later!
This is one of the reasons why you will see fireweed honey at much higher price than your store bought honey. This honey is sweet, naturally good for you and is clean from pollutants since our honeybees are harvesting from fields away from city and road pollution.
The supply and demand issue is also a determining factor in price. It cost more to get honeybees to Alaska and we have a very short harvesting season.
Have you tried our Alaskan fireweed honey? It's worth trying, because we are sure you will want more of our natural and raw honey!
Alaska is a veritable cornucopia of fresh food options all across the state, and it's filled with an abundance of delicious local ingredients. So many of our residents hunt, gather, and fish to fill our freezers and our bellies each year.
We are lucky to source so many dishes from the land and waters around us!
There are so many fun events happening in Alaska this fall, it can be hard to decide between events. We have picked our top 15 fun things to do in Alaska this September!
After living over 14 years in Alaska, Megan McDonald can confidently state that there's not much of the state on the road system that she hasn't visited. From the Brooks Range to McCarthy, Homer, and everywhere in between, every nook and cranny of Alaska is always her new favorite place.
As President and co-founder of Alaska-based boutique media agency HuMu Media, she spends her work time writing, photographing, and traveling, and her off time writing, photographing, and traveling. They say do what you love, and she is lucky enough to do so!
You can follow her travels on Instagram at @theitinerantginger