Are you looking to come to Alaska in April? There are many things to do in Alaska in April that can give you an adventure of a lifetime. If you are looking for a trip that is sure to knock your socks off, look no further than a visit to Alaska in April. This month is the perfect time to explore the wild and rugged beauty of America's "Last Frontier."
April in Alaska is all about transition. The long, cold winter is coming to an end, and the days are getting longer and warmer. It is a time when the landscape is waking up from its long slumber, and the animals are starting to stir from hibernation.
It is a time of change, and it is absolutely breathtaking to witness. The snow is melting and everything is about to start to turn green. The further north you got the more snow you may run into in April – so keep that in mind.
The biggest problem with coming to Alaska in April is that everything could be melting from a long cold winter. This melting snow can make a lot of mud and most of the landscape isn't full of color yet.
Weather In April In Alaska
April in Alaska can be a tricky month to predict when it comes to weather. You might experience a mixture of snow, rain, and sunshine, all in the same day!
April marks the transition from winter to spring, so you can expect to see some signs of new life popping up. The days are getting longer, and the snow is slowly starting to melt away, revealing the brown grass and bare trees underneath.
The temperature range varies across Alaska, with some regions seeing highs in the 40s or 50s (Fahrenheit) and lows dipping down into the 20s or 30s.
While April can be unpredictable, it is still a great time to visit Alaska. You can experience the beauty of the snowy landscape while also getting a glimpse of the new growth that is starting to emerge.
What To Expect In April
More sunshine: One of the first things you will notice when visiting Alaska in April is the lengthening days. As the month progresses, you will see more and more daylight, with some areas experiencing up to 16 hours of sunlight by the end of the month. In Anchorage you can expect to have 14.7 hours of sunlight in April.
Unpredictable weather: The weather can be unpredictable during this time of year, so pack layers and be prepared for anything. You might experience snow, rain, and sunshine all in the same day, so it is always a good idea to have a raincoat, waterproof boots, sunglasses, and warm layers on hand.
It is the shoulder season. Many touristy spots aren't yet open for the spring and summer months, so some attractions you might want to see and places you want to go could be closed. However, that does mean excellent off-season pricing. Many activities in Alaska start to open up in May.
What can you do in Alaska in April and why should you come to our state in this month? The below list are things you can do while visiting Alaska in April.
Go Whale Watching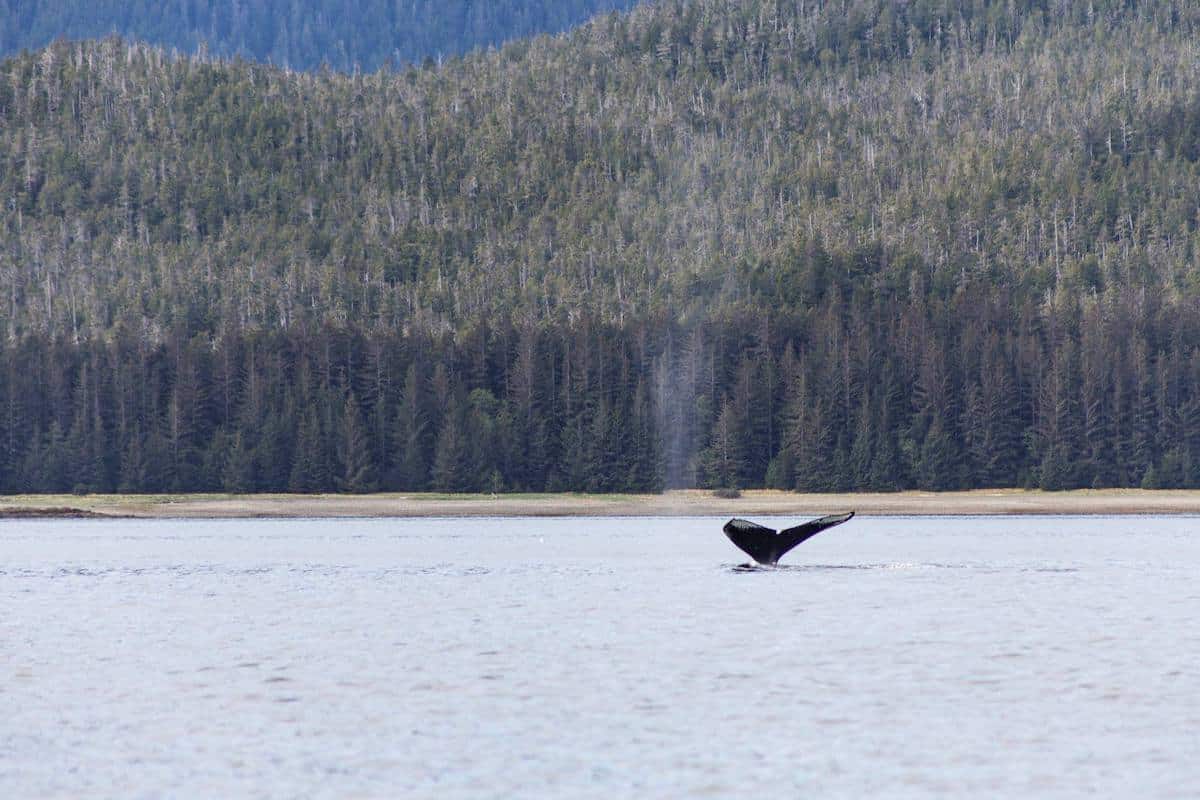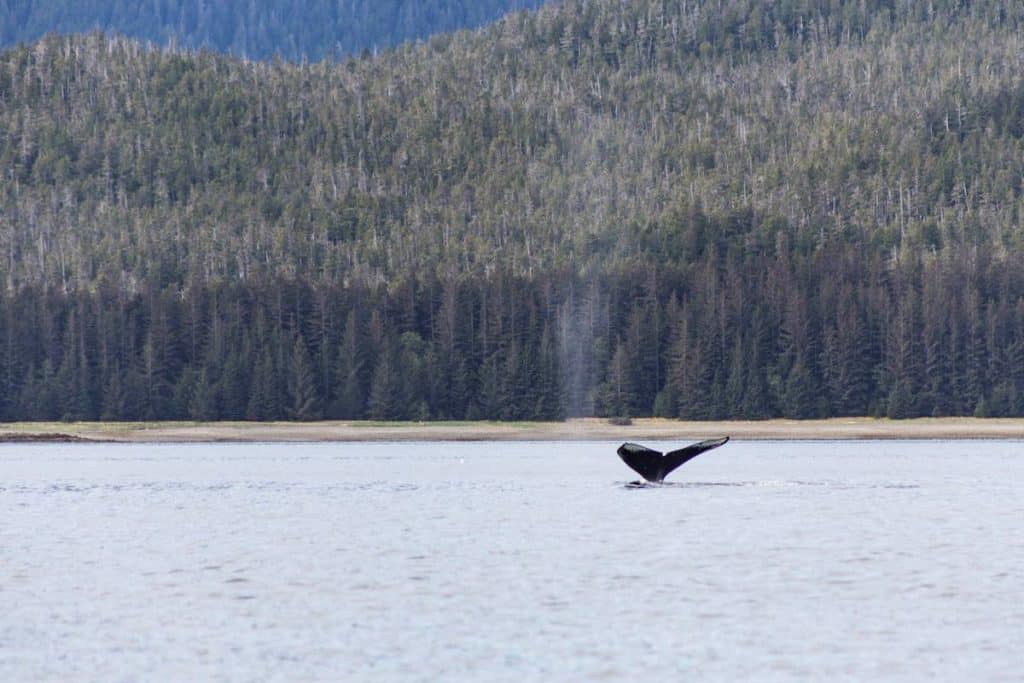 As the snow melts and the days get longer, the whales begin to migrate back to Alaska from their winter feeding grounds. And there is no better way to see them up close than on a whale watching tour.
April is a good time for whale watching in Alaska, as the humpback whales start to arrive in the waters around the state. These majestic creatures can grow up to 50 feet long and weigh as much as 40 tons. And when they breach the surface of the water, it's a sight to behold.
You will have the chance to see not just humpbacks, but also orcas and gray whales. The waters are also home to a variety of marine life, including sea lions, porpoises, and seals, and you will be able to see them all from the comfort of your boat.
A whale watching tour in Alaska is also about the scenery. The stunning coastline, snow-capped mountains, and glaciers are all part of the breathtaking backdrop of this adventure.
Many whale watching tours in Seward Alaska are led by experienced guides who can provide you with information about the whales and the surrounding ecosystem. You will learn about the whales' migration patterns, feeding habits, and even their songs.
Major Marine Tour
Flightseeing
Flightseeing in Alaska in April can be an amazing experience, offering a unique perspective on the breathtaking scenery that Alaska is famous for. If you have a clear day, the views from above can be spectacular.
One popular destination for flightseeing in Alaska during the spring is Denali National Park, home to Denali, the tallest peak in North America. You will be able to see Denali, as well as other incredible sights like Ruth Glacier, lakes, and even wildlife like moose and wolves.
As the snow begins to melt, you might even see some baby animals starting to emerge from hibernation.
Another popular flightseeing destination in Alaska is the Kenai Peninsula. You could see stunning views of Kenai Fjords National Park, glaciers, and the coastline. You might even see some of the migrating whales passing through the area.
Talkeetna Air Taxi
Wildlife Viewing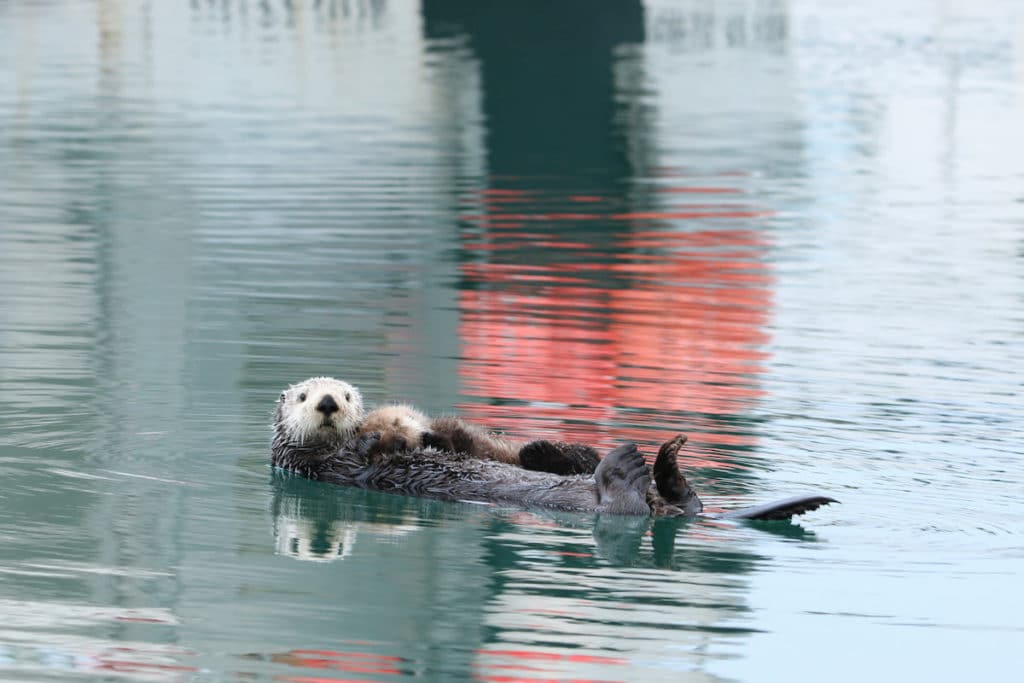 Besides whales you can also see a number of Sea Otters along the coasts.
One of the most exciting animals to see during springtime in Alaska is the bear. These creatures are coming out of hibernation and on the hunt for food.
You can catch them along the rivers and streams, feeding on salmon and other fish. The best places to spot them are in the Katmai National Park, Kodiak Island, and Lake Clark National Park. Watching these giants catch fish with their paws and teeth is a sight to behold!
April is also a great time to see migratory birds in Alaska, such as sandhill cranes, Arctic terns, and waterfowl. The Copper River Delta near Cordova is a good spot for birdwatching. Watching these beautiful birds fly in formation is like watching a choreographed dance.
Don't forget the moose! They are more active in the spring as they start to give birth to their calves. You can often see them along the highways and in the parks around Anchorage, including Chugach State Park and Denali National Park.
Consider heading north to the Dalton Highway to catch a glimpse of caribou during their spring migration. In April and May, caribou begin their journey to their summer grazing grounds.
You can see them along the Dalton Highway, which runs north from Fairbanks to Prudhoe Bay.
Go On A Dogsled Ride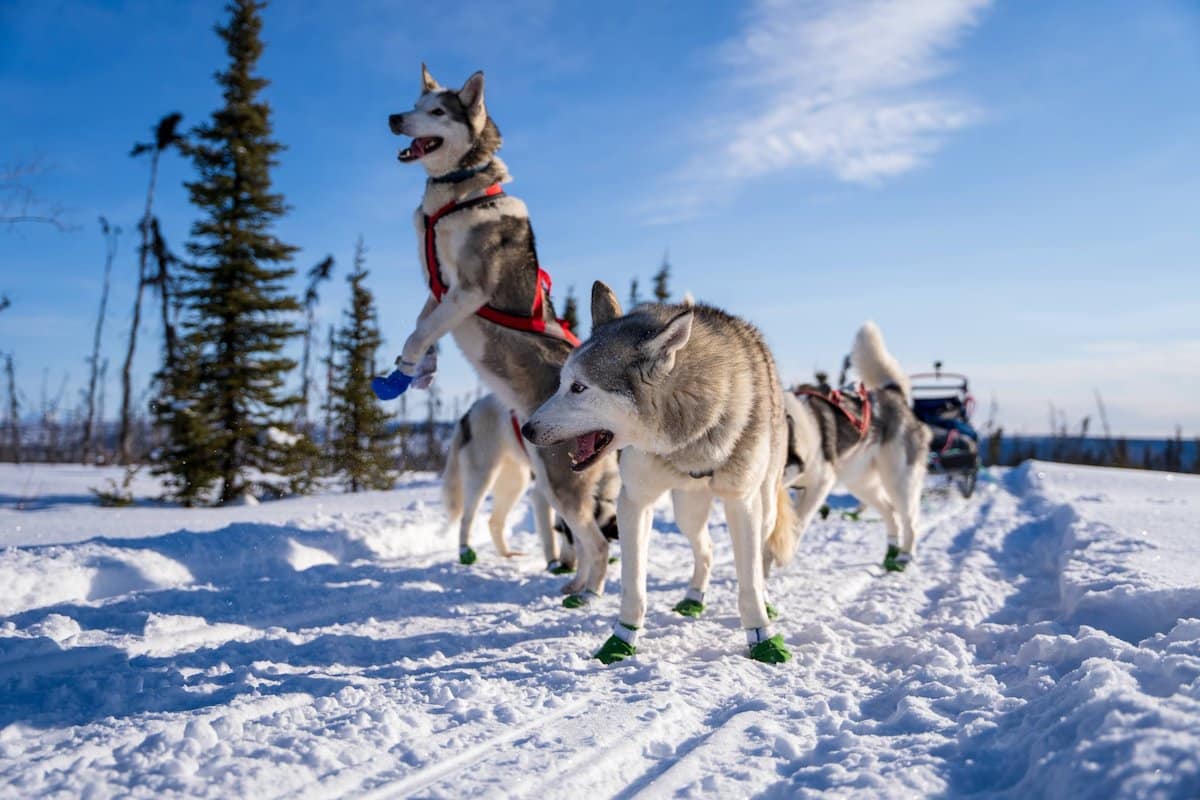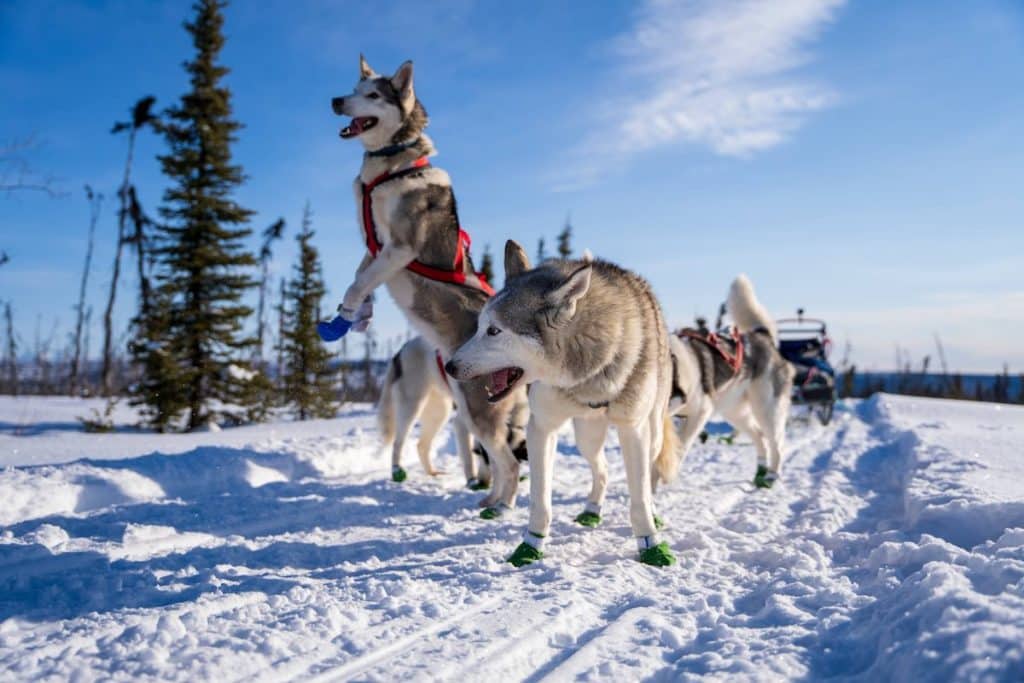 Alaska is known for its long, snowy winters, but don't let that discourage you from visiting in the spring. The snow is still plentiful, and the weather is milder, making it a perfect time for a dogsled ride.
The experience of being pulled through the snow by a team of strong and determined dogs is something you will never forget.
There are many places in Alaska where you can take a dogsled ride, but some of the most popular destinations are Fairbanks, Denali National Park, and the Matsu area.
Each location offers a unique experience, from shorter rides to multi-day tours, so you can choose the option that best fits your needs.
View The Aurora Borealis
During the spring in Alaska, the nights are still long enough to allow for excellent Aurora viewing, but the temperatures are milder than in the winter. This makes it the perfect time to bundle up and head out into the Alaskan wilderness to see the Northern Lights.
Early April does bring longer daylight hours which can be a hindrance in seeing the northern lights in the northern parts of the state. Early April they are still visible in the later hours of the night, and the very early morning.
There are several places in Alaska that are perfect for viewing the Aurora Borealis. Some of the most popular destinations include Fairbanks, Anchorage, and Denali National Park.
If you are in Anchorage, check out our guide on where to see the Aurora near Anchorage.
You Can Go Hiking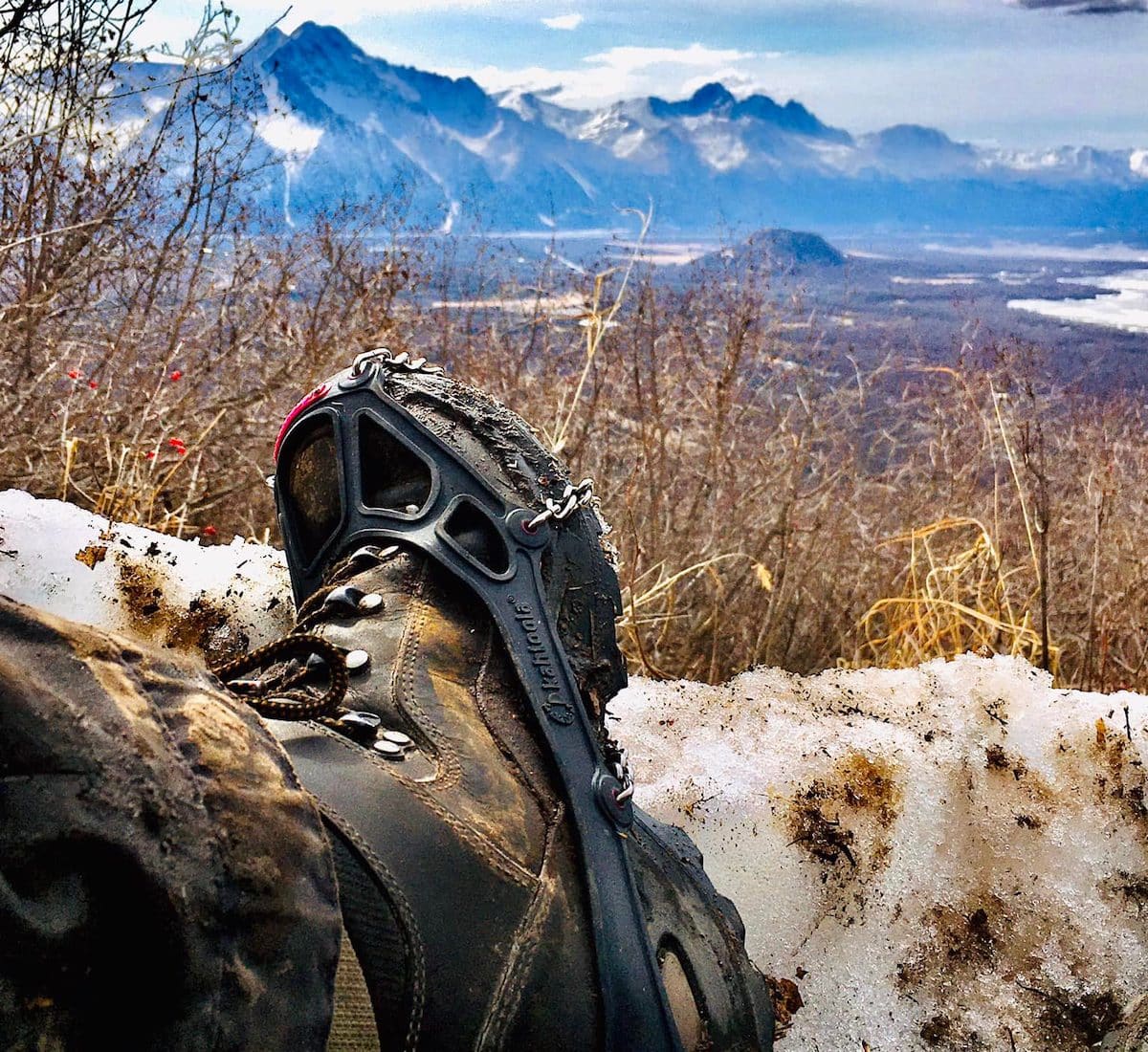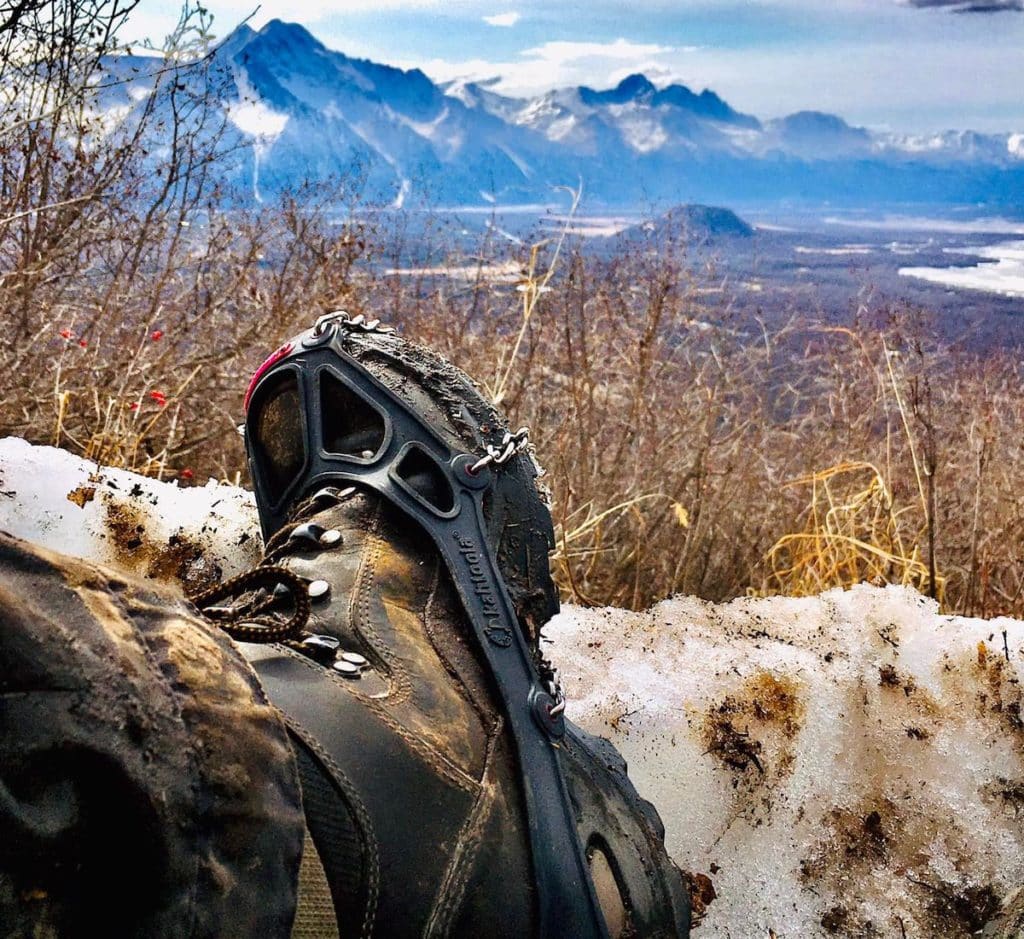 The warm, wishy-washy weather can make for some difficult hiking, but if you stick to the areas that are either cold enough to stay firm, or already melted and dried out, you should be okay.
There are plenty of hiking trails to choose from, no matter what your skill level. If you are looking for an easy hike, consider checking out the Tony Knowles Coastal Trail in Anchorage. This 11-mile trail takes you along the coast, offering stunning views of the ocean and the surrounding mountains.
If you are looking for a challenge, consider tackling the infamous Mount Marathon in Seward, which offers steep climbs and breathtaking views of the ocean.
When you are hiking up in the mountains, make sure you know what the avalanche danger level is for the area you will be in, as the backcountry can be dangerous during this time.
Explore The Glaciers Before They Get Slushy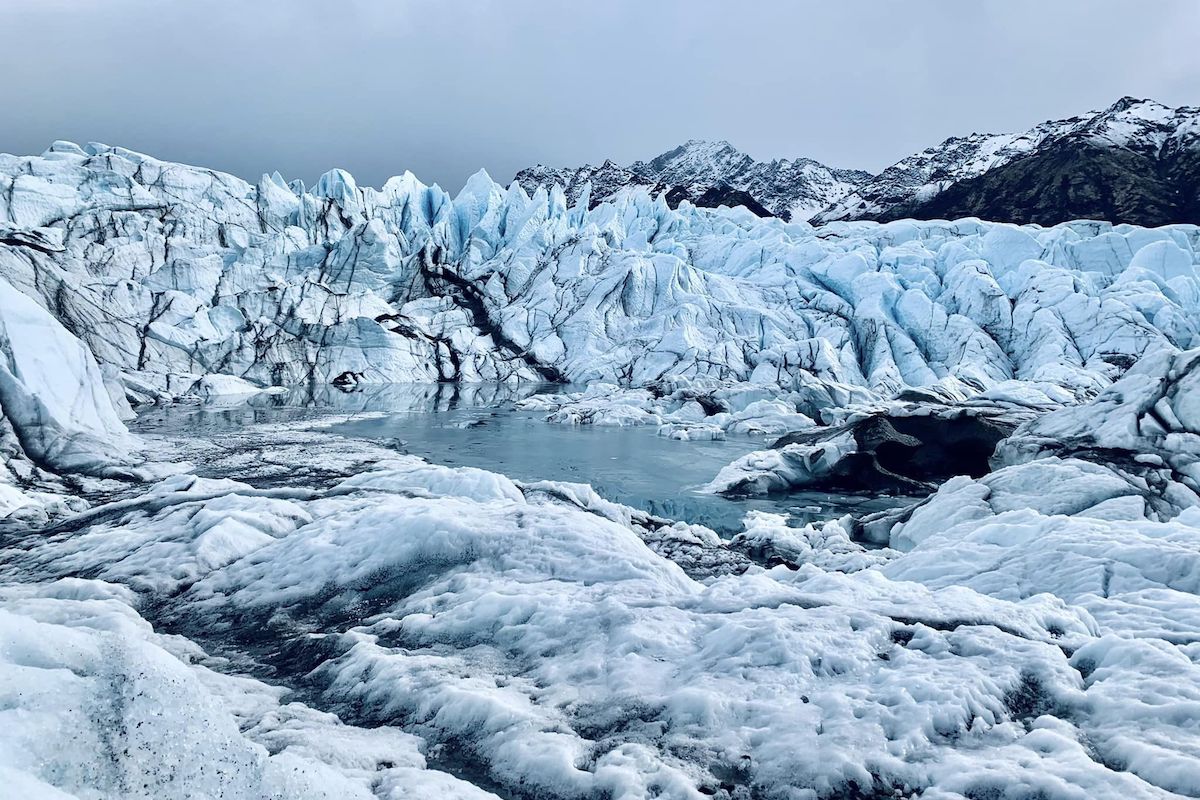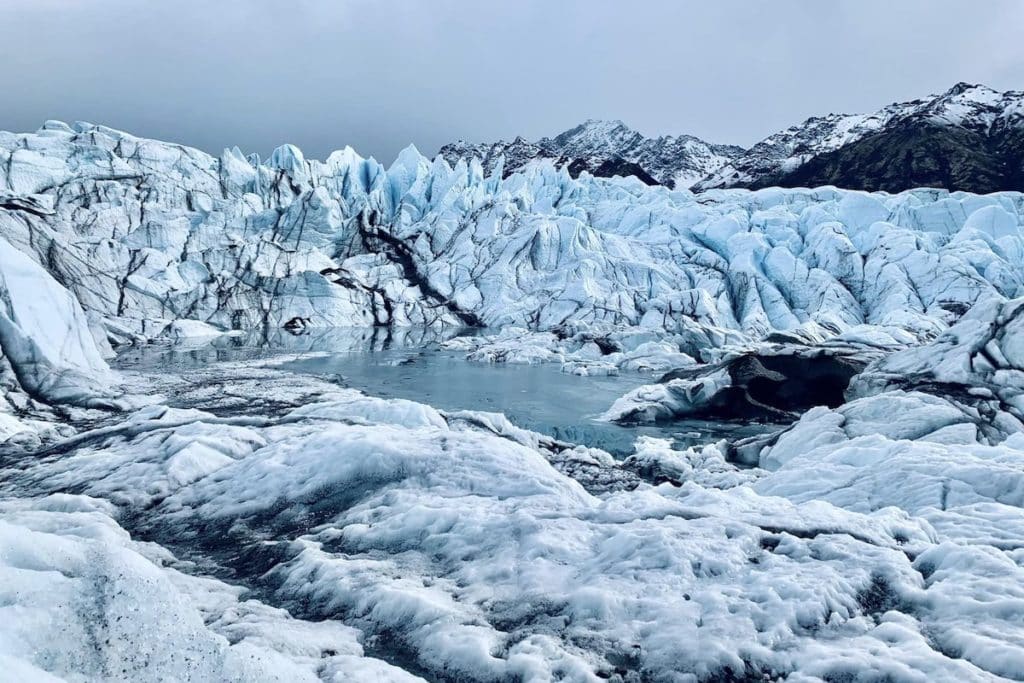 One of the best ways to experience a glacier in Alaska is by taking a guided glacier tour. There are several guided hikes available throughout the state that take you onto the glacier itself.
Here, you can explore ice caves, crevasses, and even try your hand at ice climbing. You will also have the opportunity to learn about the glaciology of the area and how these majestic glaciers are formed.
We love exploring these glaciers in Alaska in April because of the smaller crowds. While the summer months can be busy with tourists, the springtime offers a quieter experience, allowing you to fully immerse yourself in the natural beauty of the area.
Matanuska Glacier is an easy 2.5 hour drive north of Anchorage, and it is easy to book a guided tour of explore the glacier up close and personal.
Glacier Tours on the Matanuska
Check Out Museums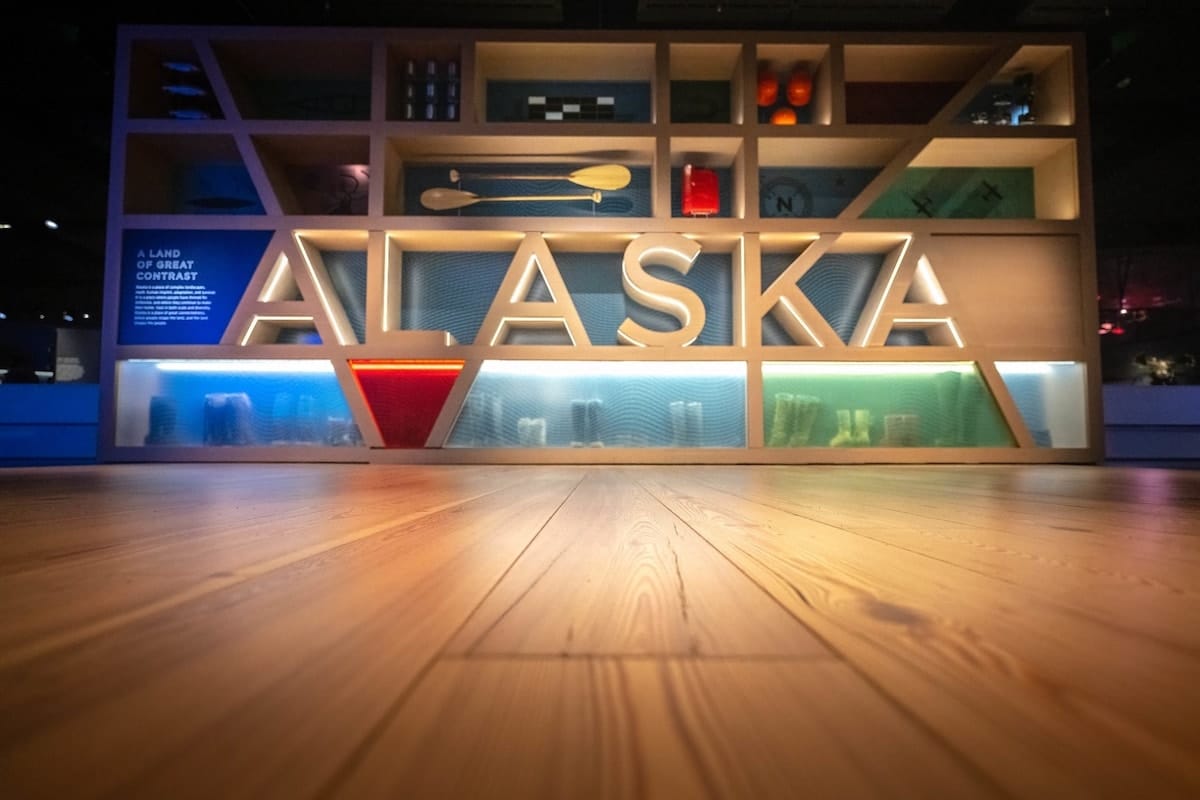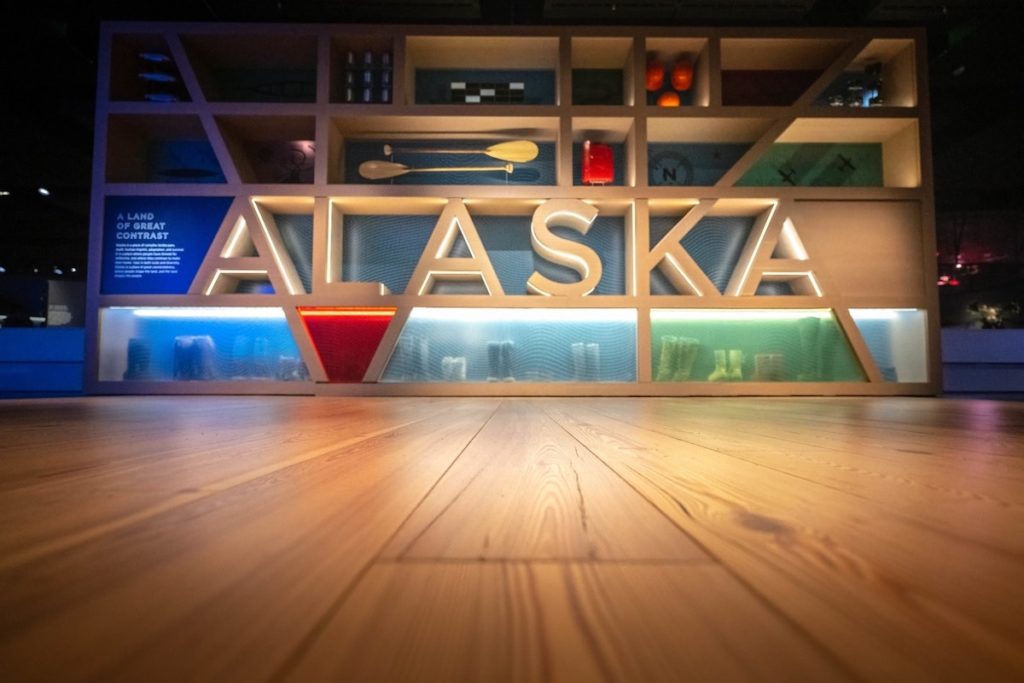 April can be a good time to take a break indoors, especially if you are caught in the middle of what we call "break-up." Dry your shoes and check out what Alaska has to offer in the arts scene.
One of the most popular museums in Alaska is the Anchorage Museum.
Located in downtown Anchorage, this museum is a must-visit for anyone interested in Alaska's history and culture. It features exhibits on everything from native Alaskan cultures to the gold rush era, as well as contemporary art and science exhibits. You will also find a planetarium and a hands-on science center for kids.
Another great museum to visit is the Alaska State Museum in Juneau. This museum offers a glimpse into Alaska's rich history, from the Native Alaskan cultures to the gold rush era and beyond. The museum features exhibits on Alaska's natural history, art, and culture, including a collection of rare artifacts and works of art.
If you are interested in science and nature, check out the University of Alaska Museum of the North in Fairbanks. This museum is home to one of the largest collections of Alaska Native art and artifacts in the world, as well as exhibits on the state's wildlife and natural history.
For a unique museum experience, consider visiting the Hammer Museum in Haines. This museum is dedicated to the history and art of hammer-making, and features an impressive collection of hammers from around the world. It is a must-visit for anyone interested in the history of tools and craftsmanship.
Anchorage Museum
Go To One Of The State's Festivals
While there are many festivals and events throughout the year, April is a particularly exciting month for those looking to experience Alaska's unique culture and traditions.
Here are some of the top festivals that happen every year in Alaska in April:
Alaska Folk Festival: This festival takes place in Juneau every year in early April and is a celebration of traditional folk music. Musicians from around the state gather to perform and share their talents, and the festival also features workshops and jam sessions. Find their website here.
Girdwood Spring Carnival: The Girdwood Spring Carnival is a beloved annual event and held in late April. The carnival features a wide range of activities and events, including live music, and a beer garden. The most popular event is the snowboarding competition: competitors dress up in unique costumes and soar down Mount Alyeska and launch off a ramp with the hopes of clearing a 90-foot pond filled with freezing, slushy water.
Go Skiing or Snowboarding
Alaska is known for its stunning mountain ranges, making it a premier destination for skiing and snowboarding. There are several ski resorts in Alaska that offer good skiing conditions and breathtaking views through the end of April:
Alyeska Resort: Located in Girdwood, Alyeska Resort is Alaska's premier ski destination. With over 1,400 skiable acres, 76 named runs, and an average snowfall of over 650 inches per year, Alyeska offers some of the best skiing in North America. The resort also offers a range of activities and amenities, including fine dining, a spa, and a ski school for beginners.
Eaglecrest Ski Area: Located in Juneau, Eaglecrest Ski Area is a local favorite for skiing and snowboarding. The resort features 640 skiable acres, 4 chairlifts, and an average snowfall of over 300 inches per year. Eaglecrest also offers night skiing and a terrain park for freestyle enthusiasts.
Hilltop Ski Area: Located in Anchorage, Hilltop Ski Area is a great option for beginners and families. The resort features 30 skiable acres, 3 chairlifts, and a terrain park. Hilltop also offers ski and snowboard lessons for all ages and abilities.
Moose Mountain Ski Resort: Located in Fairbanks, Moose Mountain Ski Resort is a small but charming ski area. The resort features 130 skiable acres, 3 chairlifts, and an average snowfall of over 140 inches per year. Moose Mountain also offers night skiing and a tubing hill for non-skiers.
Go Snowmachining (Snowmobiling)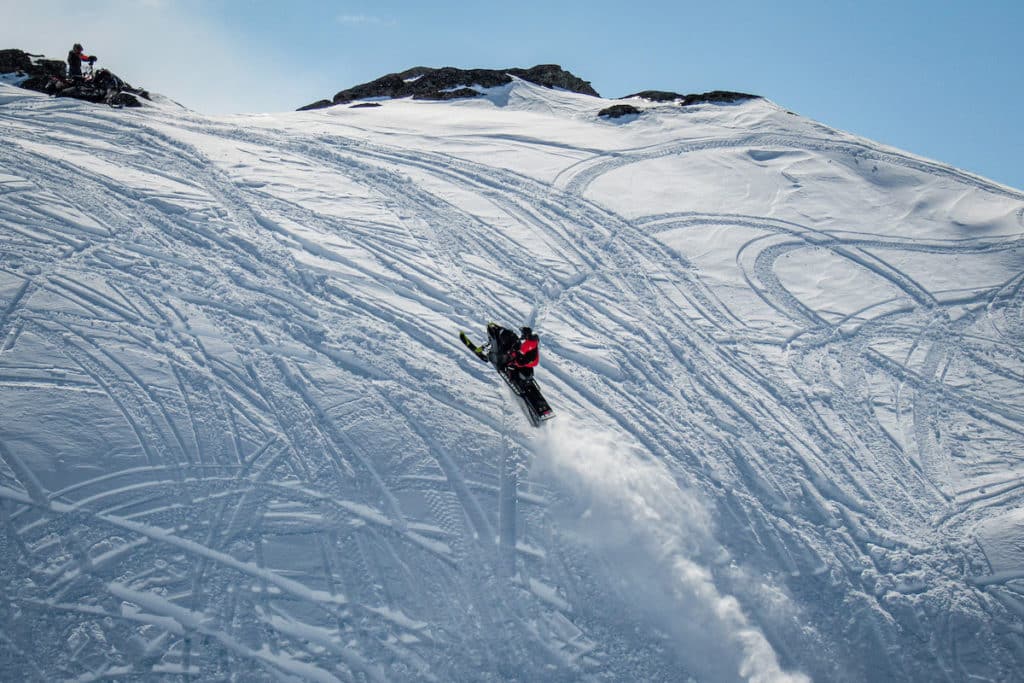 April is prime time for snowmachining in Alaska, and Tailgate Alaska is the premiere snowmachining event in the state. Held every April for ten days, this epic backcountry freeride festival is a must-see if you love to get outside in the sunshine.
Held on 29.5 mile Richardson Highway on the old Thompson Pass airstrip, this festival offers classes, workshops, concerts, camping, and more.
It is the ultimate end-of-winter festival where local Alaskans, media professionals, and even pros come together to enjoy the mountains.
Tailgate Alaska
Visiting Alaska in April is a truly special experience that should not be missed.
From the breathtaking scenery to the abundant wildlife, there is something for everyone to enjoy in this rugged and untamed wilderness. Whether you choose to watch the animals come out of hibernation, go dog sledding, or simply take a hike through the snowy wilderness, you are sure to have an adventure that you will never forget.
So why wait? Pack your warmest clothes, grab your camera, and head north to Alaska this April. The sights, sounds, and smells of this pristine wilderness are waiting for you, and they are sure to leave you with memories that will last a lifetime.
Things To Do In Alaska
Looking to see if there are other months you should come to Alaska? Check out some of our other popular times of the year to come visit our state.