Every fall, as the sun sets earlier and earlier, and the temperature drops, Alaskans get ready for winter. By November the average daylight is only 6-7 hours and the average temperature ranges from a low of 16°F (-9°C) to an average high of 28°F (-2°C).
For those coming to our state after the busy summer season, there are still things to do in Alaska in November – right before winter really arrives, if it hasn't already.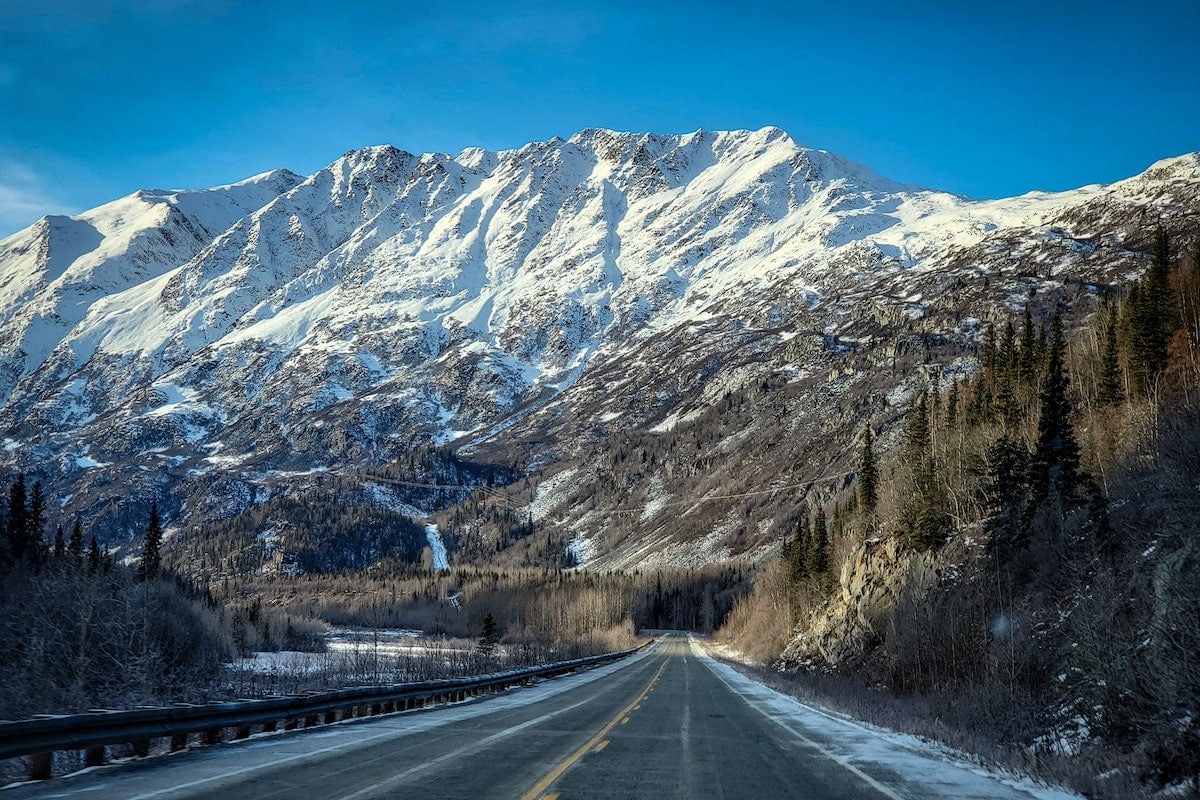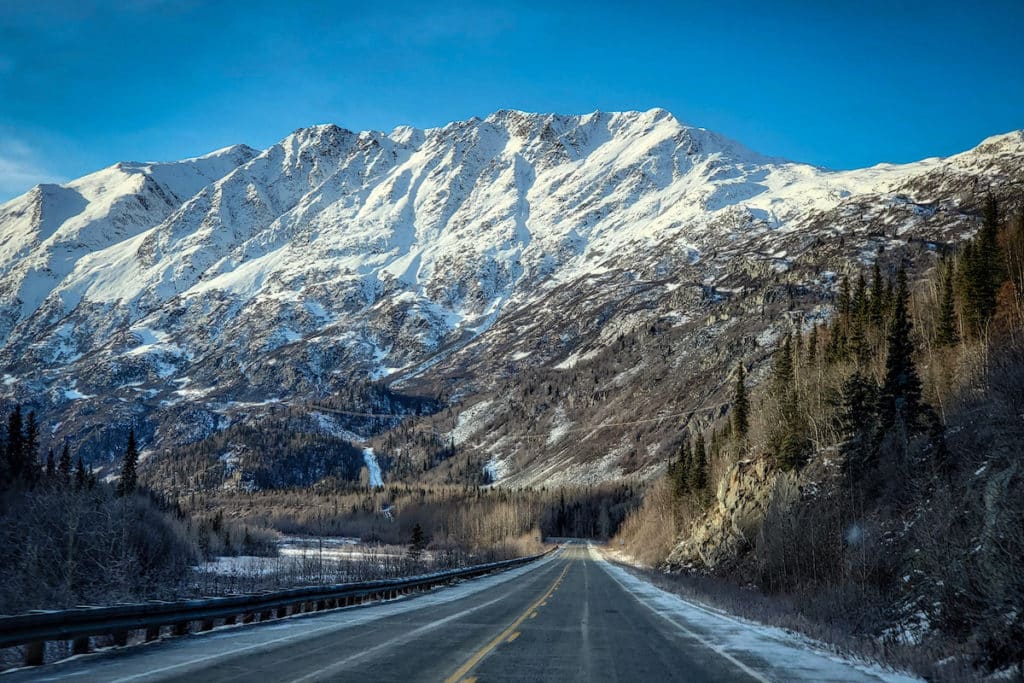 November is one of our favorite months as the holiday season gets underway and we gear up for all the winter fun Alaska can bring. November is that transitional period, where much of the state has seen its first snowfall, but we are all enjoying that last bit of autumn.
Temperatures average about 28 degrees Fahrenheit, depending on where you are in the state. The Interior can drop below zero during November, and paired with the extra hours of darkness, many tourists don't visit during November.
However, if you do find yourself in Alaska, prices are great during the shoulder season. And if there is a good amount of snowfall during the month, you will see many of the winter sports take off early!
If you are planning to visit Alaska in November, or you live here and looking for ways to get out of the house, we have got you covered.
These are just some of the things we are adding to our calendars in Alaska in November.
Enjoy Late Season Fishing
Although peak season for fishing is June, July, and August, there is still some late autumn fishing to be had, depending on where you are in the state.
In the Interior, you will most likely be preparing for ice fishing season, especially in the later part of the month. During ice fishing season in Alaska, many fisherman target coho salmon, arctic char, rainbow trout, and arctic grayling to bring home.
If you are in the southeastern part of the state, like Ketchikan, you will find the mild weather is more conducive to fishing in the bay, and locals will fish for Rockfish during late autumn and through the winter months.
Go Watch The Northern Lights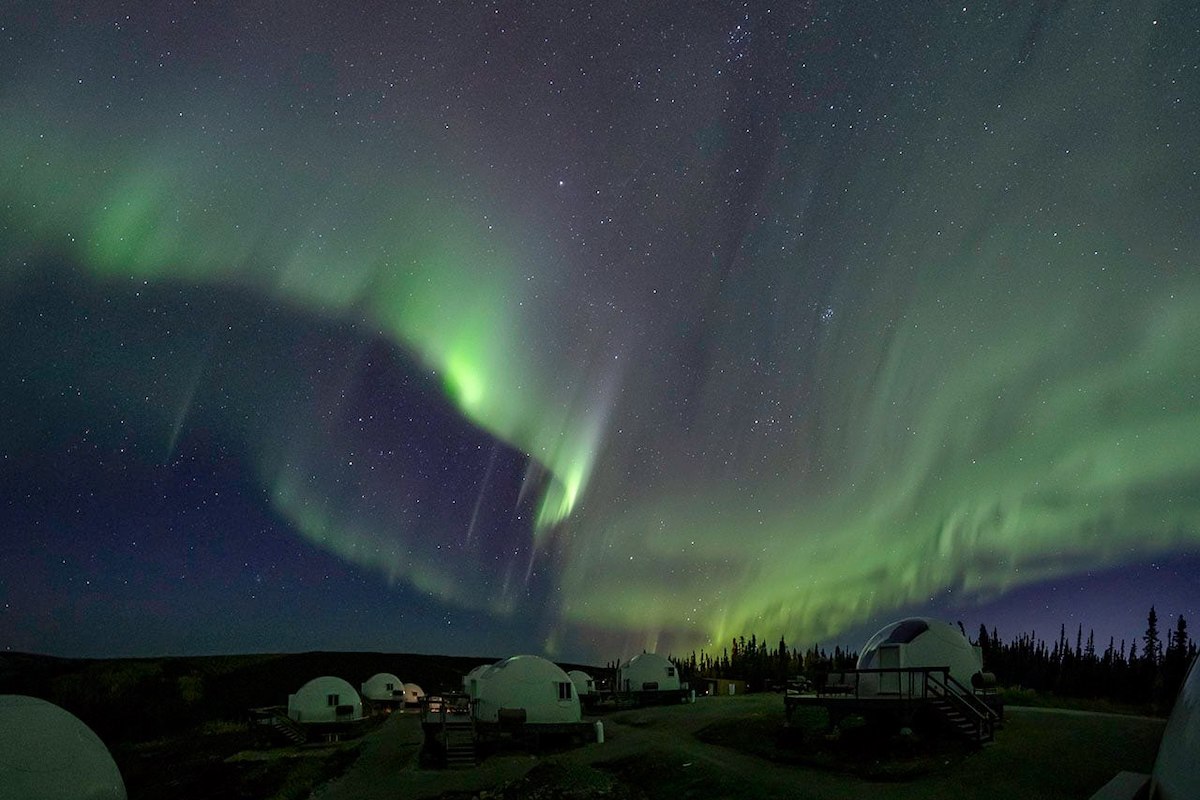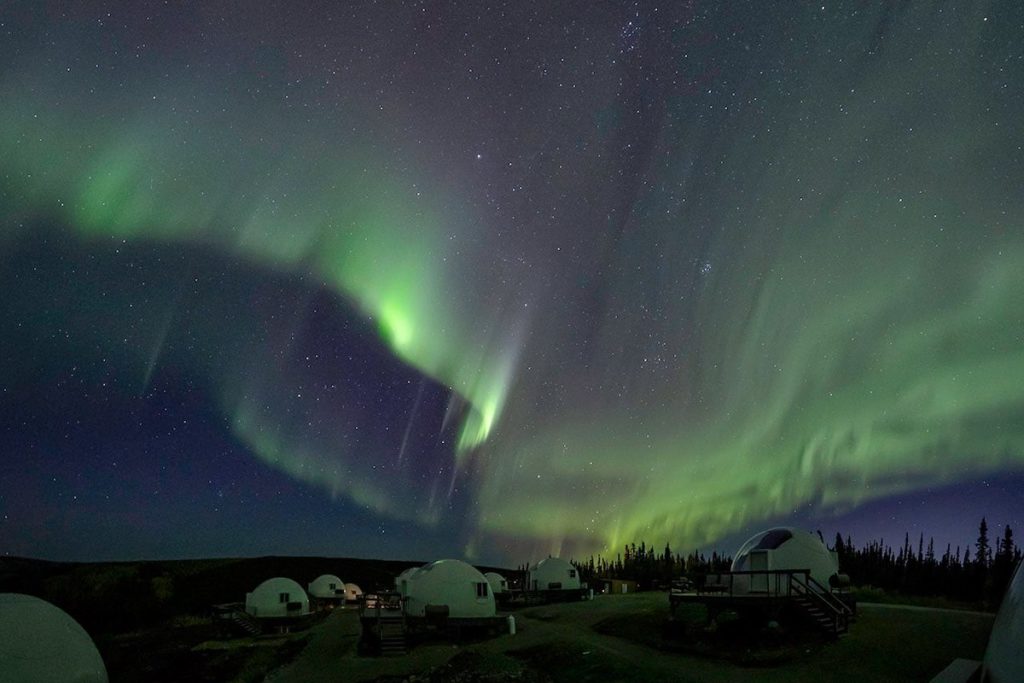 During the month of November, the days are shorter as the sun sets earlier. This extra darkness means more chances to spot the famous Alaskan Aurora Borealis, otherwise known as the Northern Lights!
Check out these Northern Lights Tours and easily book one.
Viewing the Northern Lights in Alaska can be a once-in-a-lifetime experience for visitors, (although a more common experience for locals) and November is a great time to catch this natural wonder.
Here are some tips for viewing the Northern Lights in Alaska during November:
Location: Alaska is one of the best places in the world to view the Northern Lights, with many areas offering clear and unobstructed views. Fairbanks and the Interior region are particularly good spots, with low levels of light pollution and easy access to clear skies. Did you know you can also go stargazing in Alaska and no better time than in our dark winter months.
Timing: Northern Lights are best viewed in the late evening or early morning hours, when the sky is darkest. During November, the nights are long in Alaska, which provides plenty of time to catch this incredible display of lights.
Weather: Clear and cold weather is best for viewing the Northern Lights, as clouds and light pollution can obstruct the view. Check the weather forecast before you head out, and dress warmly to stay comfortable. You will want to dress in plenty of layers! If you go with a Northern Lights Tour – they will most likely offer you everything you need to have an amazing experience.
Auroral Forecasts: The auroral forecast provides information on the likelihood of viewing the Northern Lights. Check websites such as the Geophysical Institute at the University of Alaska Fairbanks to see the auroral forecast and plan your trip accordingly.
Dark Site: Find a dark site away from city lights to enhance your viewing experience. Some areas in Alaska offer guided Northern Lights tours that take you to the best viewing spots, especially if you are visiting the Fairbanks area.
Get In Some Late Fall Hiking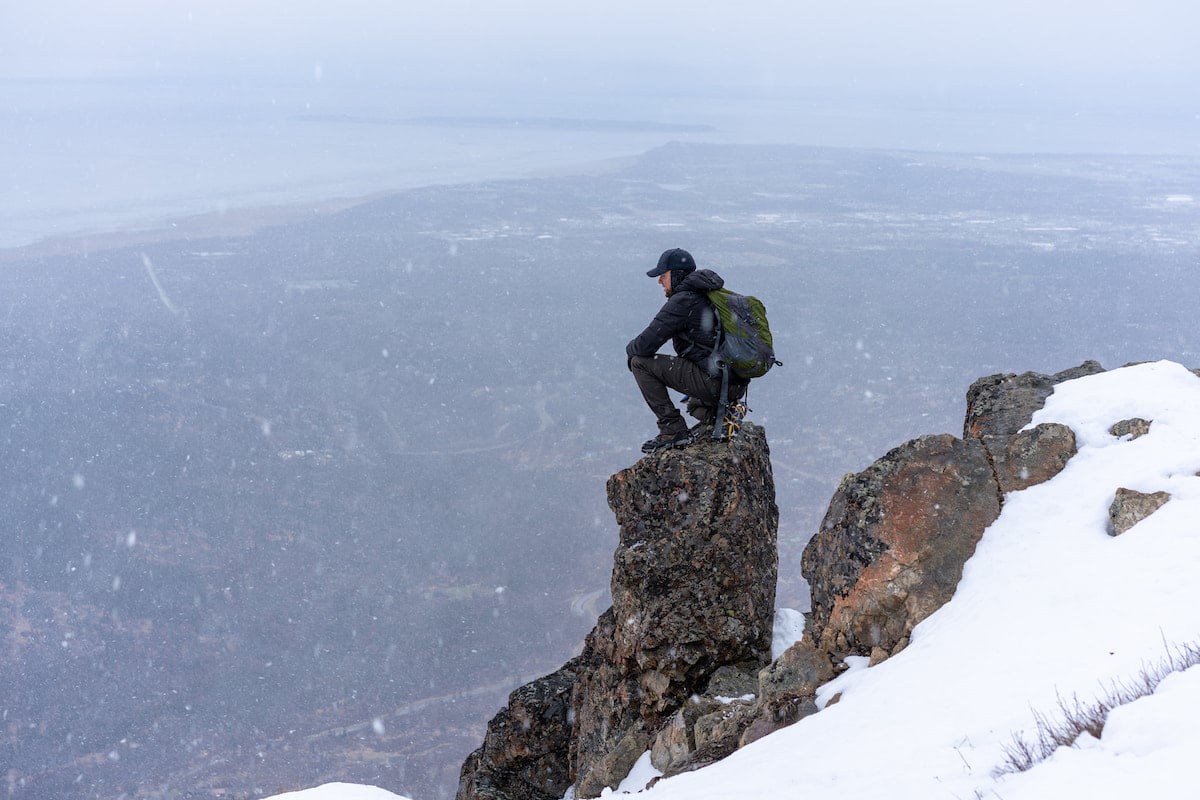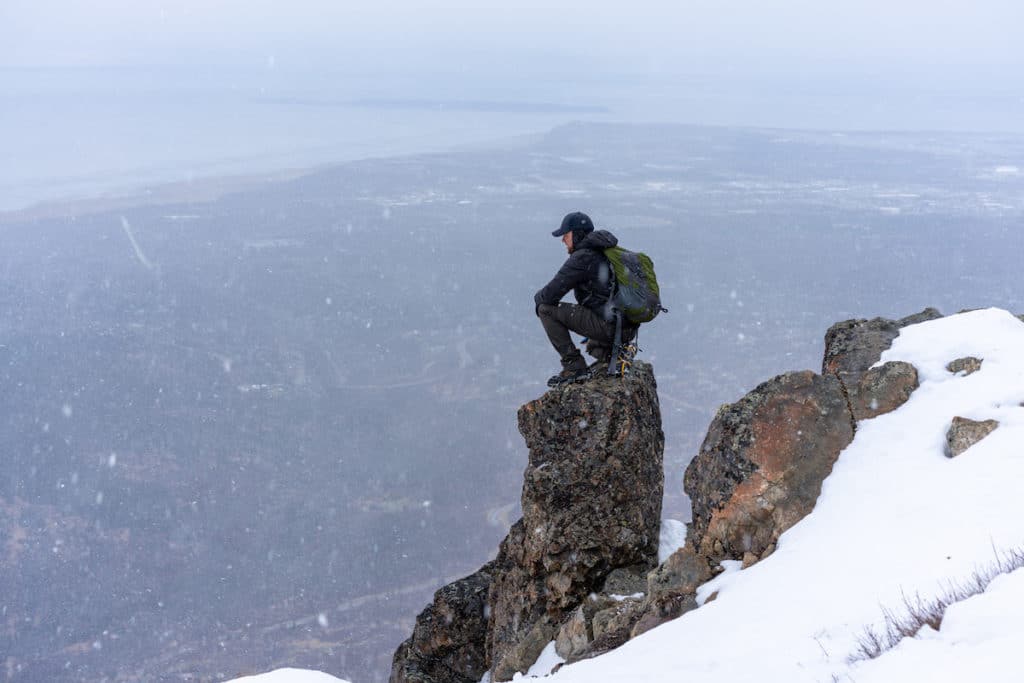 We love fall hiking in Alaska! While you won't have the fall foliage of the earlier autumn months, November has plenty to recommend it when it comes to fall hiking. Keep in mind that by November there could be snow falling across the state – so plan according to current weather conditions.
Relatively mild winter weather: The temperatures in November are relatively mild, depending on where you are in the state, making it ideal for hiking. The average statewide temperature is 25 degrees, making it cold, but not too bad. This is especially true in southern Alaska, where the temperature can be in the 40s and 50s Fahrenheit during the day.
Firm, frozen ground: Gone are the days of muddy trails in early autumn, especially if there has been a lot of rainfall. November will give you firm, frozen ground, excellent for hiking on.
Reduced crowds: November is far past the end of the tourist season in Alaska, so the trails are less crowded. This provides a more peaceful and serene hiking experience, and allows you to enjoy the beauty of the wilderness without having to share the trail with large groups of people.
Wildlife viewing opportunities: November offers plenty of wildlife viewing in Alaska, as many animals are on the move or foraging for food in preparation for winter. This is an excellent time to see moose, birds, and other wildlife in their natural habitat.
The bears have begun to hibernate: You can begin to rest easy on the trails as one of the largest distractions during hiking have begun to bed down for the winter season. Continue to carry the bear spray, but you probably won't need it. Just watch out for those moose!
Whether you are hiking through snow covered trails in the Interior, or enjoying relatively balmy days in Southeast Alaska, November is a great month to get out and enjoy the hiking trails in Alaska.
See Alaskan Wildlife
November is a great time to see a variety of wildlife in Alaska, as many animals are in the midst of migration or preparing for winter. Here is some of the most commonly seen wildlife species in Alaska during November:
Bald Eagles: Bald Eagles are one of the most easily recognizable and abundant birds in Alaska. November is a great time to see these majestic birds, as they congregate along the Chilkat River in large numbers to feed on salmon. The Alaska Bald Eagle Festival, which takes place in November, is an excellent opportunity to see these birds in their natural habitat.
Moose: Moose are commonly seen in Alaska in November, as they move through the forests in search of food. These large, majestic animals are a popular sight for visitors, and many wildlife viewing opportunities are available.
Waterfowl: Many waterfowl species, including ducks and geese, are seen in Alaska in November as they make their way south for the winter. These birds are often seen in large flocks, and bird-watching tours are available to give visitors a closer look.
Wolves and Coyotes: November is a good time to see wolves and coyotes in Alaska, as they hunt for food in preparation for the winter months. These elusive animals are often seen in the wild, and many wildlife viewing opportunities are available.
Dall Sheep: Dall Sheep can be spotted on the mountainsides in November, and they are easier to see once all of the leaves fall from the trees.
These are just a few examples of the many wildlife species that can be seen in Alaska in November. With its diverse habitats and abundant wildlife, Alaska is a wildlife lover's paradise, and November is an excellent time to experience some of the most magnificent creatures in their natural habitat.
And if you want to guarantee that you see Alaska wildlife in November, just head over to the Alaska Wildlife Conservation Center.
Hop On A Dog Sled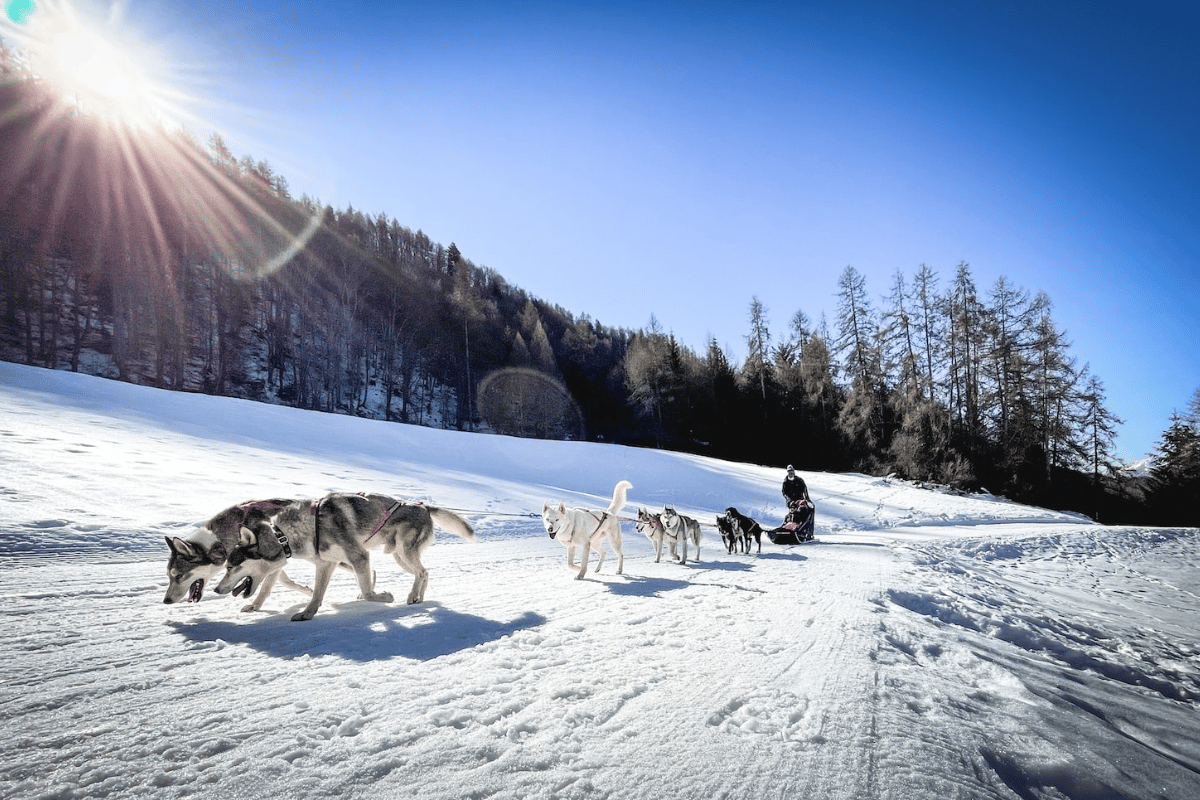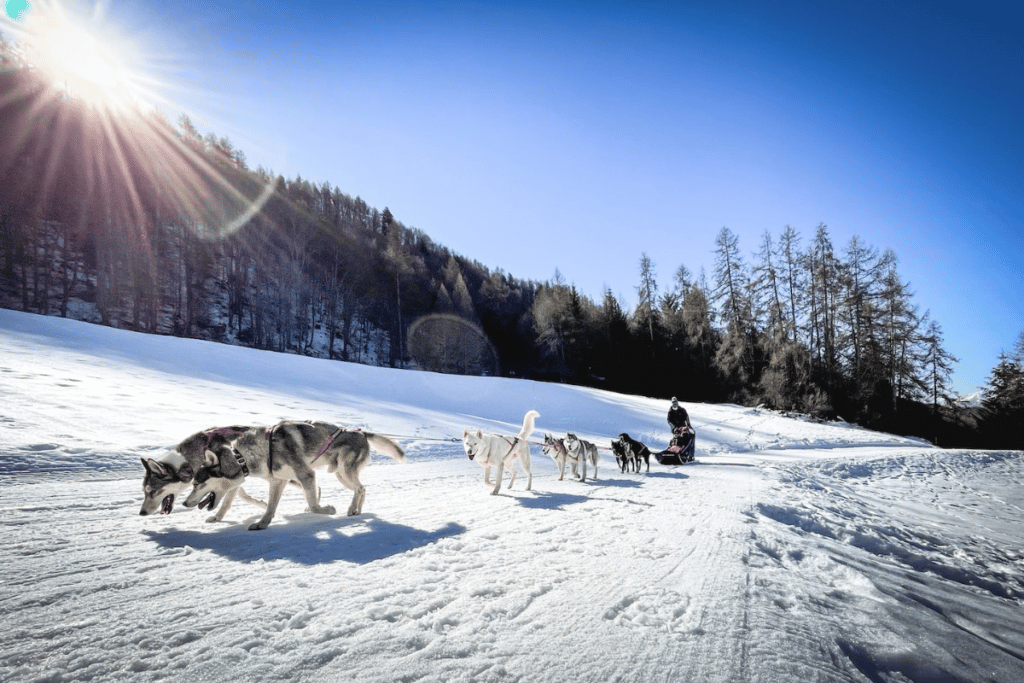 Dog sledding is a popular and fun activity in Alaska, especially during the winter months. Meeting the dogs and going on a sled adventure should be on everyone's bucket list.
Here is a guide to dog sledding in Alaska during November:
Timing: November marks the beginning of the sled dog season in Alaska, with the first races taking place throughout the state. This is a great time to experience dog sledding and learn about this unique aspect of Alaska's culture. Dog mushing typically runs from November to March, depending on the current snowfall and conditions.
Types of Dog Sledding: There are various types of dog sledding experiences available in Alaska, including short rides, half-day trips, and multi-day expeditions. Choose the experience that best suits your interests and abilities.
Sled Dog Teams: Dog sledding in Alaska is powered by the strength and endurance of the sled dogs. These dogs are specially bred and trained for the sport, and it is not uncommon to see teams of over a dozen dogs working together to pull the sled.
Equipment: Dog sledding equipment, such as the sled and harnesses, is provided by the tour operator. You will likely be given a warm and protective outfit to wear during the trip, as well as instructions on how to steer the sled. Don't forget your camera!
Dog Sledding Etiquette: Dog sledding is an activity that requires a deep respect for the sled dogs and their well-being. Be sure to follow the instructions of the sledding guide, and avoid touching or distracting the dogs while they are working.
With its breathtaking scenery and exciting adventure, dog sledding in Alaska during November is a truly unique experience that should not be missed. Whether you are an experienced sledder or a first-time traveler, dog sledding in Alaska is an unforgettable way to experience the beauty of the state!
Warm Up In A Hot Spring
There is nothing more fun to do when the temperature drops than warm up in a hot spring. We love visiting Chena Hot Springs in November. The shoulder season sees less tourists but the aurora borealis is still active!
Chena Hot Springs Resort offers more than just a hot spring to soak your weary muscles. They also offer dog sledding tours, the Aurora Ice Bar, massage therapy, and more. Book one of their Aurora Viewing Tours and be prepared to be amazed!
Or just hang out in the hot springs as late as you can – the springs close at 11:45pm and see if you can catch a glimpse of them from the waters!
Here's why you should visit Chena Hot Springs Resort in November:
Natural Beauty: Chena Hot Springs Resort is located in the heart of the Alaskan wilderness, surrounded by breathtaking mountain ranges, forests, and rivers. The fall foliage in early November provides a beautiful and colorful backdrop to the resort, making it a perfect time to visit.
Hot Springs: The centerpiece of the resort is the Chena Hot Springs, a natural hot spring that is fed by a geothermal source. Soaking in the hot springs is a relaxing and rejuvenating experience, and it is open year-round for guests to enjoy. The mineral waters are well known for their healing properties.
Activities: There are many activities to enjoy at Chena Hot Springs Resort, including visiting the Aurora Ice Museum, snowmobiling, cross-country skiing, and dog sledding. In November, the resort is starting to gear up for the winter season, making it a great time to experience some of these outdoor activities.
Accommodations: Chena Hot Springs Resort offers a range of accommodations, including rustic cabins, cozy yurts, and luxurious lodges. Each option provides a unique and comfortable place to stay, with many featuring stunning views of the surrounding landscape.
Dining: The resort also offers a variety of dining options, including a fine dining restaurant, a casual café, and a bar. With a focus on locally-sourced ingredients, the dining experience at Chena Hot Springs Resort is a delicious way to sample some of Alaska's best cuisine.
Located just a 45 minute drive from Fairbanks, the Chena Hot Springs Resort is a must-see during the winter season. It's also one of the top hot springs in Alaska to visit.
Chena Hot Springs Resort
Ride The Winter Aurora Train
The Aurora Train in Alaska is a unique and magical train journey that takes passengers on a journey through the stunning Alaskan wilderness during the winter in Alaska. This once-in-a-lifetime experience provides a comfortable and convenient way to view the awe-inspiring snow-covered beauty of the landscape outside your window.
The Aurora Train runs from Anchorage to the city of Fairbanks, which is one of the best locations in the world for viewing the Northern Lights. During the journey, passengers have the opportunity to take in the breathtaking landscapes of the Alaskan wilderness, including forests, mountains, and rivers.
The train stops at several points along the way, giving passengers ample time to admire the beauty of Alaska.
One of the highlights of the Aurora Train is the custom-built observation car, which provides panoramic views of the passing scenery, including excellent opportunities to see local wildlife, including moose.
This car is equipped with large windows, providing unobstructed views of the night sky, as well as comfortable seating and heating to ensure a comfortable viewing experience. The train is also equipped with a bar car, where passengers can enjoy a drink and share stories with other travelers.
The Aurora Train operates during the winter months, running weekends from late September through early May. They also offer mid-week service from February through March. You can take the train part-way, and stop in Talkeetna for an overnight stay, or ride the train all the way to Fairbanks.
Whether you are a first-time traveler or an experienced adventurer, the Aurora Train is a must-see attraction in Alaska.
Alaska Railroad
Head Out To The Alaska Bald Eagle Festival In Haines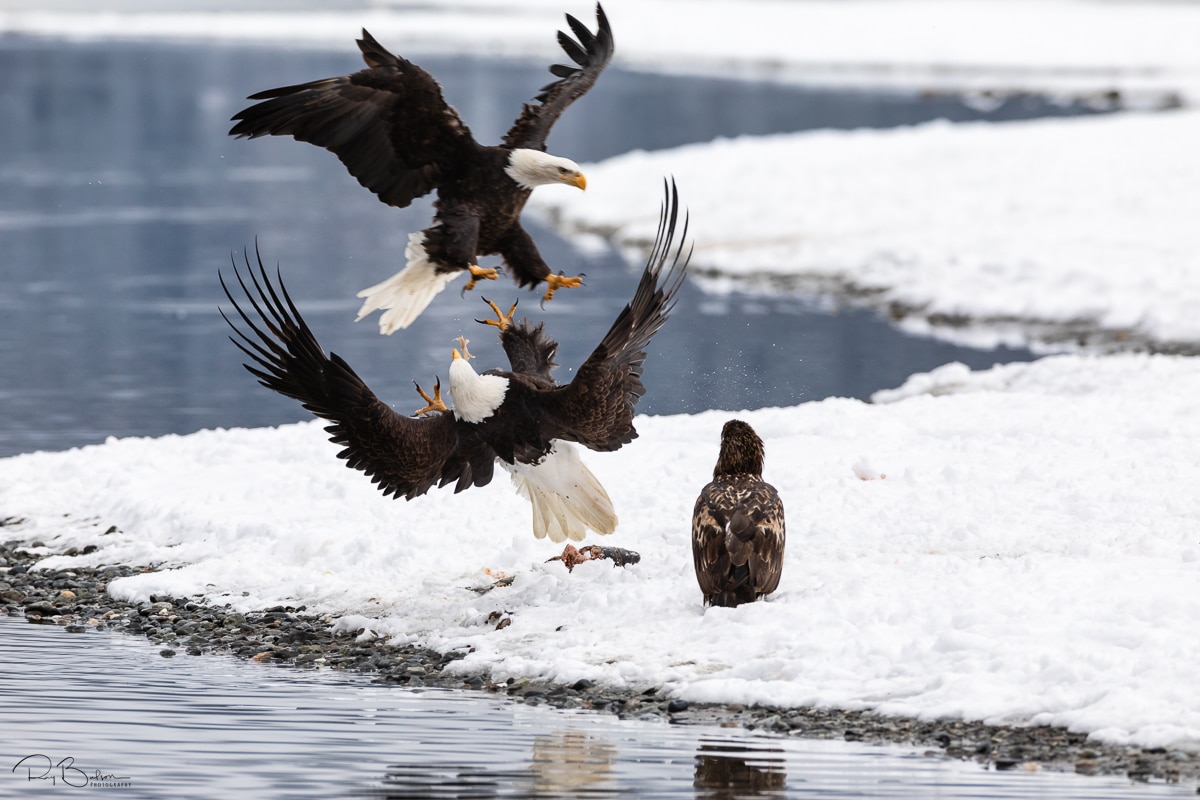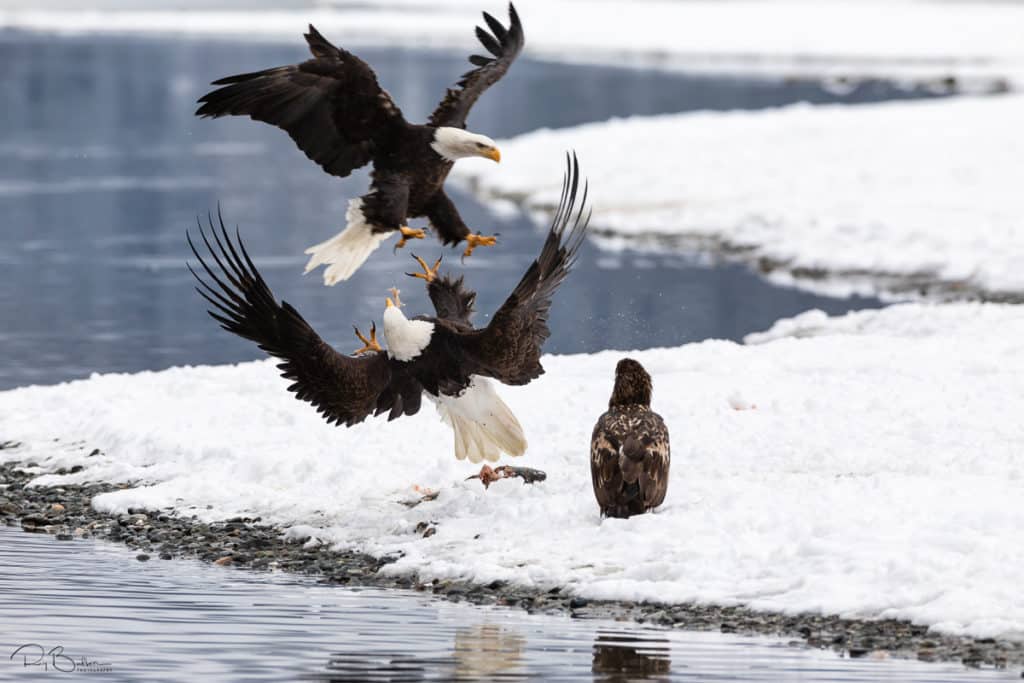 The Alaska Bald Eagle Festival is a popular annual event that takes place in the town of Haines Alaska, typically in November. They announce their festival dates on their website, which will be sometime in November.
Here is what you can expect at the Alaska Bald Eagle Festival.
Overview: The Alaska Bald Eagle Festival is a celebration of the magnificent bald eagle, which is a common sight in Alaska, particularly along the Chilkat River near Haines. The festival includes a variety of events, including bird-watching tours, educational presentations, and arts and crafts vendors.
Bird-Watching Tours: One of the highlights of the festival is the bird-watching tours, which take place along the Chilkat River. These tours provide an opportunity to see hundreds of bald eagles in their natural habitat, as well as other bird species that can be found in the area.
Educational Presentations: The festival also features a range of educational presentations, including talks by wildlife experts, bird-watching workshops, and bird photography clinics. These presentations provide a deeper understanding of the biology, behavior, and conservation of bald eagles and other bird species in Alaska.
Arts and Crafts Vendors: In addition to the bird-watching and educational events, the Alaska Bald Eagle Festival also includes a variety of arts and crafts vendors. These vendors offer a range of locally-made items, including jewelry, pottery, woodwork, and textiles.
Location: The Alaska Bald Eagle Festival takes place in the town of Haines, which is located in Southeast Alaska and can be reached by ferry or plane. The festival provides a unique opportunity to experience the natural beauty of the area, as well as the rich cultural heritage of Alaska's Native American communities.
The Alaska Bald Eagle Festival is a truly unique event that brings together wildlife enthusiasts, bird-watchers, and nature lovers from all over the world.
With its breathtaking scenery, fascinating wildlife, and educational opportunities, the festival is a must-attend event for anyone visiting Alaska in November.
Alaska Bald Eagle Festival
See Humpback Whales Feeding
Even in November you can see humpback whales bubble feeding in certain areas of Alaska. If you are coming to Alaska in November and head to Ketchikan you can possibly see whales, right from the docks.
Just because everyone comes in the height of our tourist season (June – August), does not mean there aren't incredible things to see in Alaska all year long.
Some of the most beautiful scenes happen when its snowy, dark and cold out. If you are lucky, you might find a tour group still operating but most close down for the winter by November 1st – so don't expect to find any tours heading out on the water.
See The Nutcracker In Anchorage
There is nothing that gets you in the holiday spirit like the classic ballet The Nutcracker!
For over 30 years, the Eugene Ballet and young Alaskan dancers have graced the stage to tell the story of the Nutcracker and the Mouse King in this beautiful ballet that is fun for the whole family.
Coordinated by Alaska Dance Theatre, this performances is accompanied by live music from Anchorage Symphony Orchestra. Held at the Performing Arts Center, this annual show is a huge hit!
Running for less than one week in late November, tickets usually sell out quickly. Because the show is open to a wide range of ages, this is a great opportunity to take your kids to their first show.
Alaska Center for the Performing Arts
There are so many great ways to enjoy Alaska during the month of November.
Want to spot some aurora borealis during the dark nights of November? Here are 11 Of The Best Places To See The Aurora Near Anchorage.
Things To Do In Alaska