This October, our schedules are full of fun events!
While the tourists tend to go home as the season shifts into winter, Alaskan locals are out and about, enjoying the snow-less ground while we still can.
Whether you are hiking up a storm, enjoying Halloween fun, running, or partying to great live music, we are excited for all that is coming up this month.
So whether you are planning to visit Alaska, or are a local looking for something new and exciting to do this month, here are some of the most fun and festive things happening in Alaska this October.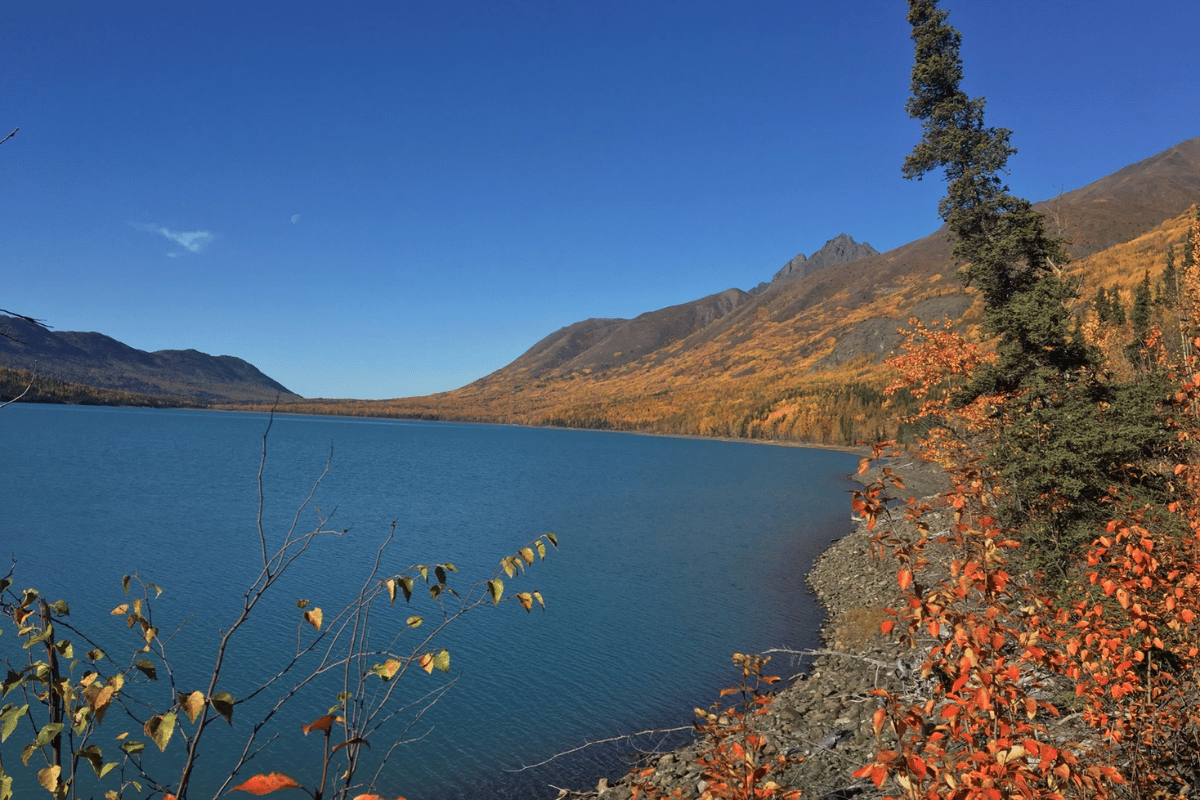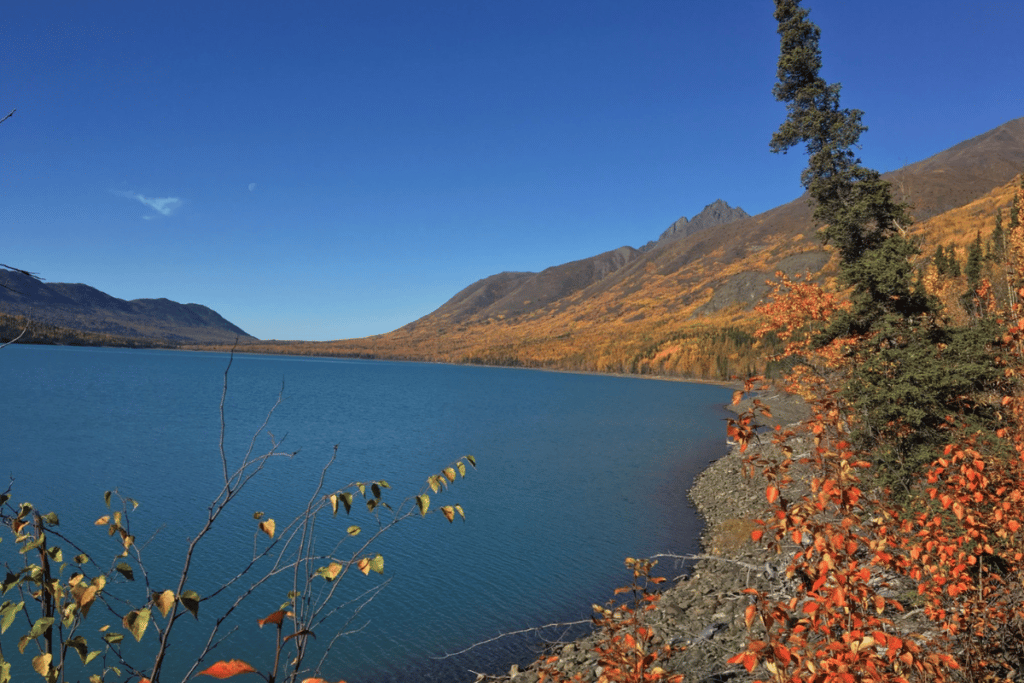 Go Hiking
October is one of the very best months for hiking.
At this point of the year, the tourists have mostly disappeared, and the weather has cooled. The busy summer trails begin to empty out, offering a nice option for peace and quiet.
The ground in most mountainous areas begins to freeze at night, packing tight the mud that may have accumulated over late summer and early autumn.
We love getting out into the mountains as the leaves begin to change. Sometimes that happens in September, but if you are in the southern areas of the state, October may grant you some beautiful yellows and red leaves along the way.
October days are shorter, but that makes it all the sweeter. Dress in layers, and be prepared for rain or the occasional snow. Enjoy your clear ground before the snow begins to fall!
Our favorite fall hike?
Eklutna Lakeside Trail
This gorgeous trail highlights everything you love about autumn. The turquoise waters of the glacial-fed Eklutna Lake make a beautiful, striking contrast to the yellow and red mountainside next to it during the fall season.
This is a great trail for beginner to intermediate hikers. The trail is 12.7 miles long and heads out all the way to the glacier, but you can turn around whenever you get tired.
The trail is mostly flat, and there are even benches along the way. If there has been recent rain, you will want to wear waterproof boots as it can get a little muddy.
If you don't have an Alaska State Park Pass, you will have to purchase a daily parking pass for $5.00. But it is well worth it!
The Eklutna Lakeside Trail is located within the Chugach State Park and is an easy thirty-minute drive from Anchorage or the Matanuska-Susitna Valley.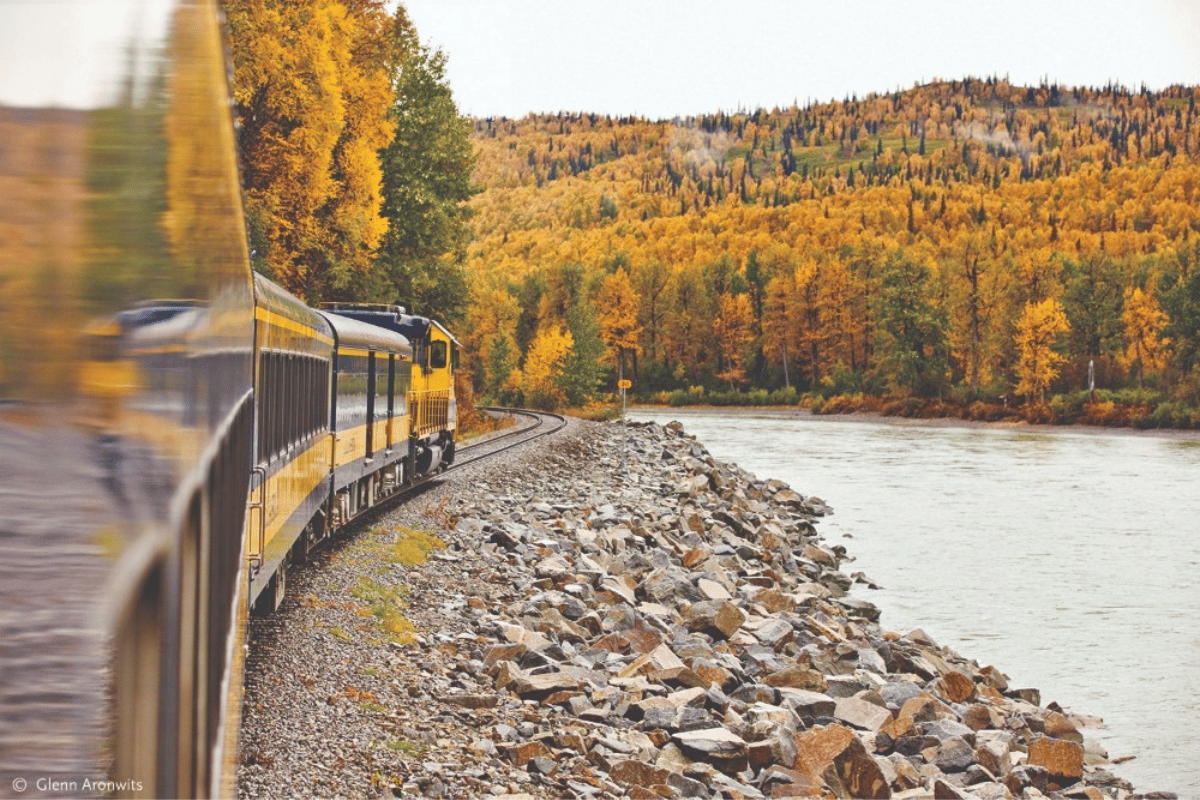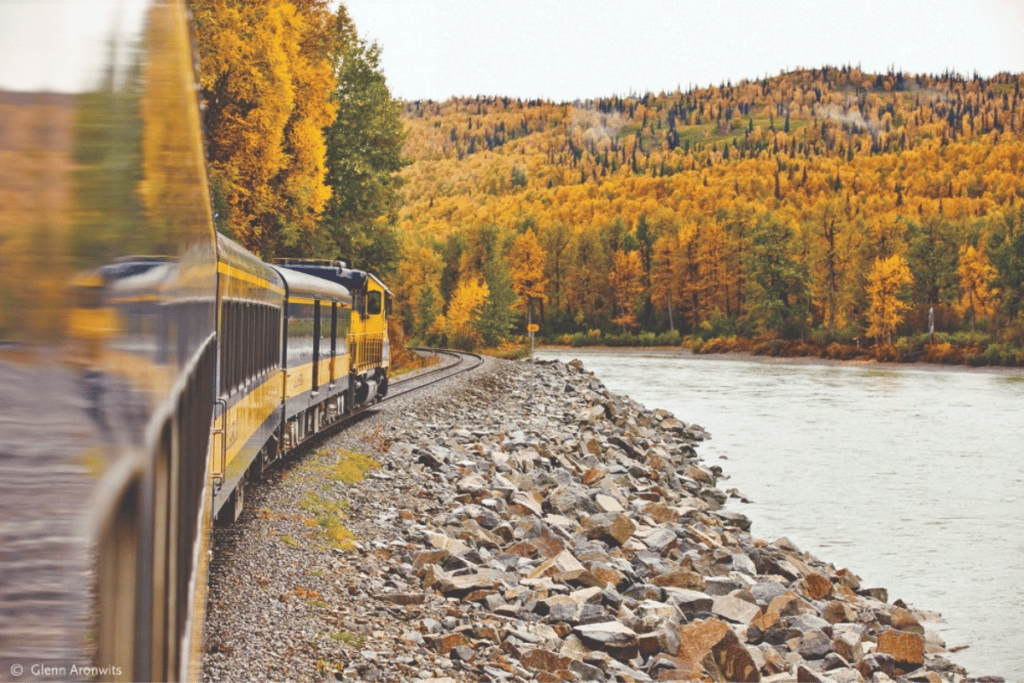 Ride The Alaska Railroad
While many of the regular summer season railroad excursions have ended by mid-September, the Alaska Railroad keeps running all winter long! With fun event trains like The Great Beer Train every October, and the start of the Aurora Winter Train run, there are still plenty of great ways to enjoy the Alaska Railroad even as the season turns.
The Aurora Winter Train really gets going in October, and you will love a trip north as the off-season begins and prices drop all over the state.
Take the weekend to enjoy Talkeetna, or ride the Aurora Winter Train all the way up to Fairbanks. We promise, no matter where you get off, the adventure will await you!
Tickets start at $76.00 per adult, and $38.00 per child (ages 2-11) for a trip from Anchorage to Wasilla, and go up from there depending on where you would like to travel to.
Rail travel happens every weekend, except for some specially marked dates throughout the winter, where they offer mid-week service, too!
Aurora Winter Train
Address: 411 W 1st Ave Anchorage AK 99501
Phone: (800) 544-0552
Website: alaskarailroad.com
Go To Chena Hot Springs
When the temperature drops, there is no better place to warm up then Chena Hot Springs. Located a 45-minute drive outside of Fairbanks, this famous spot is a great place to go in the off-season.
Not yet prime aurora borealis watching season, but still gorgeous, you can spend your day hiking the trails around the resort before hopping into the natural hot springs to see if you can spot little northern lights after dinner.
Don't forget to check out their Ice Museum, where you can get an Appletini and drink it out of an ice martini glass!
Chena Hot Springs
Check Out Alaska's Museums
Luckily for us, Alaska's museums are open all year long, and they have plenty of amazing exhibits to see during the autumn and winter months. From antique cars to an aviation museum, and the Anchorage Museum located in downtown Anchorage, there are dozens of ways to stay warm and have fun.
We love the Anchorage Museum because they have a wide array of exhibits. Their permanent exhibits showcase Alaska Native heritage, with more than 600 objects curated from the Smithsonian.
There is also a children's museum, the Discovery Center, where you can find a more interactive experience open to kids of all ages.
And of course, don't miss out on any of the traveling exhibits. From Andy Warhol to Lego sculptures, it is always fun to see what's new at the museum!
The Anchorage Museum is open Tuesdays through Sundays throughout the winter, and tickets are $20.00 per adult, $10.00 for ages 6-12, and free for five and younger.
Anchorage Museum
Hunt For The Aurora Borealis
The northern lights season starts when the sun starts to drop earlier and earlier in the day. October is the perfect time to start keeping an eye on one of our secret weapons, the Aurora Forecast!
This handy daily forecast lets you know the geomagnetic activity all across the state. It also gives a pretty accurate forecast up to 27 days in advance– helpful if you are planning a trip to hunt down the aurora borealis.
Clear, dark skies provide the best viewing options, so cold nights are helpful. October is the start of prime aurora borealis season, so head north to Fairbanks for the best chance to spot it in the sky.
Go For A Walk With The Reindeer
Want to take a walk on the wild side? Head to Running Reindeer Ranch in Fairbanks and take a walk through the boreal forest on their property with a whole herd of reindeer! This enchanting event happens all year long and can be especially beautiful in the autumn season.
This 2.5-hour event is absolutely magical. Enjoy a guided nature walk through the taiga with the reindeer and learn more about this northern area. Finish off your walk with homemade cookies, and make sure to take some pictures with the reindeer!
Tickets for adults start at $85.00 and go up from their seasonally, and children's tickets start at $50.00. Perfect for an afternoon adventure!
Running Reindeer Ranch
Haunted & Enchanted Trails
Ready for two days of Halloween fun around Goose Lake in Anchorage?
See if you can survive the Haunted Trail on Friday, October 21st from 9-9:30 pm. Due to the spooky nature of this event, it is recommended for children ages 9+. And there will be two early exit options if things get a little too scary!
Tickets are $15.00 per person in advance or $20.00 at the door.
Head back on Saturday, October 22nd from 1:30 pm – 4:30 pm for a whimsical adventure on the Enchanted Trail. Frolick with fairies and discover hidden wizards and elves among the trees. Costumes are encouraged, so put on your royal best!
Tickets are $10.00 in advance or $15.00 at the door; ages two and under are free!
Tickets can be purchased on their website. When the link pops up, that means registration has begun!
Haunted Trails – Friday Night, October 21, 2022, 7:00 – 9:00 p.m.
Enchanted Trail – Saturday, October 22, 2022, 1:30 – 4:30 p.m.
Haunted & Enchanted Trails
Goose Lake Park
Address: Goose Lake Park Anchorage AK 99508
Website: muni.org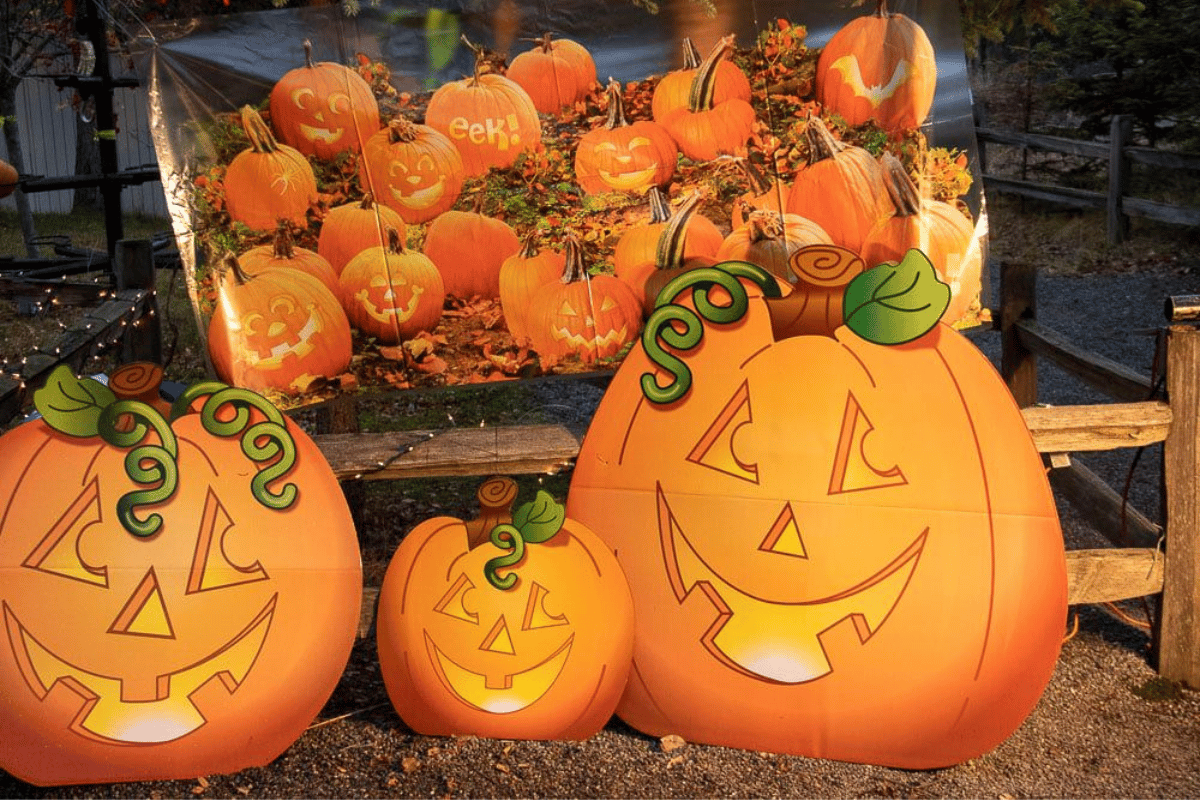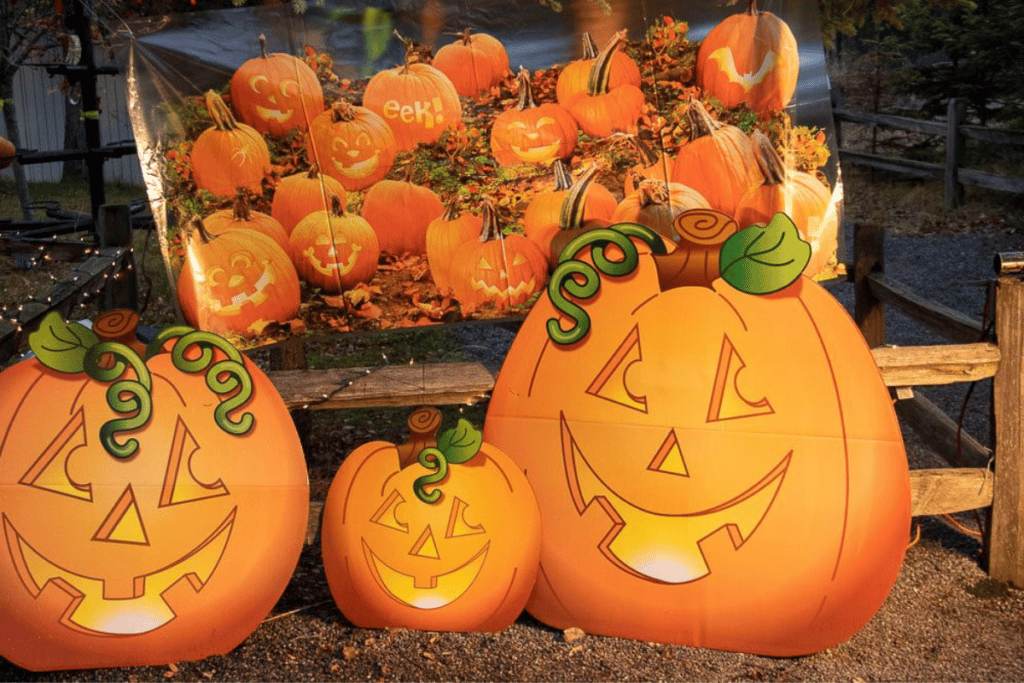 Zoo Boo At The Alaska Zoo
If you are looking for one of the best family-friendly activities in Anchorage, you need to walk through the Alaska Zoo this Halloween! Head on over to the Alaska Zoo on October 30th and the 31st this year for an epic Halloween adventure.
The Alaska Zoo dresses up in its Halloween finery for a two-day event. Attendees are encouraged to dress up in their best costumes and trick-or-treat around the park. On Sunday, treat stations will give out candy for free! But on Monday you will have to purchase $5.00 candy bags at the admissions desk.
There are many different fun stations planned for Sunday's Zoo Boo, including Spooky Sketch-n-Safari, Bonfire, Halloween coloring, and more.
On Monday, there will be spooky trail decorations to enjoy throughout the entire Zoo!
Times are Sunday, October 30th from 10 am-8 pm, and Monday, October 31st from 5 pm-8 pm.
Ticket prices start at $12.00 per person aged 3 and up for members, and $17.00 per person aged 3 and up for non-members. Children under the age of 3 are always free. You can purchase your tickets at their website here.
Alaska Zoo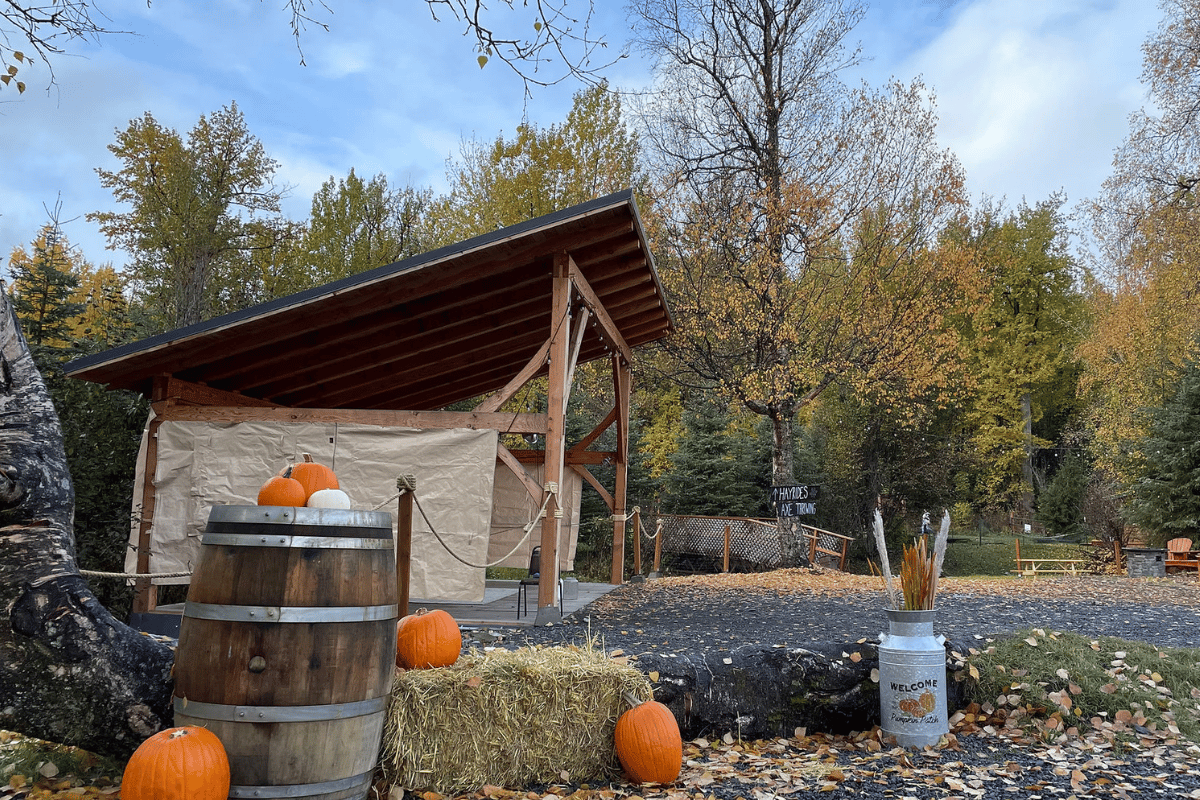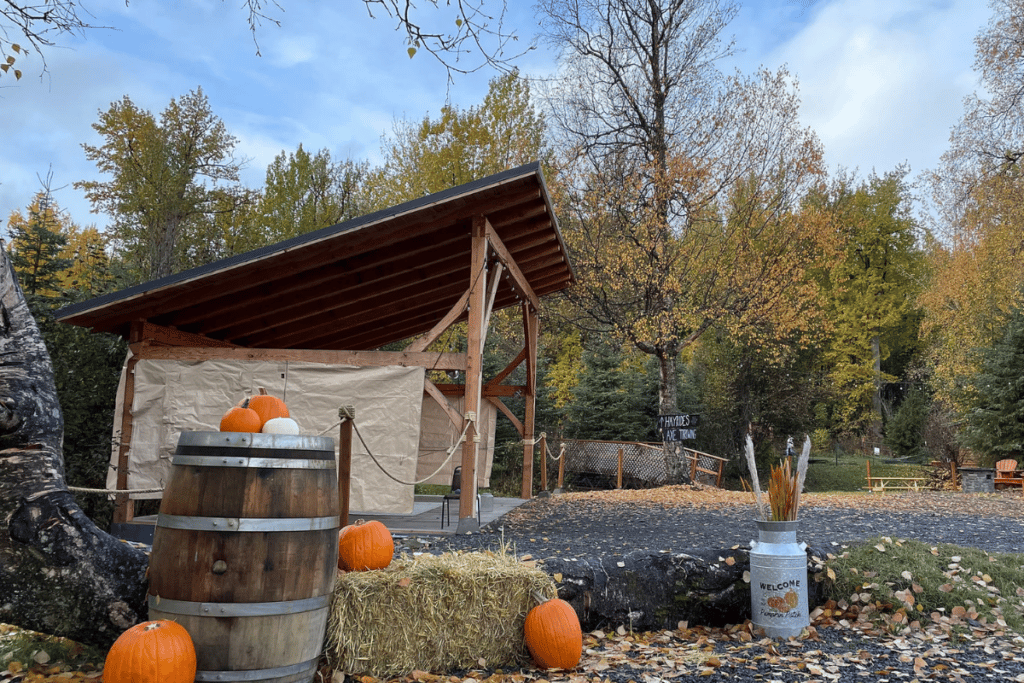 Hopetoberfest
Creekbend Cafe in Hope is holding another Hopetoberfest this year, on Saturday, October 8th, from 12 pm-9 pm.
You will find Pumpkin and Face Painting, Axe Throwing, Live Music, a Hayride, and a Photo Backdrop Area for seasonal family photos are back! And great news: our favorite Alaskan Blackwater Railroad will be back again this year, too.
Prices start at $15.00 per child under the age of 15, which includes a face painting, a pumpkin, a hayride, and access to music.
Adult tickets start at $25.00 and also include access to all of the daytime activities, as well as the musical show.
Creekbend Cafe
Address: 19842 Hope Hwy Hope AK 99605
Phone: (907) 782-3274
Website: creekbendco.com
Zombie Half Marathon
Ever feel like a zombie after a long workout? How about looking like a zombie right from the start?
The in-person Zombie Half Marathon is happening on October 8th in Anchorage! If you're not local, you can participate in a virtual race from now until the 10th.
Gear up in your best zombie gear and get ready to run. Pre-race registration is $50.00 for both the in-person and virtual half marathon runs, and day-of registration is $60.00.
Race start time for the walkers is at 8:00 a.m., and the runners will start at 9:00 a.m. Come join the fun!
Zombie Half Marathon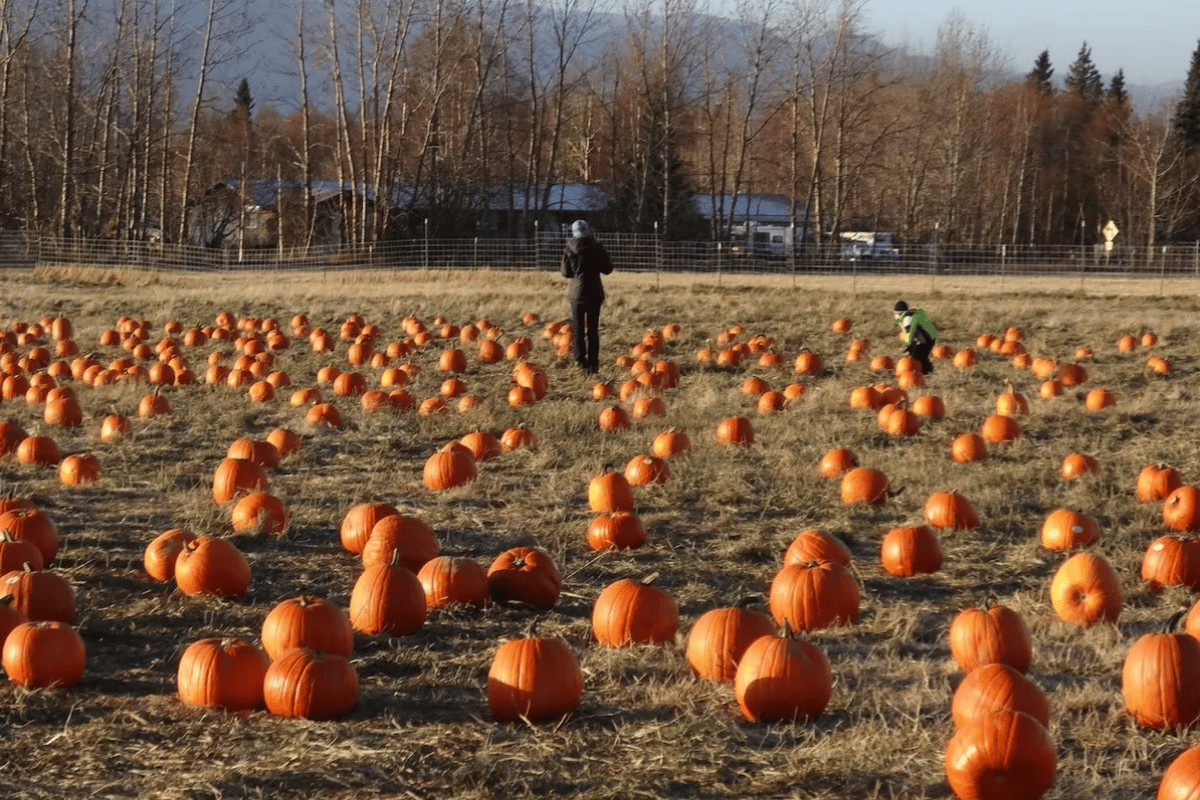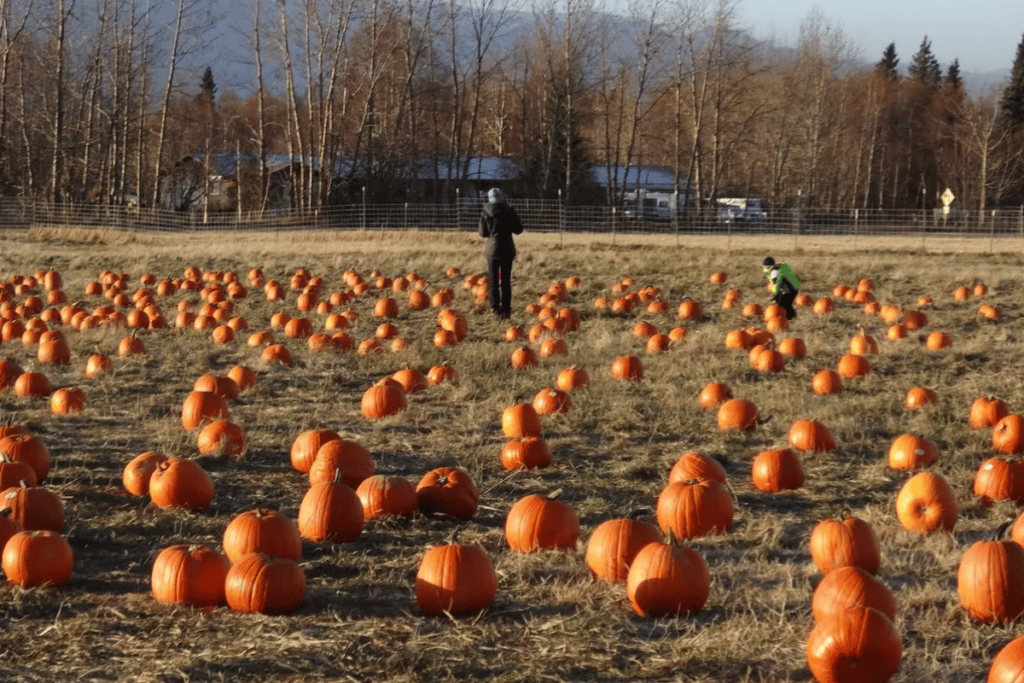 Fall Family Fun at Williams Reindeer Farm
Get ready for all the classic fall harvest fun in one event! This is the Williams Reindeer Farm's most popular annual event.
Enjoy pony rides, a spooky walk, a hay maze, a pumpkin patch, and more! For three Saturdays in October, the 8th, 15th, and 22nd from 10 am – 4 pm, head over to Williams Reindeer Farm with the family for some autumnal fun.
Events include hayrides, a pumpkin patch, an espresso cart, barnyard animals including their namesake, the reindeer, a child-friendly haunted house, and more!
Dress for the weather, because it can get pretty chilly on the farm from the wind. You'll also want to wear closed-toed shoes, because it is a working farm, and it can get muddy.
Tickets are $15.00 for ages three and up. Under three years old is free! You can purchase your tickets here.
Williams Reindeer Farm
3rd Annual Trunk or Treat
On Saturday, October 29th in Wasilla, meet at Denali Fitness for the third annual Trunk or Treat. This fun event is a true treat for the whole family.
Dress up in your favorite costume while you trick-or-treat in the daylight. Go from car to car that has their trunks dressed up in spooktacular fashion.
The event takes place from 2 to 4 pm. Don't forget your costumes and buckets for collection treats!
3rd Annual Trunk or Treat – Denali Fitness
Address: 1080 North Wasilla-Fishhook Road Wasilla AK 99654
The Valley Monster Dash
It was a graveyard smash!
Join us in Wasilla for the first annual Monster Dash! There will be a one-mile dash for the kids to run and a 5k for adults. The fun starts at 11:00 a.m. and keeps going until 12:30 p.m.
Dress up in your Halloween costumes and join the party! There will be prizes for the top three finishers in for Women's run, Men's run, and Children's run.
The Valley Monster Dash
Address: 1080 Wasilla-Fishhook Rd Wasilla AK 99654
Social Media: Facebook Event
Make It Alaskan Festival
Discover Alaskan art!
October 8th and 9th, shop from over 10,000 vendors and guests for Alaskan art, food, and goods! The two-day event will run from 10:00 a.m. through 7:00 p.m. each day, with plenty to see in exhibitor booths all over the Dena'ina Convention Center.
Come hungry, come ready to browse, and get ready to be in awe of dozens of talented Alaskans and their artwork.
Make It Alaskan Festival – Dena'ina Convention Center
Fairbanks Fiber Festival
Calling all crafters!
The Fairbanks Fiber Festival has workshops, demos, and a vendor marketplace to shop until you drop.
You can expect to find animal fibers from wool to alpaca to angora. There will also be tools and accessories for sale such as looms, spindles, and needles.
This festival is happening on October 8th and 9th, from 10 am to 4 pm at the Pioneer Park Centennial Center in Fairbanks.
You will find hands-on live demos, 20+ fiber artists, a silent auction and bake sale, and more. This is the fiber event of the year!
Fairbanks Fiber Festival – Pioneer Park Centennial Center
See Pirates of Penzance in Anchorage
From October 21st to 23rd, catch The Anchorage Opera's production of Pirates of Penzance at the Alaska Center for the Performing Arts!
This Gilbert and Sullivan classic musical is filled with pattern songs, memorable characters, and nautical nonsense.
Enjoy one of three showings: Friday, October 21, 2022, at 8 pm, Saturday, October 22, 2022, at 8 pm, or Sunday, October 23, 2022, at 4 pm.
You can book your tickets by calling (907-263-2787) or heading over to CenterTix.com.
Anchorage Opera – Alaska Center for the Performing Arts
Address: 621 West 6th Avenue Suite ACPA Anchorage AK 99501
Phone: (907) 263-2900
Website: anchorageopera.org
Go Winter! Expo
The 25th Go Winter! Expo is happening October 22nd – 23rd in Fairbanks, and this is one seasonal event you won't want to miss.
The Go Winter! Expo is an event based on winter in Alaska. Think snow machining, camping gear, indoor activities, and more. Learn how to get through an intense, snowy winter in Alaska with all the gear you need.
You will find everything from car care, home heating, and even health and fitness. Swing by between 10 a.m. through 6:00 p.m. on Saturday, and 11 a.m. through 5:00 p.m. on Sunday.
Tickets are $5.00 per person, and children under the age of 12 are free. Military is also free on Sunday, as well as anyone who brings two cans of food for the Food Bank.
Go Winter! Expo – Carlson Center
There are so many fun and festive events to attend this October all across the state! October is the time to enjoy Alaska both indoors and out.
If you are looking for something thrilling to jot down on the summer calendar, add these 11 Alaskan rafting tours!
Things To Do In Alaska