Whether you are relocating for work or just ready to pack up and move out to the Last Frontier, the whole process can be a bit terrifying. Moving to any state is a bit tricky if you are relocating to a place but to go as far as Alaska, might mean there are more risks. We hope to help you understand what it cost to move to Alaska so you can make a better informed decision.
Alaska offers many challenges that other "Lower 48 State" won't have.
Alaska is one of the unique ones due to the fact that it's a remote location. Even though it's connected to Canada, you will have to either ship your belongings via barge or mail. The only other option is paying a moving company or driving up yourself.
With that in mind, we would like to help you learn the costs and methods associated with moving to Alaska.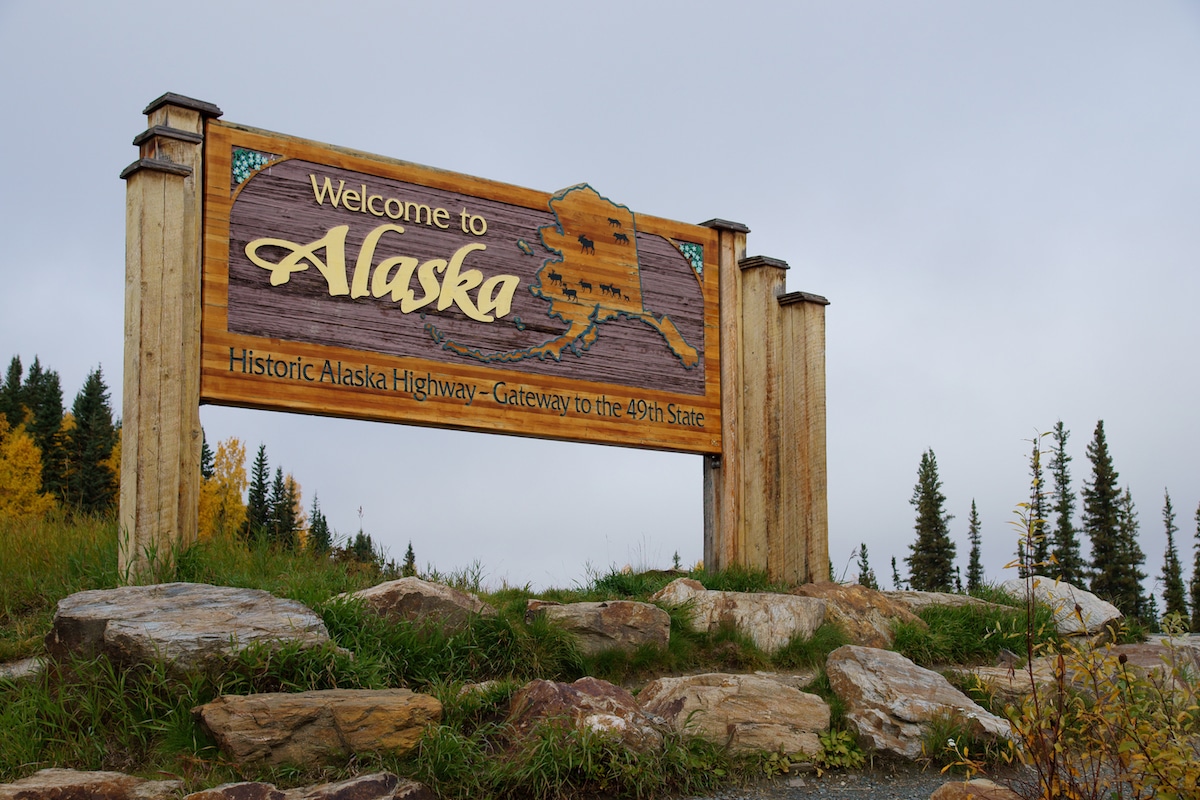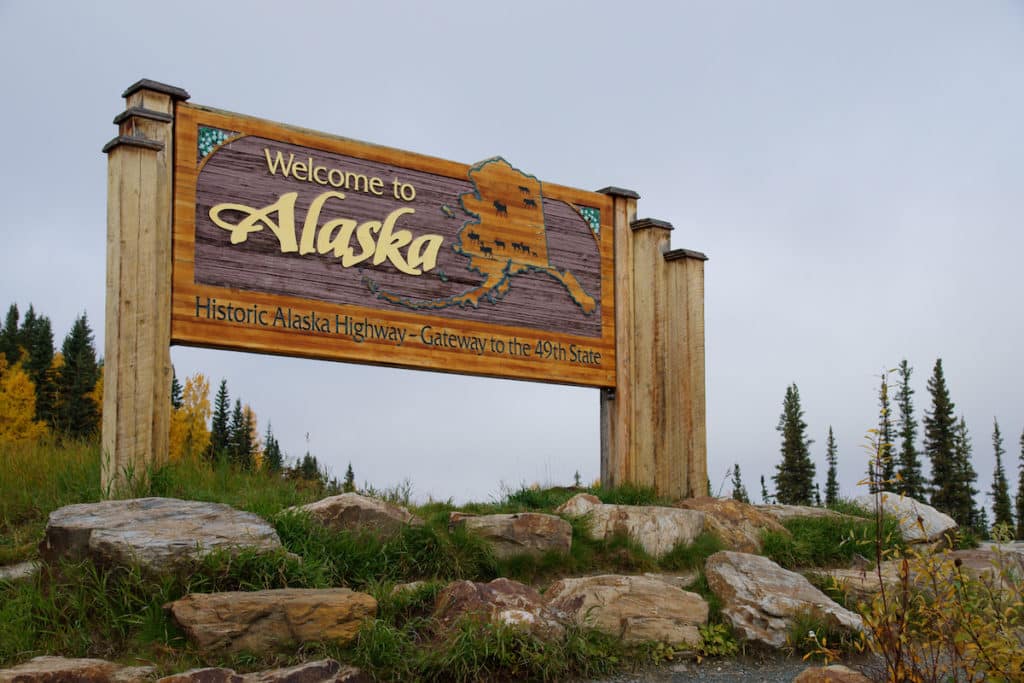 Before we get into the cost to move to Alaska, please know that your costs will fluctuate depending on where you are coming from. Someone moving from Seattle, Washington will have a much cheaper move than if someone moving from Tampa, Florida.
You can guess that it will cost more the further away you are from Alaska. If this is your dream place to live, then start saving up because it's going to take a bit of savings to make this trip.
Driving And Renting A U-haul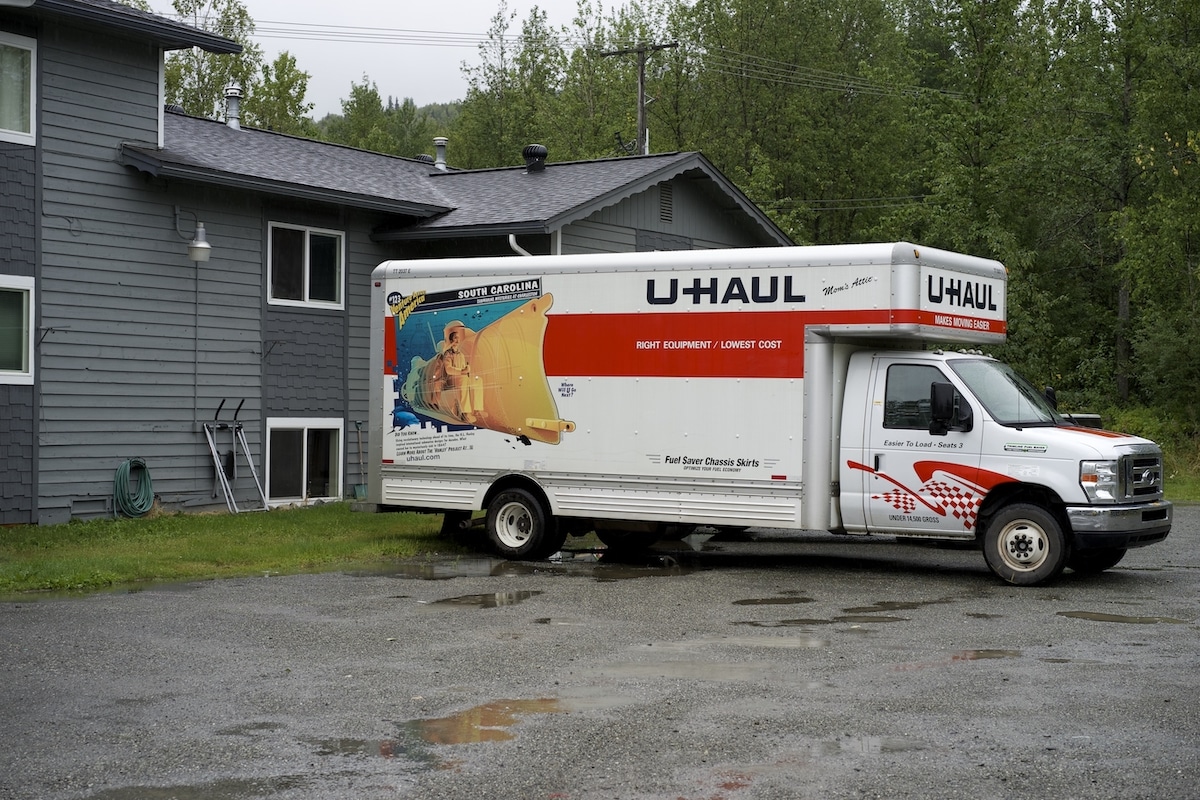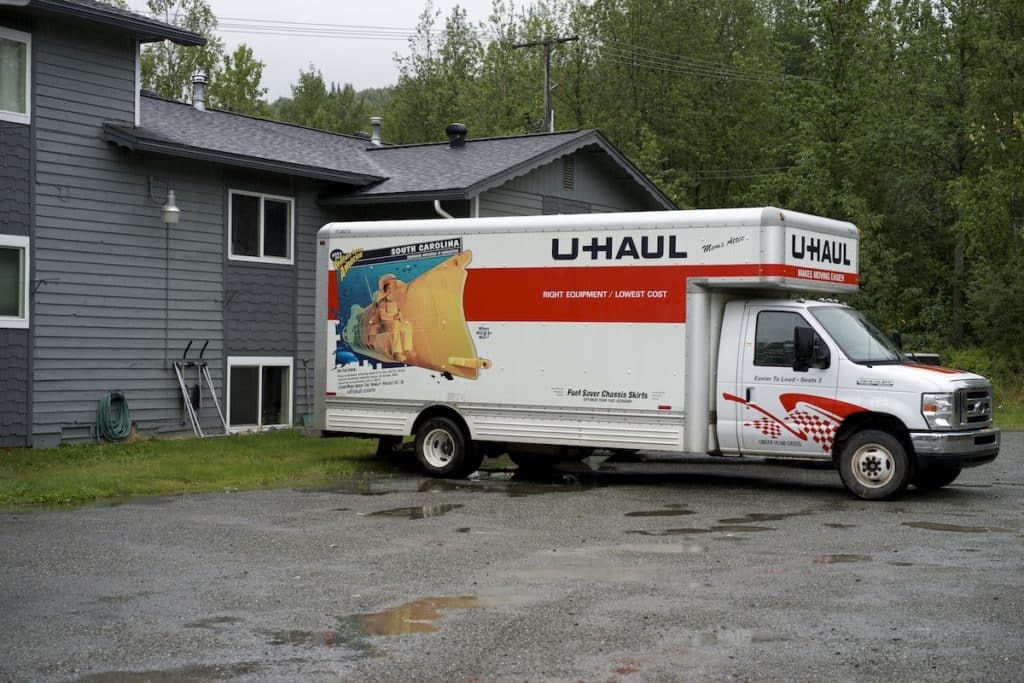 The very first thing you are going to need to do is to estimate the number of miles you will be traveling via distance calculator. This will help you calculate your mileage from your current location or moving point to Alaska. Make sure you look at the 'driving distance' to get an estimate number of miles you will need to drive.
You can also just put your address into Google's map search, where the starting point is your address and your destination point is the place you are moving to in Alaska. If you don't have an address in Alaska, you can always just put Anchorage AK as your destination, something like this: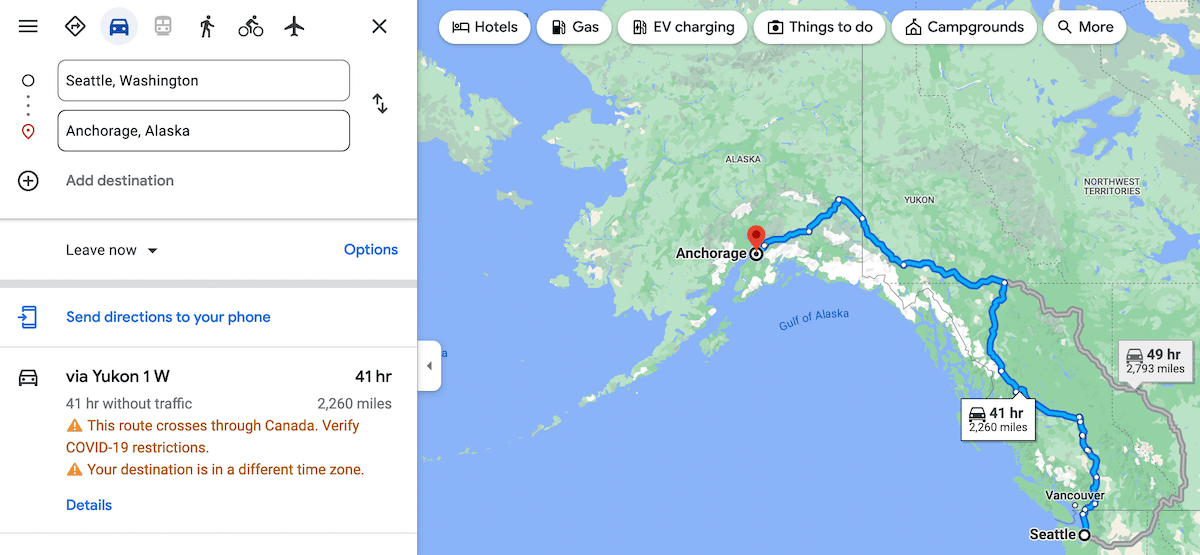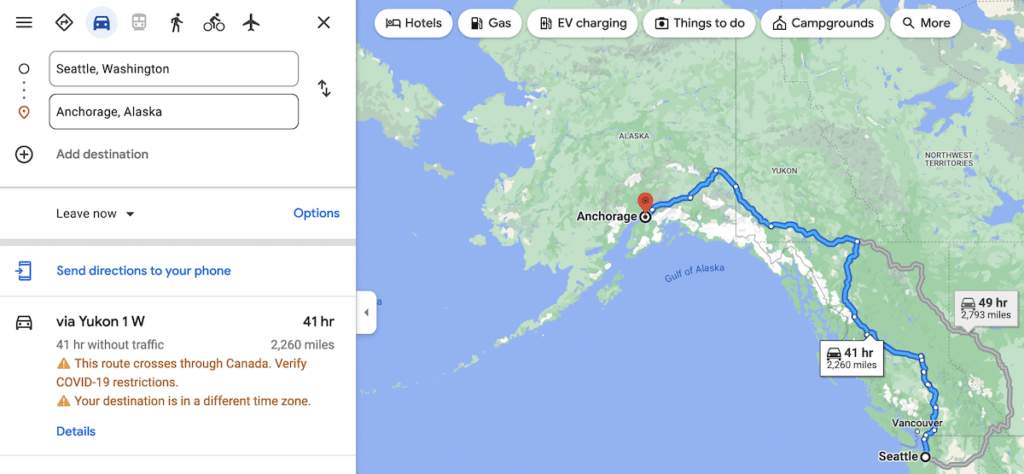 Knowing the exact distance is key to figuring out both the amount of time it will take as well as how much gas you will use on your trip. Also keep in mind that if you are renting a truck, the bigger the truck the worse the gas mileage may be.
Next, we would recommend heading over to U-haul's website to select the different types of trucks. You will need to know your pick up and drop off locations and the date that you plan to pick up the truck.
You can enter this information into U-haul's website to get an estimate on costs to rent a truck from them. Their costs seem to change over time, so if you are checking rates now and again in a few months, their prices may have changed.
There are multiple sizes of trucks to choose from:
10′ Truck – good for small apartment, 2 person home with few large items to pack.
15′ Truck – good for 1-2 bedroom home, few large items to pack.
20′ Truck – good for 2-3 bedroom home
26′ Truck – good for families with a few bedrooms, lots of boxes and not too many large items.
Generally, we find that if you are a single person looking to relocate, a 10' truck is big enough. A smaller truck will also make your trip more enjoyable, as they are easier to drive than the larger u-haul trucks.
However, those traveling with families up to four may need the biggest U-haul truck of 26'. These U-haul trucks enable you to bring along large items such as furniture.
If you end up running out of space, most of their trucks allow you to attach a secondary trailer to the back. Keep in mind that everything you bring (large furniture, beds, toys, boxes, etc) will quickly fill up your truck.
The prices of u-hauls change and also change with distance. If you were to travel from Seattle to Anchorage the cost of a u-haul ranges from $3,192 for their smallest truck to $6,721 for their largest truck.
The more weight you put in your truck the more gas it will use. Many people who move to Alaska tend to sell their large furniture and just bring boxes of their clothes and keepsakes.
If you had to make a decision on what furniture to leave behind, leave tables and chairs. They tend to take up the most room and are usually a waste of space. Secondly, leave couches behind. These items can take up more space than they are worth.
Furniture, beds, tables and chair can be purchased in Alaska. The money you make from selling these items in the lower 48 can be used to buy again in Alaska.
Aside from that, you are going to need to bring your passport.
The drive up to Alaska will require you to pass through Canada twice, hence where you will need the passport. Anyone trying to pass through without an up-to-date passport will be turned away at the border.
Now that you understand the basics, we will help walk you through all the costs of driving to Alaska via U-haul.
Gas Cost – Miles/Mileage (10mpg) – $852+
Next, you will need to figure out the size and type of U-haul truck you are going to be renting.
Each moving truck has a different size tank and mpg, so it's essential to know this information for estimating your gas expenses. We have taken the time to research the average calculations. However, if you need more accurate estimations, we highly recommend doing it yourself.
Estimating gas prices can get a bit iffy because they are always changing.
The current AAA average for gas prices in the United States as of late 2022 is $3.77 per gallon. Although, the national rate for gas can change every few days. But for the sake of this article we will use the current rate for our example.
Also keep in mind that the average cost of gas in Canada is usually higher and the further north you drive (Yukon-Alaska) the average price of gas will be much higher than you are probably used to.
You can find the current CAA gas prices here.
For example, we drove through Muncho Lake, BC and stopped at the beautiful Northern Rockies Lodge where there is a gas station. Gas stations are limited along the drive and the price was $6.60/gallon.
The driving distance between Seattle and Anchorage is approximately 2,260 miles.
The U-haul website estimates that most of their trucks average 10 miles per gallon. Even if you are planning to use a bigger vehicle, they still average the same gas mileage.
Driving from Seattle to Anchorage would use roughly 220 gallons of gas. With those costs alone, you can expect to spend a minimum of $852 while using a 15' U-haul truck. This does not take into account the higher price of gas driving through Canada and into Alaska.
However, this price will change depending on your starting destination. You will want to calculate the distance between your starting location and your final destination in Alaska. This will give you a reasonable estimation of what you will pay for gas.
Staying Overnight – $500+
After you have calculated the costs of gas, then you will need to estimate the costs of staying overnight. No matter how much rest you have gotten previously, it's never safe to drive for more than eight hours at a time. It would be best if you made rest stops whenever you feel tired or unfocused.
Driving to Alaska can take you anywhere from four days to 8 days, depending on your pace and starting location. Although, one factor that won't change is that you will need to calculate the price of spending the night at hotels/motels along the way. Due to Alaska being a more remote state, roadside accommodations won't always be available.
That's why it's important to rest up when you find a stop. Common stops are small towns such as Whitehorse or Fort Nelson. These towns provide motels that are both convenient and inexpensive. The average cost per night is around $140 for a room that can accommodate four people.
However, there are also listings for rooms half the size as that. These can be as little as $70 per night. Overall, if your trip ends up being seven days, then you can expect to spend a minimum of $490 on overnight expenses.
Days of Travel
Days of travel to Alaska are going to vary on several factors. You will need to calculate how many miles you are going to cover in a day.
At most, we find that anyone taking their time driving will take seven days. Although, if you plan more rest stops, you can expect that number to increase to 10-14 days.
The only main concern with finding a place to stay is finding available rooms. Keep in mind that there may be no cell service for part of your ride.
You will need to find and locate accommodations ahead of time. It can be a bit difficult to find places to stay, especially if you are traveling in the summer.
Many small motels rely on travelers stopping by unannounced, so it's not usual for them to be fully booked by the end of the day.
When we drove from Anchorage down to Seattle we knew how many miles we would travel in a day and booked our lodging at those stops. If we arrived early we would relax, but if we arrived late then we knew at least we had a place to stay.
The Cheapest Way To Move To Alaska
Renting a U-Haul is the cheapest way to move to Alaska. There are many other ways to move to Alaska but they cost way more than if you were to move yourself.
Hiring a moving company who will drive your belongings will cost more than if you did the move yourself.
Final Thoughts On Costs Of Moving To Alaska
Moving to Alaska can be overwhelming, especially if you don't know what to expect as a budget.
We find that making a detailed itinerary of your trip can help you plan and save money. As a final estimation, we would recommend the total trip costs will range anywhere from $1,500 to $2,000. The breakdown of pricing is;
Gas – $852+ (this is from Seattle to Anchorage and does not include the increased cost of gas in Canada and into Alaska)
Hotel/Motel (6 days at $140 a night) – $840
U-Haul – $3,500 – $7,000 (depends on starting location/distance and time of travel)
Total = $5,192 – $8,692
What we do not factor into the cost is food, break downs, flat tires (this happens often – BRING A SPARE).
As you can see, the costs of moving to Alaska may seem like a lot at first glance. However, if you compare these prices to shipping your belongings and airfare, you will find that a U-Haul is probably the most cost-efficient method for moving to Alaska.
If you are planning on moving to Alaska, then you already know that Alaska is a great place to live!