Whether you're relocating for work or just ready to pack up and move out to the Last Frontier, the whole process can be a bit terrifying. Moving to any state is a bit tricky if you're relocating to a place you don't hear much about. But Alaska offers many challenges that other "Lower 48 State" won't have.
Alaska is one of the unique ones due to the fact that it's a remote location. Even though it's connected to Canada, you'll have to either ship your belongings via barge or mail. The only other option is driving.
With that in mind, we'd like to help you learn the costs and methods associated with moving to Alaska.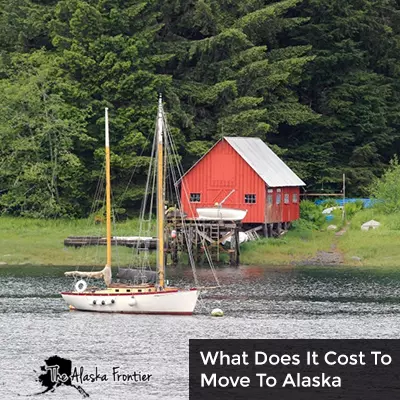 Driving & Renting a U-haul
The very first thing you're going to need to do is to estimate the number of miles you'll be traveling via distance calculator. This will help you calculate your mileage from your current position or moving point to Alaska. Knowing the exact distance is key to figuring out both the amount of time it will take as well as how much gas you will use on your trip.
Next, we'd recommend heading over to U-haul's website to select the different types of trucks. You'll need to know your drop off/pick up locations and the date that you plan to pick up the truck. There are multiple sizes of trucks/vans, and U-haul can help you select the one you need.
Generally, we find that if you're a single person looking to relocate, a 10' truck is big enough. However, those traveling with families up to four may need the biggest U-haul truck of 26'. These U-haul trucks enable you to bring along large items such as furniture. If you end up running out of space, most of their trucks allow you to attach a secondary trailer to the back. Keep in mind that everything you bring (large furniture, beds, toys, boxes, etc) will quickly fill up your truck. The more weight you put in your truck the more gas it will use. Many people who move to Alaska tend to sell their large furniture and just bring boxes of their clothes and keepsakes. Furniture, beds, tables, can be purchased in Alaska.
Aside from that, you're going to need to bring your passport. The drive up to Alaska will require you to pass through Canada twice, hence where you'll need the passport. Anyone trying to pass through without an up-to-date passport will be turned away at the border.
Now that you understand the basics, we'll help walk you through all the costs of driving to Alaska via U-haul.
Gas Expenses – miles/mileage (10mpg)
Next, you'll need to figure out the size and type of U-haul truck you're going to be renting. Each moving van has a different size tank and mpg, so it's essential to know this information for estimating your gas expenses. We've taken the time to research the average calculations. However, if you need more accurate estimations, we highly recommend doing it yourself.
Estimating gas prices can get a bit iffy because they are always changing. The current AAA average for gas prices in the United States as of 2020 is $2.425 per gallon. Although, the national rate for gas can change every few days.
The driving distance between Seattle and Anchorage is approximately 2,267.61 miles.
The U-haul website estimates that most of their trucks average 10 miles per gallon. Even if you're planning to use a bigger vehicle, they still average the same gas mileage. With those costs alone, you can expect to spend a minimum of $549.90 while using a 15' U-haul truck.
However, this price will change depending on your starting destination. You'll want to calculate the distance between your starting location and Seattle. This will give you a reasonable estimation of what you need to add to our estimated price.
Staying Overnight
After you've calculated the costs of gas, then you'll need to estimate the costs of staying overnight. No matter how much rest you've gotten previously, it's never safe to drive for more than eight hours at a time. It would be best if you made rest stops whenever you feel tired or unfocused.
Driving to Alaska can take you anywhere from three days to two weeks, depending on your pace. Although, one factor that won't change is that you'll need to calculate the price of spending the night at a motel. Due to Alaska being a more remote state, roadside accommodations won't always be available.
That's why it's important to rest up when you find a stop. Common stops are small towns such as Whitehorse or Fort Nelson. These towns provide motels that are both convenient and inexpensive. The average cost per night is around $140 for a room that can accommodate four people.
However, there are also listings for rooms half the size as that. These can be as little as $70 per night. Overall, if your trip ends up being seven days, then you can expect to spend a minimum of $490 on overnight expenses.
Days of Travel
Days of travel to Alaska are going to vary on several factors. You'll need to calculate how many miles you're going to cover in a day. At most, we find that anyone taking their time driving will take seven days. Although, if you plan more rest stops, you can expect that number to increase to 14 days.
The only main concern with finding a place to stay is finding available rooms. Because there's no cell service for most of the ride, you'll need to find and locate accommodations ahead of time. It can be a bit difficult to find places to stay, especially if you're traveling in the summer.
Many small motels rely on travelers stopping by unannounced, so it's not usual for them to be fully booked by the end of the day. With that being said, we also don't recommend booking ahead of schedule. The reason for this is that you don't know precisely when you're going to need a rest stop.
Unless you know exactly how many miles you're going to cover in a day, then we wouldn't recommend booking a room.
Conclusion
Moving to Alaska can be overwhelming, especially if you don't know what to expect as a budget. We find that making a detailed itinerary of your trip can help you plan and save money. As a final estimation, we would recommend the total trip costs will range anywhere from $1,500 to $2,000. The breakdown of pricing is;
Gas – $549
Motel (6 days at $140 a night) – $840
U-Haul Rate ($19.95 per day) – $139.65
Total = $1,528.65
As you can see, the costs of moving to Alaska may seem like a lot at first glance. However, if you compare these prices to shipping your belongings and airfare, you'll find that a U-Haul is the most cost-efficient method for moving to Alaska.
Meta: What does it cost to move to Alaska? There are many factors when moving, but we'll give you the exact breakdown of how much it will cost.
References
https://gasprices.aaa.com/news/
https://www.upack.com/articles/what-is-the-gas-mileage-of-a-u-haul-rental-truck