Set along the Sterling Highway at the north end of Kenai Lake and just south of Anchorage lies the tiny town of Cooper Landing.
As of 2020, only 263 people live in this Alaskan hamlet, but that doesn't mean there is nothing to do.
It is widely known as one of Alaska's best fishing spots, and there are plenty of other activities to get outdoors in Cooper Landing. Alaskans flock to this small town on the Kenai Peninsula every spring, summer, and fall.
With so many things to do from fishing, rafting, hiking, and camping, there is no wrong way to enjoy everything that Cooper Landing has to offer. Here are some of our favorite things to do in the small but fun town of Cooper Landing:
Russian River Falls
Russian River Falls is an easy 5.2-mile round trip hike from Cooper Landing. As with most Alaskan hikes, there is always a chance to encounter wildlife, but Russian River Falls is famous for its jumping salmon.
The trail surface is gravel, and well maintained. While the trail is an easy one to follow, there are a couple of steeper sections along the way, although they are short. The entire elevation gain is only 610 feet throughout the trail.
If you are pushing a stroller or using a mobility device, make sure to be aware of these spots so you can utilize the assistance, or avoid them altogether.
The jewel in the crown of this hike is, of course, the beautiful falls! There is a viewing platform for stunning views and photos. This trail can be periodically shut down when bear activity is at its highest, as the bears also enjoy the fish heading up the falls. Make sure to look for signs for up-to-date closures.
The area is also sometimes groomed for nordic cross-country skiing in the wintertime by volunteers, so keep your eyes peeled if you are looking for a great spot to ski in Cooper Landing.
Hike Skyline Trail
Skyline trail is 3.9 miles out and back for more intermediate hikers. Located in the Kenai Peninsula Borough, this trail is a favorite for hikers to get a bit of exercise and beautiful views.
It is considered a more challenging route due to its 2,135 feet elevation gain along the way. It takes most hikers about three and a half hours to complete, so budget accordingly. You may want to bring along snacks, water, and layers in case the weather changes.
It is bear country, so practice bear safety! Pack out everything you pack in, make plenty of noise along the way, and bring a can of bear spray for protection while you are in the backcountry.
Users have noted that parking can be difficult, so don't forget to carpool and arrive early!
Explore with Kenai River Float N Fish
Kenai River Float N Fish is a family-run business that has been serving Cooper Landing since 2004. Their philosophy is all about helping you have fun on the Kenai River!
Enjoy first-class guided fishing trips on drift boats in Cooper Landing. They love to both fly fish and spin fish and can teach you how to catch both.
They offer Upper Kenai River half-day fishing trips for anglers hoping to catch a few rainbow trout and Dolly Varden. Each trip is a private charter, so your group will have the boat all to themselves!
If you need somewhere to stay while you are on the trip of a lifetime, make sure to check out one of their overnight cabins available for rent. Or rough it in their beautiful campground.
Contact Information
Address: 18251 Sterling Highway Cooper Landing AK 99572
Phone: (907) 519-0048
Website: kenaifloat-n-fish.com
Go On An Adventure with Alaska Horseman Trail Adventures
Have you ever wanted to experience an authentic Alaskan guest ranch? With Alaska Horseman Trail Adventures, you can!
Explore the Chugach National Forest, Kenai National Wildlife Refuge, State of Alaska, and Kenai Peninsula Borough land on horseback! Owner Alex Kime has permits to bring you all over some of the most beautiful areas on the Kenai Peninsula.
Not everyone has experienced Alaska by horseback, but on their two-hour tour, you will see streams, and forests, and walk along the shores of Kenai Lake. This is a great activity for everyone in the family aged 6 and up!
They also offer rustic cabin rentals, and RV parking, as well as their two-hour horseback rides for visitors to Cooper Landing.
Contact Information
Raft the Kenai River
Explore the upper part of the Kenai River by raft!
With Alaska River Adventures, you will voyage through the upper Kenai River to explore the wildlife, including the famous combat area where salmon are caught every year. You will float by hundreds of fisherman fishing for the world-famous Alaska salmon.
The trips will take you to the National Wildlife Refuge for additional wildlife viewing opportunities. Guided rafting trips are one of the quickest ways to explore the longest river on the Kenai Peninsula.
Try the Half-Day, where you will have the opportunity to do an Upper Kenai Scenic Float for three hours, the Full Day, where you float the Kenai River Canyon, or even try their Gold Panning adventure. You will have the chance to combine a scenic float as well as an introduction to gold panning.
Contact Information
Float the Kenai River
Go on a float fishing trip on the Kenai River!
Select from a 7-mile, 12-mile, or 20-mile float down the Kenai River with Drifter's Lodge. These easy floats are a great way to take in the scenery and spot some classic Alaskan wildlife like bears, moose, and bald eagles.
If you opt for the 20-mile float, you will also be treated to a 2-mile hike along Hidden Creek Trail to explore some of Alaska's unique wildlife.
They also offer a variety of guided fishing trips, perfect for stocking your freezer this winter. They have three levels of packages for fishing adventures, including the All-Inclusive, Regular, and Premium.
Make sure to book your rafting trip, guided adventures, and lodging all at once to take advantage of their many discounts and options.
Contact Information
Explore Some Historic Sites
Though Cooper Landing is small, it has a lot of history!
Cooper Landing was founded by Joseph Cooper, a miner who found gold in the area in 1884. The U.S. Geological Survey recorded Cooper Creek in 1898, and by 1900 the Census recorded 21 miners and one wife living in the area.
While you are in town, make sure to visit the historic Cooper Landing post office, then head over to visit Cooper Creek and learn more about the history of gold panning in Alaska.
The Kenaitze Tribe has focused on preserving the Sqilantu, or grocery store, one of the oldest buildings in Cooper Landing as well.
Make sure to stop into the local businesses and help support the community that has been going strong since 1900!
Visit Tern Lake
A short drive from Cooper Landing down Sterling Highway is beautiful and serene Tern Lake.
Located at the small intersection of the Seward and Sterling Highways on Mile 37, thousands of cars pass by this stunning lake each year.
In Alaska, there are plenty of spots to watch whales or spot large game like moose and bears, but Tern Lake is perfect for bird watching! See if you can snap a photo of bald eagles, loons, and arctic terns taking to the skies.
And keep your eyes peeled for the smaller animals in the area, like beavers, river otters, muskrats, and salmon. All love the cold and still waters of Tern Lake.
Tern Lake also has a day-use area with picnic tables, restrooms, and a viewing platform, so pack a lunch and make a day of it at this lake!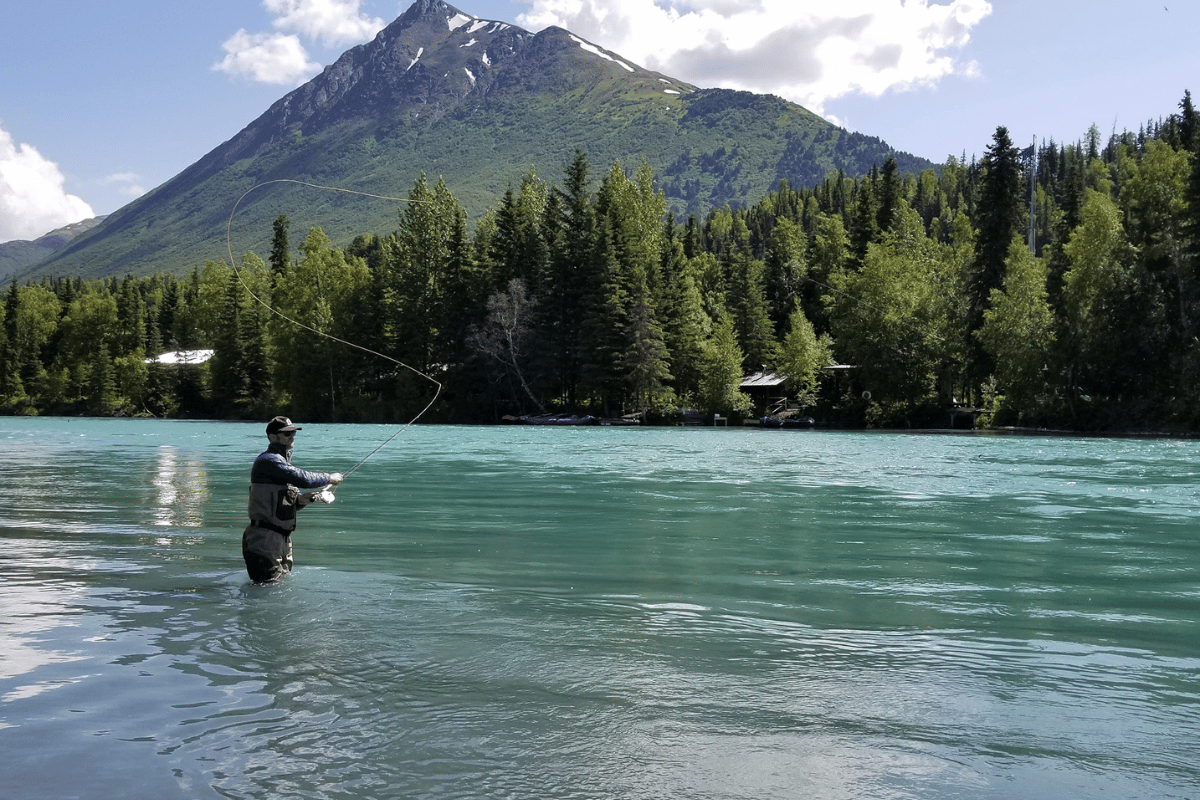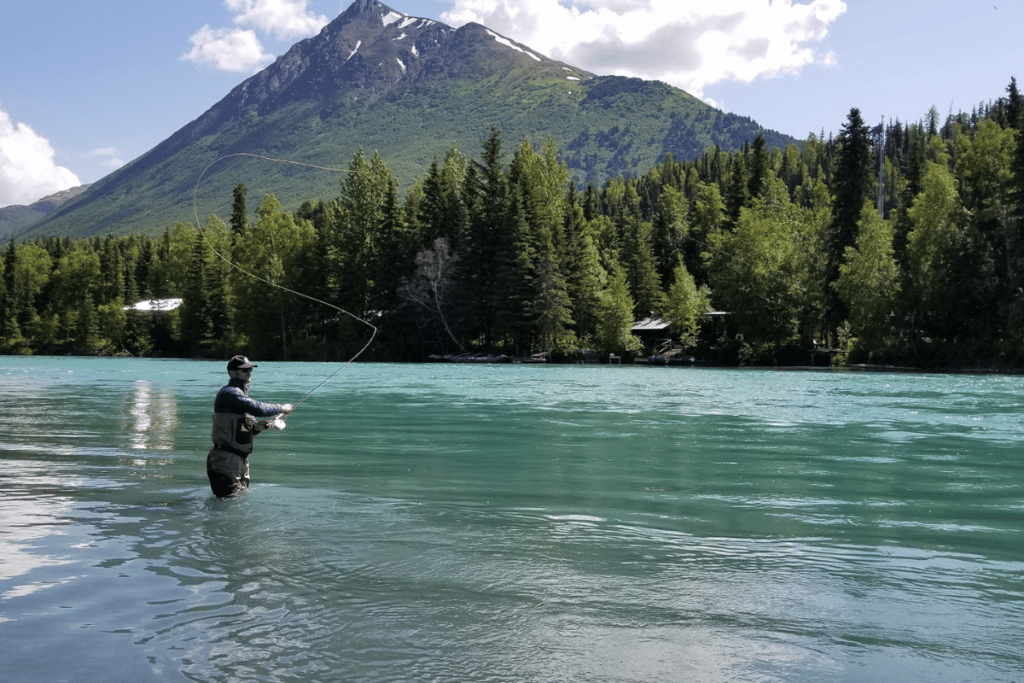 Get Your Angler On With Cooper Landing Fishing Guide
Always wanted to try fly fishing? Hoping to find some Rainbow Trout? Charter a trip with Cooper Landing Fishing Guide!
Get out on a boat with them and explore both the Kenai and Kasilof Rivers while you fish for Dolly Varden and Rainbow Trout, King, Sockeye, and Silver Salmon, and soak in the views around you.
You can go on a fishing adventure with them from June through October, and enjoy guided, worry-free adventures on the water. They offer custom, privatized tours, as well as half-day, full-day adventures that cater to all skill levels. 
And the best part? They provide everything you need, so you won't have to worry about leaving something at home.
Contact Information
Alaska Troutfitters
Enjoy riverfront lodging and world-class fishing on the Kenai River with Alaska Troutfitters! What can we say, we love a great name pun. These professionals have been around since 1984, and it shows.
Take a guided fishing tour of the Kenai River on a full or a half-day excursion. These tours are available for anglers of all skill levels. Or double down on the adventure by skipping the boat and opting for a hike-in trip for the smaller rivers and creeks.
Want to keep things low-key? Book a scenic river trip and learn about the wildlife that inhabits the Kenai River.
And if you find yourself unable to leave and want to extend the adventure, don't forget to book a night at their gorgeous riverfront cabins along the Upper Kenai River. With river and mountain views, these cabins are located in prime locations, and book out quickly!
Contact Information
Grab A Bite at Gwin's Lodge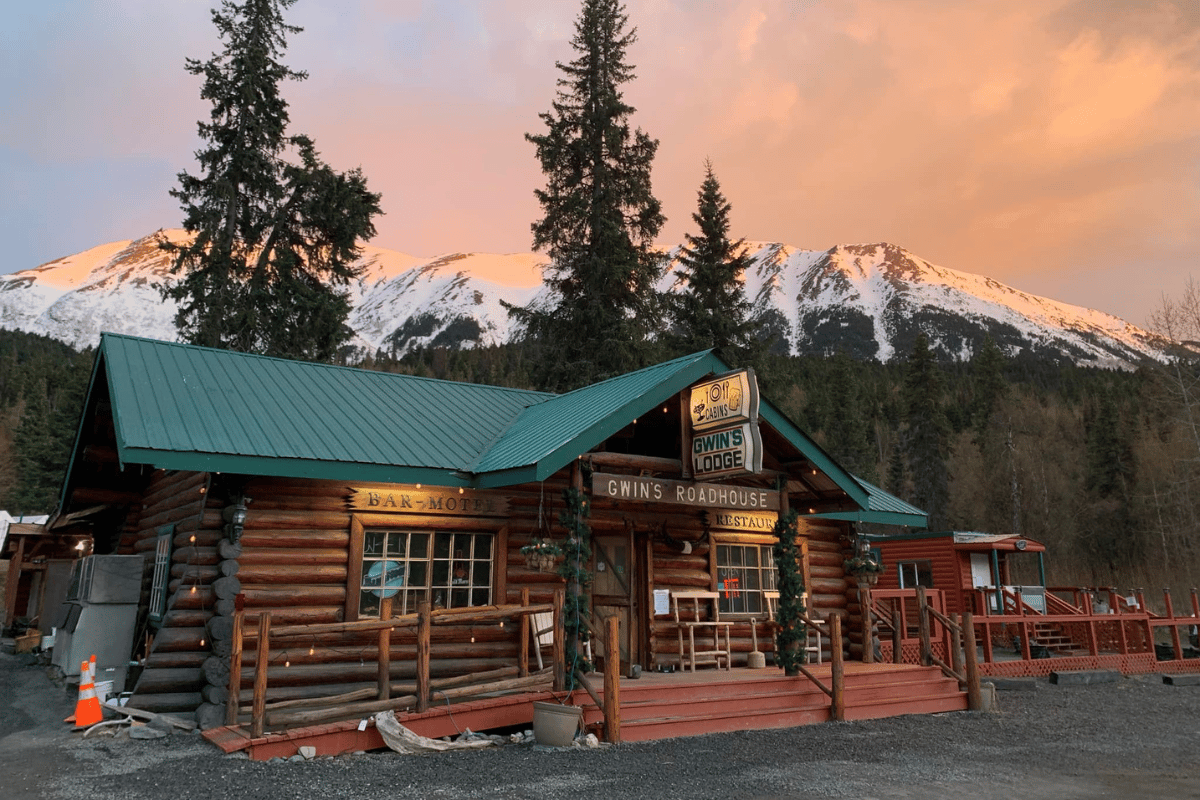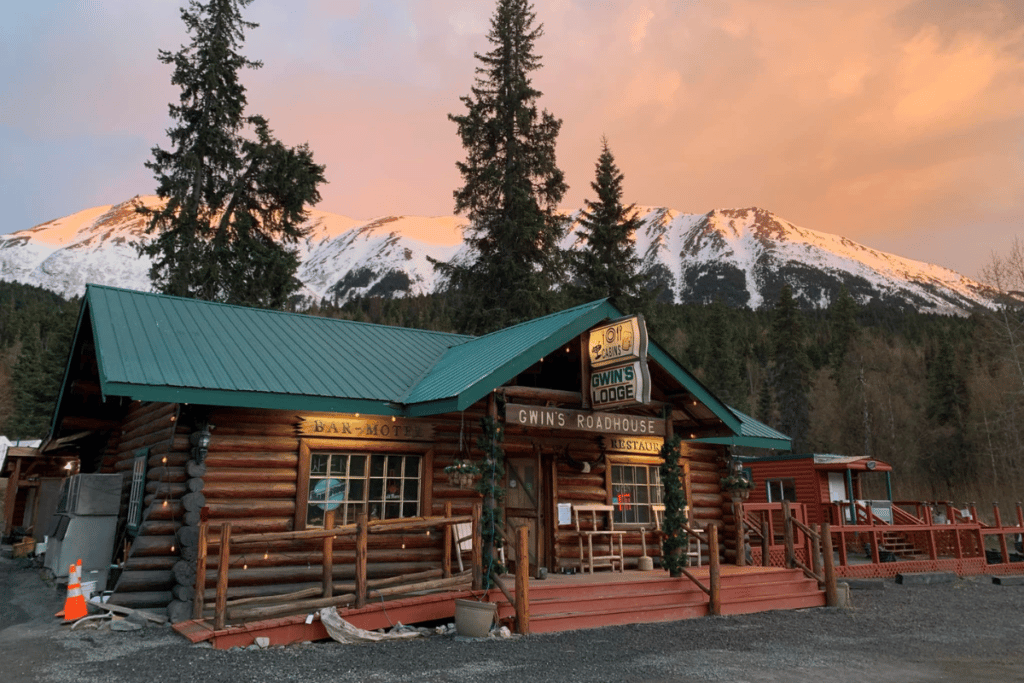 After a day full of adventure, stop in for some classic Alaskan fare at Gwin's Lodge restaurant! Gwin's Lodge is an institution in both Cooper Landing and the entire state of Alaska.
When construction finished on the newly built Seward's Highway in 1951, Gwin's Lodge was erected and opened in 1952. The historic Gwin's Lodge is one of the oldest log roadhouses in Alaska and is still in operation today.
Gwin's Lodge offers something for everyone. You will find lodging, a full-service bar and restaurant, a tackle and souvenir shop, and an on-site liquor store. This is a one-stop-shop for all of your Cooper Landing needs!
Enjoy breakfast, lunch, and dinner are served seven days a week. We recommend the salmon (but you can never really go wrong with Alaskan salmon)!
If you are planning on staying a while, Gwin's Lodge also offers cabins and camping with complimentary booking services if you would like to head out on an excursion.
Contact Information
Though it is small, Cooper's Landing is mighty! Less popular tourist destinations mean fewer crowds, more personalized service, and better chances at creating special memories like the first time watching a bald eagle take flight.
This is where Alaskans head when they are looking for great fishing and an adventure off the traditional tourist-beaten track.
Cooper Landing is a beautiful and adventure-filled Alaskan destination. Planning on exploring more of the Last Frontier? Consider traveling via RV or camper! To jump-start, your excitement, check out the 11 best campgrounds for RVs in Alaska.