Today we are sharing one of our favorite Alaskan campgrounds: the Teklanika River Campground.
Nestled deep in the Denali National Park, the Teklanika River Campground is one of the three campgrounds available within the park. If you are looking for a beautiful campground with few frills and the opportunity for a remote experience, the Teklanika River Campground should be at the top of your Denali National Park camping list.
This campground is at the furthest point you can travel into the park with a private vehicle or RV. Sit back and enjoy the lack of traffic as you head to your camping destination.
Want to learn a little more about this beautiful campground in Alaska?
We have put together all the information you need to know about preparing for and visiting the Teklanika River Campground.
About The Campground
The Teklanika River Campground is only open during the summer season, from early May through mid-September.
The name comes from the phrase "Toch'edha Nik'a," which means "water amulet river" in the Lower Tanana dialect.
This campground is nicknamed "Tek", so if you hear someone talking about the "Tek grounds", you will know that they are referring to this campsite!
Located right next to Teklanika River, the views from the campsite and surrounding area are absolutely breathtaking.
This remote campground area offers secluded camping spots, as well as access to backcountry hiking. There are no official trails, but backcountry hiking is permitted unless noted otherwise.
There will be marked signage if an area is closed, so feel free to hike away. But keep good directions in mind as you explore so you can find your way back.
The campground sites are comprised of two loops, which makes for great privacy and seclusion on your camping trip. That also means plenty of quiet camping spots available.
Keep in mind that during the high summer season many of the campsites book out months in advance. If you know your dates early, call and reserve them as soon as you can.
This is not a place you will want to miss, but it is one that can be hard to get a spot once the summer season begins.
Amenities Of The Teklanika River Campground
Teklanika River Campground is deep in Denali National Park, so there is almost no access to additional resources like groceries. This is a remote campground, and to access things like gasoline and food items, you will have to drive out of the park to Healy.
There is however a recycling area for aluminum cans, glass, and #1 and #2 plastic jugs and bottles.
Water
There is no guarantee of potable water, so make sure to bring your own for the duration of your stay. There are spigots available seasonally, but these may or may not be working during the time of your trip.
The best bet is to load up on water before you head to Denali National Park, but there are some available at local convenience stores outside of the park if you did not bring any.
Items like water, groceries, and gasoline cost more in this remote area in Alaska. If visiting Denali National Park from a larger city or town, consider stocking up before you make the trip into the park to save money on as these items will be cheaper in the city.
Restrooms
Restrooms are available throughout the campsite. These vault toilets are open all year long for your use during your stay.
There are no showers available in this remote area, so you can leave the soap and shampoo at home. At least it makes for a lighter packing experience.
Fire
Fires are permitted in fire grates only. Everything must be burned off the grill before your departure to avoid attracting wildlife. You will have to bring your own firewood as well — no chopping allowed!
Fire safety is extremely important in Denali National Park. During the summer season, unattended fires during periods of high heat and no rain can make for dangerous wildfire conditions.
You may find that there are burn bans in effect during dry hot summers. Be sure to find out if fires are allowed during your stay.
If you have a fire going during your stay, brush up on the current fire safety recommendations, and be sure to put out any fires if you are leaving your site.
Food Storage
Speaking of wildlife, if you are tent camping you will need to keep your food stored in one of the site's many food lockers to prevent critters from coming to the grounds.
If you have a hard-sided camper, you may store your food there. 
Pets
Pets are allowed on this campground. Make sure you are disposing of pet waste properly in the trash cans around the grounds. Keep animals on a leash at all times.
It is also important to keep your pets away from the wildlife in the park.
Amphitheater
One of the best parts of this much loved campground is the amphitheater!
The amphitheater is an open loop that can seat up to 50 people. Rangers will give nightly talks on Denali specific topics such as climate change, mountain climbing, and local flora and fauna.
The amphitheater is open to enjoy all year long.
Cell Service
Cell service is pretty much nonexistent, so enjoy the digital getaway. Ditch the internet and take in nature. Use your phone for photos, instead!
Bringing Your RV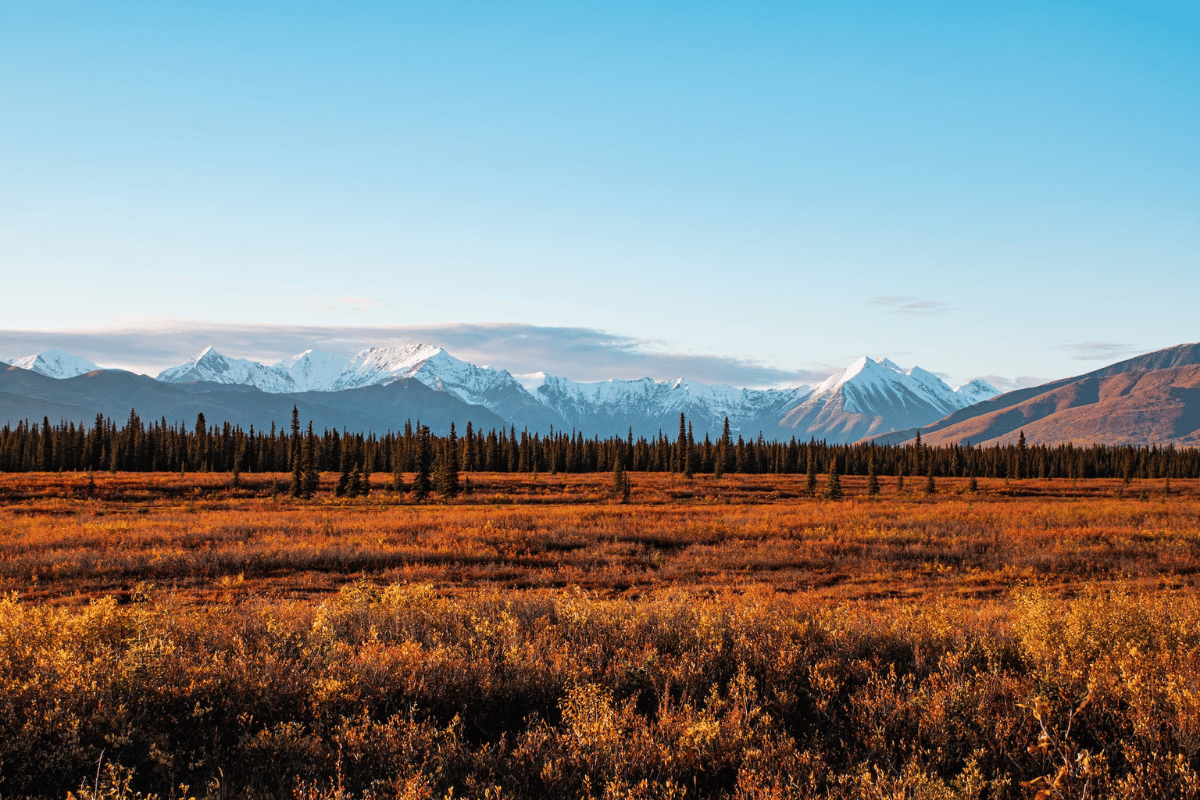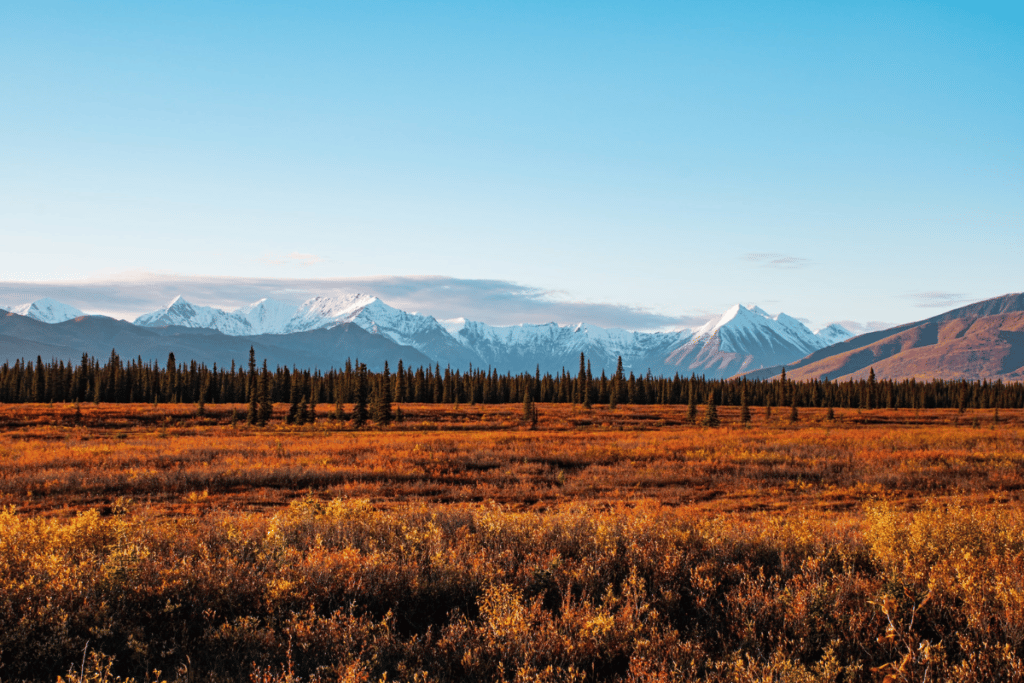 All vehicles are required to turn around at Savage River on Mile 15, with the exception of vehicles camping at Teklanika. This is the only way to see this part of Denali National Park via a regular vehicle. If you want to ride the Denali Park Road you will need to book a bus tour.
At Telkanika River Campground, the maximum camper length is 40 feet.
If you are planning on towing anything, it must be crucial to your camping experience. For example, towing a camper trailer is permitted. Reservations are strongly recommended.
There is also a three-night minimum for RVs and camper vans, but in a beautiful campground like this, we don't believe that will be a problem.
You must leave your vehicle or RV at the campground at all times. If you want to go out and sight see, you must use the tour buses available to you.
If you have come out to Teklanika River Campground in a tent, the three day minimum is not necessary. You can book a single night if you want to head out early.
Costs & Fees
There is a nightly fee of $33.25 per site. Each site can hold up to eight people and three tents. This fee is the same whether you are just pitching tents or are bringing your RV or another vehicle.
You can also purchase a Tek Pass. These passes also allow you to use the buses throughout the park. Since the Teklanika River Campground is set further into the park and is pretty remote, this is the only way to get around and sight see. These should be booked in advance as you cannot buy them at the grounds. 
The Tek Pass is $30 per person, but for children 15 and under, these passes are free.
This is one of the more popular camping spots in the park, so we recommend making your reservations as far in advance as possible. You will also be reserving your space, but not a particular spot on the grounds, so the earlier you arrive the more options you are likely to have.
Getting To The Teklanika River Campground
Getting to the campground can be a bit of a challenge. It is the furthest of all three campgrounds located within Denali National Park.
Denali National Park is comprised of more than 7,400 square miles of land.
You will travel twenty nine miles down Denali Park Road once you enter the park, where you will continue on past Savage River before you arrive at the campsite.
The road is gravel, so keep that in mind when preparing your vehicle for the drive. There are "soft shoulders" as well, meaning that the edges of the road can become soggy, especially during and after wet weather. Take turns slowly and make sure to stay on the road!
If you are planning on tent camping, you will have to travel via camper bus to access the campground.
Responsible Camping
There are certain camping rules of etiquette that must be followed to keep everyone safe and clean for the next campers.
The most important rule is to make sure you "leave no trace." You have probably heard the adage, "take nothing but pictures, leave nothing but footprints". This means you need to make sure that you are cleaning up after yourselves and disposing of all refuse properly.
Because this is a remote area, there are no dumpsters or regular garbage truck stops. Help keep the area clean and free of debris by actively taking your trash with you out of the campground.
Take the proper precautions to avoid disrupting wildlife. This is both for your safety, and the animals and environment. Bears especially have a keen sense of smell, and will approach your campsite for food.
Bears that have had human food become dangerous as they will seek it out and become a nuisance. Keep future campers safe and keep your food locked up and out of the wild.
Make sure to utilize the year round food storage lockers, especially if you have come in on a transit bus and not your own vehicle. It will help you keep the wildlife wild!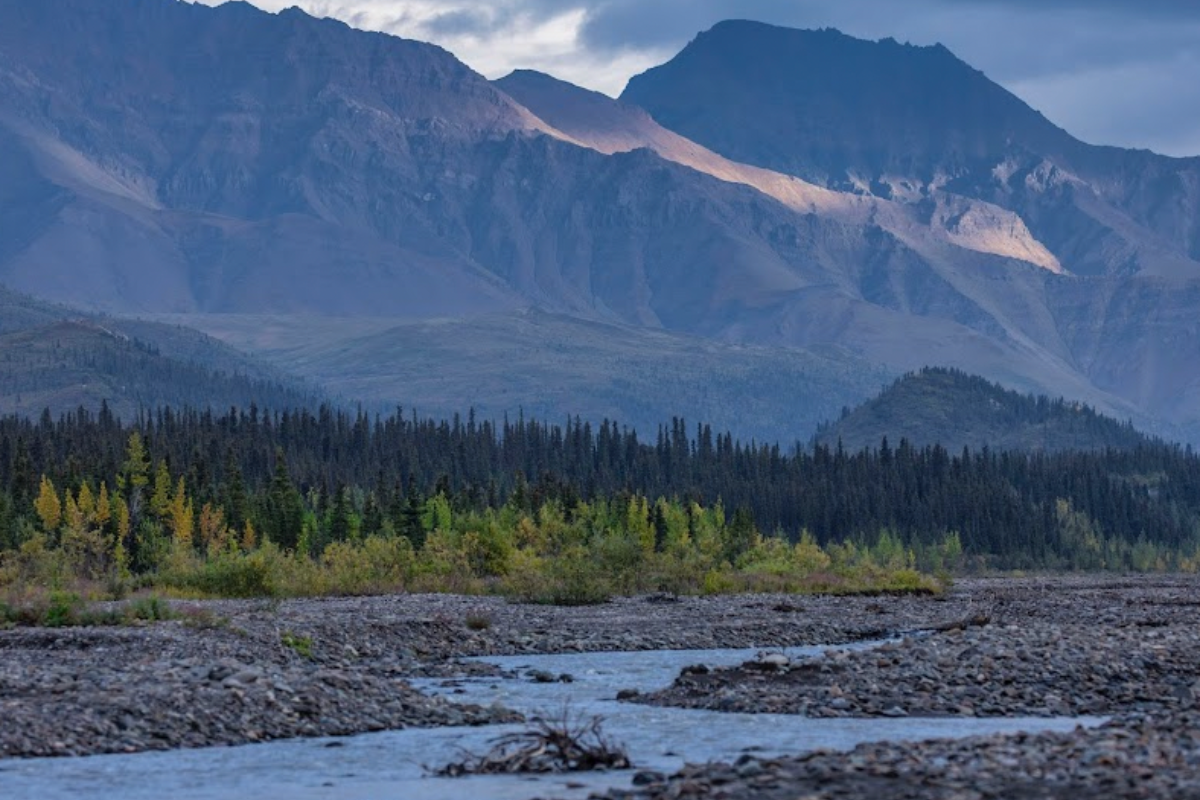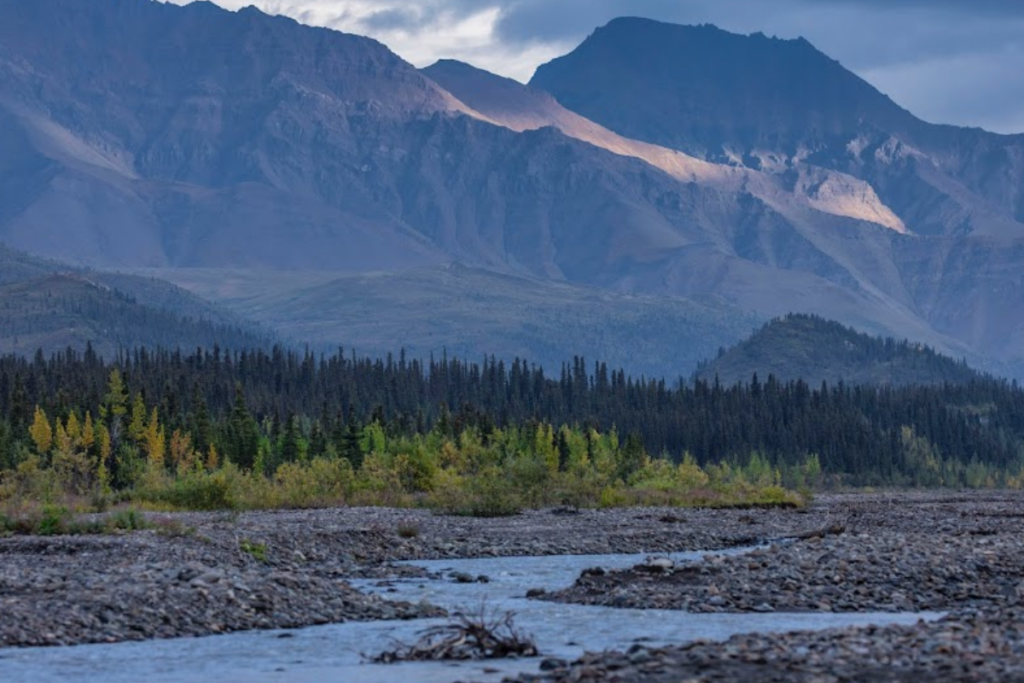 Learn More About Your Stay At Teklanika River Campground
Researching your campsite prior to arrival will not only make you better prepared for your camping trip, but can also include important information about the area.
There are plenty of great restaurants right outside of the park, as well as tons of information at the Denali National Park Visitor Center.
We also love to stop in and check out the sled dog demonstrations, and meet the puppies at the kennel. But there is no wrong way to enjoy your time at Teklanika River Campground.
Contact Information
Address: MP 29, Denali Park Road Denali National Park, AK 99755
Phone: (907) 683-9532 
Website: nps.gov
If Teklanika is booked out, there are two other campgrounds in Denali National Park – Savage River Campground on mile 12, and Riley Creek Campground on mile 0. These are two other beautiful campground sites that are also worth spending time in.
Teklanika River Campground is one of our most favorites places to camp and explore.
If you are looking for more adventure in one of Alaska's best national parks while staying at this campgorund, we have put together the best backpacking and hiking trips in Denali National Park! Check it out for great hiking trip ideas during your stay at Teklanika River Campground.
After living over 14 years in Alaska, Megan McDonald can confidently state that there's not much of the state on the road system that she hasn't visited. From the Brooks Range to McCarthy, Homer, and everywhere in between, every nook and cranny of Alaska is always her new favorite place.
As President and co-founder of Alaska-based boutique media agency HuMu Media, she spends her work time writing, photographing, and traveling, and her off time writing, photographing, and traveling. They say do what you love, and she is lucky enough to do so!
You can follow her travels on Instagram at @theitinerantginger