There is a magical quality about Alaska's vast wilderness that is unmatched in the lower 48.
With towering glaciers with crystal clear runoff, caribou and moose wandering in front of you, and some of the best hiking in the world, it is hard not to feel a swell of inspiration and majesty as you explore all that Alaska has to offer.
In Juneau, you will find the Upside Down Forest of Glacier Gardens, one of the most magical spots in the state.
If these upside down trees intrigue you, check out the pictures below.
Picture trees that look like they have been flipped and slammed back into the earth, now filled with blooms in their upturned roots. Cascading vines hang down and, colorful flowers hang atop (or technically, on the bottom!) of trees and manicured gardens will make you feel like you have stepped into a fantasy world.
How did these incredible and unique trees get here? And was it nature, or something more sinister and mythological, that created the upside-down forests?
Let us dive into the rumor that surround the creation of the Upside Down Forest, and how to visit these trees to see for yourself what they are made out of.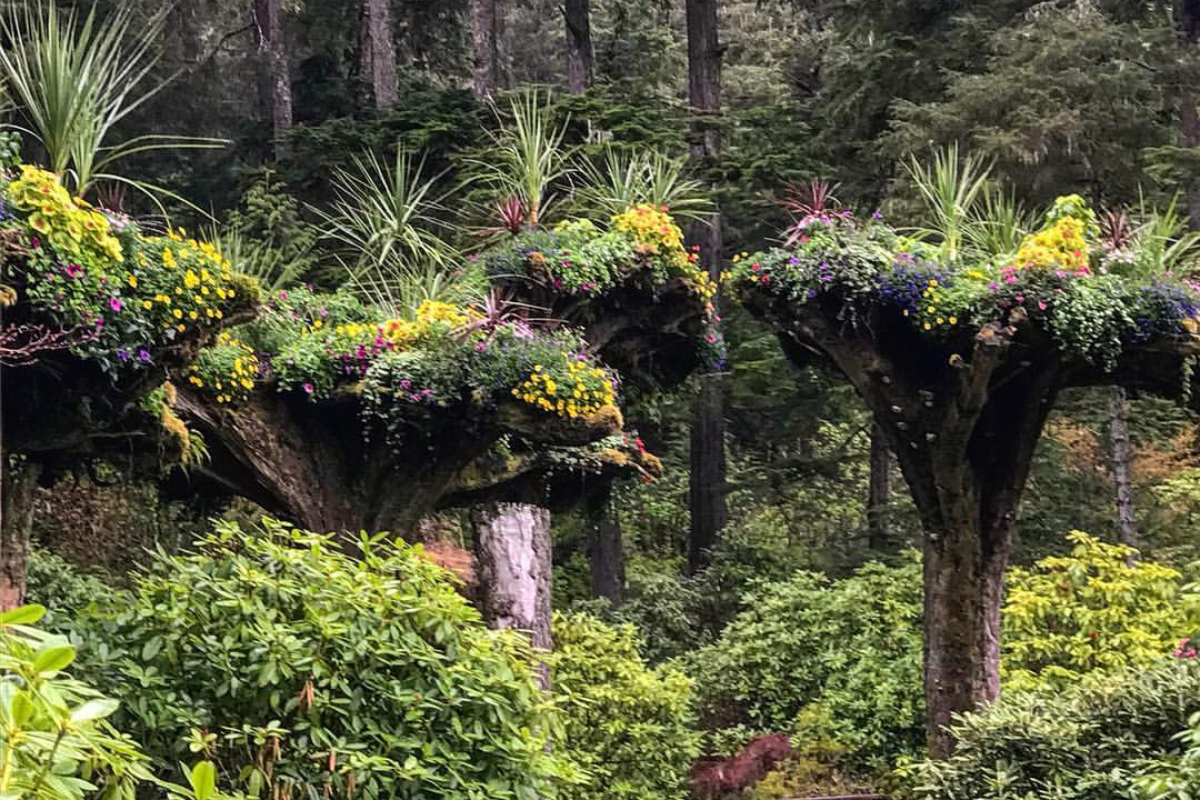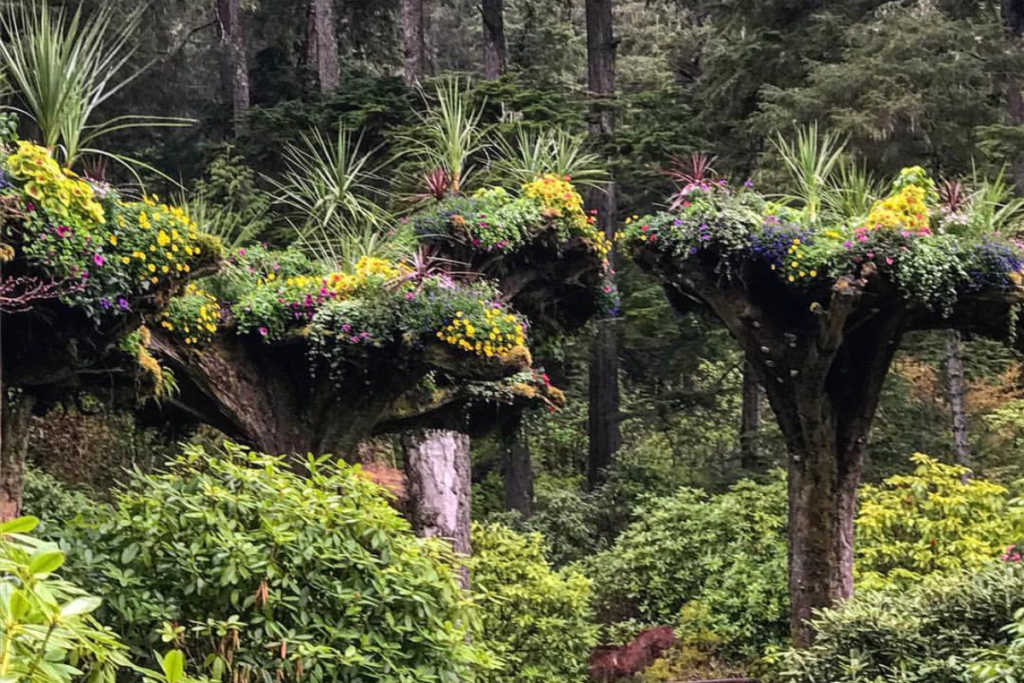 The Lore of Bigfoot
These trees appear to have been plucked from the ground and flipped upside down, with the roots facing skyward. Legend says that Bigfoot himself turned these trees!
In order to replace a tree back into the ground up to 5 feet deep (the depth that many of these trees reside at), would take an incredible amount of strength. Could Bigfoot really be that strong?
It turns out that, no, Bigfoot was not responsible for flipping these trees; at least the upside down trees in Alaska that you can come across during your travels.
The jury is still out on the other upside down trees found in Canada, Colorado, and other parts of North America!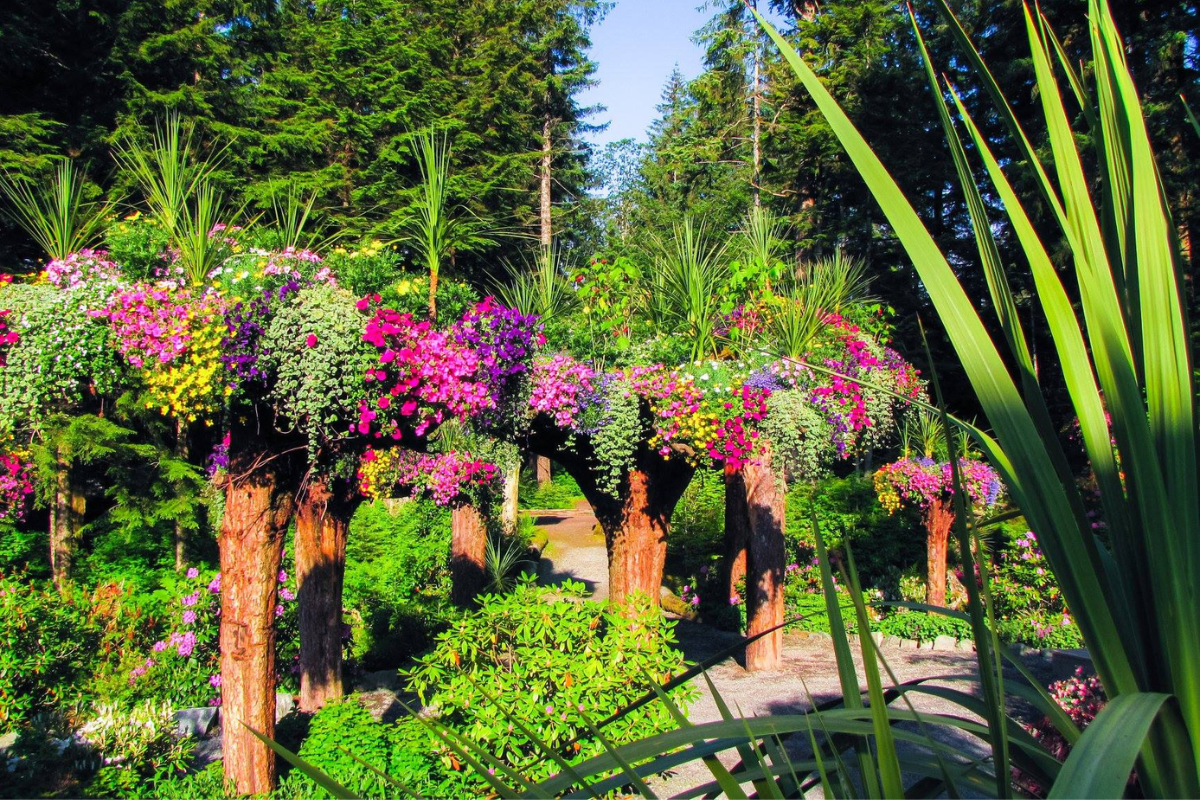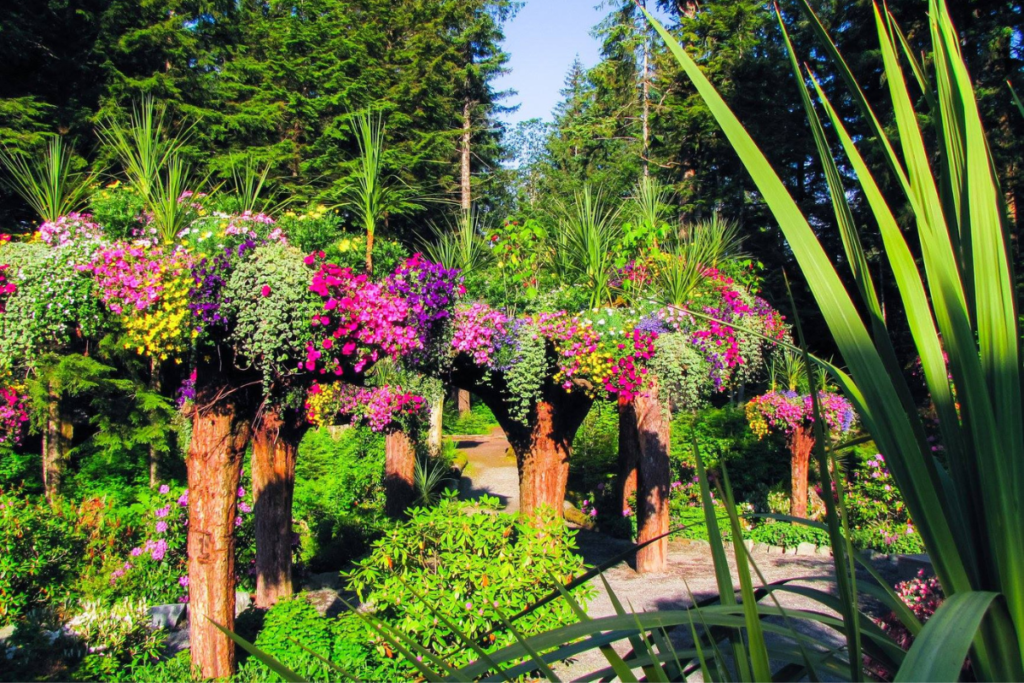 History of the Upside Down Trees
Okay, so maybe Bigfoot was not around when these flip-flopped trees were created. So where did they actually come from? Do they grow like that, or are they really trees turned upside down?
The true story has it that in a devastating 1984 Juneau landslide, many trees were uprooted and one of the main streams in the area was destroyed.
While Steve "Yard Doctor" Bowhay was rebuilding the stream, he damaged some moving equipment. In his frustration, he used the machine to pick up a tree stump and flipped it upside down in the mud.
It was after this that Bowhay saw an opportunity to replant these trees upside down and turn the roots into flower beds.
Today, these trees sit in the Mendenhall Glacier Gardens, with begonias, fuchsias, and petunias growing and cascading down the upturned roots.
The trees themselves are local Sitka Spruce and Western Hemlock. They are known in the Gardens as Flower Towers, and there are about 100 of them and each topped with 75-100 plants!
Just like the discovery of penicillin and the microwave, these Flower Towers were a happy accident.
If you find these trees out and about in your travels across the state, or other areas in the Lower 48, it is very likely that an avalanche or landslide displaced these trees, landing them upside down deep inside the ground.
But the upside down trees of Juneau were planted there on purpose. And we are glad they did.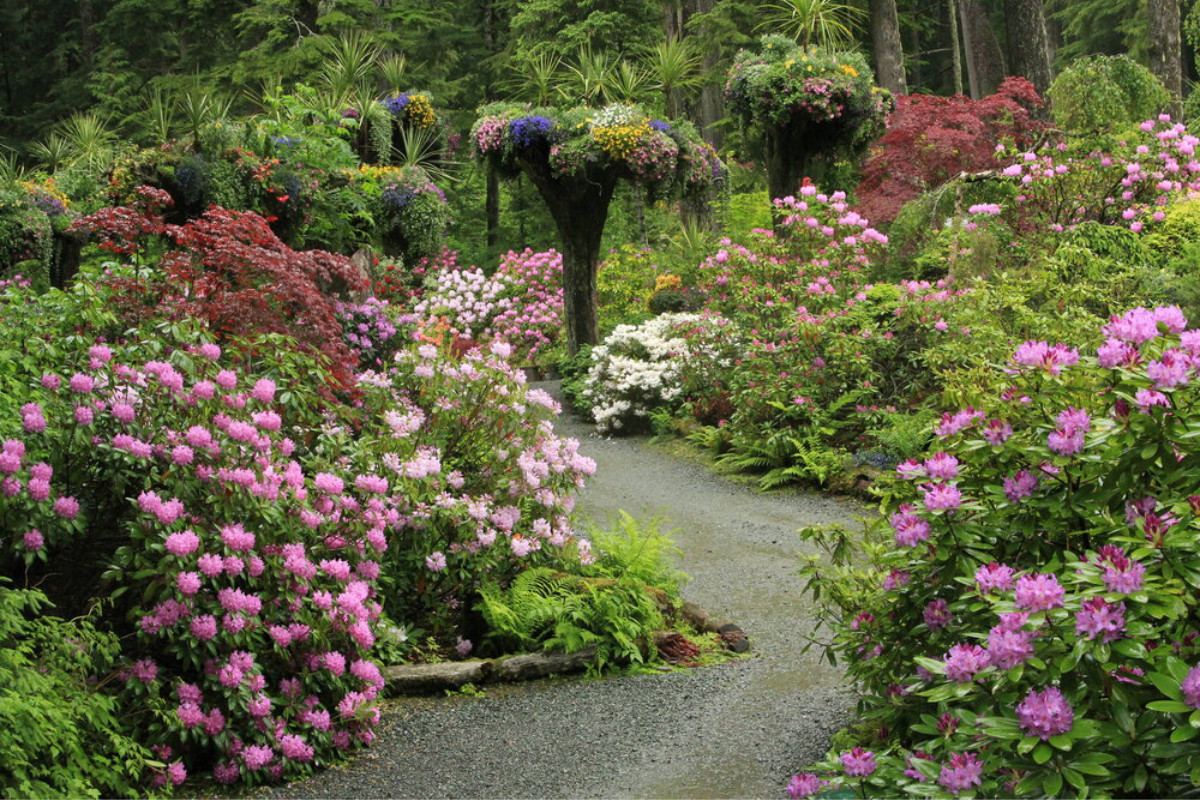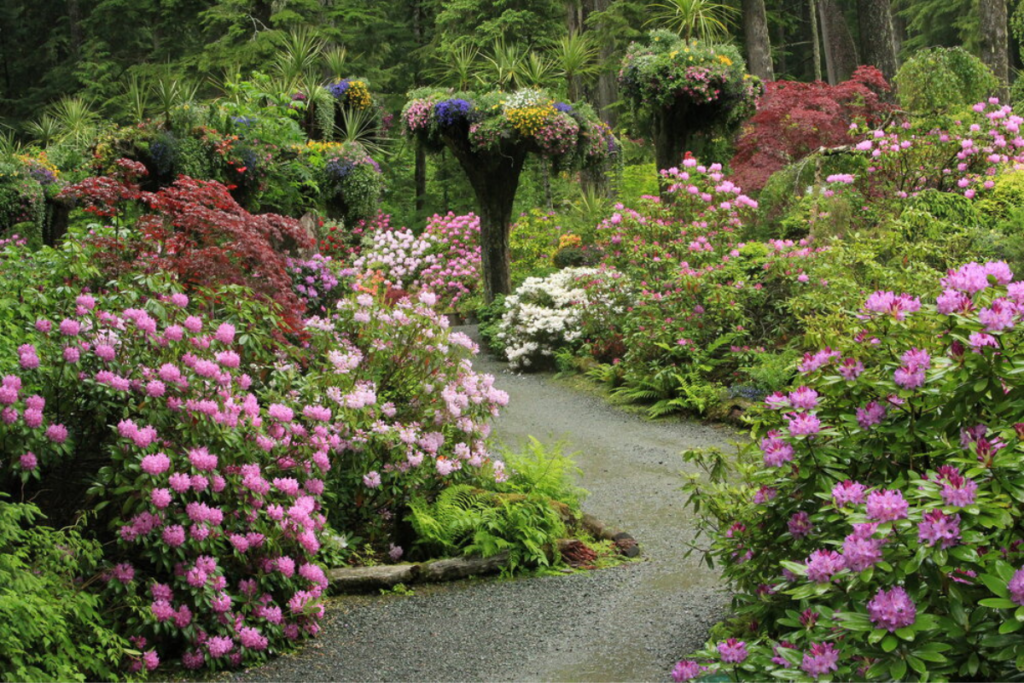 Mendenhall Glacier Gardens
The family-run Glacier Gardens began in 1984 by Steve Bowhay and was later joined by his wife, Cindy.
They offer tours driven by knowledgeable guides for a full look at these beautiful lush gardens. The tours last about an hour and take visitors through the pristine gardens as well as the rainforest on Thunder Mountain. This is the popular Rainforest Adventure tour. Don't forget to pack your camera.
On the tour, you will be able to see the blooming Flower Towers as well as the other myriad of plant life, including flower baskets, trees, shrubs, and plants for sale in the nursery.
In true Alaskan fashion, you will probably get to see more than just one local treasure! The Gardens are a known nesting spot for bald eagles and they can often be spotted flying nearby in the area.
After you have explored the lush flora, stop by the visitor's center that is open until 6pm. There is also a Rainforest Cafe for a coffee or bite for lunch.
If you are planning a holiday visit, the greenhouse transforms into a Christmas wonderland!
You can stock up on garlands, wreaths, mantles, and tabletop centerpieces for your holiday gathering.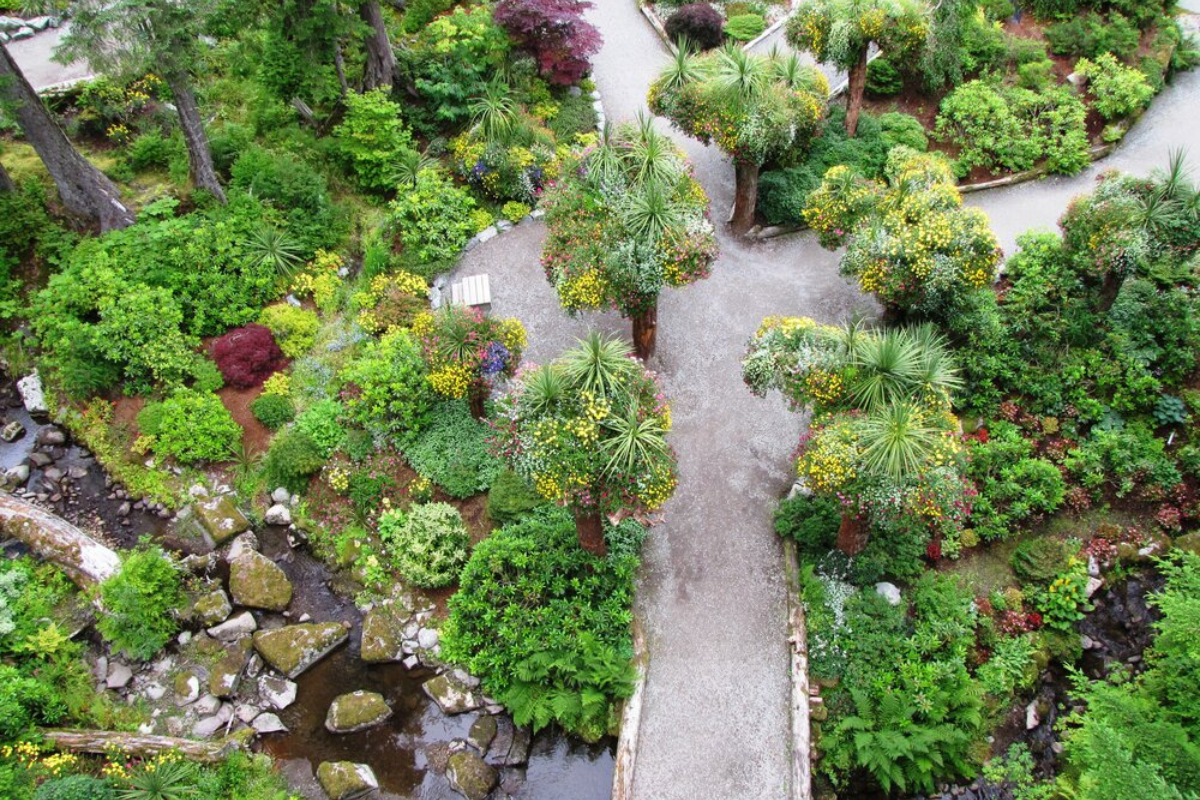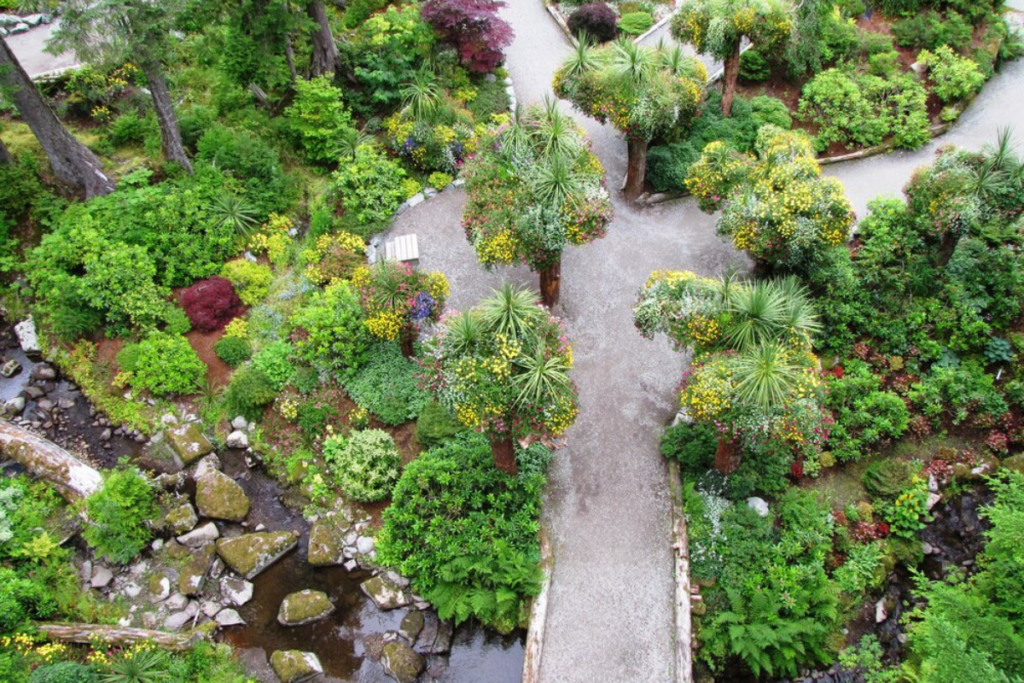 The Alaskan Rainforest
It is true, we do have rainforests in Alaska.
The Tongass National Forest is the largest rainforest in Alaska and the biggest national forest in the entire United States.
With over 1 million annual visitors, the Tongass National Forest has plenty of foot traffic coming through to see its sights. Many of the trees are over 800 years old!
The Alaskan rainforest is sometimes referred to as Sitka spruce – western Hemlock forests due to the large number of these trees.
As always, make sure that you are prepared for wildlife encounters if you visit the Tongass National Forest.
Grizzly bears and gray wolves that have been driven from larger cities can still be found in the dense forests. You might also come across salmon, Sitka black-tailed deer, Northern Goshawks, and Marbled Murrelets.
Glacier Gardens are set in the Tongass National Forest, so visitors can see some of the rainforest's treasures on their visit.
Many of the flowers you see growing need to be conducive to the hardiness zones that plants adhere to in temperate rainforests.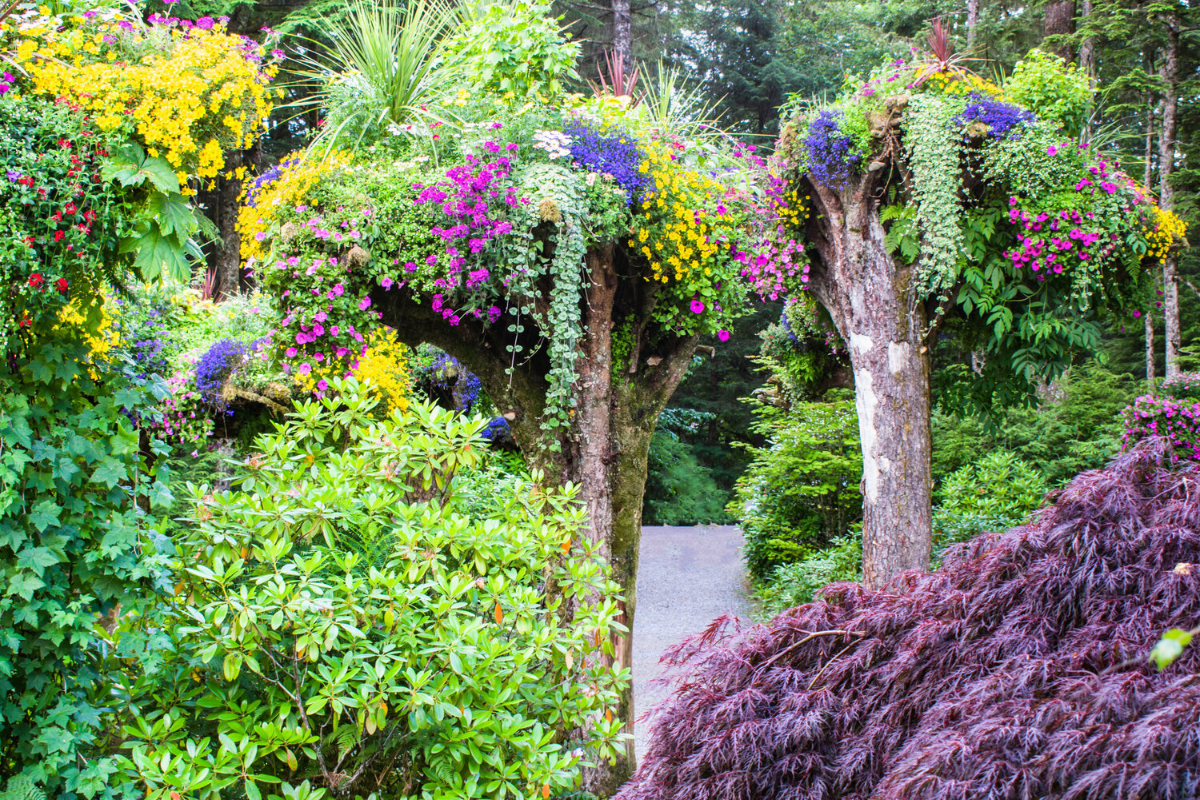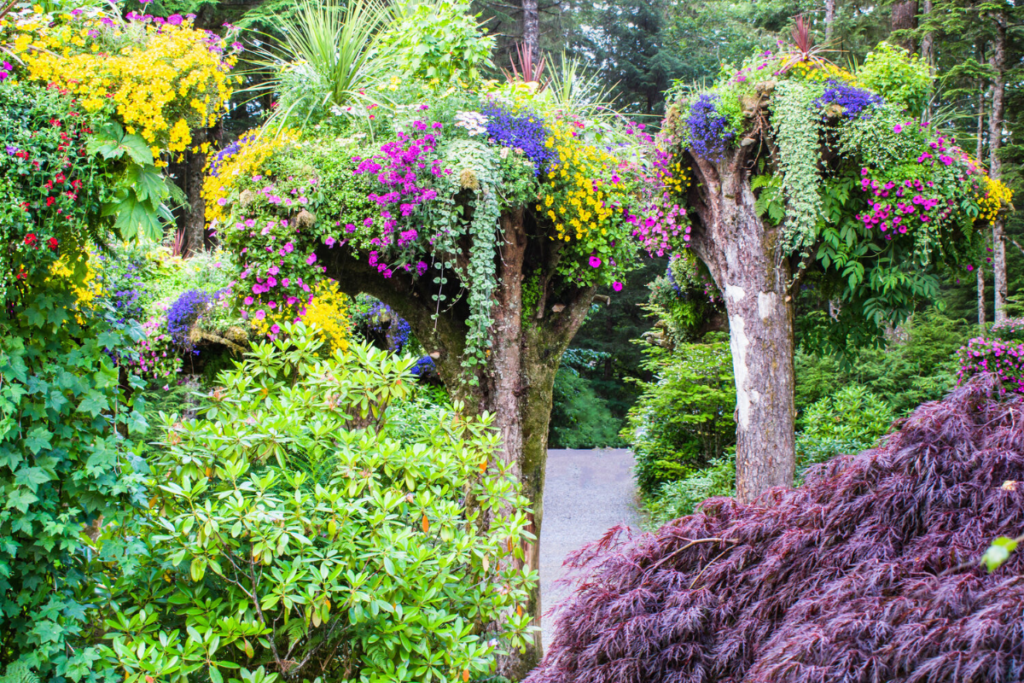 Visiting the Glacier Gardens
Glacier Gardens are open from 9am – 6pm daily from May 1st to October 1st. Since the gardens are outdoors, the weather can affect operating hours. Give them a call ahead of your visit to ensure they will be operating that date.
The tour is $28.30 for adults and $16.75 for children. Children 5 and under are free to visit the Gardens. These prices can change, so be sure to check their website for their most up-to-date cost.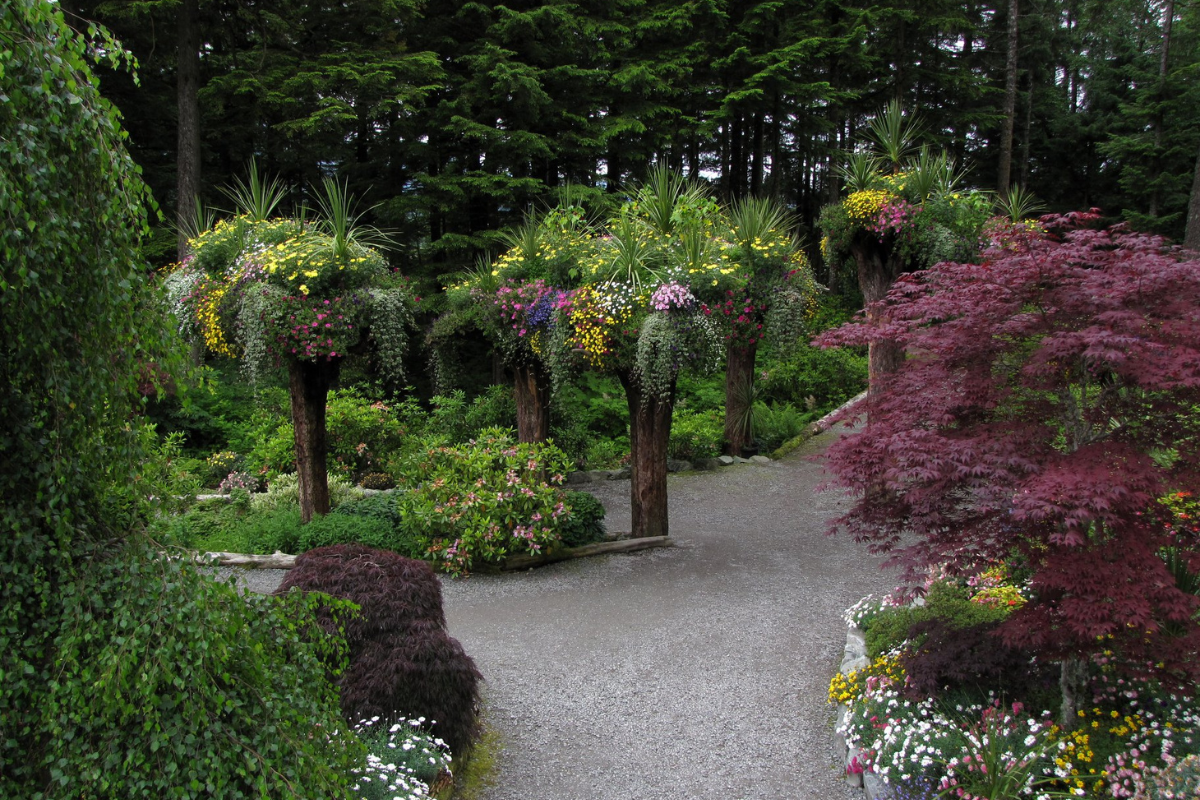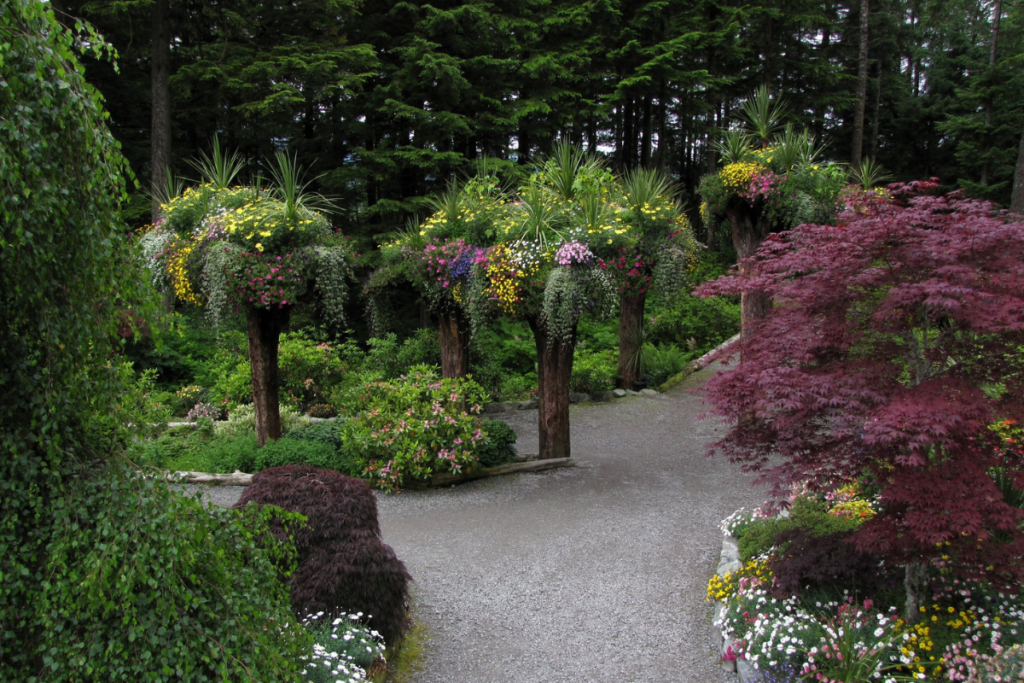 Glacier Gardens Offers Landscaping Services
Local to Juneau and want to take a bit of Glacier Garden magic home with you? Glacier Gardens offers landscaping services that thrive in the cold and wet climates of Juneau. Consider booking your next outdoor project with them.
Perhaps you could have an upside down forest of your very own in your back yard!
Special Events At Glacier Gardens
Glacier Gardens includes a Visitors Center Atrium filled with beautiful hanging plants and even a heart shaped flower wall.
You can plan your wedding or special event with a unique setting that your guests will never forget.
Their event dates book quickly in advance, so be sure to get in touch with Glacier Gardens to secure your preferred date.
Contact Information
So it turns out that Bigfoot or Sasquatch did not have a hand in the creation of the upside town trees, at least in Juneau, Alaska.
Looking for other interesting things to do in the Last Frontier? Check out these ghost towns in Alaska, while you travel through the state.
---