Are you wondering where you can see the Northern Lights in Alaska?
Out of all the iconic Alaska sights, eats, and destinations, seeing the Northern Lights is one of the best and most unique Alaskan experiences. We don't know any person in Alaska, local or tourist, that has not had seeing the Aurora Borealis on their personal bucket list.
Of course, with all natural phenomena, sightings are never guaranteed! If you have been dreaming about capturing the perfect photo, you will need to do a little research before booking your trip.
There are a number of important things to know before you go, to increase your chances of seeing this elusive night show.
So what exactly are the Northern Lights, and how can you see them? Here is everything you need to know about Mother Nature's light show here in Alaska.
We will discuss where you can see the Northern Lights, when you should book your trip and options on where you can stay while visiting Alaska.
Best Time To See That Northern Lights: September – April
Best Places To See The Northern Lights: Fairbanks, Alaska Interior, Away From City Lights.
Best Weather For Viewing The Northern Lights: Clear Skies, Very Cold (Low Humidity).
What Are The Northern Lights?
The Northern Lights, also known as the Aurora Borealis, are natural phenomena that look like beautiful dancing lights in the sky.
Galileo Galilei and Pierre Gassendi are widely credited for coining the name "Aurora Borealis" after witnessing them in 1621. The lights are created by "excited" electrons that have come into contact with nitrogen and oxygen molecules in the upper atmosphere.
When they calm down, they release light or the Aurora.
You have probably seen gorgeous long-exposure shots of the Aurora in books and online before, but what you see in real life may be a bit different. The most common colors are pale green and pink, but it is possible to see flashing bands of violet, purple, red, yellow, or blue!
Don't get discouraged if it looks smaller than anticipated – keep watching to see the lights dance.
Frequently during a light show, the colors will shift as you watch. Even though the Northern Lights may start green, if you are lucky, they may change mid-dance.
Keep your eyes peeled and try to stick around for the whole show if you can.
When To See The Northern Lights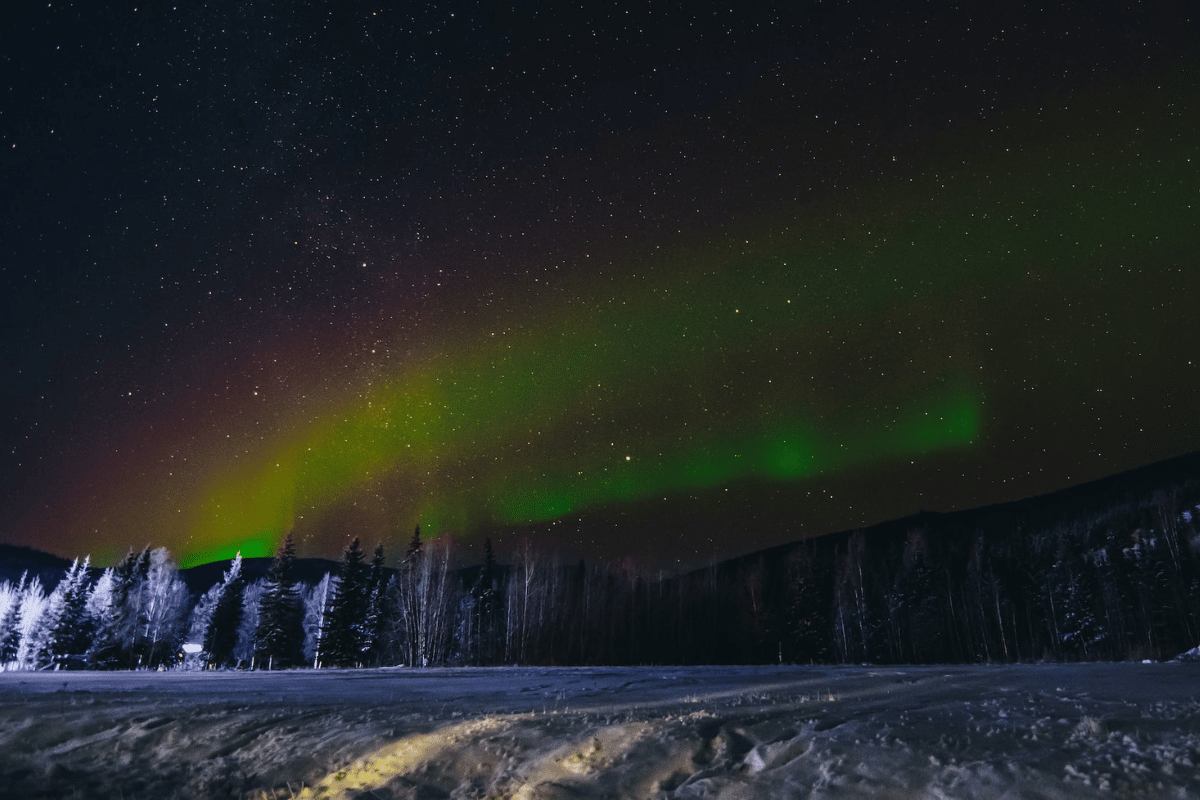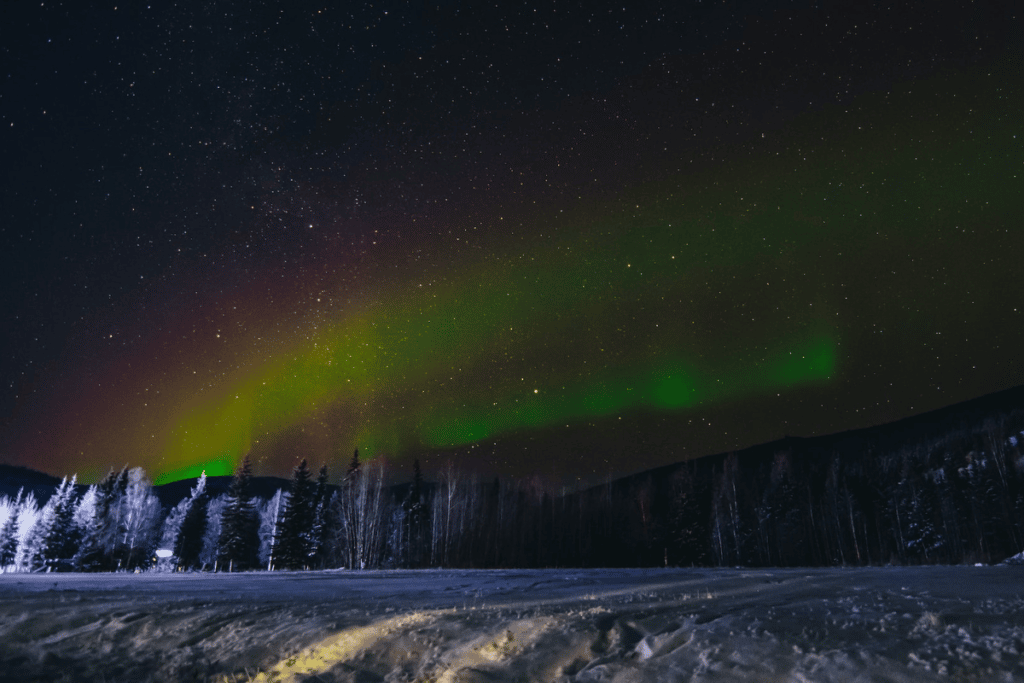 Your best chance at seeing the Northern Lights is from late August through April.
Long days mean light skies, so even if an Aurora occurs during the summer hours and our famed midnight sun, it won't be dark enough for you to be able to see it.
Of course, seeing the Northern Lights is never guaranteed. Changing weather conditions as well as extended days can make it harder to see this natural wonder. Check the weather before you travel as clear, cloudless nights are most optimal for seeing the lights.
Because high humidity in the air can mask the view of the Northern Lights, we recommend visiting Alaska in January or February for the best light shows.
The weather is cold, and it will be most likely in the negative temperatures, bringing a dry clarity to the night sky.
You will have plenty of darkness to see the Northern Lights, but make sure you bundle up tightly to stay warm. It is not uncommon to enjoy an Aurora Borealis display for up to an hour in -20 degree Fahrenheit weather.
This also means your camera may freeze up, so be sure to keep it close to your body in between shots if possible. The cold temperatures can hinder taking really good pictures.
Best Places In Alaska To See The Northern Lights
Fairbanks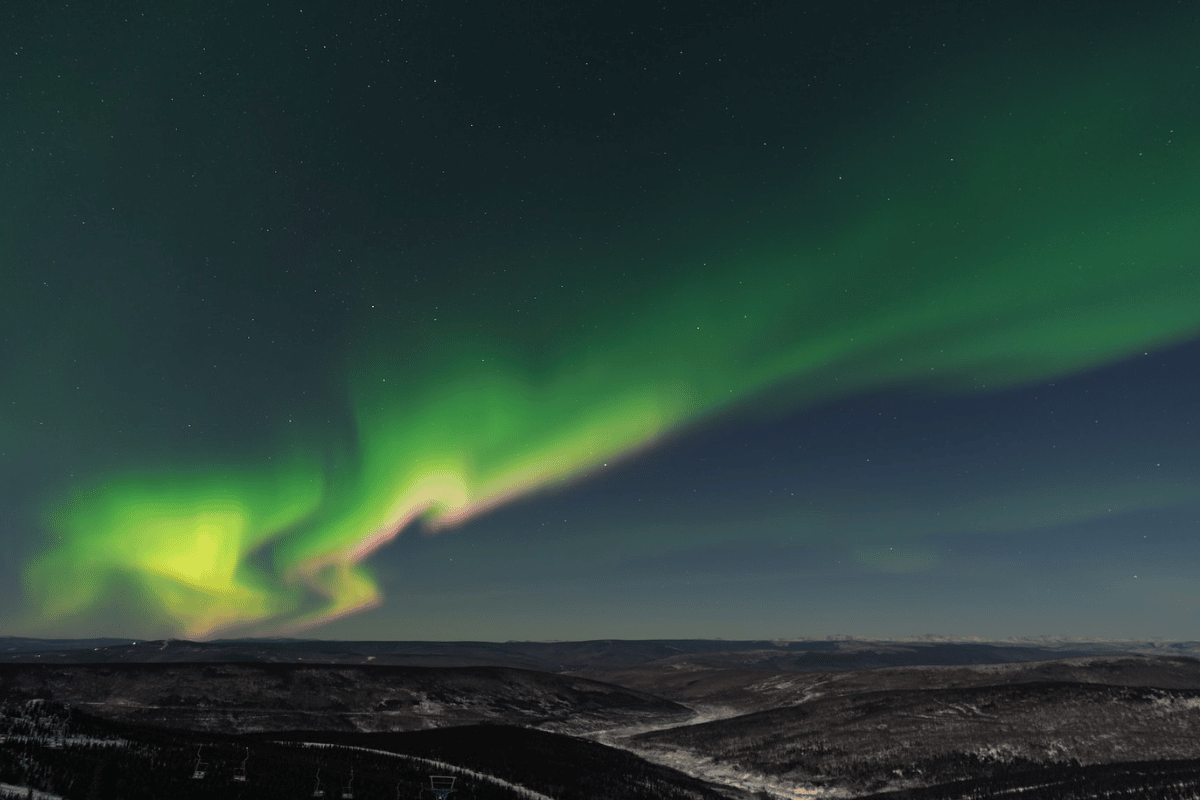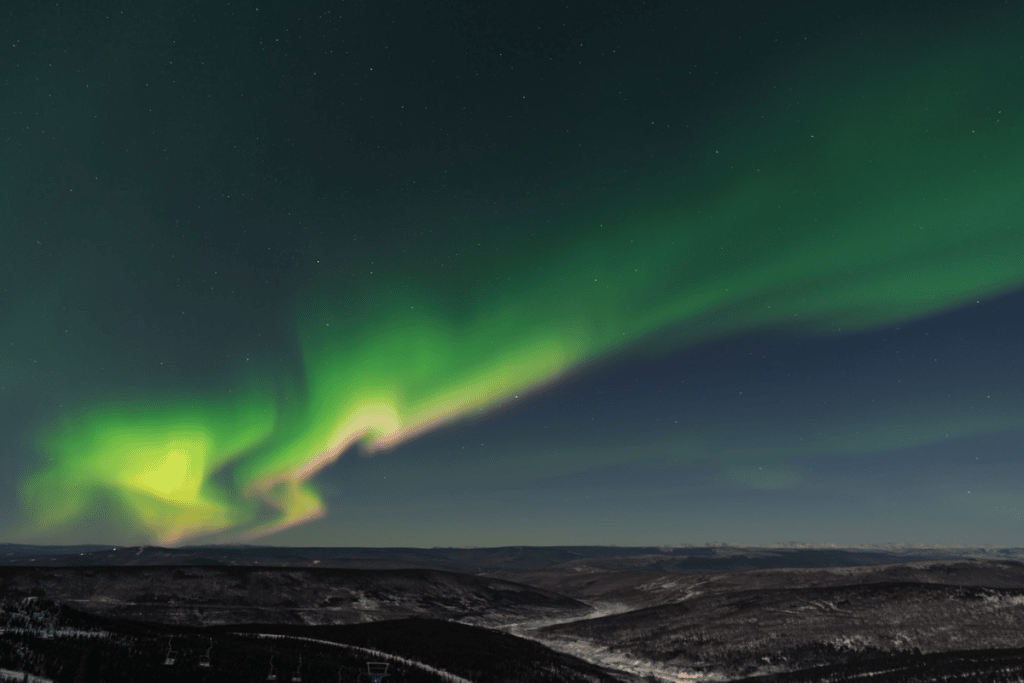 Fairbanks is one of the world's best Northern Lights-watching spots. Peak aurora season is August 21st through April 21st, so make sure to book your stay during these dates. The darker the sky, the better, so come in December-February for your best chances to see the Aurora in Fairbanks.
Fairbanks is one of the only cities in the state that experiences a surge in tourism in the winter months. This is due to its exceptional Aurora Borealis viewing experiences.
With many dark days and cold dry temperatures, Fairbanks is the place to go if you want the very best chances to see the Northern Lights.
In fact, Fairbanks is so notorious for their Aurora Borealis tourism, that they have even created an Aurora Borealis tracker that will update you on the very best viewing opportunities.
You can check out their Aurora tracker on their website here.
Spending some time in Fairbanks? Maximize your Northern Lights viewing opportunities by staying at one of these great places that prioritizes a view of the Aurora.
Aurora Villa
Aurora Villa offers floor-to-ceiling windows in their rooms to allow for some beautiful light watching! This seven-room bed and breakfast is a luxurious way to take in the views – no camping required.
This luxury destination is one of the premier places to watch the Aurora Borealis from Fairbanks, and they are only located thirty minutes from downtown Fairbanks.
Contact Information
Northern Sky Lodge
The Northern Sky Lodge is a bed and breakfast with an excellent view of the Aurora Borealis during peak season. Their guests can see the lights 3 out of 4 nights on average – those are pretty good odds for a chance to see the lights.
Additionally, they offer a Chase the Lights excursion where a Northern Lights photographer will teach you how to snap the best photos.
Room rates include full use of the trails on their private property, continental breakfast, and even the use of snow shoes to explore.
Contact Information
Wedgewood Resort
The Wedgewood Resort sits on a 75-acre wildlife sanctuary in Fairbanks. With minimal light pollution, you will be able to see the Northern Lights on clear evenings.
Their condo style and suite options give you the privacy you crave on this beautiful piece of property just far enough away from the city to enjoy some seclusion.
Book their Aurora Special, and make sure to sign up for the Aurora Borealis wake-up calls, or borrow one of their headlamps so that you can hike the property's trails at night to increase your chance of seeing the Northern Lights.
Contact Information
Talkeetna
Talkeetna is a small town of only about 1,091 people. Seated south of Denali National Park and north of Anchorage, it is a great place to kick back and find the lights.
This small town offers spectacular viewing opportunities of the Aurora Borealis during the winter season.
Talkeetna Alaskan Lodge
Hello, gorgeous Denali views!
The Talkeetna Alaskan Lodge is a cozy, authentically Alaskan lodging experience that also offers views of the Aurora. Ask to face Denali or sit out on their deck – and don't forget to get your cameras ready.
Set on a ridge right above the town of Talkeetna, you are guaranteed to be away from light pollution, and high enough to see any Northern Light activity if it shows up.
Their availability is a bit more limited than some of the other options on the list, so make sure to call ahead to ensure they are open and taking reservations during your winter trip.
Contact Information
Address: 23601 S Talkeetna Spur Road Talkeetna AK 99676
Phone: (800) 808-8068
Website: alaskacollection.com
Anchorage Municipality
The city of Anchorage and its municipality may be in the southcentral part of Alaska, but there is no dearth of Aurora-spotting here on clear, cold nights.
If you can escape the light pollution from the city you have a great chance of spotting the dancing lights. Eagle River and Girdwood both have some great viewing opportunities, too.
Glen Alps
The Glen Alps Trailhead and Viewpoint offer clear views of the Northern Lights at a higher elevation above the city. And the best part? It is only a 20-minute drive from downtown.
This one will require a car to reach, and the road can be a little confusing at night if you have never traveled up here before. Make sure to download a map before you go in case you lose service on your way up.
You will want to get out of the car to check out the viewpoint, so dress warm. The best viewing opportunities usually tend to be the coldest, too.
Anchorage Downtown Viewpoint
Check out the gravel parking area off East Northern Lights Boulevard for some beautiful views without leaving town.
You will find this viewpoint just west of the Northern Lights Boulevard and Postmark Drive intersection.
This is a more difficult place to see the Northern Lights from, but it is worth a shot if you don't have the time to drive out of town. It is a quick trip from almost anywhere within the city, especially if you are driving late at night and there is no traffic.
Alyeska Resort
Search for the Northern Lights and vacation in style at the same time at Alyeska Resort.
Alyeska Resort is one of the most popular hotels in Alaska for its both its chateau-style accommodations and the variety of activities for guests. It is also one of the largest and more luxurious resorts that the state has to offer.
While you are visiting make sure to sign up for a call! Alyeska Resort in Girdwood offers Northern Lights wake-up calls so you won't miss a thing.
Contact Information
Address: 1000 Arlberg Ave Girdwood AK 99587
Phone: (800) 880-3880
Website: alyeskaresort.com
Denali National / Denali State Park
Visiting Denali National Park or Denali State Park? You are in for a lot of classic Alaska experiences in one location. The park has some of the best wildlife viewing, hiking, and glacier sighting in the state.
It is also one of the best spots for Northern Lights viewing as well! Pack up your cameras and stay up a little later on your trip. But be sure to bundle up, because winter temperatures can drop below -20 degrees Fahrenheit.
There are a couple of cabins available for rent in Denali State Park that is open all year long.
Tokosha Cabin In Denali State Park
The Tokosha Cabin in Denali State Park is located at the K'esugi Ken Campground and is similar in style to the Hunter Cabin, also at K'esugi Ken Campground. These cabins are of new construction, and hot on the list to Alaskan locals.
Reservations are highly recommended ahead of time because these beautiful cabins book out far in advance. It is no surprise why, the cabins are clean and new, boast large windows overlooking the Alaskan landscape, and are perfect for views of the Northern Lights.
Contact Information
Address: K'esugi Ken Campground Trapper Creek AK 99683
Phone: (907) 745-8950
Website: dnr.alaska.gov
The Interior
Some of the best places to view the Northern Lights are in the Interior of Alaska.
As you go farther north, your chances increase as your nights become longer, and the temperatures become cooler. Consider a trip during the wintertime to some of the lesser visited towns in Alaska.
The Lodge at Black Rapids
Every room at the Lodge at Black Rapids offers views of the Northern Lights! This stunning Alaskan roadhouse has a long history, including the original Black Rapids Roadhouse structure on the property that is currently being restored.
This unique property is located in the heart of the Alaska Range right on the Richardson Highway. Situated on a bluff, you have excellent views from every room, and a high chance of seeing the Northern Lights in this wilderness area without any light pollution.
During your stay, you can book additional activities like skiing, snowshoeing, fishing, and ice cave exploring.
Expect delicious gourmet meals at their restaurant, friendly hospitality, and plenty of chances to get a first-hand experience with the famed Northern Lights.
Contact Information
Take A Cruise
There are many cruises that sail around Alaska, including Princess, Holland America, and Carnival. In fact, about 49% of Alaska's tourism comes via cruise.
When booking, some cruise companies will specify if there is a chance to see the Northern Lights. If it is something you definitely want to see, double check with the company that you will be in the best position for a sighting before you book.
Cruise ships tend to usually run in the summertime when we know the chance of seeing the Aurora Borealis is low. But if you book in the shoulder season, your chances greatly increase, and the price of the cruise drops, too!
Book closest to its cutoff sail date to increase your chances of seeing the Northern Lights.
Book A Tour
Though the Northern Lights are incredible, there is so much more to see in Alaska. Book a tour for an additional dose of adventure and enjoy the incredible Aurora Borealis views baked right in.
Gondwana Eco-Tours
Gondwana EcoTours specializes in small groups and curated itineraries.
Check out their Northern Lights Adventure Tour for six nights of all things Alaskan! The tour includes a personal wake-up service when the Aurora Borealis is spotted, no waiting up for hours hoping to see it.
You will also experience Chena Hot Springs, a dog sledding excursion, and a curling lesson from local Alaskan players.
One of our favorite experiences? Hanging out with the reindeer! You will also have the opportunity to chat with a local Alaskan homesteader over lunch and take a walk with a reindeer. Who can resist a trip like this?
Contact Information
Northern Alaska Tour Company
Curate your own Alaskan adventure! Explore the Arctic Circle with a Northern Alaska Tour Company excursion to pick and choose what add-ons you would like in addition to your Northern Lights viewing with a selection of tours.
These personalized tours offer endless possibilities, where you can check off all of your Alaskan bucket list dreams.
See the Arctic Ocean? Check.
See the Yukon River? Check.
How about visiting the stunning Brooks Range on your Arctic Adventure? Check and check.
Contact Information
Salmon Berry Tours
Salmon Berry Tours (cute name alert!) has two tours for the Aurora adventurer – a Fairbanks tour and a Chena Hot Springs guided tour.
The Fairbanks tour will take you to the Ski Patrol Hut and the farthest northern chairlift in North America. Learn more about the Northern Lights while you sip on a warm beverage on this 4-hour tour before heading back into Fairbanks around 2 am.
The Chena Hot Springs guided tour begins in Fairbanks. Guests will set off for the Chena Hot Springs to enjoy a soak and a visit to their famous ice museum, followed by dinner and then the light hunt commences.
This one's a bit longer at 12 hours, but includes some Alaskan must-dos for the explorer looking to complete their "all things Alaskan" checklist.
Contact Information
In the mood for more beautiful sights in Alaska? If you are in Alaska for Fall, it's an incredible sight to see. Many people come to Alaska in the summer, but our fall season also offers you the chance to see the Northern Lights as well as the changing leaves.
After living over 14 years in Alaska, Megan McDonald can confidently state that there's not much of the state on the road system that she hasn't visited. From the Brooks Range to McCarthy, Homer, and everywhere in between, every nook and cranny of Alaska is always her new favorite place.
As President and co-founder of Alaska-based boutique media agency HuMu Media, she spends her work time writing, photographing, and traveling, and her off time writing, photographing, and traveling. They say do what you love, and she is lucky enough to do so!
You can follow her travels on Instagram at @theitinerantginger