Are you looking for the best day trip from Anchorage while you are visiting our great state? Alaska… Is… Huge…
It is the largest state in the United States. It is nearly 2.5 times the size of Texas, and it can fit 19 states within its boundaries.
What does this mean for you? There is always something to do in our beautiful state, but you might also be limited on time because some trips might take more than just a day to get there.
When you are planning your visit, make the most of your trip by adding day trips from your original point. In a place like Anchorage, Alaska's largest city, there is plenty to do in town as well as lots of options for day trips after you have hit all the classic landmarks within the city limits.
Need a little inspiration? Here are some of our favorite day trips from Anchorage when you use the big city as a base point.
Drive Down Turnagain Arm
Feel like going on a mini road trip?
If you don't want to go far, exploring Turnagain Arm is a great starting point. Turnagain Arm is a waterway that forms the northern portion of the Kenai Peninsula and is home one of the most scenic drives in America: the Seward Highway.
It's also one of the most dangerous highways in America, so make sure you keep your eyes on the road, even though the scenery is absolutely breathtaking. Pull over if you want to take pictures, and try not to let cars bunch up behind you.
There are dozens of fabulous trails that start right on the Arm. Rainbow Peak Trail, Bird Ridge Trail, and one of our favorites: the Turnagain Arm Trail. This trailhead is just past Potter Marsh and there is plenty of parking at the base.
Hike this 6.6 mile out and back trail that parallels Turnagain Arm for some of the best views in the area. Keep an eye out for bear, moose, and other critters along the way, and enjoy the peekaboo views of the water and mountains across the Arm.
Many people even spot wildlife while cruising, including Dall Sheep. In fact, the Turnagain Arm is one of the only places in the world you can see Dall Sheep from sea level.
Turnagain Arm lies south of Anchorage and can be reached by car along the Seward Highway. It's an easy ten minute drive straight from downtown Anchorage.
Ride The Alaska Railroad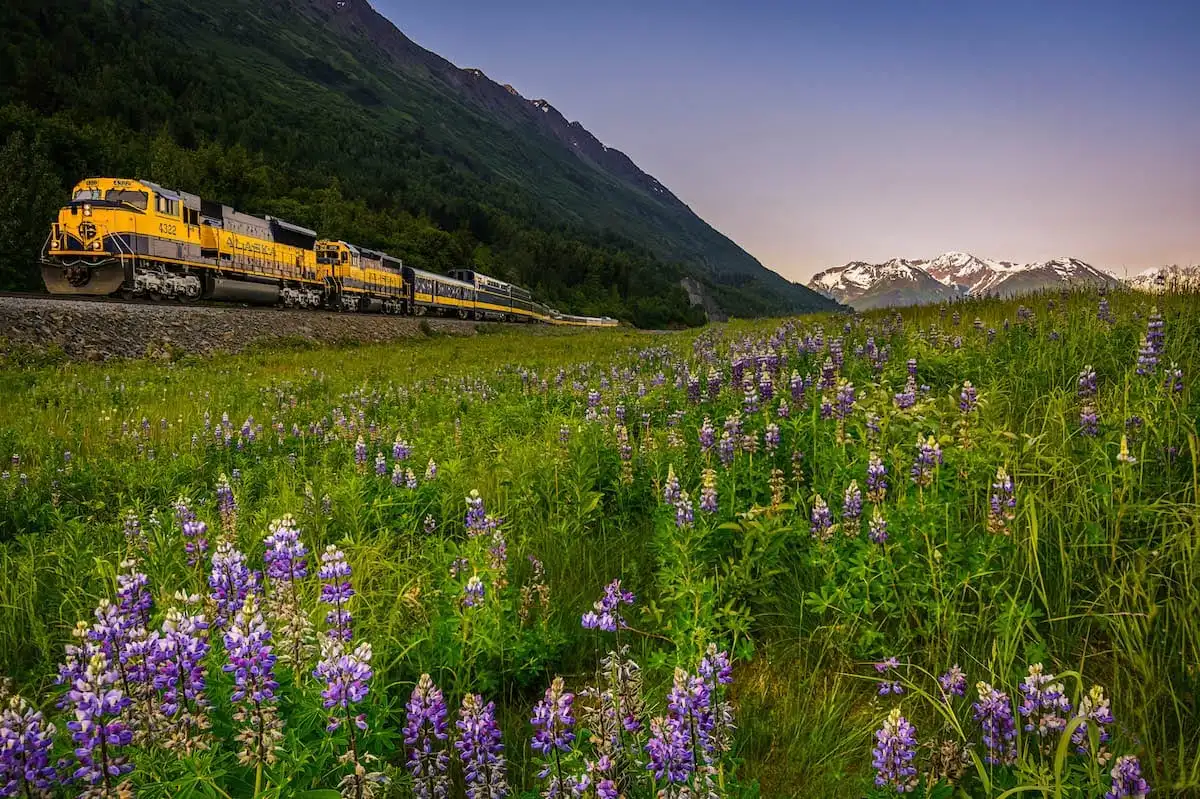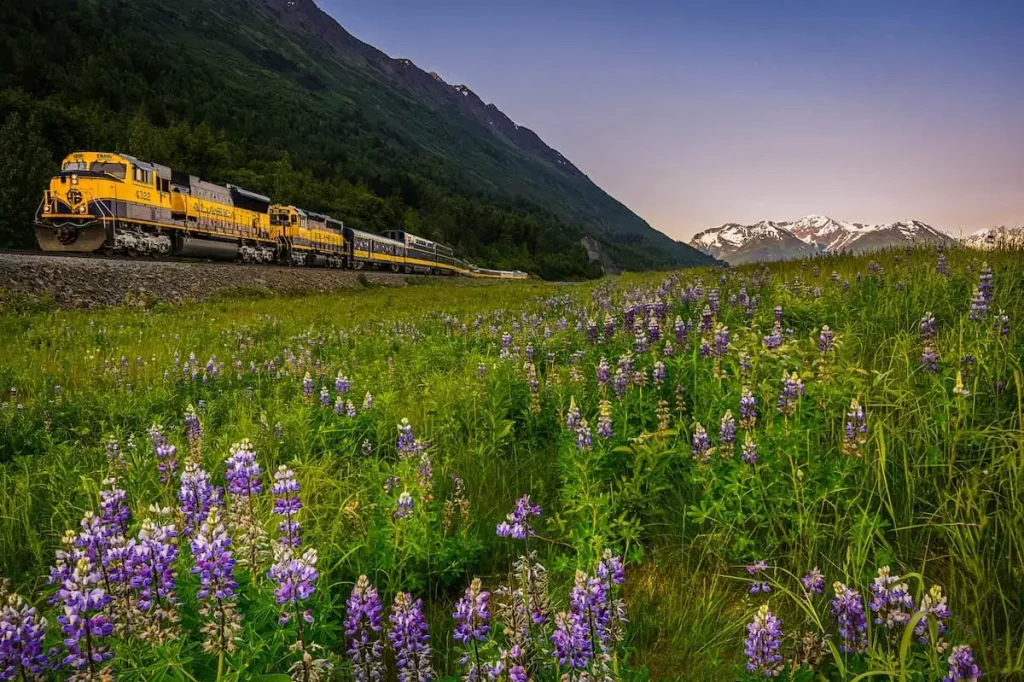 Anchorage is the hub for the Alaska Railroad, making it easy to ride the rails.
If you are visiting Alaska in the summer time, take the train on a day trip to Seward on a route known as the Coastal Classic. The Coastal Classic leaves Anchorage and cruises along the Turnagain Arm, travels through mountains, and arrives in the seaside town of Seward, Alaska.
The train travels 114 miles and takes about 4 hours to get to your destination.
When you arrive in Seward, there are tons of activities to choose from to fill your time. Put on your warmest gear and check out glaciers or take a hike along the shoreline.
It is possible to take the train down, spend a couple of hours exploring the town, and then taking the afternoon train back. It would be an intense trip, but well worth it if you are short on time.
Alaska Railroad
Explore Girdwood, Just Down The Road
Only about 45 minutes from Anchorage, you will find one of the Last Frontier's favorite skiing towns of Girdwood.
The Girdwood Brewing Co. is one of Alaska's most popular breweries with both a core and a rotating tap list. If you are planning to drive, don't worry; they offer non-alcoholic beverages and to-go growlers to enjoy once you arrive back in Anchorage. Be sure to check out their website to see what food trucks will be available the day you arrive.
But trust us when we say that no matter where you choose to go for dinner in town, you will love it. This small mountain town is a foodie's paradise. Many of the restaurants here have won awards, so there is no shortage of great places to eat.
And our favorite place to stay while in town is the world-famous Alyeska Resort. From Four Diamond restaurants, gorgeous suites, an epic ski mountain with over 600 inches of annual snowfall, Alyeska Resort is a must-see if you are in town.
If you are looking for something smaller, there are countless Airbnbs and vacation rentals all throughout Girdwood. Guaranteed you will find something that fits your needs.
Plus, the drive there will take you right along the Turnagain Arm. The views alone are worth the journey.
Alyeska Resort
Go View Portage Glacier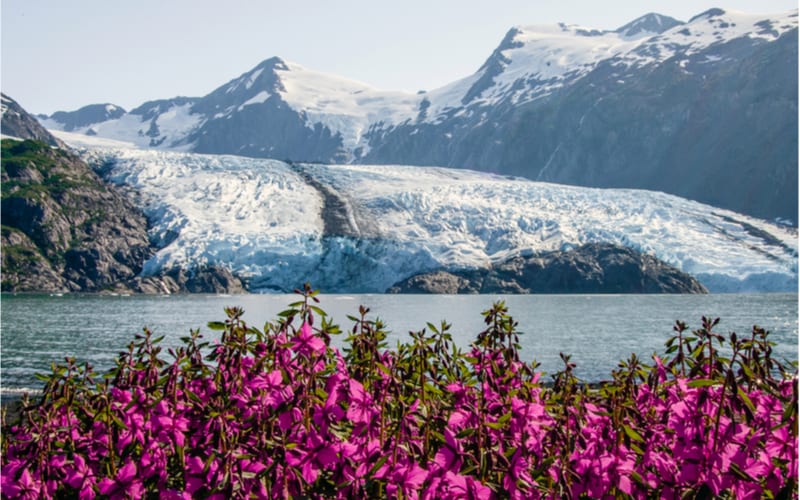 Drive about an hour and 20 minutes southeast of Anchorage to Portage Glacier. No trip to Alaska is complete without a glimpse of our famous ice behemoths.
Portage Glacier is on the Kenai Peninsula and within the Chugach National Forest. It used to be much larger and connected to what are now five separate glaciers, but despite not being quite as large as it used to be, it is still a favorite for outdoor enthusiasts.
It is right on the way to Whittier, so you can combine the trip and visit them both. The Buckner Building in Whittier is one of the places listed on our Abandoned Places In Alaska, so it might be worth the visit to go see. But no matter the season, Portage Glacier is also worth a visit on its own.
If the lake is frozen over, hike, ski, or bike out to the glacier. It is frequently windy and cold, but the experience is like no other.
In the summer time, book one of the glacier cruises that takes you all the way to the foot of the glacier, where you can watch large chunks of ice calve and drop into the waters below.
You can explore one of the many interesting trails in the area. We like the Blue Ice Trail, that takes you from the parking lot along a paved trail all the way back to the Seward Highway.
This beautiful trail crosses streams on gorgeous bridges, meanders by one of the many campgrounds in the area, and offers jaw-dropping views of the mountains towering over you all along the way.
Visit Kenai Fjords National Park
It takes about two and a half hours to get to Kenai Fjords National Park from Anchorage.
This national park features nearly 40 glaciers, boat tours, kayaking opportunities, hiking, and you can even become a junior ranger.
Kenai Fjords National Park is located in Seward, a 2.5 hour drive one way from Anchorage through some of the prettiest scenery in the state. This can be a day trip if you don't mind a drive in the morning and evening, and if you don't have the chance to spend the night.
Kenai Fjords has countless ways to explore the natural area, and it has great things to do all year round! Our favorite? The Glacier Tours on boat. There is no better way to explore Kenai Fjrods National Park.
Just make sure you leave very early in the morning if you have booked a tour on one of the boats. After your tour you can explore the area, eat at one of the many restaurants and then make your 2.5 hour drive back to Anchorage.
Kenai Fjords Tours
Head To Whittier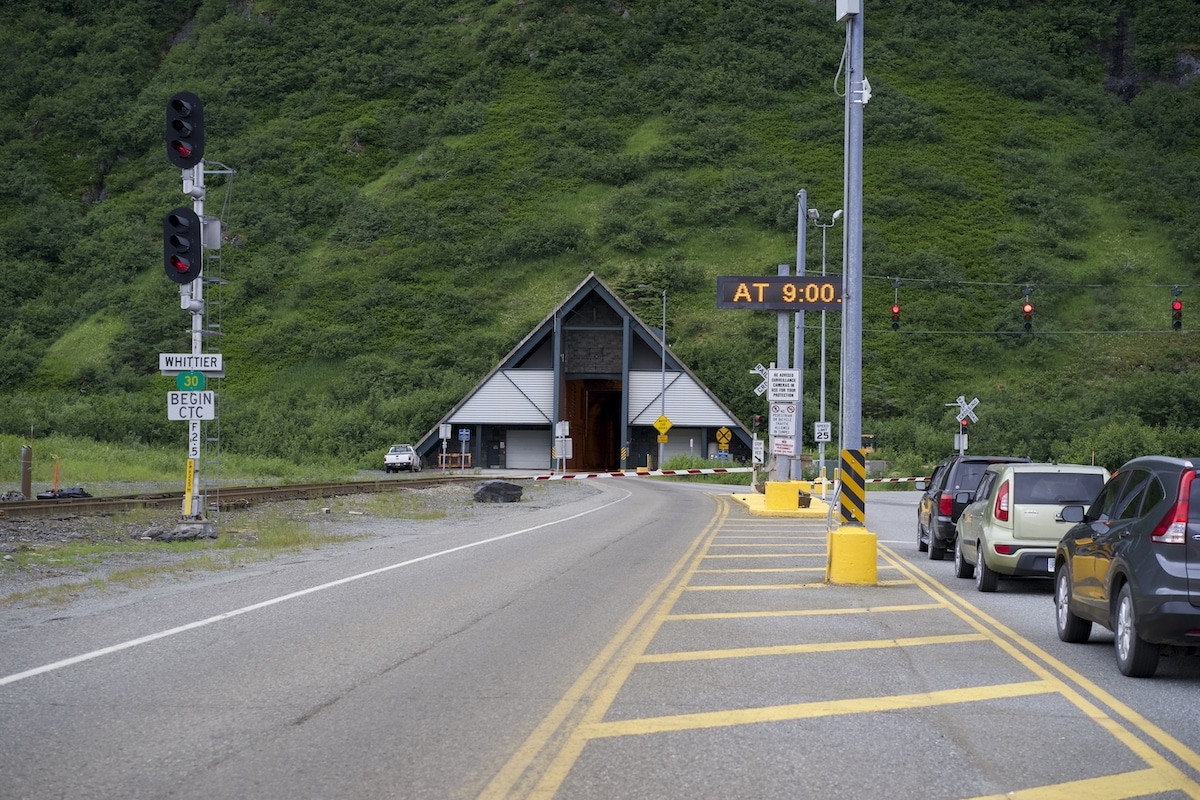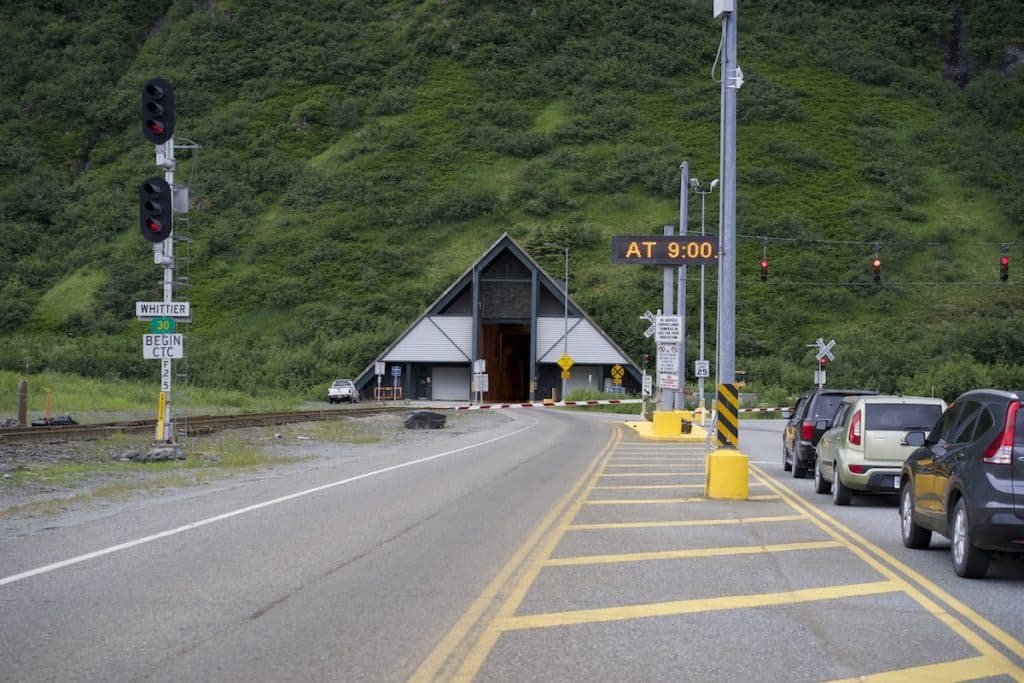 Take the hour and 15 minute drive down to Whittier, one of Alaska's favorite coastal towns.
You might have heard of the town that lives in one building – that is Whittier! While there are things to do outside of one building, most of the residents live in Begich Towers, a single 14-story building.
We love to head to Whittier to get a first hand look at Resurrection Bay. Drive through the infamous Anton Anderson Memorial Tunnel, an engineering feat completed in 1943. The tunnel itself is shared with the Alaska Railroad, so be sure to check out their schedule before heading out. You may just have to wait your turn and allow the train to go first.
Whittier is the place to go if you love fishing. But there are also glacier cruises, hiking, and even scuba diving in the area. And of course, many charming small restaurants and coffee shacks to fill you up before you head back into Anchorage.
Whitewater Raft Sixmile Creek
Just an hour and a half drive away is the lovely, charming little town of Hope. Located directly across the Turnagain Arm, you have to travel all around that beautiful body of water to hit this historic town.
While Hope is home to campgrounds, epic hiking trails, fabulous music shows and great restaurants, it is also home to Sixmile Creek, offering both Class IV and Class V runs.
With two launches a day, at 9:00 a.m, and 2:00 p.m., you have plenty of time to make your way here from Anchorage before the adventure begins.
You will drop over 50 feet per mile coming out of the Chugach Mountains, cutting its way through three separate canyons. The only requirement for this ride of a lifetime? You must be able to swim. And there is an age limit: the second canyon is only open to riders older than 12, and the third canyon is only open to riders older than 15.
Trips start $129 per person, depending on ride, date, and time of year. You will get access to knowledge, talented guides, as well as a dip in the hot tub when you are finished to warm up.
Chugach Outdoor Center
Spend Time At Eklutna Lake
Eklutna Lake is the perfect distance from Anchorage for a day trip. It is a popular destination for locals and tourists alike because it has so much to offer.
Eklutna Lake Recreation Area offers many different avenues of adventure.
Hop on the lake, where you can canoe, kayak, and raft to your heart's content. Enjoy a peaceful float down the lake where you take in the gorgeous scenery around you.
We wouldn't recommend swimming, however, as the lake is very cold and in the center, very deep. Make sure to keep your life vests on if you are enjoying a boat trip.
Or you can explore the area by one of the great trails. Enjoy the Eklutna Lakeside Trail, which takes you all the way to the glacier, although it is a 12.7 mile hike. Many adventurers choose to bike or 4-wheel their way to the glacier, although you can also cross country ski it in the winter season too.
Many others come to hunt, camp, or just slow down and enjoy your surroundings. And you can hit the ice cream shop on your way out if you are visiting during the summer months.
Parking passes are available daily for the Chugach State Park, for only $5. Or you can purchase an annual pass on their website.
Walk Around Beautiful Potter Marsh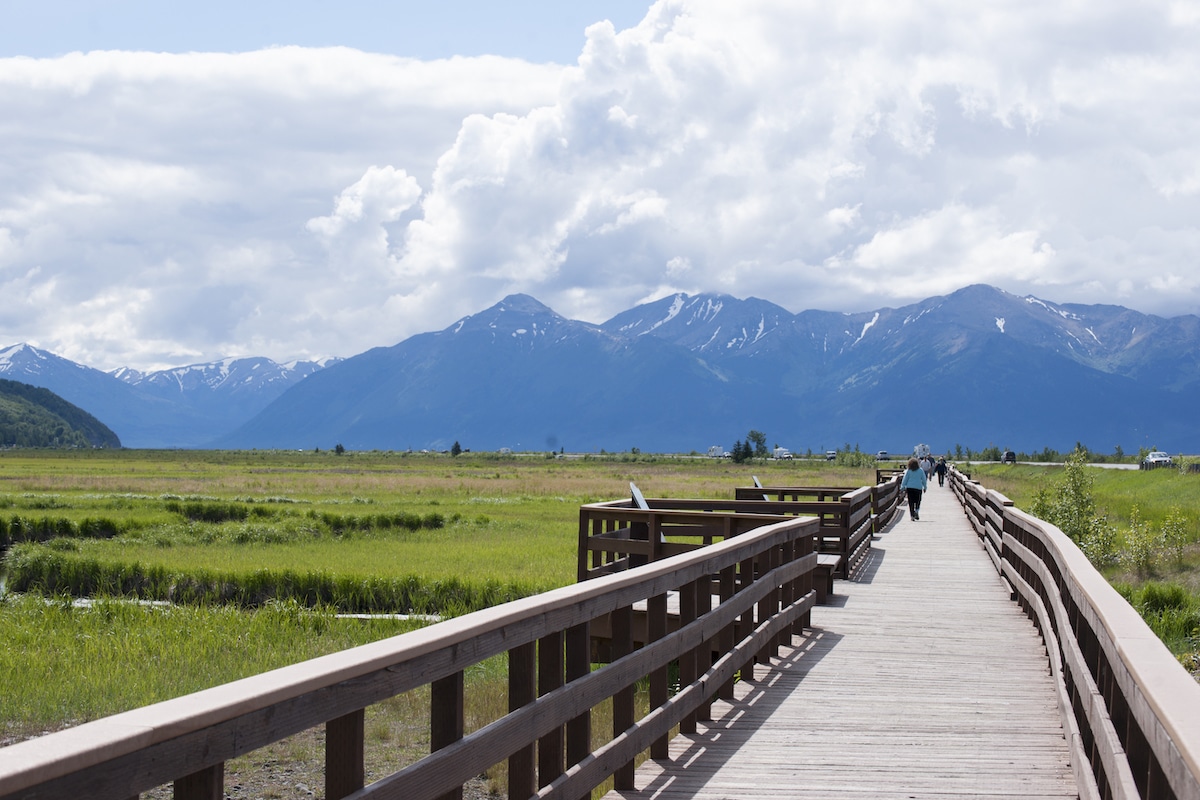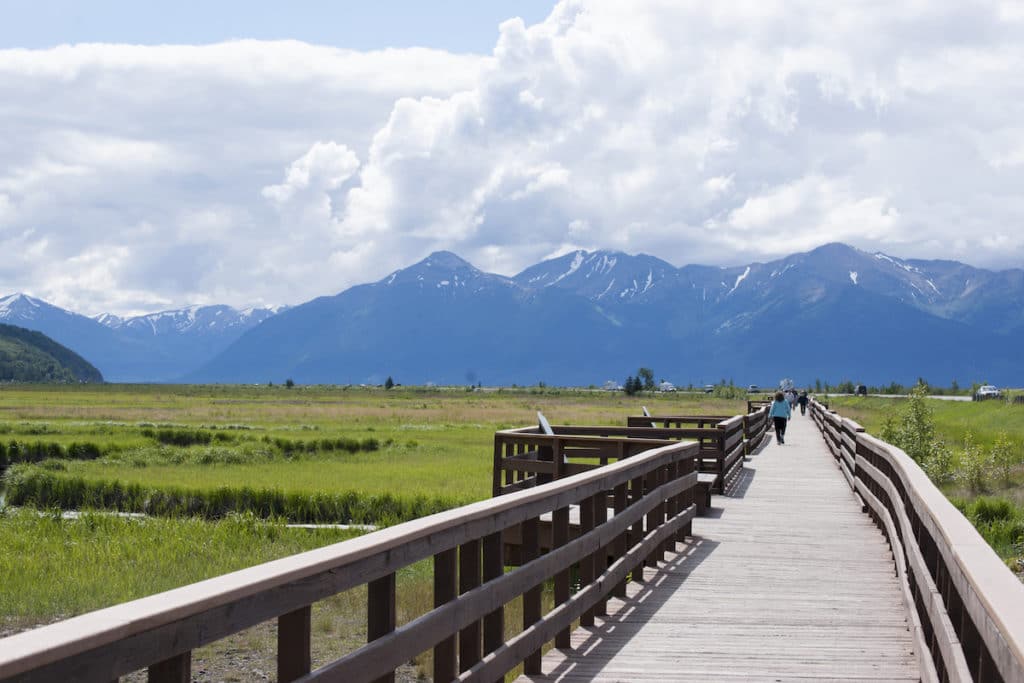 Potter Marsh is still within the city limits of Anchorage, but it is located right on the edge on Southside. Just across the street from the Turnagain Arm, locals come to play in the wildlife diverse spot all year round.
Walk the boardwalk and see how many moose you can spot in the distance, or sometimes up close. Take in the large amount of birds around you, and see how many of the 130 species you can identify.
Take the boardwalk to its end and watch the salmon spawn from May to late August in Rabbit Creek, and look for chinook, coho, or humpback salmon.
This is an easy activity open to all skill levels, and has enough beauty and wildlife to interest just about everyone in the family. You are still close to all the restaurants in Anchorage, so you can grab lunch when you are done.
Go Support The Wildlife Conservation Center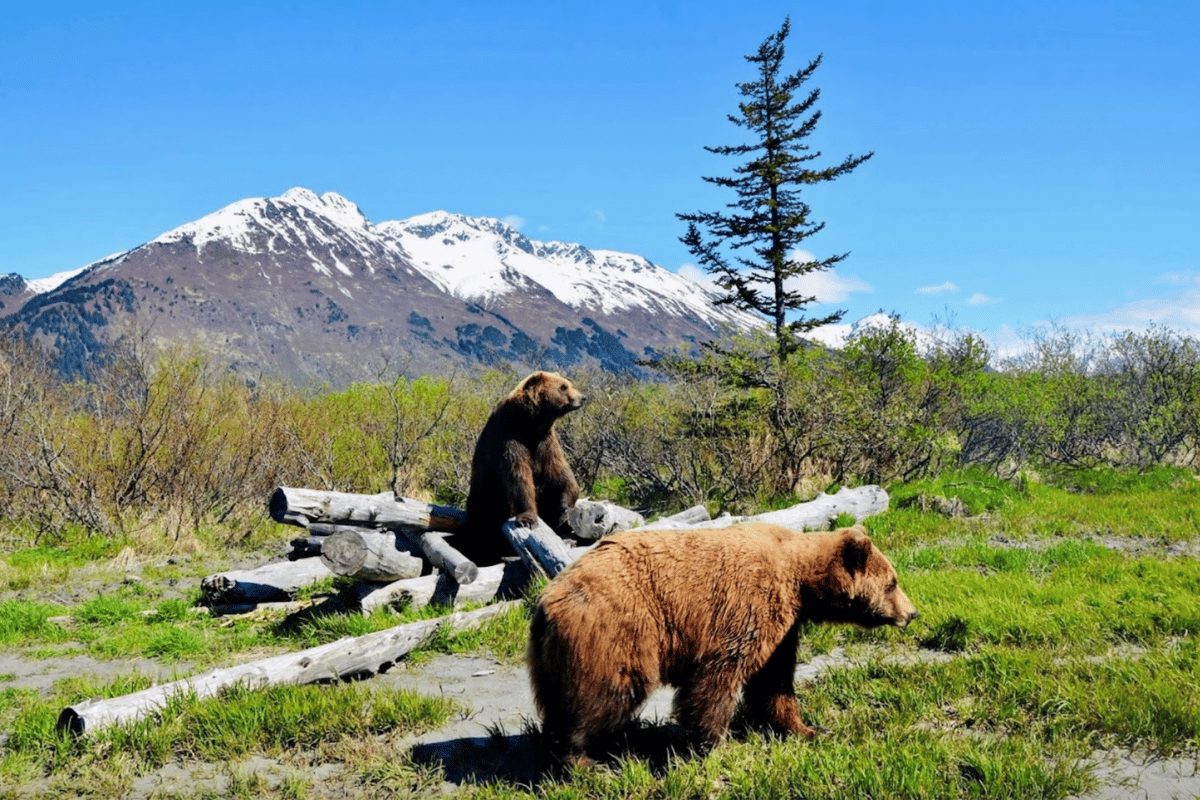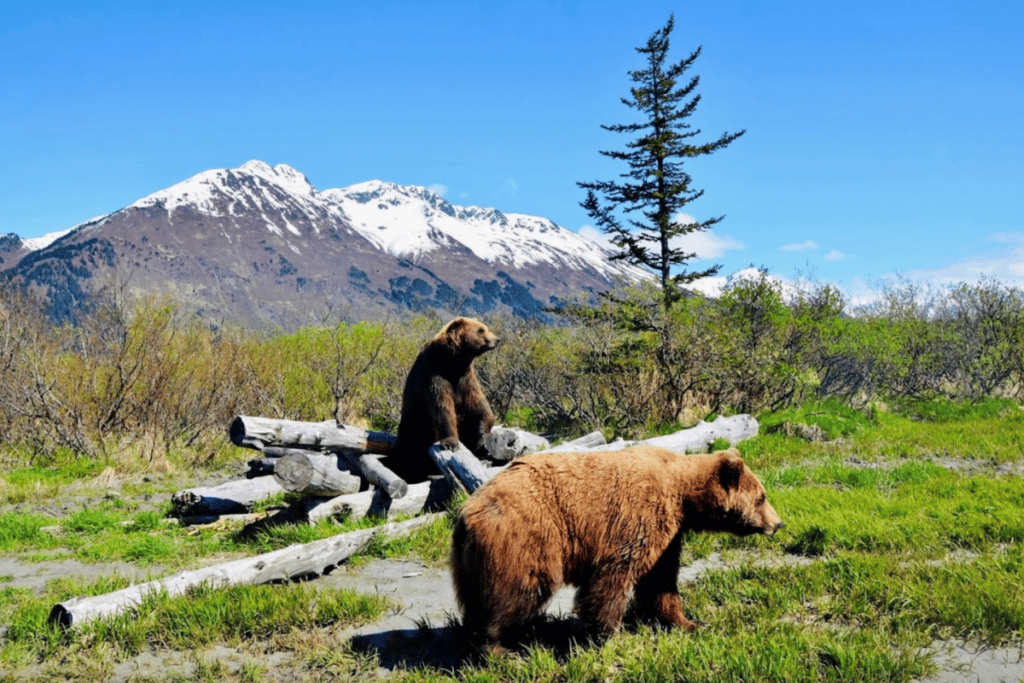 Want to see the wildlife Alaska is famous for– but safely, and behind a big fence? Then you need to head to the Wildlife Conservation Center.
This amazing spot is an easy hour drive from Anchorage along the Turnagain Arm, right on the Seward Highway. Established in 1993, this conservation center has been taking care of Alaskan animals for decades. These 200 acres are home to some of Alaska's most amazing animals.
Spend the day learning about grizzly bears, caribou, musk oxen, bald eagles, and more! And the best part? You will have the chance to see them up close. These animals have been injured or orphaned in the wild, and the Wildlife Conservation Center cares for and rehabilitates these animals.
Visit this education and research center for just $18 per adult, and $14 for ages 5-17. Under 5 is free! And the best part? You know your dollars are going straight to these magnificent animals, which honestly makes it a steal.
Wildlife Conservation Center
Spend The Day In Palmer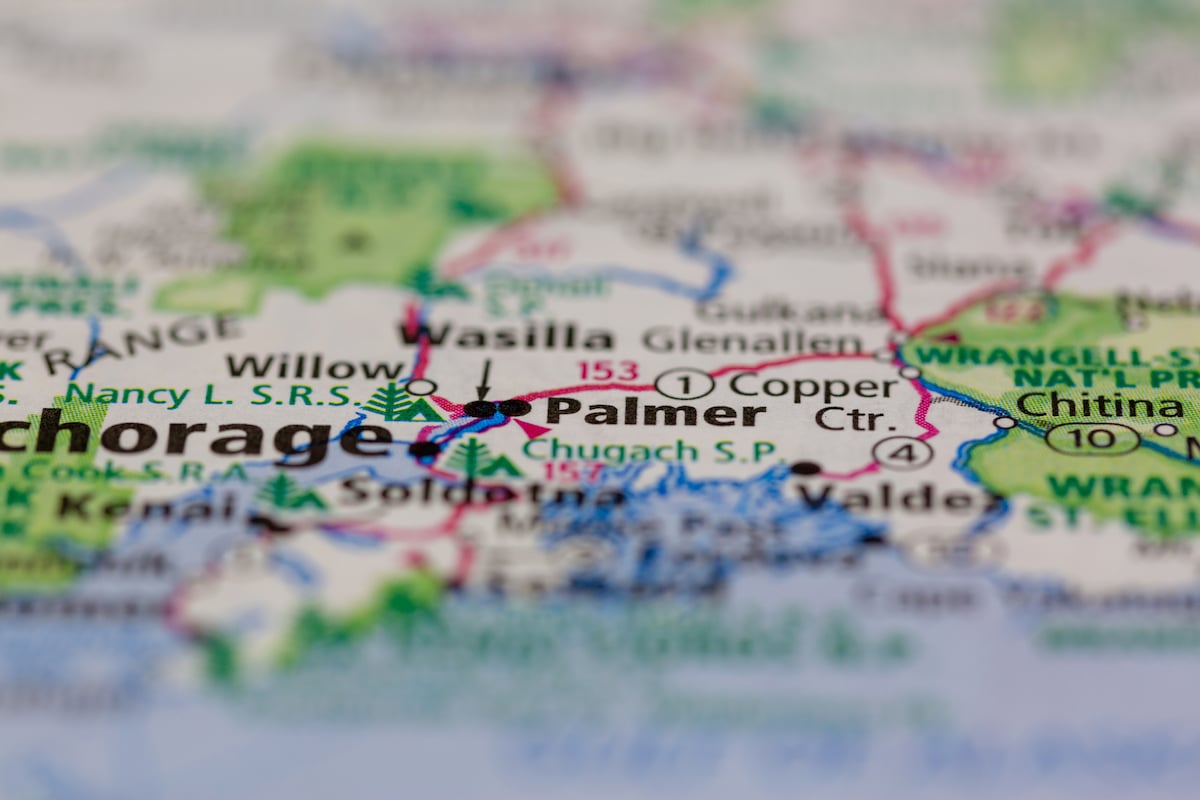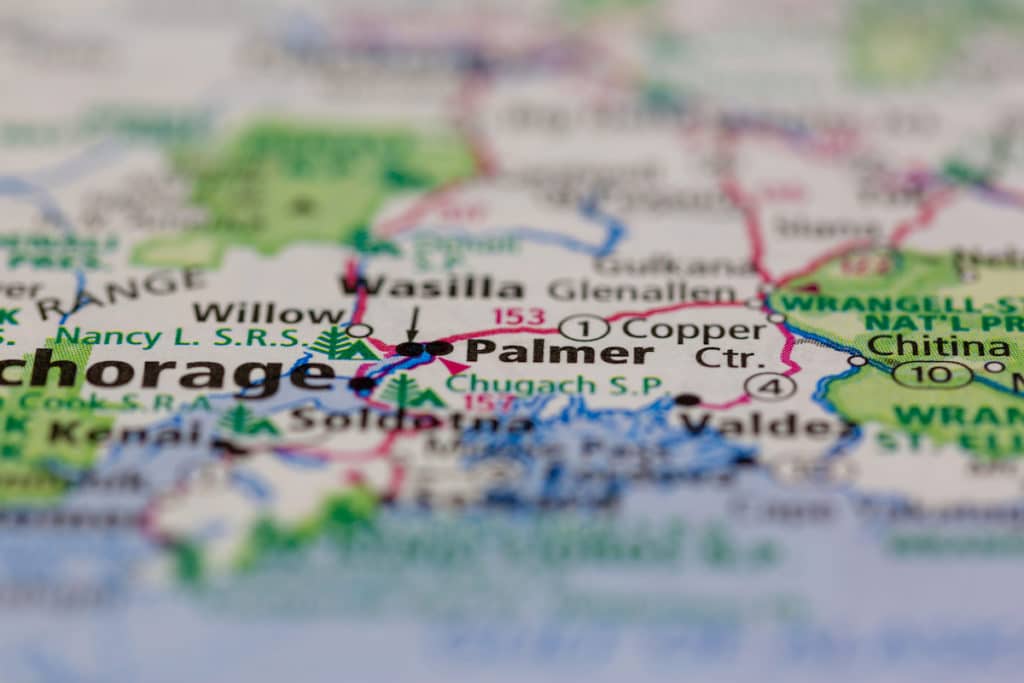 Who wouldn't want to putter around one of the most charming towns in Alaska? Situated right in the heart of farming country, in the Matanuska- Susitna Valley, Palmer is a fun little town filled with things to do.
In the summer time, take advantage of the one of the great hikes nearby, perhaps Bondenburg Butte Trail, or even the difficult Pioneer Peak Trail, and gaze down on the gorgeous town beneath you. You will see farms laid out all over Palmer.
When you finish your hike, head on over to one of those very farms for an opportunity to pick your own vegetables and fruit! Quite a few of the farms offer U-pick opportunities all summer long.
Or if you head there during the winter season, make sure to visit the Reindeer Farm for some winter fun, or book a sleigh ride to explore the area in a romantic and charming way. After you are finished, warm up at one of the many fabulous restaurants located right downtown.
We love Vagabond Blues for lunch, where breads, pastries, and soups are all made fresh daily. And don't forget some tasty coffee, brewed with local Alaskan roaster Kaladi Bros. We also love to finish it off with a cookie or scone, and end the day on a sweet note.
Vagabond Blues
Address: 642 S Alaska St Palmer AK 99645
Phone: (907) 745-2233
Social Media: Instagram | TripAdvisor
Matanuska Lakes State Recreation Area
Matanuska Lakes State Recreation Area is one of the places to explore in the Matansuka-Susitna Borough.
With fishing, hiking, biking, camping, and more, this place draws in adventurers all year round. The recreation area is home to more than 30 miles of hiking trails open to the public that take you through gorgeous local scenery.
There are a number of lakes in the area, including Canoe, Matanuska, Kepler, Irene and Long Lakes. You will find canoers, kayakers, and stand up paddlers enjoying the lakes in the summer time, and plenty of fisherman going after landlocked salmon, grayling, stocked and wild trout, and Dolly Varden.
In the winter, head on out with your cross country skis or snowshoes to soak in those bluebird days on snowy trails. Or take your fat bike out to float on top of the snow while you enjoy one of the trails that wind its way through the area.
Eagle River Nature Center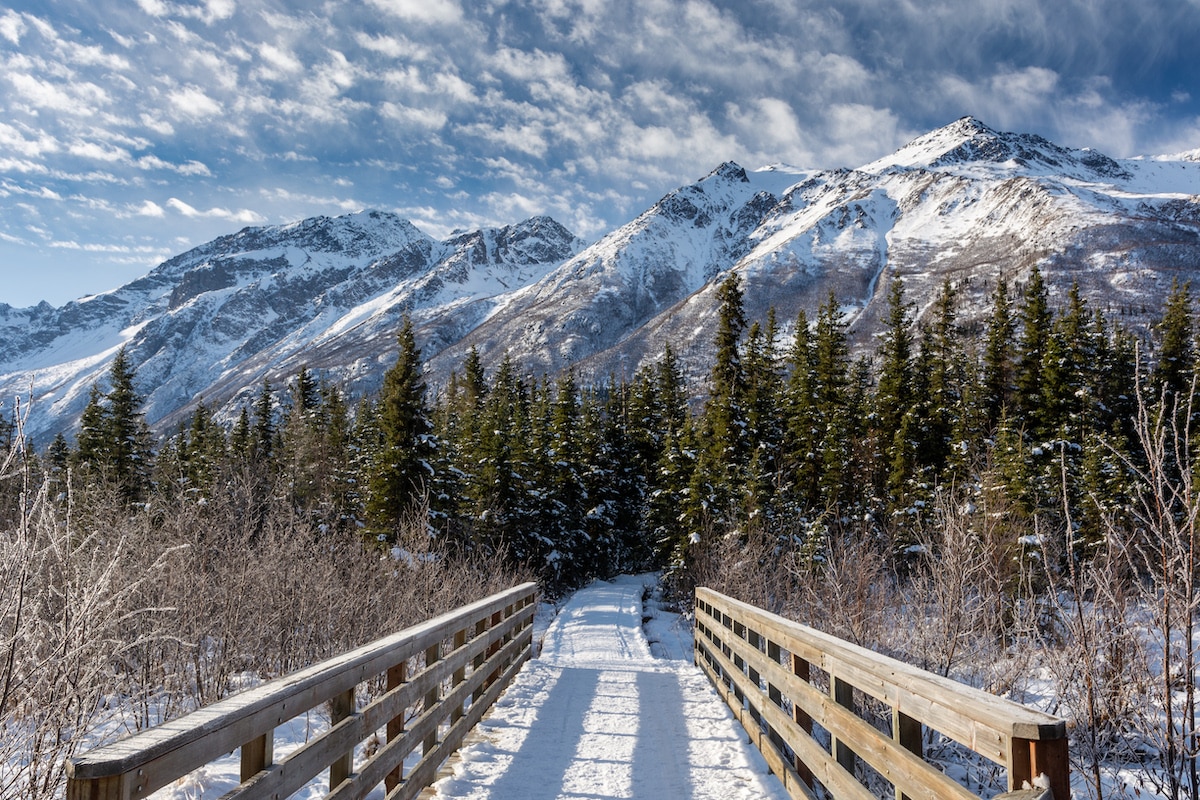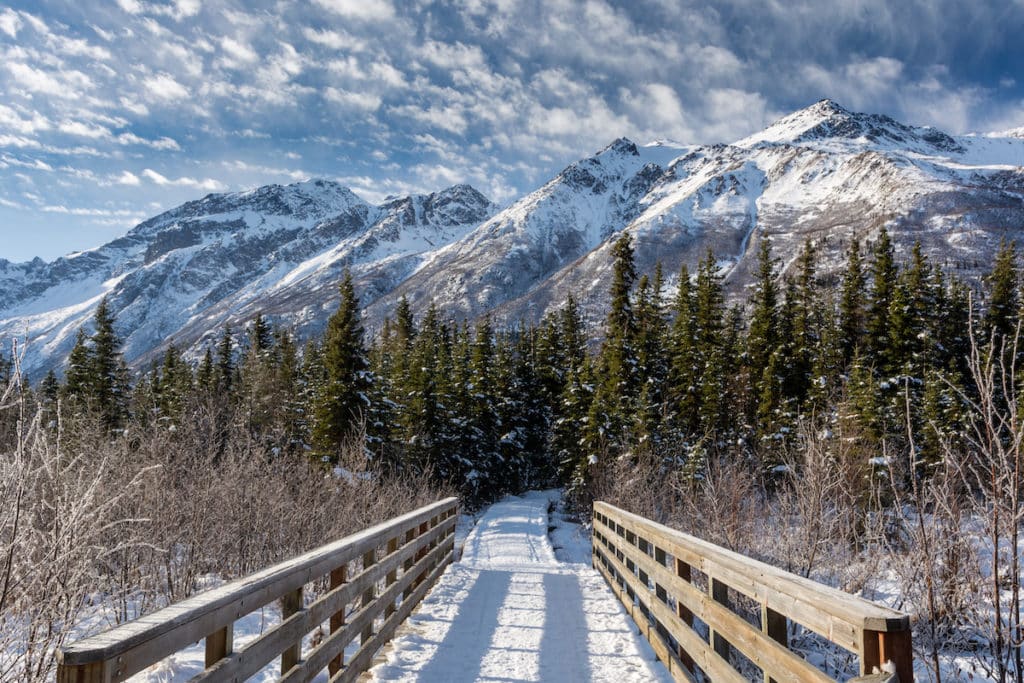 If you want to get back to nature, the Eagle River Nature Center will help you do it.
Home to trails and boardwalks, as well as the start of the infamous Crow's Pass Trail, this little spot is right in the middle of some of the best outdoor adventuring in the area.
The Nature Center itself offers all kinds of programs and events, including plenty of opportunities for kids to learn more about Alaska and local plants and animals. Explore the log cabin building and learn in depth about the area.
Make sure to ask one of the lovely volunteers if you need more info, as this nonprofit is a great place to learn more about Alaska.
The trail system is well maintained, with options for both beginner hikers and more advanced adventurers. You will have the opportunity to explore this glacial bowl surrounded by towering mountain peaks.
The trails are open year round, 24 hours a day, and the trailhead is located right behind the Eagle River Nature Center. It's a beautiful place to explore in both summer and winter months.
Cars are $5 per vehicle, or you can purchase an annual pass at the Nature Center for $50 per vehicle.
Eagle River Nature Center
There are so many wonderful ways to experience Alaska, and plenty of places to visit even if you are only based out of Anchorage!
Want to learn more about a gorgeous place to stay if you are exploring Knik River and Knik Glacier? Make sure to check out the Knik River Lodge, the best place for exploring Alaska's wilderness.
After living over 14 years in Alaska, Megan McDonald can confidently state that there's not much of the state on the road system that she hasn't visited. From the Brooks Range to McCarthy, Homer, and everywhere in between, every nook and cranny of Alaska is always her new favorite place.
As President and co-founder of Alaska-based boutique media agency HuMu Media, she spends her work time writing, photographing, and traveling, and her off time writing, photographing, and traveling. They say do what you love, and she is lucky enough to do so!
You can follow her travels on Instagram at @theitinerantginger