Alaska has plenty of must-see places, and the Knik River Lodge is no different. Situated right on the edge of the great Alaska wilderness, this incredible spot pairs spirited adventure with world class amenities.
Located at the end of the Knik River Road, you are within eye sight of the Knik River Glacier and at the foot of the stunning mountains around you. Located just an hour north of Anchorage, it makes for an easy weekend getaway steeped in Alaska's beauty.
Awarded TripAdvisor's "TripAdvisor Award of Excellence," there's a reason why guests rave about it, and come back again and again.
From the iconic deep red cabins, to the panoramic view of the mountains, Knik Glacier, and the valley below you, any trip to the Knik River Lodge is guaranteed to be a success. With so many things to see and do, it ranks at the top of our summer vacation list.
Knik River Lodge Alaska Cabins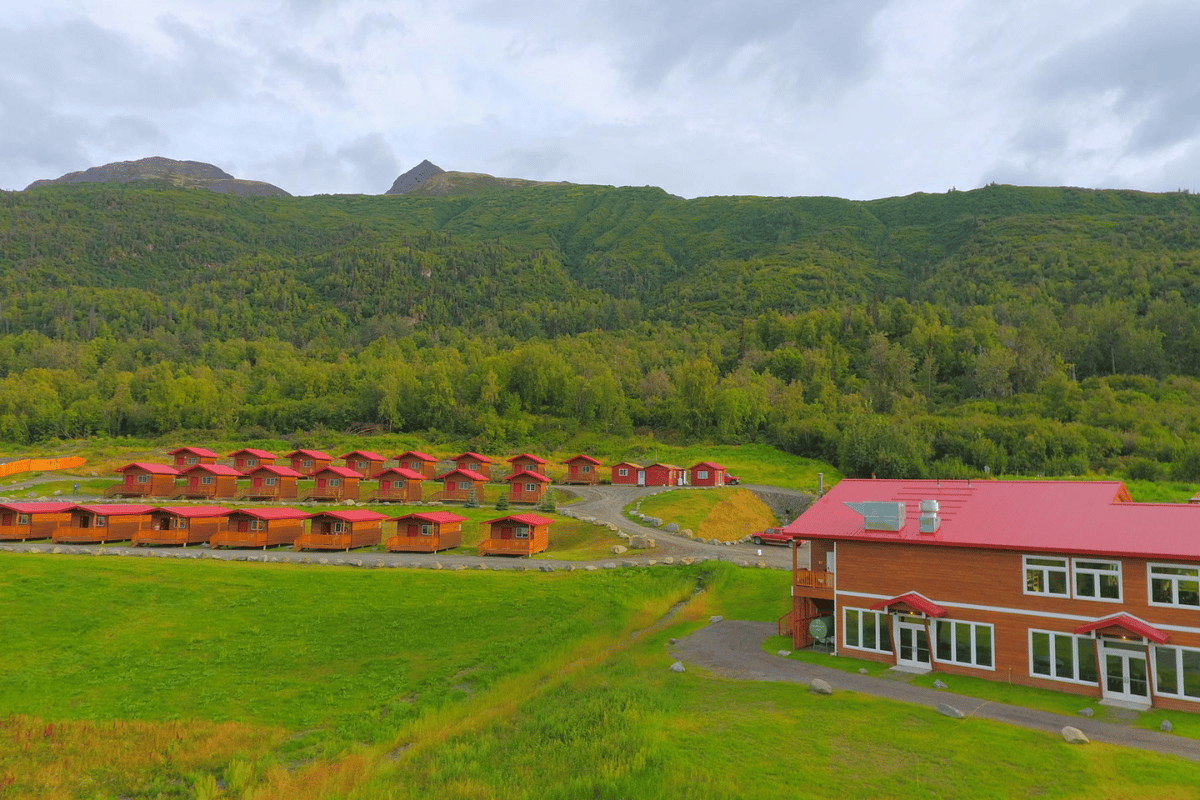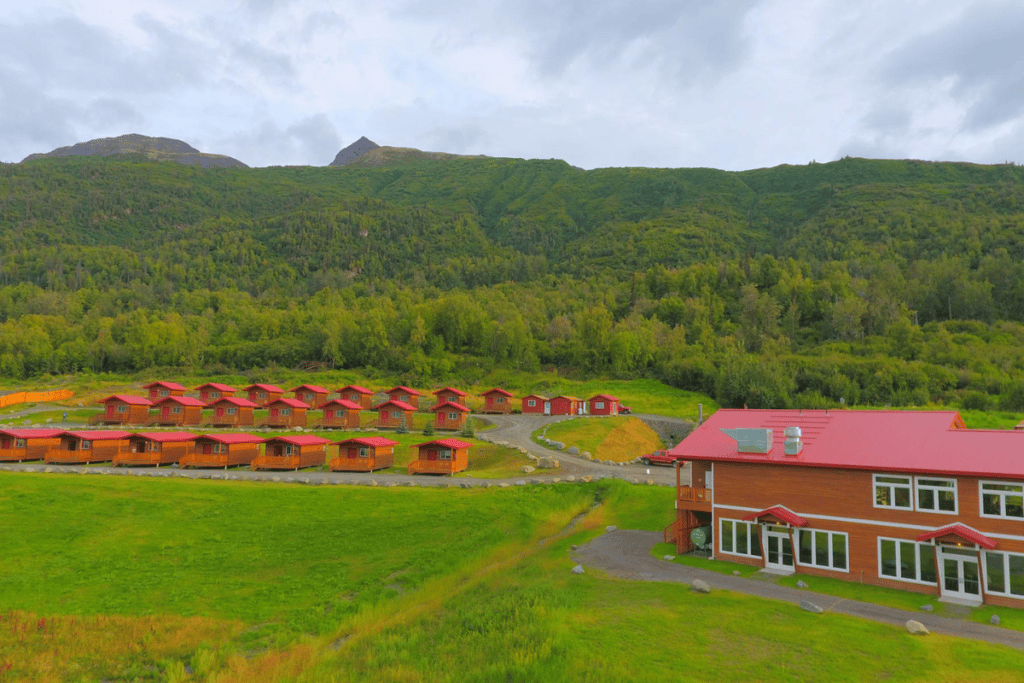 There are 22 cabins available at the Knik River Lodge, and each one of them is stunning. With panoramic views, and not a single structure blocking them, you will love staying at these gorgeous red Alaska getaways.
Each cabin comes equipped with:
High-quality bedding
Private bathrooms
A gas fireplace
Mini-fridge
Coffeemaker
These cabins are not your traditional Alaska cabins: they are built beautifully, and with all of the touches you love to have after a long day exploring Alaska's gorgeous backcountry.
You will never want to leave these cabins, but we encourage you to, because the rest of the lodge and property are just as amazing as your accommodations!
The Raven's Perch Restaurant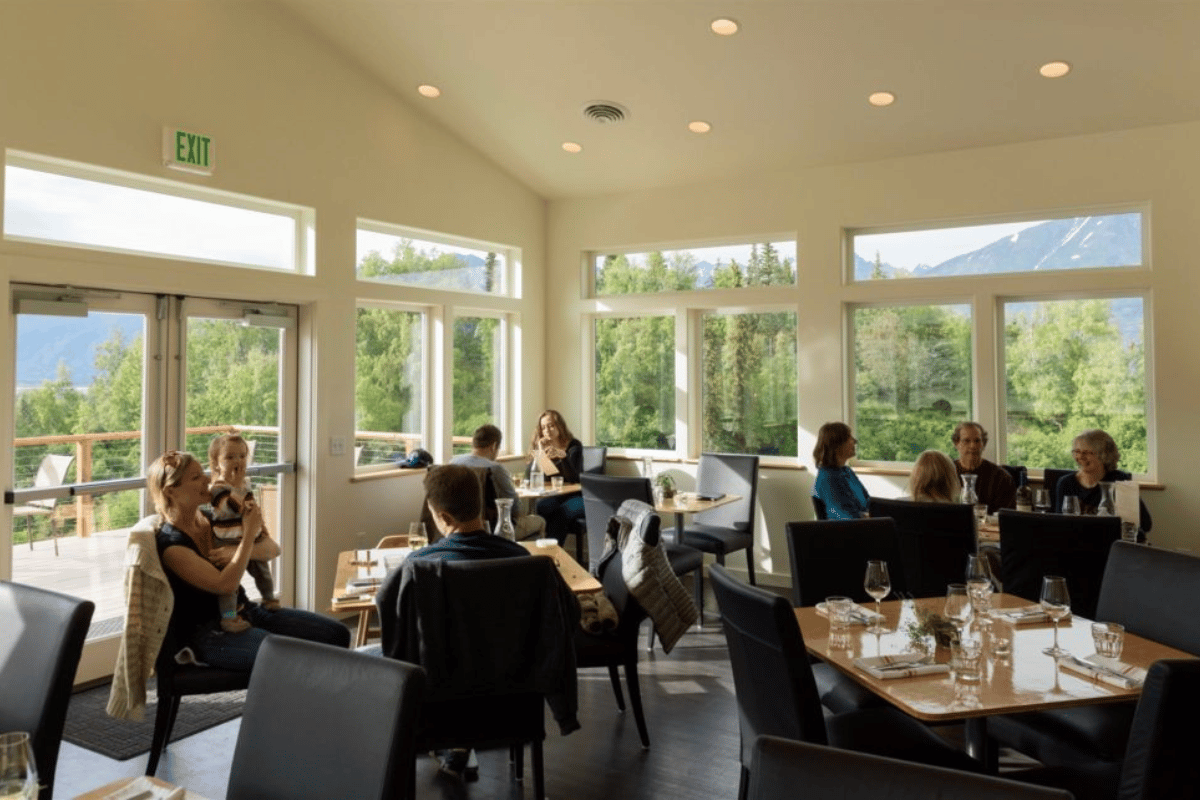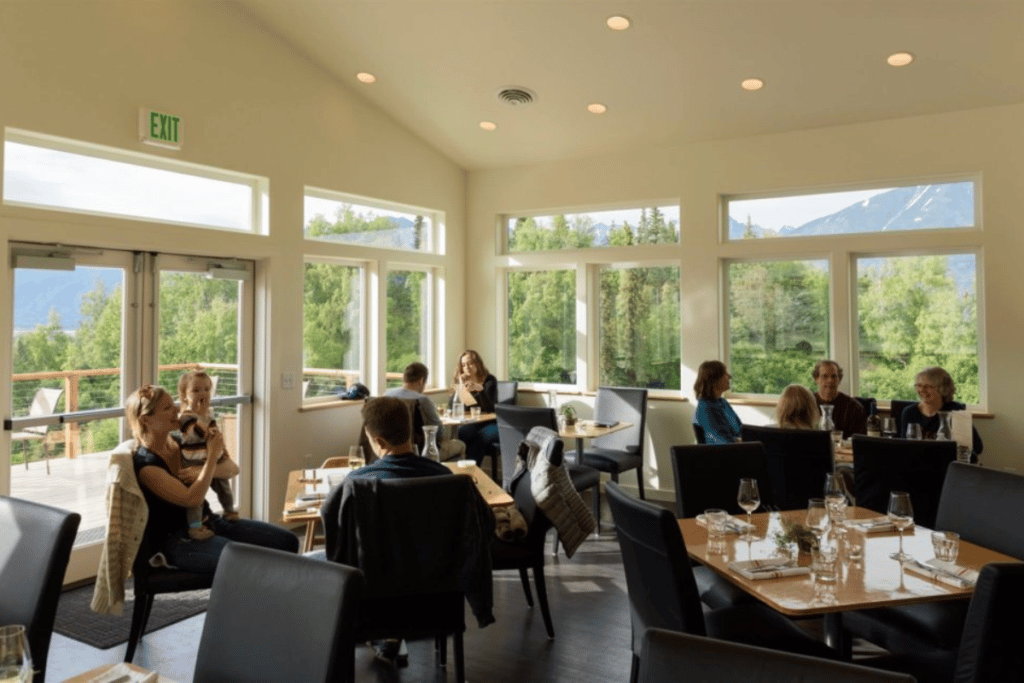 Did someone say farm to table dining? If you are looking for some mouth watering food during your stay, then you are in luck. The Raven's Perch Restaurant serves up some of the best eats in the Mat-Su Valley.
Their menu is filled with great dishes like fresh Alaska salmon and scallops, locally grown greens from farms nearby, and plenty of comfort food classics such as the Baked Pioneer Parmesan Fries, or our favorite — the Loaded Macaroni and Cheese.
Their wine and beer list are top notch, offering great selections of delicious wine and local beers. They are big supporters of Alaska Grown, and it shows!

Dine inside with views out of their floor to ceiling windows, or if the weather cooperates, enjoy your meal outside on their expansive deck. The deck also gives you a great view of the helipad and excited guests hopping in before flying away on their adventure.
The restaurant is so popular that it's frequented by day trippers coming in from the Mat-Su Valley and Anchorage. While reservations are not required, they are encouraged to guarantee that you have a seat at a table after your long drive in!
The Knik River Lodge Amenities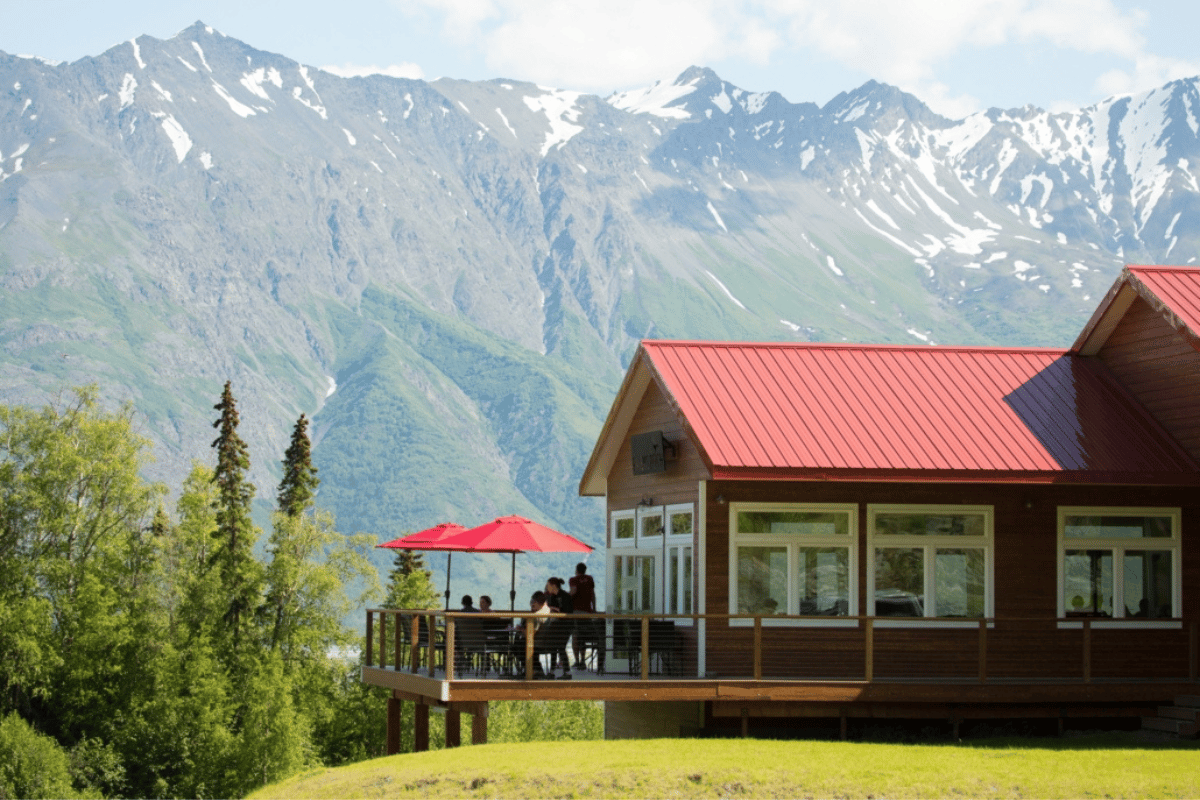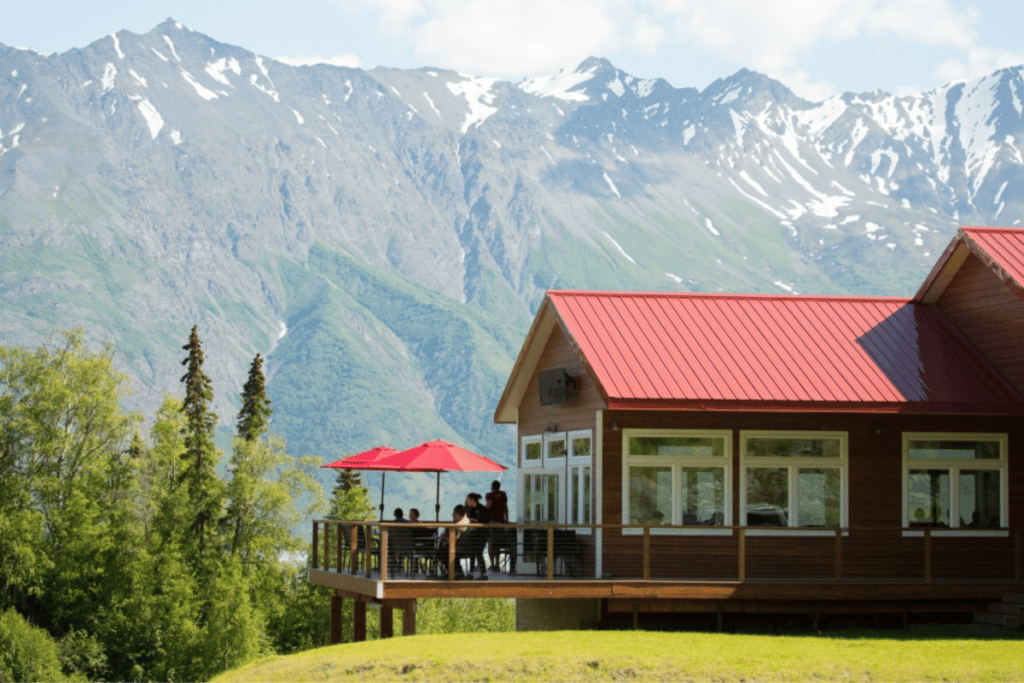 Whether you need high speed WiFi, a seat on their sun-drenched deck, or a bottle of wine at your cabin, the Knik River Lodge has you covered. From high quality linens to an impressive wine list, the Knik River Lodge is there to ensure you have the best time possible.
Make sure to inquire about specialty trips and items, like helicopter and glacier tours, and other small touches to make your stay memorable.
1.) Helicopter Tours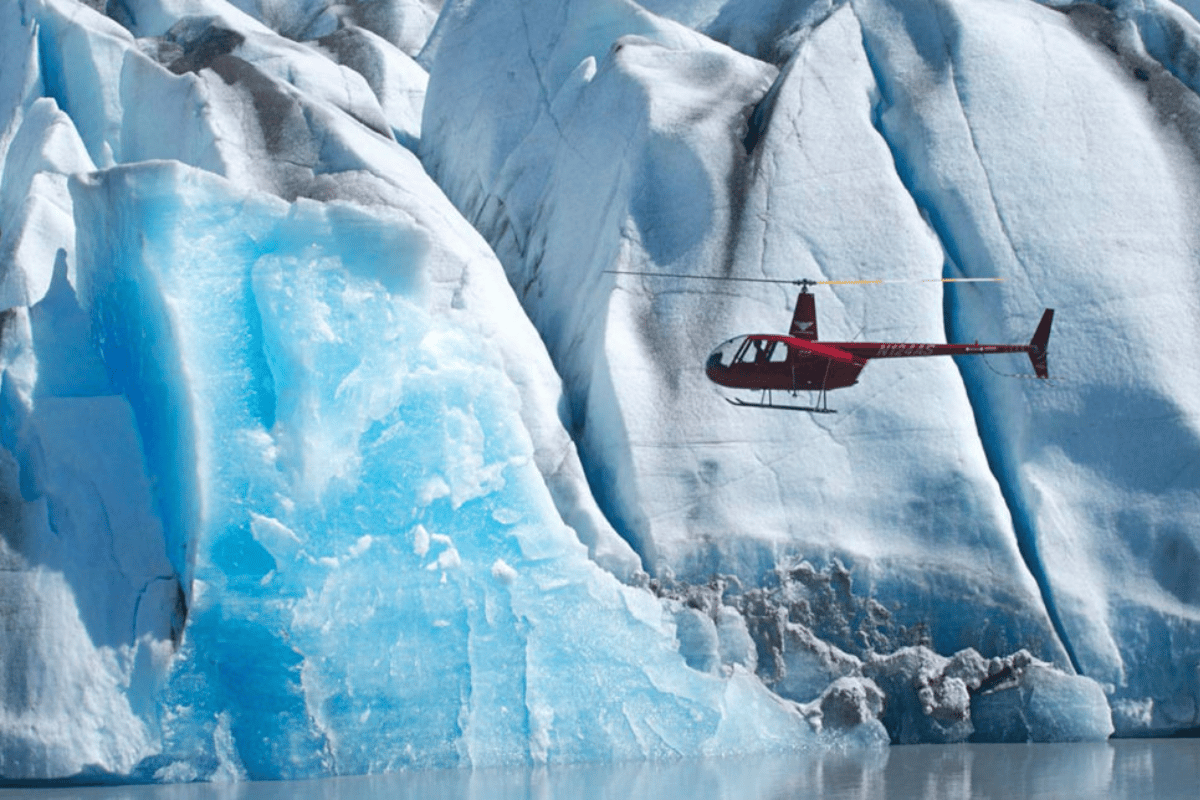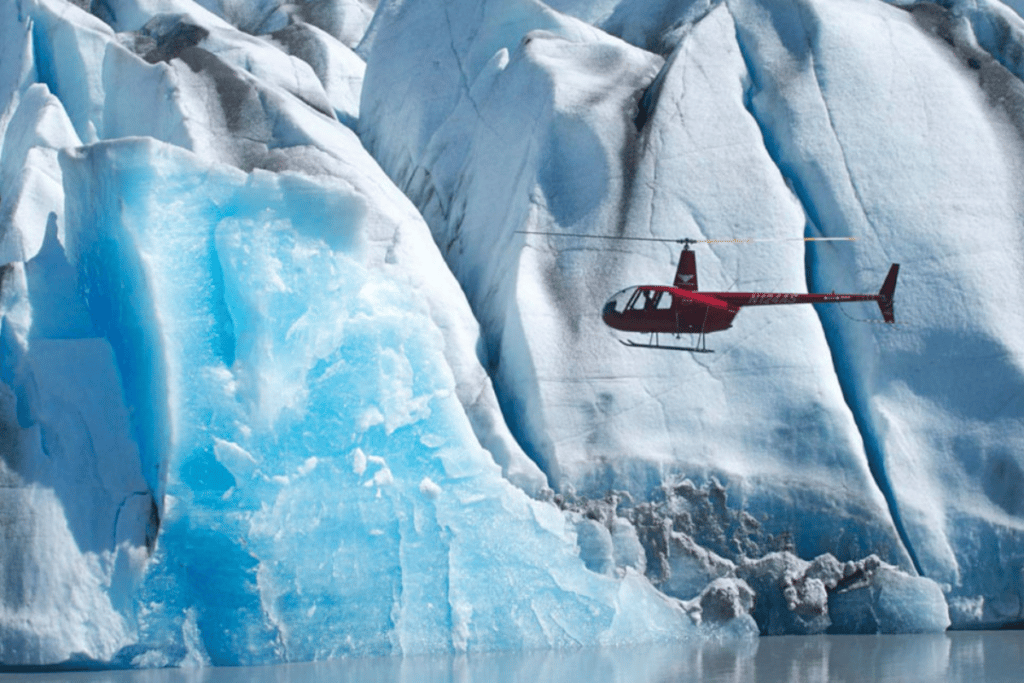 One of the most amazing perks of staying at the Knik River Lodge? The fact that you can wake up in the morning, head on over to the main lodge, and get ready for your helicopter trip that will take off from a helipad that's just a couple of steps away!
This luxurious touch means no long travel or lines to get to your Alaska adventure.
Schedule a helicopter tour that flies over Knik River Lodge, offering sights of glacial landscapes and ancient ice fields. All of these beautiful scenes flow out of the stunning Chugach Mountains.
The helicopter tours are one of the most talked about amenities available at the Knik River Lodge, and for good reason! How many places can you walk out your front door and straight to the helipad?
2.) Glacier Dogsledding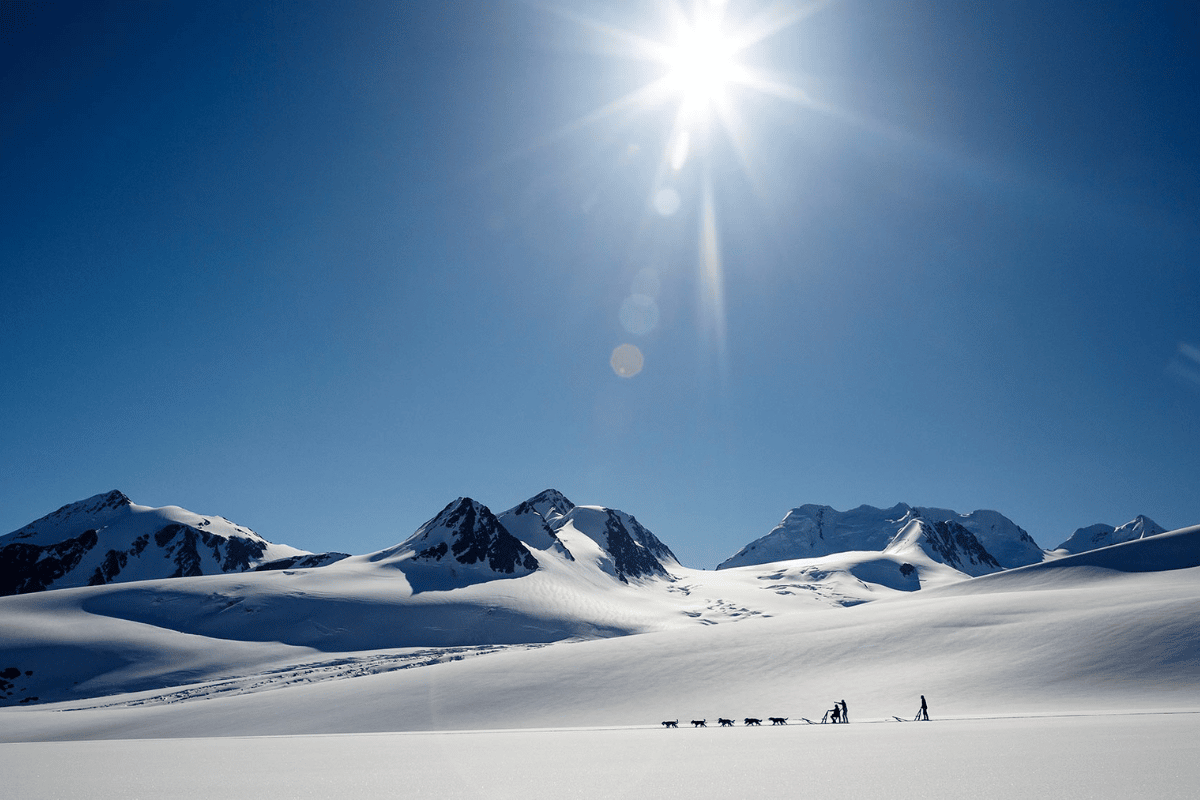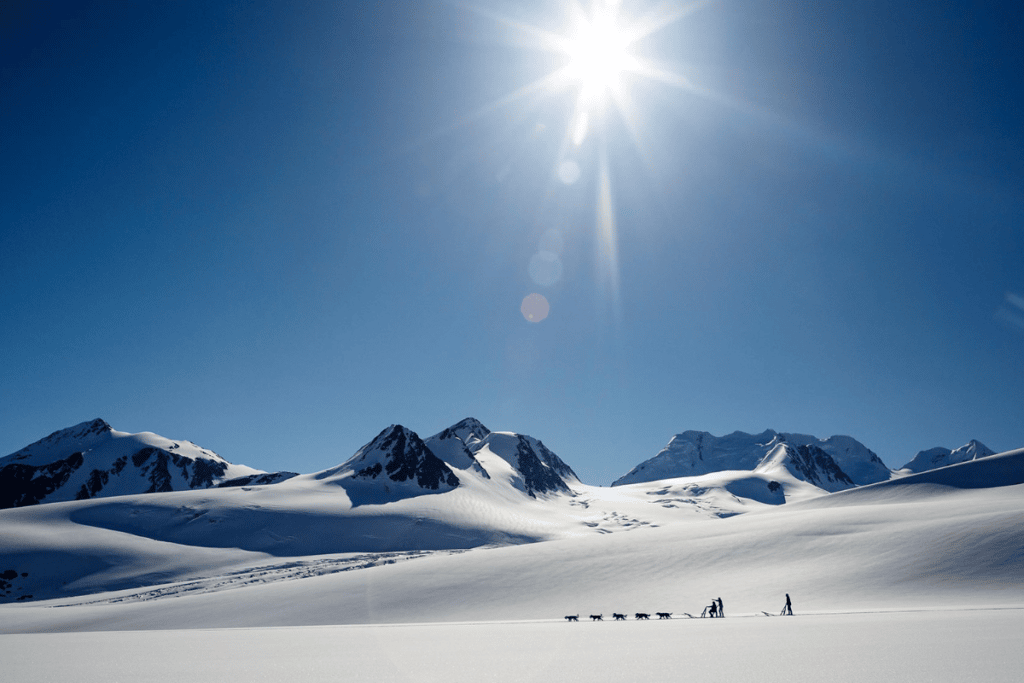 There's plenty of great adventures to be had at Knik River Lodge, and Glacier Dogsledding is one of the most unique! Go on the adventure of a lifetime when you book a tour to dogsled on a glacier.
Mush your very own dog team on a snow covered glacier. The best part? You will be doing it with 2021 Iditarod Champion Dallas Seavey's Dog Team. You will be mushing on the giant Knik River Glacier.
While you are dogsledding, enjoy a whole hour with Alaskan Husky sled dogs and their mushers. You will get the chance to meet the canine award-winning athletes that will pull your sled. And of course, don't forget to take plenty of pictures with your favorite pups when you are finished!
3.) Other Adventures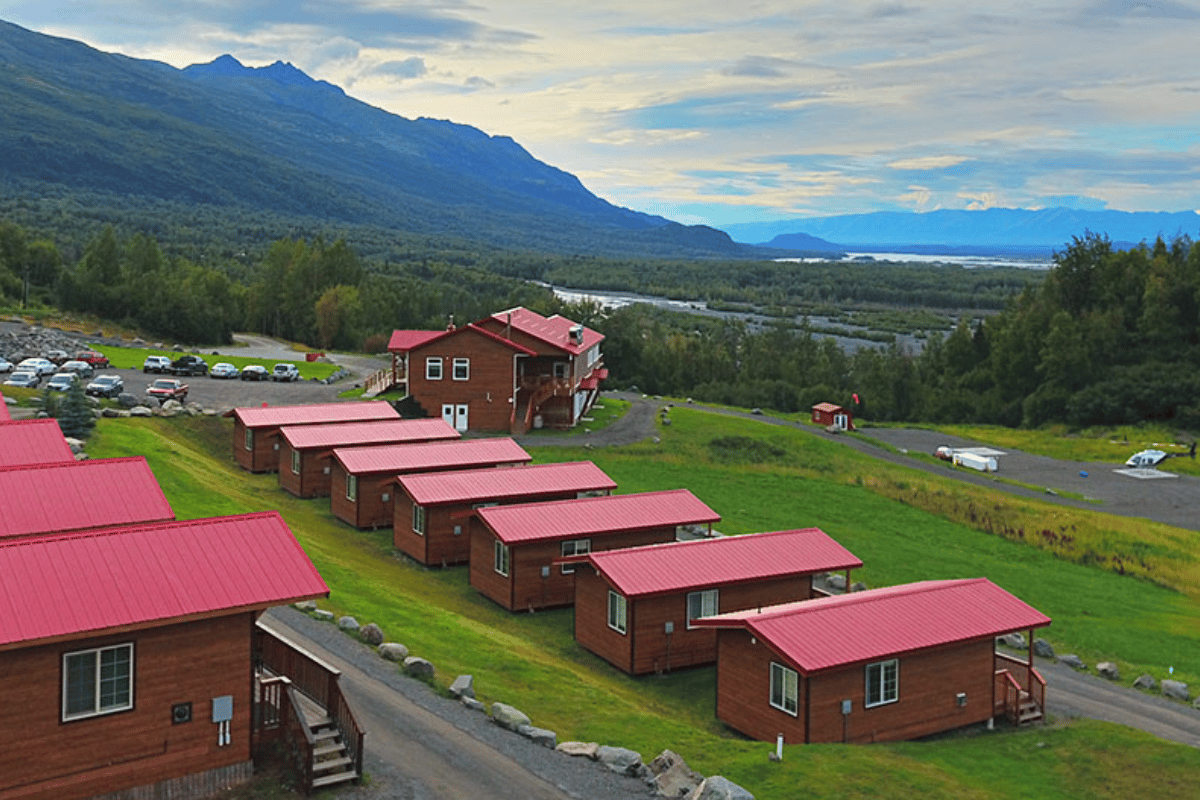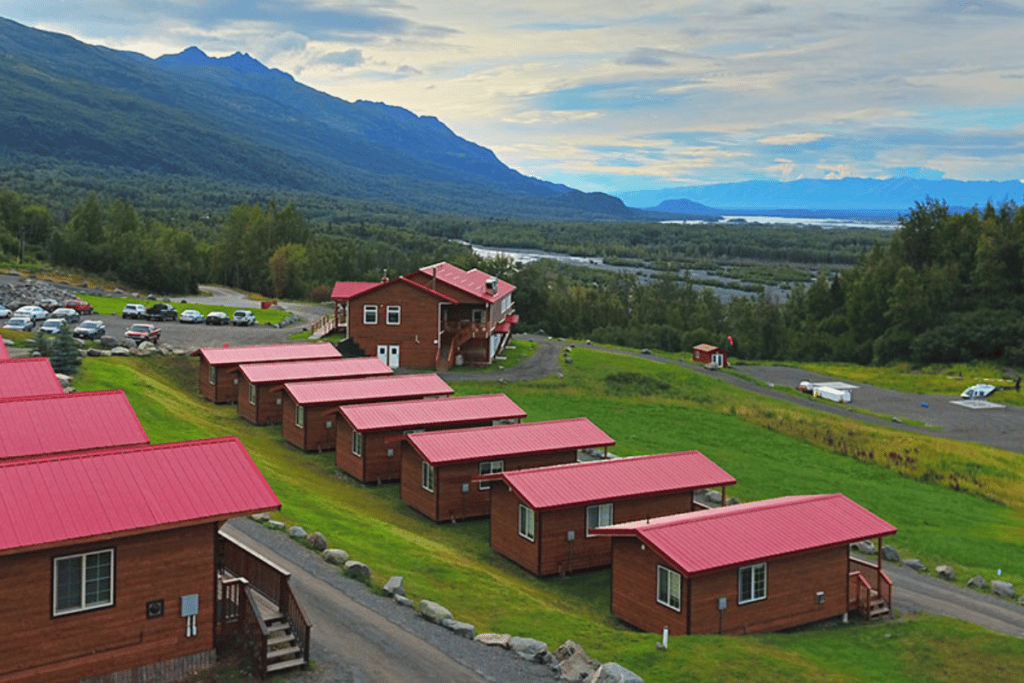 Beyond helicopter tours or dogsledding on a glacier, the Knik River Lodge can fulfill some of your craziest Alaskan adventure hopes!
We love the opportunity to go stand up paddling on a turquoise blue glacier lake.
Or maybe you would rather book an ATV tour and explore the area this way! They also can direct you to some of the best unguided hiking in the area, or arrange a helicopter guided hiking tour up in the mountains nearby.
Just ask the lodge about any partnerships they have will local companies that will help you live out your Alaskan dream adventures.
There is also a self guided trail system on the property that will allow you to get out and explore the area on your own. Go at your own pace, and turn around when it's time to grab a meal at the Raven's Perch Restaurant!
Special Occasions At The Knik River Lodge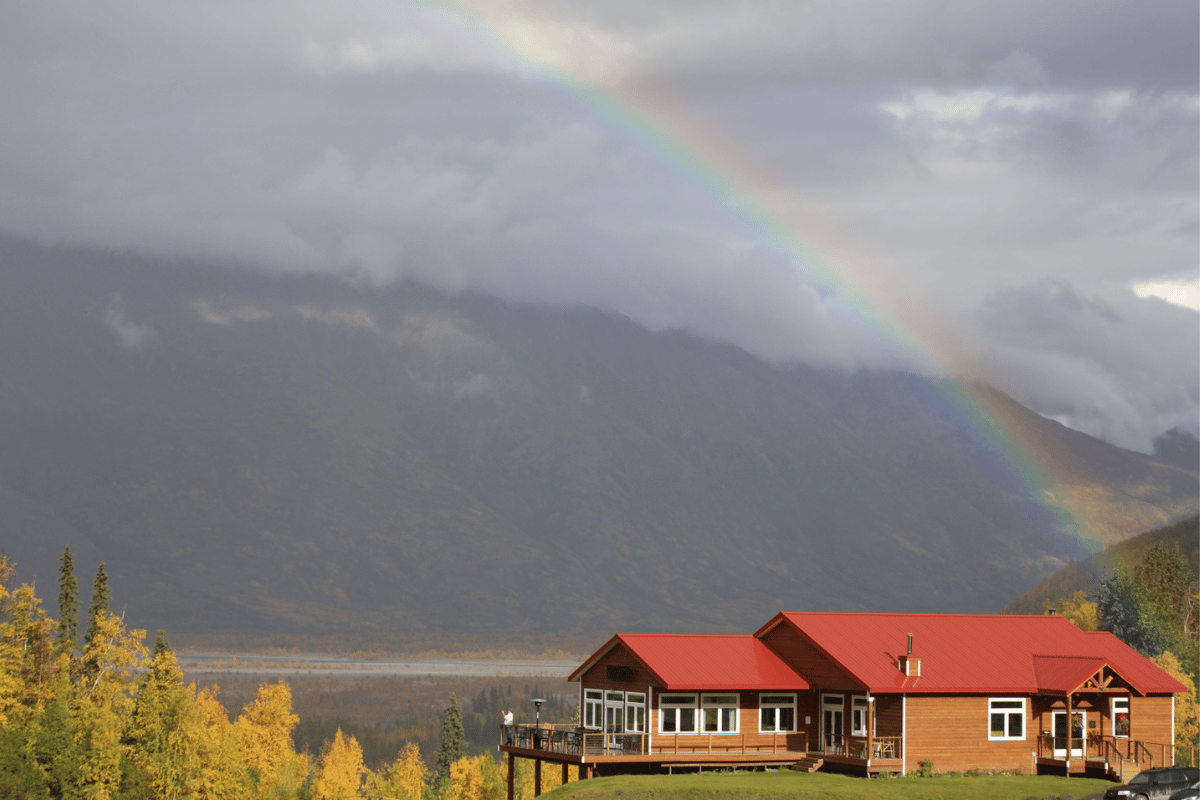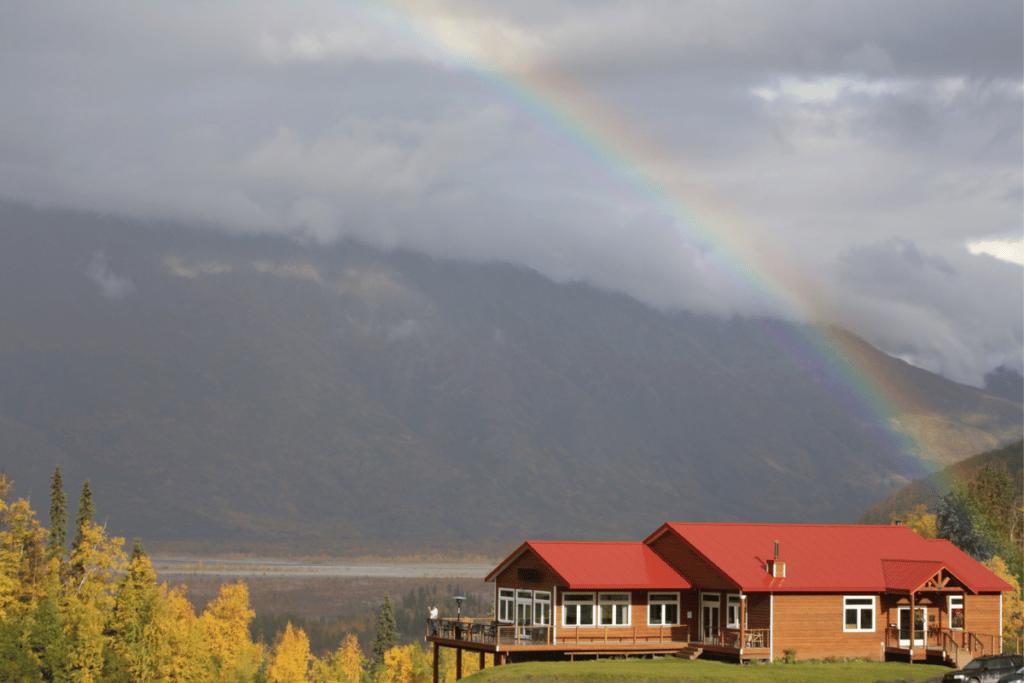 Want to visit the Knik River Lodge for a special occasion? We don't blame you!
Luckily, they offer many different ways to enjoy the lodge for your special occasion. Book a wedding, use their banquet facilities, or rent out the space for a corporate retreat.
With a media center and plenty of room for business meetings, this would be the perfect team building retreat. They offer theater seating for up to 60 people at a time, and the WiFi is fiber optic, coming in at lightening speeds.
How To Get To The Knik River Lodge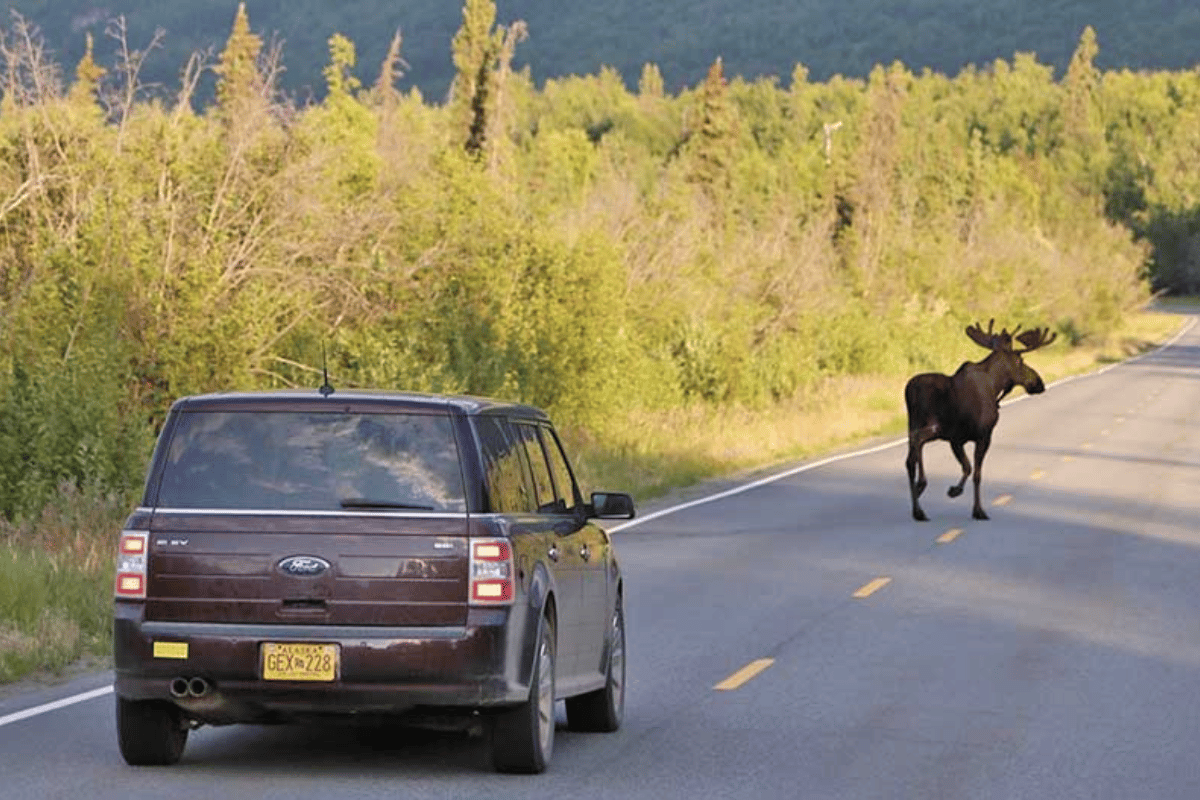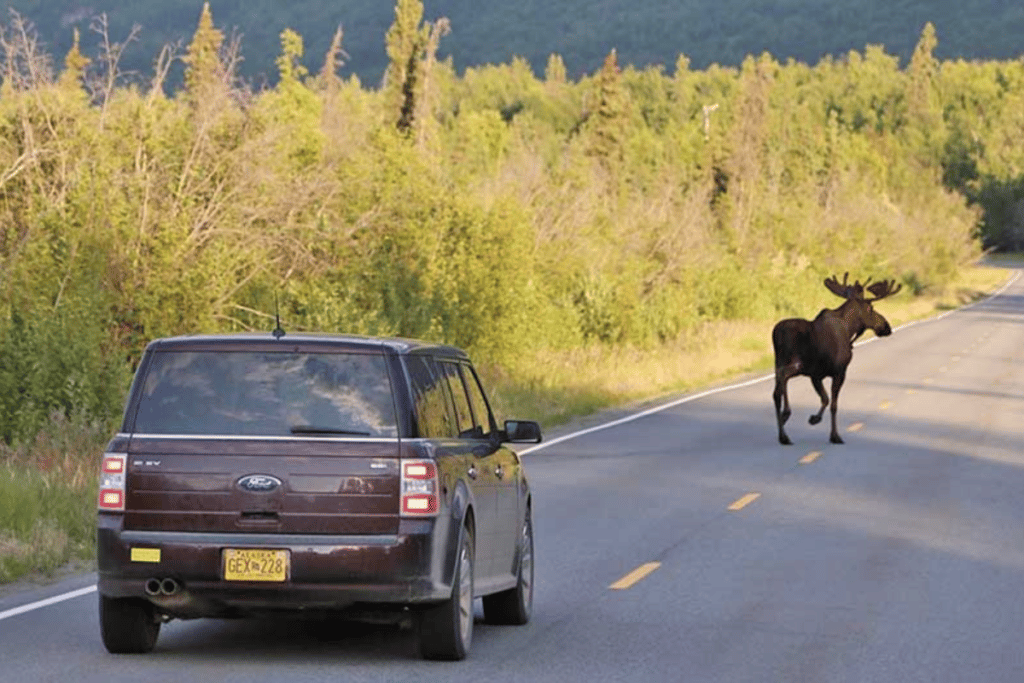 Driving in from Anchorage is easy. Located just an hour north of Anchorage, or 35 minutes south of Palmer, the drive to this lodge is both quick and beautiful.
Soak in the sights on the winding Knik River Road and enjoy the journey to your destination.
If you are traveling in from Anchorage, take advantage of one of the Knik River Lodge's personal shuttles. Arrange to meet the shuttle in downtown Anchorage, and you can just sit back, relax, and soak in the views along the way to your memorable stay.
Contact Information
Whether you are visiting for just a day of exploration and a meal at the Raven's Perch Restaurant, or you want to spends days (or a week!) enjoying this unique location, you must put this beautiful lodge on your bucket list.
It's a supreme destination for both Alaskans and tourists alike. There's no way you won't enjoy a vacation at this luxurious Alaska destination that's located right on the edge of the wilderness!